We've been down on the Giants for most of the past year, but for the second time this season they won outright as one of our picks.  That salvaged what was, up to that point, a 0-2 week, which takes our weekly picks column to a record of 70-61-6 (53.7%) since the beginning of 2017, including 52-39-4 (57.1%) against the spread.  PFF Greenline's picks were 5-2-1 against the spread overall, and we also correctly predicted the under in the Oakland/Los Angeles game (those two happened to be DET/CHI and ATL/CLV).  This week is a bit thin, so we have our first two-pick week, fading Chicago and backing Atlanta yet again (prayers).
Our models rely heavily on our PFFELO rating system for the NFL, along with game information like where the game is played, how far a team has to travel, etc. We also fold in opponent-adjusted PFF grades into our machine learning algorithm to factor in roster changes and possible asymmetric mismatches that can occur through the course of a game.
The Detroit Lions (+7) lost in Chicago, but Oakland's under 8.5 win total hit against the Chargers, thus we are now 19-12-1 on our "Lock of the Week" picks since the start of 2017 (61.3%), with four win totals now pending. Our Lock of the Week spread pick will be featured on the Sports Illustrated Gambling Show with our pick (visit PFF Greenline to see this week's pick) this week. The analyses here will involve a point-counterpoint between the two of us for all five picks, using perspectives that only the PFF grades and data can provide. Follow us on Twitter at @PFF_Eric and @PFF_George, and for some podcast commentary on some of these picks, and the process that goes into them, give the PFF Forecast a listen. We will have a special Monday morning podcast each week with look ahead lines for the upcoming week.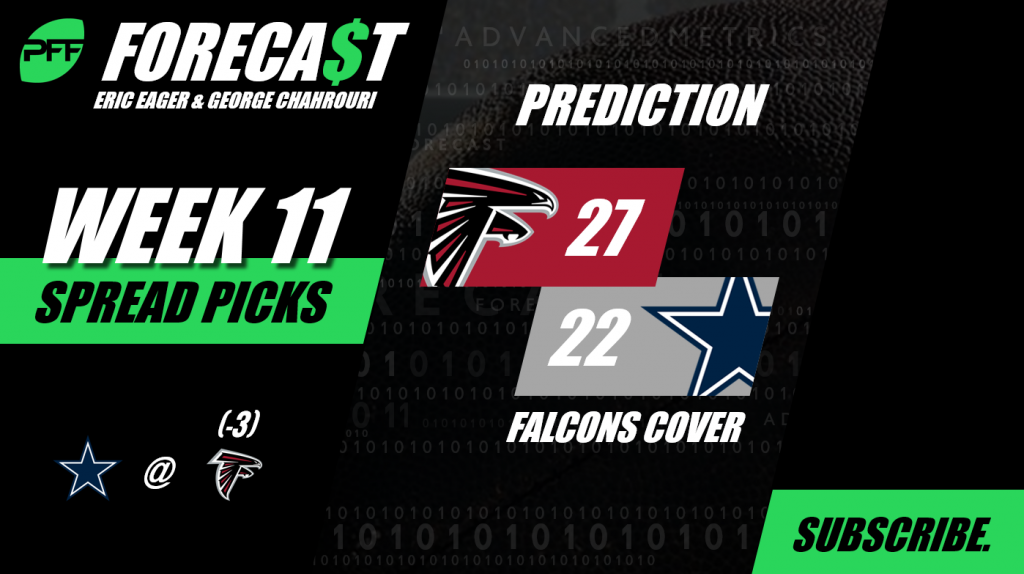 Prediction: Atlanta 27-22 (Falcons cover)
Point (George Chahrouri): The Falcons, for all their faults, are a better team than the Cowboys. Don't believe me? Let's take stock:
1. The Falcons have the better quarterback by a few country miles (the distance by which Dak Prescott underthrew Amari Cooper last Sunday night). Matt Ryan has made the second-highest rate of accurate throws this season while Dak ranks 22nd (when he manages to get a throw off). 
2. Atlanta's third receiver would be the Cowboys' number one.
3. The Falcons have the better running back. Running doesn't matter, and Tevin Coleman is a better receiver by a distance so wide that it could span the gap between Zeke's beltline and the bottom of his shirt. Coleman averages 7.5 yards per target while Elliott is at 5.7.
4. The Falcons have the better offensive line (they are fifth in PFF grade and the Cowboys are eighth). 
5. Atlanta has a huge advantage at tight end simply by virtue of having one.
6. The Falcons have the better coaches, see reasoning from #5.
Are you mad that I ignored the defensive side of the ball? Don't be. Dak Prescott and Deion Jones (should he play) will be fighting for the best Falcons defensive player on the field and that's all you need to know. Plus, you don't look good when you're mad. You'll look much better when you're rich, and with Tyron Smith dealing with back spasms I will let the déjà vu wash over you as you bathe in figurative dollar bills.
Counterpoint (Eric Eager): I see no generational running backs on Atlanta's side, while I see an equation going something like "generational back + crop top + nose ring = profit" on the other. Jokes aside, as Dallas showed a week ago when they beat the world champion Eagles, they can compete and win away from Jerry World. While the narrative is that Ezekiel Elliott put them over the top, having a receiver like Amari Cooper turning 17 targets into 133 yards and a touchdown in his first two weeks with the team has certainly helped, and the Atlanta defense is indeed the worst in the league in terms of EPA per play in close games. Robert Alford is allowing over a 150.0 passer rating into his coverage so far this year, and Brooks Reed and Vic Beasley are among the worst at their position in pass-rushing productivity. If Deion Jones can't play or is slowed, the Falcons will likely have to put up a perfect game offensively for this thing to cover. While #Ibelieve, I think it will be a sweat.
Prediction: Chicago 22-21 (Vikings cover)
Point (EE): Mike Glennon, Matt Barkley, Jay Cutler, Brian Hoyer, Jimmy Clausen, Josh McCown, Jason Campbell, Todd Collins, Rex Grossman, Kyle Orton, Brian Griese, Jonathan Quinn, Craig Krenzel (LOL), Chad Hutchinson, Chris Chandler, Kordell Stewart, Jim Miller, Henry Burris, Shane Matthews, Cade McNown, Moses Moreno, Erik Kramer, Rick Mirer, Dave Krieg, Peter Tom Willis (LOL), Steve Walsh, Jim Harbaugh, Will Furrer, Mike Tomczak, Jim McMahon, Doug Flutie, Steve Fuller.  
When a Bears fan tells you that Mitchell Trubisky is setting Bears single-season records, do them a favor and suspend era-adjusted disbelief for long enough to fully enjoy the disingenuousness implied by the post-1985 names involved here. Trubisky has indeed been encouraging for the Bears – their offense is top-10 in terms of EPA generated per pass play. However, much of this can be attributed to support since the second-year signal caller has generated a negatively-graded throw almost as frequently as a positively-graded one so far this year. On the flip side, the Vikings' Kirk Cousins has made negatively-graded throws less than half as often (roughly 8% of his passes), while he's made positively-graded plays at a higher rate than Trubisky through 10 weeks. Neither team has played a difficult schedule, but the Bears have had the league's easiest. Take the better team, with the better quarterback getting points.
Counterpoint (GC): The Vikings have really struggled to protect Kirky, allowing the most pressures so far this season. This doesn't exactly bode well given the fact that the Bears have one of the top-3 pass-rushers in the game in Khalil Mack, who appears to be rounding back into the form he had at the beginning of the season when he averaged six pressures per game. Additionally, the Bears' secondary has allowed a league-low passer rating overall and when the opposing quarterback is under pressure. When Cousins finds himself in a state of duress, he channels his inner 16-year-old self and sings Adam's song. Thielen has more first down receptions under pressure than any other receiver this season, but if he's hampered by injury or unable to play, you can listen closely to the telecast and here Kirky hum:
I never thought I'd die alone
I laughed the loudest when I was thrown
I trace the rush back to the wall
No wonder it was never blocked in at all
I took my time, I hurried up
The choice was mine I didn't think enough
I'm too depressed to go on
I'm so damn sorry Adam's  gone
In all seriousness, this song is about something very serious and if you or someone you know is dealing with suicidal thoughts reach out or call 1-800-273-8255. As we do every week, when we bet on these games we donate any profits to good causes, one of which is the Didi Hirsh Suicide Prevention Center in Los Angeles.
Whatever the evil you choose, avoid being a peasant and bet against it.