What you need to know
The Detroit Lions have a lot of pieces on offense, thus outside of finding a left guard and an early down/short yardage back, the focus in terms of offseason personnel is going to be on the defense. With Matt Patricia officially at the helm, the defense could be looking at a complete scheme change, or at the very least be looking to adapt more of a hybrid look. Outside of last year's first-round selection, inside linebacker Jarrad Davis, the front seven has no other sure-fire long-term starter under contract for 2018.
The Lions do, however, have ample cap space to work with (finally), and could look to pillage the roster of the Patriots for solutions, considering the organization's obvious ties to the most successful franchise of the new millennium.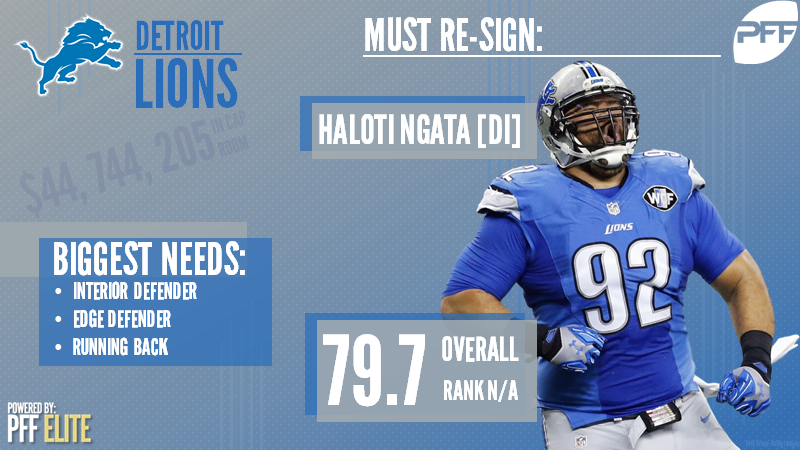 Salary cap room
$44,744,205 (10th in the NFL, as of 02/08/2018)
Biggest Needs
Interior defender
Edge
Running back
Coverage linebacker
Notable free agents
Must re-sign
Haloti Ngata, DI, 79.7 overall grade
Considering Ansah's recent injury history, lack of top-end play on the field and likely high price tag, Detroit doesn't have a true must-sign free agent this year. With that being said, the Lions would do well to convince Ngata to come back for another season. In 2017, Ngata played just 145 snaps in five games before an elbow injury ended his season early, but to that point he was putting together his most productive campaign since 2014. His 79.7 pass-rush grade was the highest on the team, as he registered seven total pressures and batted a pass at the line of scrimmage on just 91 pass-rushes. Ngata was the only player on the roster to pose any real threat as an interior rusher the entire year. Detroit is likely to be looking for multiple interior players this offseason, thus a veteran presence like Ngata could aid the development of the unit's likely youth movement.
Dream splash signing
Le'Veon Bell, RB, Pittsburgh Steelers
If Bell hits free agency (the Steelers could place the franchise tag on him), Detroit makes perfect sense for the dynamic back. Not having a back capable of getting tough yards in the red zone was one of the biggest reasons Detroit failed to make the playoffs in 2017, with their worst effort in the discipline coincidentally coming against Bell's Pittsburgh squad in Week 8, when the Lions failed to score an offensive touchdown despite seven red zone possessions. Bell finished the season ranked third with a combined 61 forced missed tackles rushing and receiving and he also finished sixth in the league with 14 runs of at least 15 yards (Detroit backs combined for just nine). While Detroit currently has multiple receiving threats in its backfield, Bell has also finished among the top four running backs in targets, receptions and receiving yards in three of the past four seasons.
[Editor's note: Read more about the free agency class of 2018 with the first ever PFF Free Agency Guide, which dropped for all PFF Edge & Elite subscribers. Not a subscriber? Sign up today and receive your copy with detailed profiles, exclusive PFF stats and much more.]
2018 free agent prospects
Dontari Poe, DI, Atlanta Falcons
If the Lions are to switch to a 30-front for their base package, they will need to find a long-term solution at nose tackle. Poe has experience as both a nose tackle and as a 1-technique in a 4-3 defense and has flashed the ability to produce as both a pass-rusher and run-stopper. Poe enjoyed one of the most productive seasons of his career in terms of rushing the passer for Atlanta in 2017, as he notched 39 total pressures, his best effort since 2013 (in Kansas City). He also notched run defense grades of at least 80.0 in four of the last five games of the season.
Nigel Bradham, LB, Philadelphia Eagles
Considering Tahir Whitehead has yielded a total of 10 touchdowns into his coverage the past two seasons for the Lions and has a career passer rating against of 105.5, it's hard to envision Detroit bring him back. Davis surrendered receptions on 82.1 percent of targets into his coverage last season and while the Lions are certainly hopeful he can improve from the level he played as a rookie, they must find an upgrade in the linebacking corps. Bradham's production has never overwhelmed run or pass, but he has yielded just six touchdowns into his coverage over his six-year career and is coming off a career-best six regular season passes defensed. His 86.8 coverage grade ranked sixth among all off-ball linebackers in 2017.
2018 Free Agency
---
Free Agent Tracker / 2017 free agent hits
2018 Free Agency Rankings
---
2018 Free Agent Previews
---
Arizona Cardinals / Atlanta Falcons / Baltimore Ravens / Buffalo Bills /
Carolina Panthers / Chicago Bears / Cincinnati Bengals / Cleveland Browns /
Dallas Cowboys / Denver Broncos / Detroit Lions / Green Bay Packers /
Houston Texans / Indianapolis Colts / Jacksonville Jaguars / Kansas City
Chiefs / Los Angeles Chargers / Los Angeles Rams / Miami Dolphins /
Minnesota Vikings / New England Patriots / New Orleans Saints /
New York Giants / New York Jets / Oakland Raiders / Philadelphia Eagles /
Pittsburgh Steelers / San Francisco 49ers / Seattle Seahawks /
Tampa Bay Buccaneers / Tennessee Titans / Washington Redskins