Yesterday, we kicked off our NFL training camp coverage with intriguing position battles from the NFC. Today, we feature the AFC and the namesake battles across the country that will take place during training camp:
AFC East

BY ELLIOTT ROONEY
Right tackle appears to be the biggest position battle for the Buffalo Bills ahead of training camp. The current projected starter is Jordan Mills who started all 16 games there last season, but his production wasn't great. His spot is under jeopardy after the Bills selected Temple T Dion Dawkins with the 63rd overall pick in the second round of the 2017 NFL draft.
Last season, Mills graded as the 56th best tackle among 77 qualifying tackles with an overall PFF grade of 56.5. He was one of the worst run-blocking tackles last season with a run-block grade of 47.5 ranking 66th out of 78 qualifying tackles.
Mills wasn't much better in pass-protection either, his 57 total pressures last season were the fifth-most among tackles with a minimum of 179 pass block snaps. His pass-blocking efficiency (PBE) of 91.9 ranked 66th among 74 tackles (PBE measures pressure allowed on a per snap basis with weighting towards sacks).
Many analysts feel that Dawkins' best position at the next level will be guard but his play at tackle last year at Temple was impressive. He ranked 19th among 315 qualifying tackles last season with an overall grade of 86.4.
Dawkins PBE of 98.4 ranked third among draft-eligible tackles last season. He gave up two sacks and surrendered just nine total pressures on 443 pass block snaps in 2016.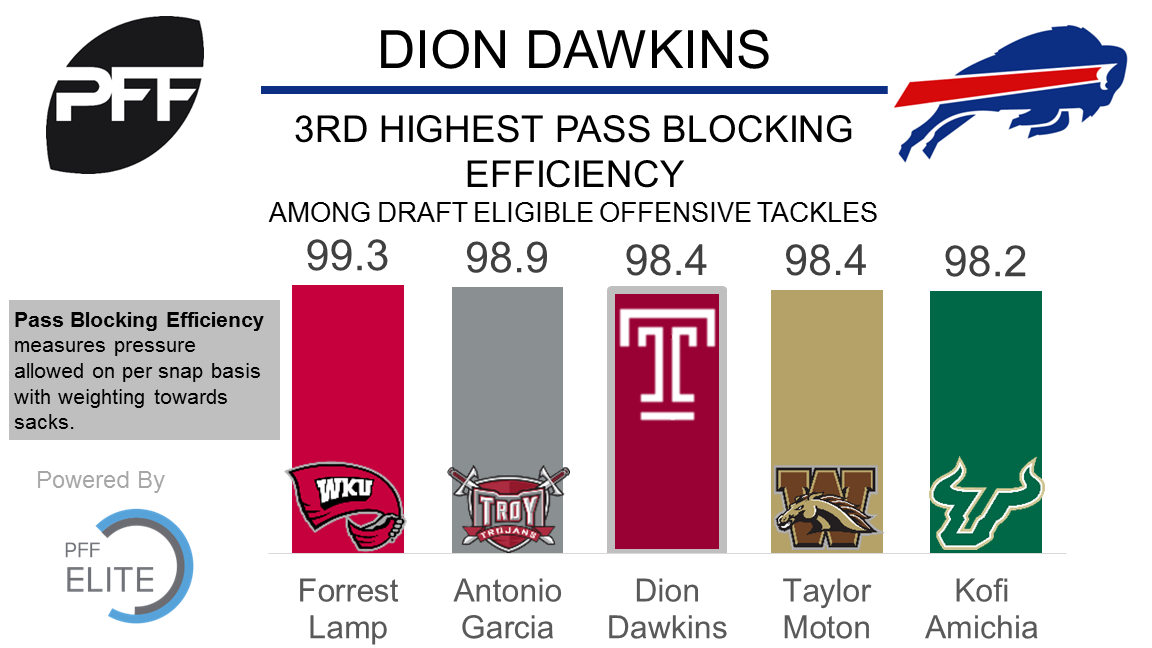 BY MIKE GUERRELLI
One interesting position battle to watch when the Miami Dolphins open training camp this week is who will start at right defensive end opposite Pro Bowl left end Cameron Wake. The main competitors will be Andre Branch, William Hayes and Charles Harris.
Branch was the Dolphins starter at right end last season, and was ranked 68th out of 106 qualifying edge defenders with an overall PFF grade of 66.9. In PFF's pass-rush productivity ratings Branch was 50th out of 87 edge rushers with at least 200 pass-rush attempts.
Hayes was acquired in a trade from the Los Angeles Rams this offseason. Hayes had the eighth best run stop percentage of all edge defenders in 2016 at 10.3, and Hayes ranked as the 17th best edge defender with an overall grade of 82.8.
Harris was drafted by Miami in the first round this year, so whether he starts or not, he will get significant playing time. In 2016, Harris totaled the fifth most pressures of any 3-4 outside linebacker in the FBS with 62, and was the ninth ranked edge defender and 36th overall on PFF's 2017 Draft Board.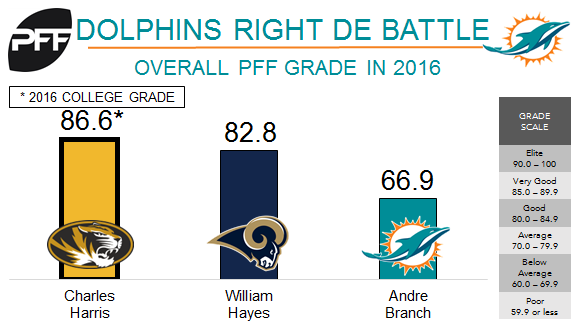 BY BILL O'BRIEN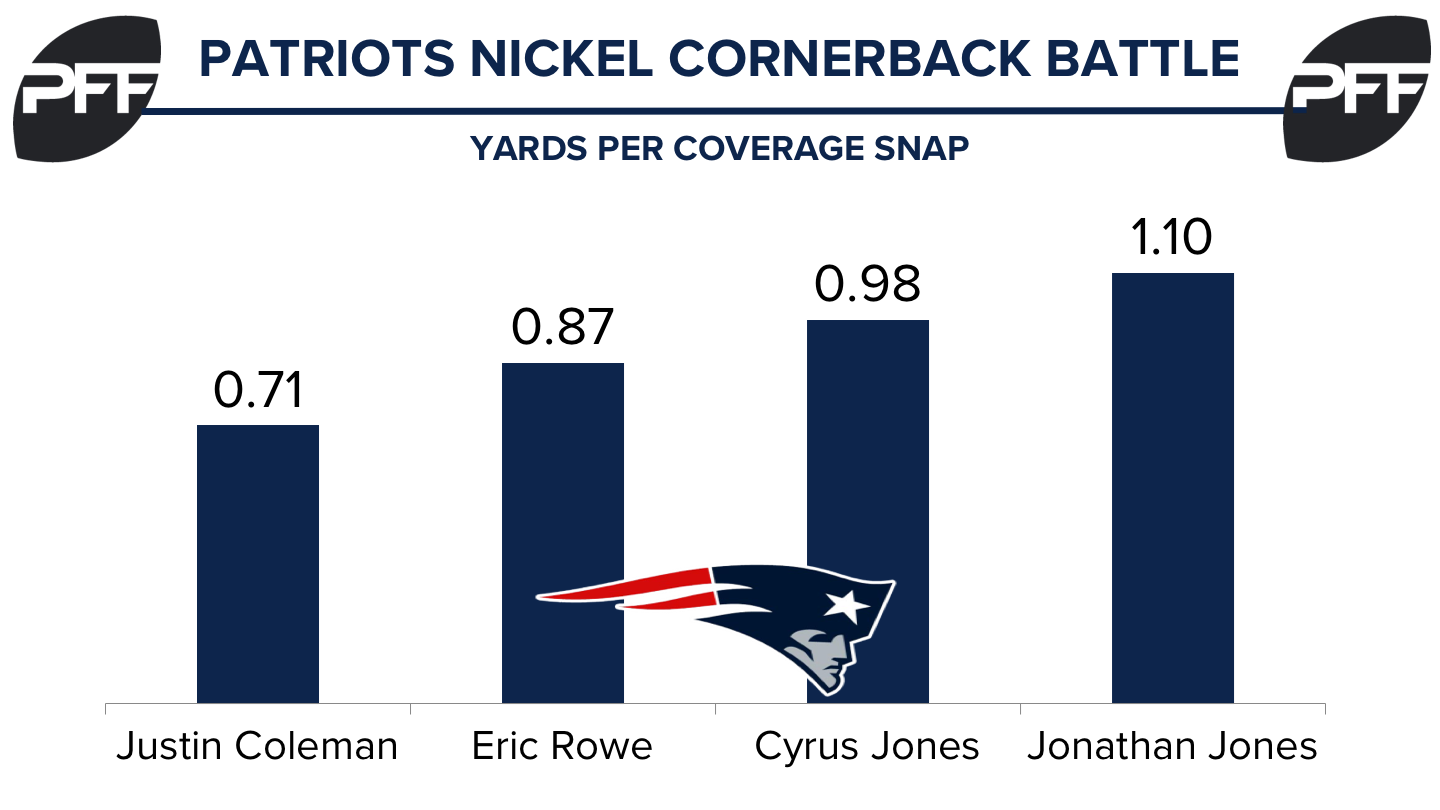 BY DANIEL COHEN
The New York Jets will open training camp with QB Josh McCown as an early favorite to win the starting QB job. However, HC Todd Bowles has stated, "I don't look at anybody as the front-runner. I just wait until training camp comes and we'll sort it out then." McCown, who will be entering his 16th season, will compete with QBs Bryce Petty (245 career snaps) and Christian Hackenberg (0 career snaps).
In Cleveland last year, Josh McCown finished with an overall grade of 53.4, a significant drop from his 2015 grade of 72.6. McCown is now four years removed from his best season, where he ranked fifth among QBs with a grade of 86.2 and had a passer rating under pressure of 112.2, more than 20 points higher than the next best quarterback.
In the 2016 preseason, Hackenberg had an adjusted completion percentage of 53.8 percent, which ranked second to last out of 57 QBs with at least 40 drop backs. In the regular season, Petty's adjusted completion percentage of 69.6 percent ranked 31st out of 39 quarterbacks with at least 150 drop backs.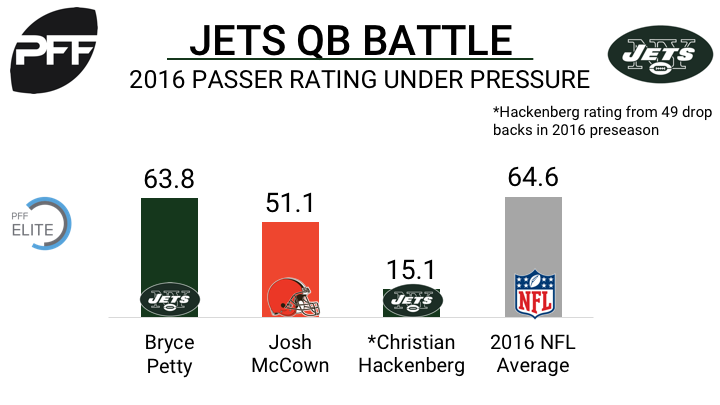 AFC North

BY JOSEPH YEVARA
With RB Giovani Bernard still recovering from a torn ACL in week 11 of last season, there is a battle between Jeremy Hill and rookie Joe Mixon to be the Cincinnati Bengals' lead running back this season.
Mixon, the 2017 second round draft pick of the Bengals, showed great potential on the field last year having the fourth best overall grade (88.9) and second best receiving grade (90.1) for running backs in his draft class making him a threat in the passing game.
Meanwhile, Hill was able to raise his overall grade from 62.0 in 2015 to 72.4 in 2016, however that still ranked 34th out of 61 eligible backs. Hill still has not matched his production from his 2014 rookie season where he posted an elusive rating of 40.5 and a breakaway percentage of 32.7 percent, which were 26.3 and 28.6percent, respectively last season.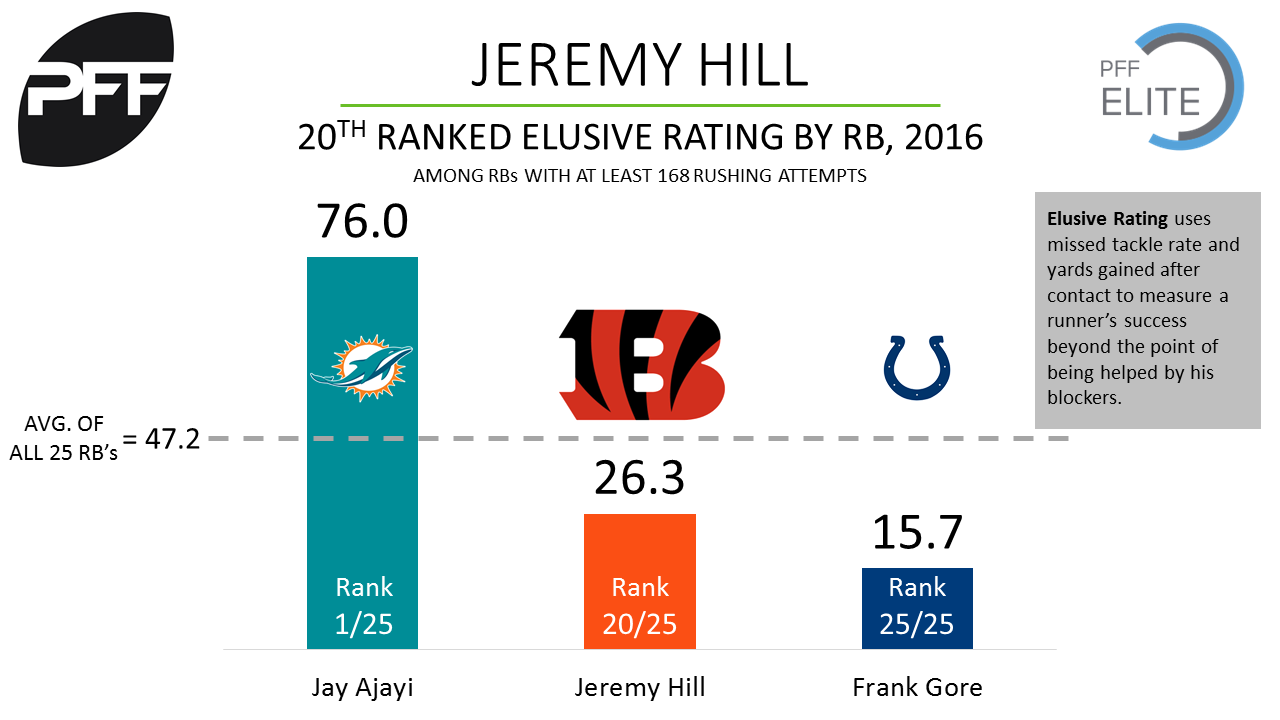 BY ANDREW FLEISCHER
The Cleveland Browns open their 2017 training camp with an open competition at the most crucial position of them all: quarterback.
Cody Kessler is the last man standing from the Browns' 2016 quarterback group, after injuries forced him to cede starts to Josh McCown before a second concussion in Week 11 sidelined him for the remainder of the season. His overall PFF grade of 74.7 was 25th out of 33 eligible quarterbacks last season, but some of his underlying metrics give reason for optimism. His adjusted completion percentage (which takes into account dropped passes, throw aways, spiked balls, batted passes, and hits on the quarterback while throwing) of 78.2 was fifth out of 37 QBs with at least 180 attempts, and 80.6 adjusted completion percentage while under pressure was the best mark in the NFL.
The Browns moved on from Josh McCown and Robert Griffin III, and acquired veteran QB Brock Osweiler. Osweiler struggled as a starter with the Houston Texans in 2016, posting an overall PFF grade of 48.6, 32nd out of 33 eligible quarterbacks. His adjusted completion percentage of 68.9 was 32nd out of 37 eligible QBs, and his 60.9 percent adjusted completion percentage under pressure was 24th among the same group of quarterbacks.
The Browns also drafted quarterback Deshone Kizer with the 52nd overall pick of the 2017 NFL draft. His 2016 performance at Notre Dame earned him a 77.0 overall PFF grade, 74th out of 152 quarterbacks with at least 280 snaps. His 68.0 adjusted completion percentage was 85th among 133 quartebracks  with at least 145 attempts, while his 59.5 adjusted completion percentage under pressure was 54th among 133 eligible QBss.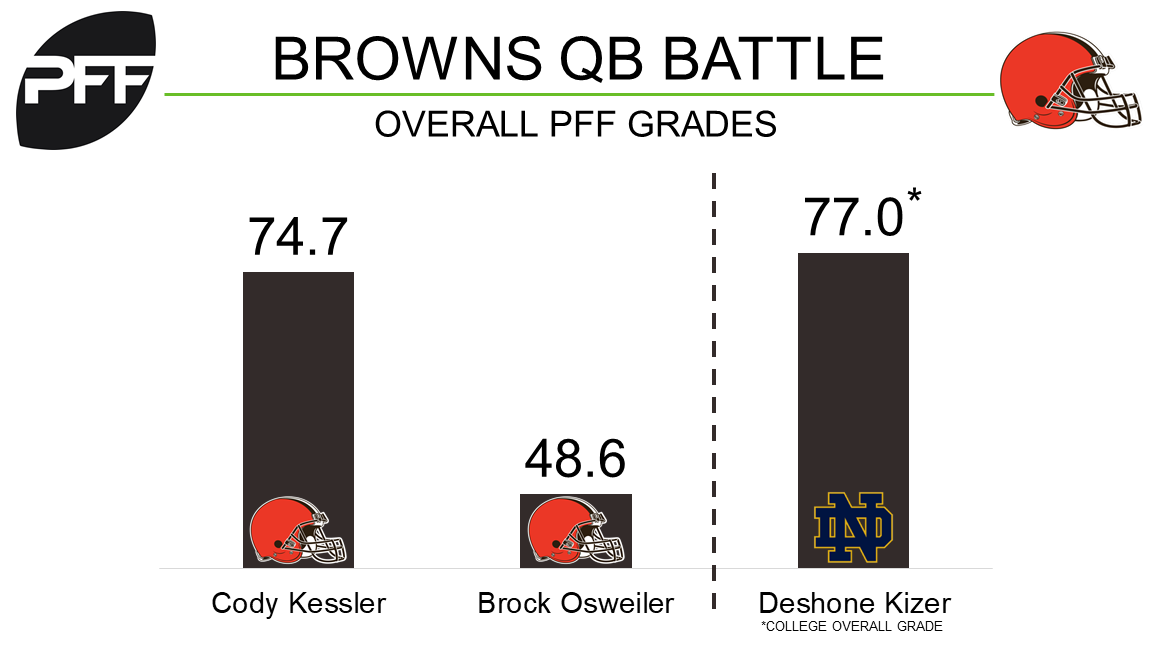 BY BEN COOPER
After the release of veteran OLB Elvis Dumervil, the Ravens are in need of a new OLB to fill the void opposite of Terrell Suggs, Matt Judon, Za'Darius Smith, Tim Williams and Tyus Bowser are all in contention to take the spot.
The run game proved to be problematic for both Judon and Smith in 2016. Judon ranked 55th in run stop percentage (3.6 percent) among 57 qualified 3-4 OLBs with 100 or more run snaps. It was not much better for Smith, who ranked 43rd with a run stop percentage of 4.6 percent.
Bowser, a second round pick in the 2017 draft and Williams, a third round pick, are looking to build off their success in college. Williams had the third highest pass-rush productivity (PRP) among draft-eligible edge defenders with a mark of 16.8. Bowser ranked 17th with a PRP of 14.2.
Bowser and Williams were also effective in stopping the run. Williams claimed the second highest run-stop percentage among draft-eligible edge defenders at 12.8 percent. Meanwhile, Bowser also ranked highly at 12th with 8.5 percent.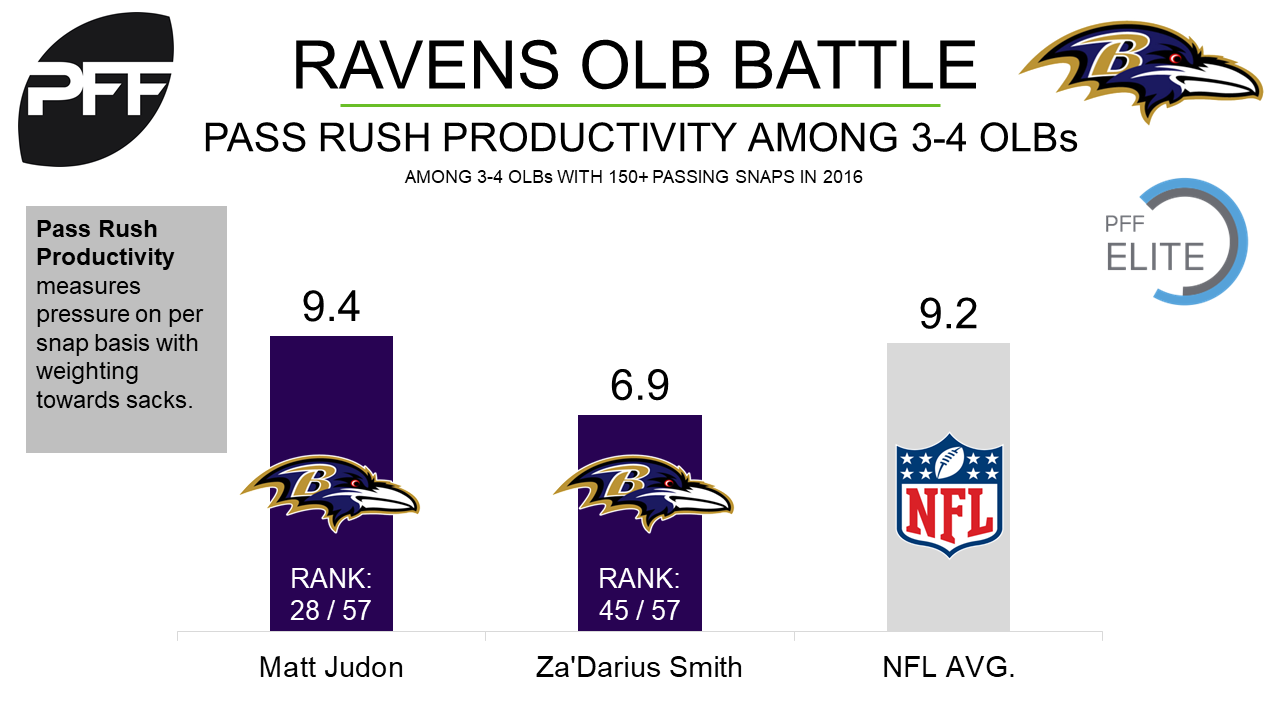 BY MIKE GUERRELLI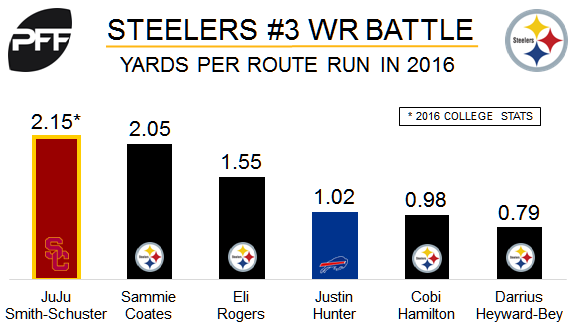 AFC South

BY MIKE GUERRELLI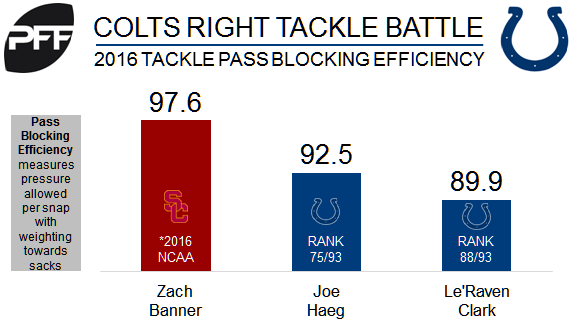 BY STUART WHITAKER
As the Jacksonville Jaguars head into their 2017 training camp one of the more intriguing camp battles is expected to be at offensive guard.
New Offensive Line Coach Pat Flaherty, the fifth coach to hold this position in six years, will seek to improve the unit that was ranked 22nd in the league by PFF in 2016.
While A.J. Cann (65.9 overall grade) and Patrick Omameh (75.5) appear to be the front-runners, competition is expected from Tyler Shatley, Chris Reed and Earl Watford
Run-blocking was an area of concern for the Jags in 2016 as all of the guards on the roster, Cann (46.5 run block grade), Omameh (51.6), Reed, (42.7), Shatley (34.7) and Watford (41.7), performing considerably worse than the league average of 65.3.
Rookie second round pick Cam Robinson, primarily a tackle, could also come into consideration if as expected the starting tackles are Brandon Albert, acquired via a trade with the Miami Dolphins and incumbent Jermey Parnell. While at Alabama in 2016, Robinson saw a run blocking grade 67.0 and allowed 13 total quarterback pressures over 484 snaps.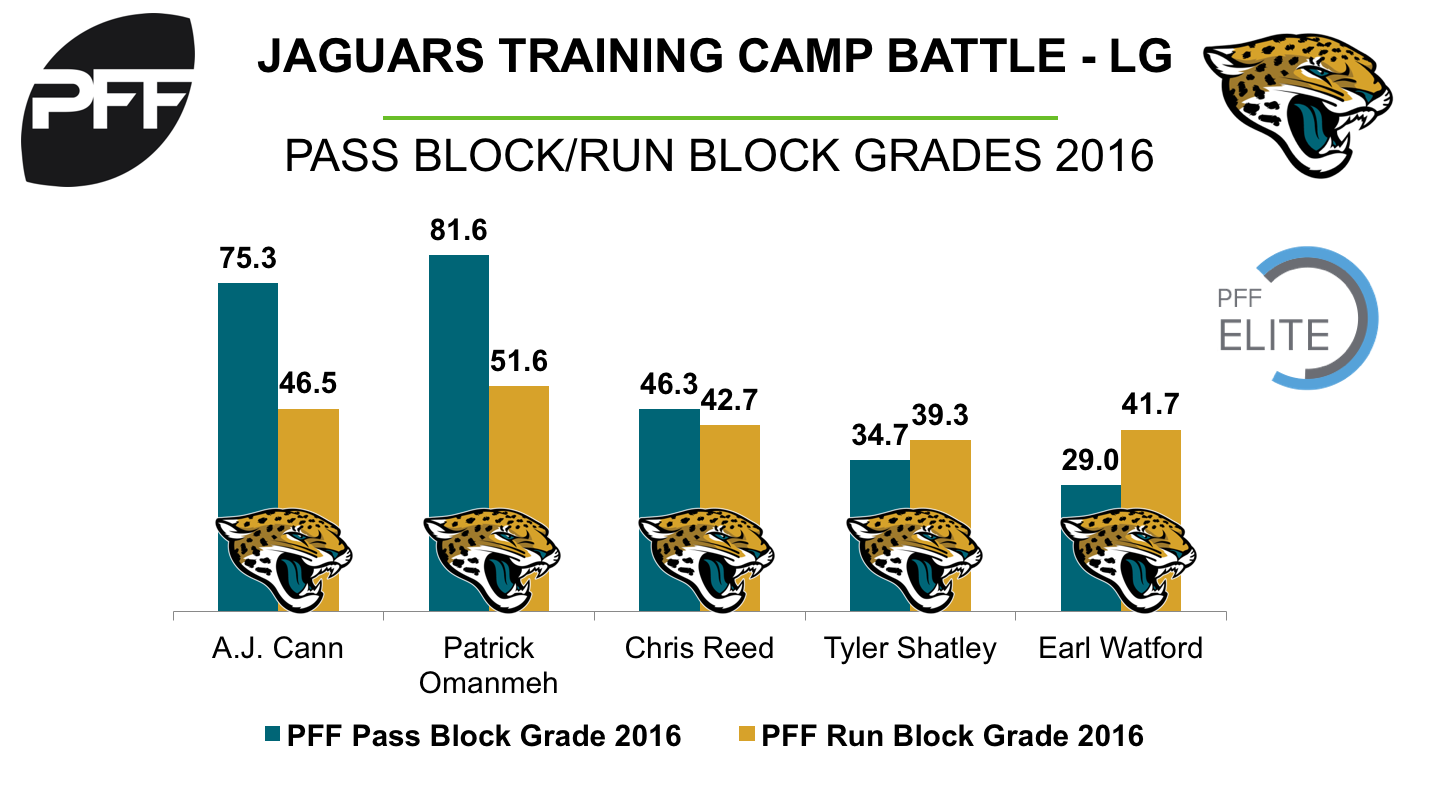 BY SAM MONSON
Tom Savage will enter Houston Texans training camp trying to hold off first round rookie QB Deshaun Watson for as long as he can over the 2017 season.
Savage has just 207 career regular season snaps to his name after being drafted in the fourth round of the 2014 draft and inheriting the job after Brock Osweiler played his way to the bench last season.
In a low sample size of just 80 dropbacks, Savage's numbers actually got better when pressured – his passer rating jumped from 75.9 to 89.9, and his completion percentage jumped almost ten percent.
In each of the past two college seasons, Watson earned a PFF college grade of over 90.0, and last season his 76.1 percent adjusted completion percentage ranked third in the entire draft class.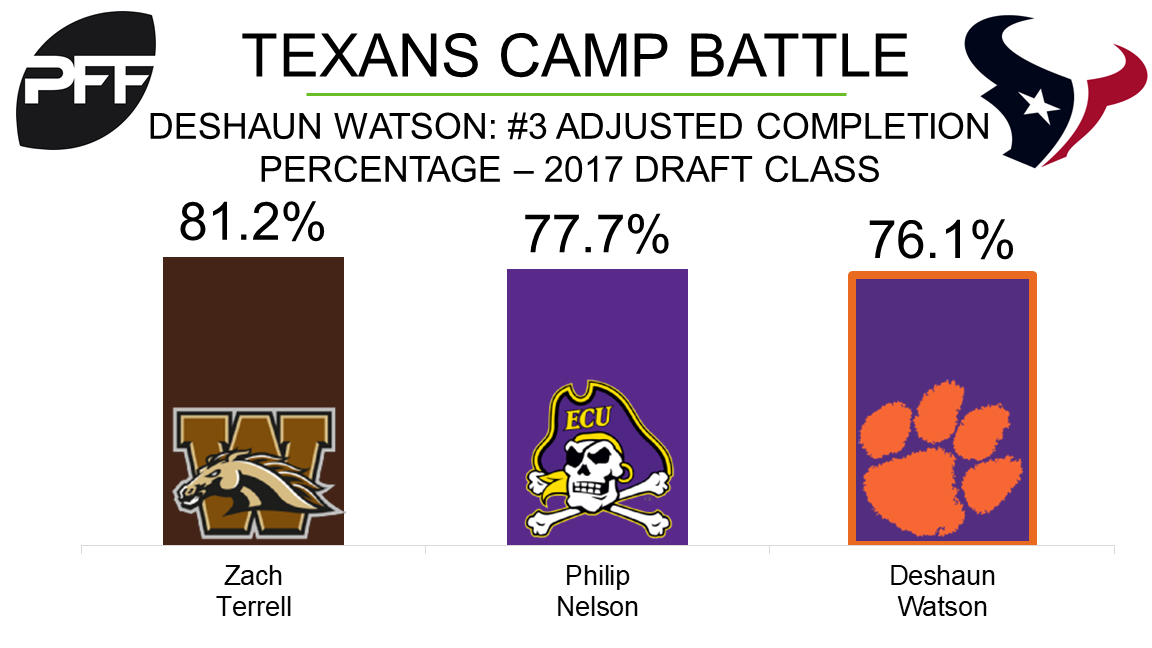 BY PETER REITZ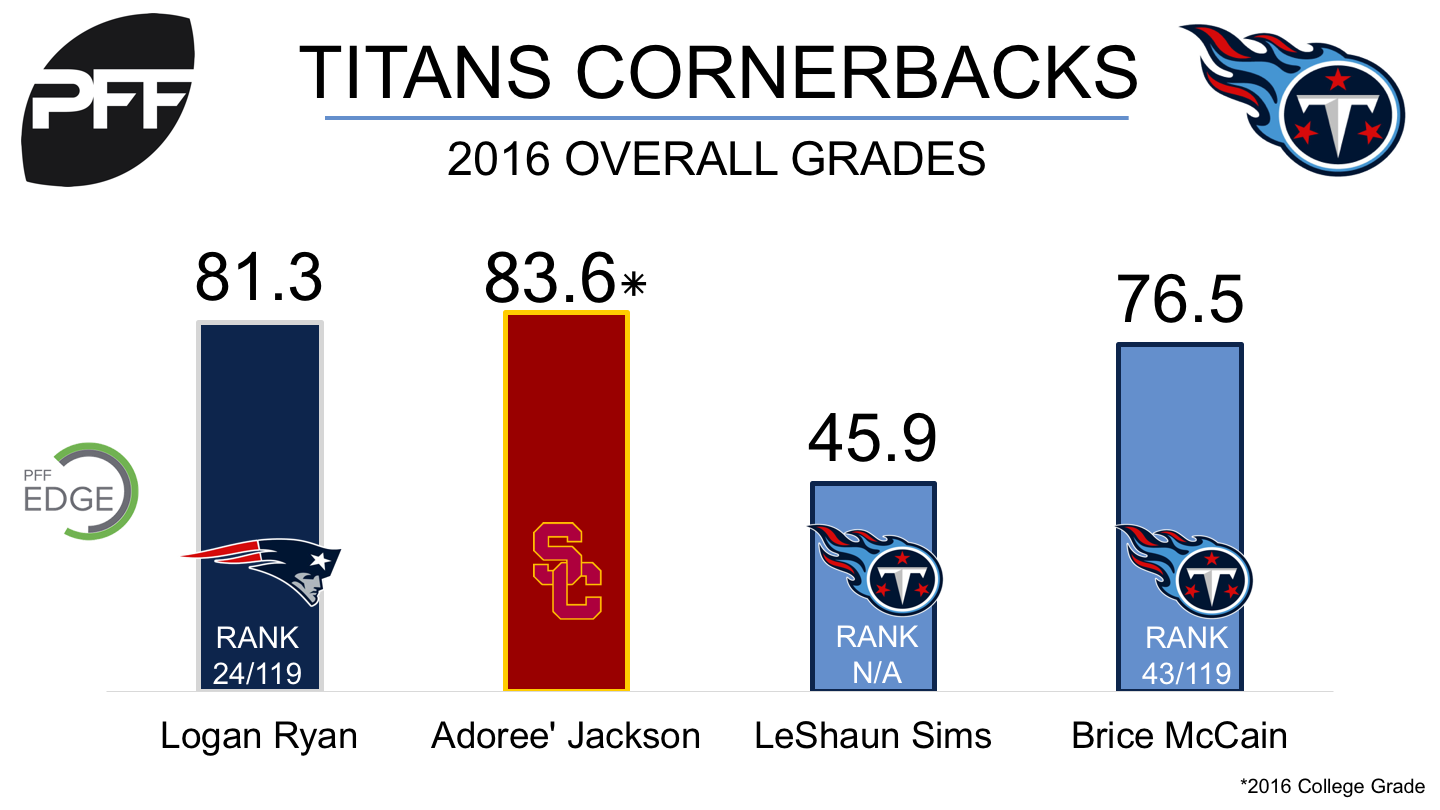 AFC West

BY ANDREW ITES
The Broncos are holding an open competition at the quarterback position for the second straight season as Trevor Siemian will fight for first-team reps with second-year QB Paxton Lynch.
Siemian's overall grade of 56.2 ranked 30th out of 33 qualifying quarterbacks last season.
Siemian particularly struggled in a clean pocket with the league's fifth-lowest adjusted completion percentage when he received adequate protection.
2016 first-round pick Paxton Lynch struggled in his two starts last season earning an overall grade of 44.7.
Lynch's adjusted completion percentage of 65.8% ranked below QB's like Blaine Gabbert, Ryan Fitzpatrick, and Brock Osweiler in a limited sample size.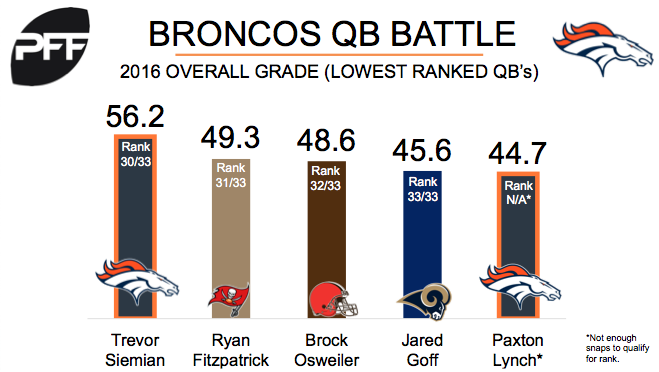 BY SAM MONSON
The Chargers drafted Hunter Henry to be the heir apparent to Antonio Gates, but there's a very real chance the student becomes the master as soon as training camp, leaving Gates a bit-part player in the twilight of his career.
The two split snaps relatively evenly last season, with Gates (585) narrowly edging Henry (573), but there was a far bigger discrepancy in the pass game where Gates (85) came closer to doubling the number of targets that came Henry's way (45).
Henry had a significantly better drop rate in 2016 (5.3 percent to 10.2) and gained far more yards per route run (1.99 to 1.41), so unless Gates can find a late-career surge, Henry could well steal the lion's share of targets as well as just surpass him as starter.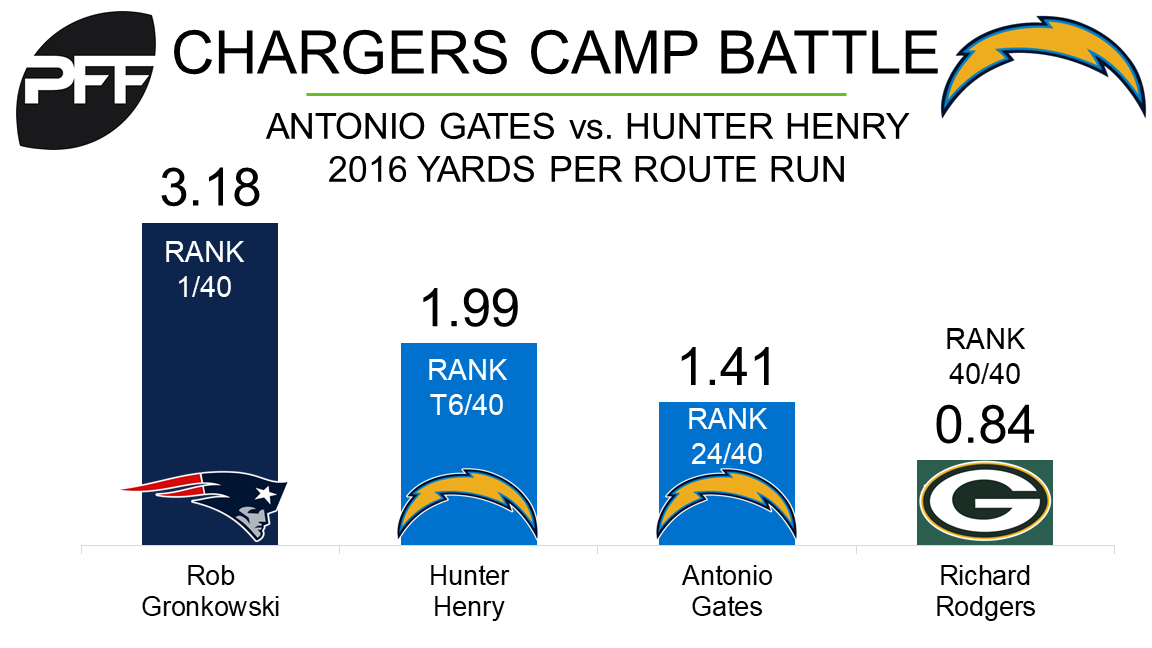 BY ERIC EAGER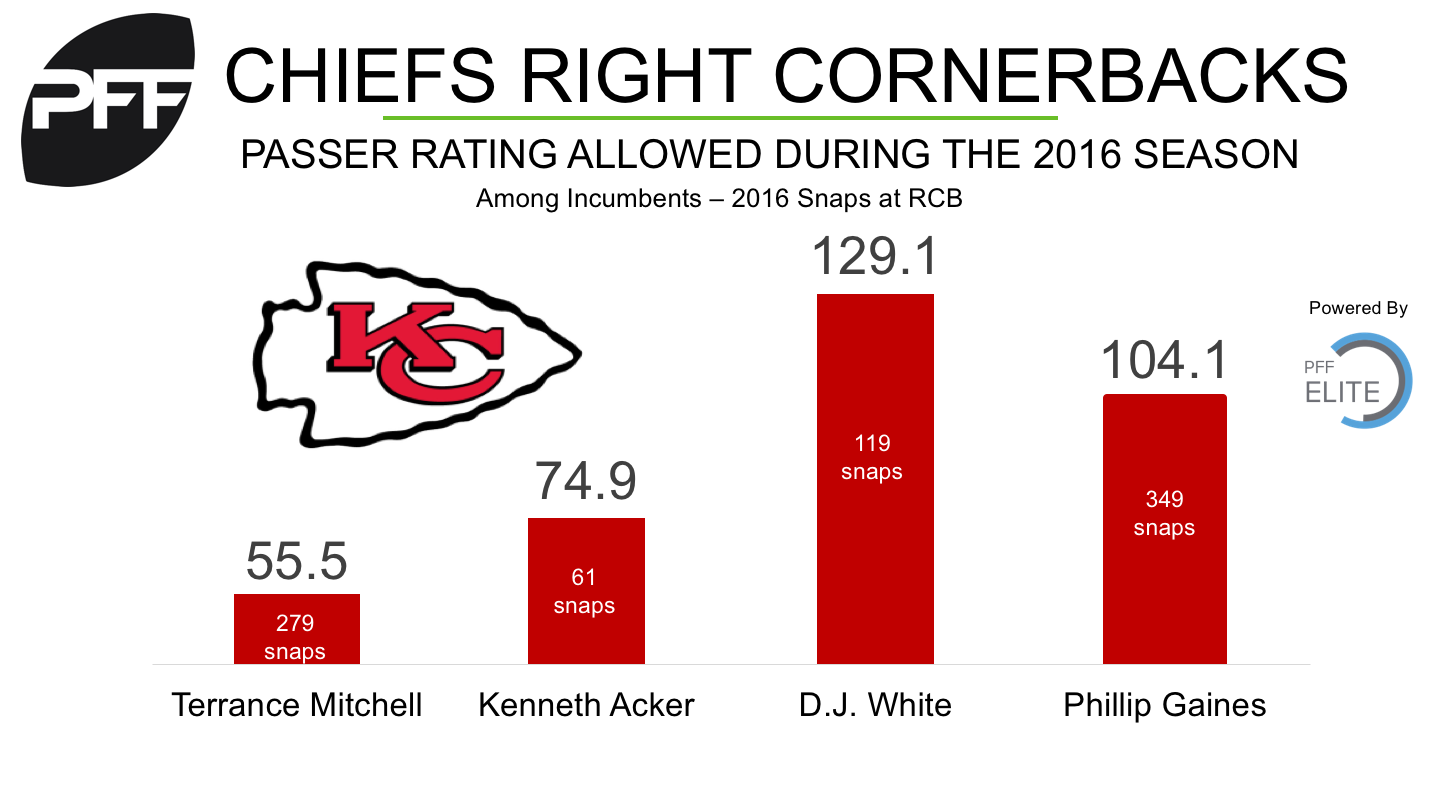 BY MIKE GUERRELLI
Oakland Raiders right tackle Austin Howard will face competition in training camp to retain his starting job in 2017 from free agent acquisition Marshall Newhouse and second year man Vadal Alexander. Given the Raiders huge investment in franchise quarterback Derek Carr, pass protection will be a key to this battle.
The Raiders offensive line surrendered a league-low eight sacks last season, and Howard allowed four of them. He was rated 66th of 94 tackles in PFF's pass blocking efficiency (pressures allowed per snap with weighting towards sacks) with 35 total pressures in 408 pass block attempts.
Newhouse played 258 snaps at right tackle and 247 at left guard for the Giants in 2016. He showed good pass protection ability allowing two sacks and four total pressures in 99 pass block attempts at tackle, ranking 13th of 94 in pass blocking efficiency.
In 2016, Alexander logged 171 snaps at right tackle when Howard was injured. He ranked 26th of 94 in pass blocking efficiency at tackle with one sack allowed and six total pressures in 117 pass block snaps.