The second week of 2017 NFL preseason is complete (almost), and PFF's grades for every player to take a snap are in the books. Here are the top performers over the week at every position, in our weekly look at the Team of the Week:
OFFENSE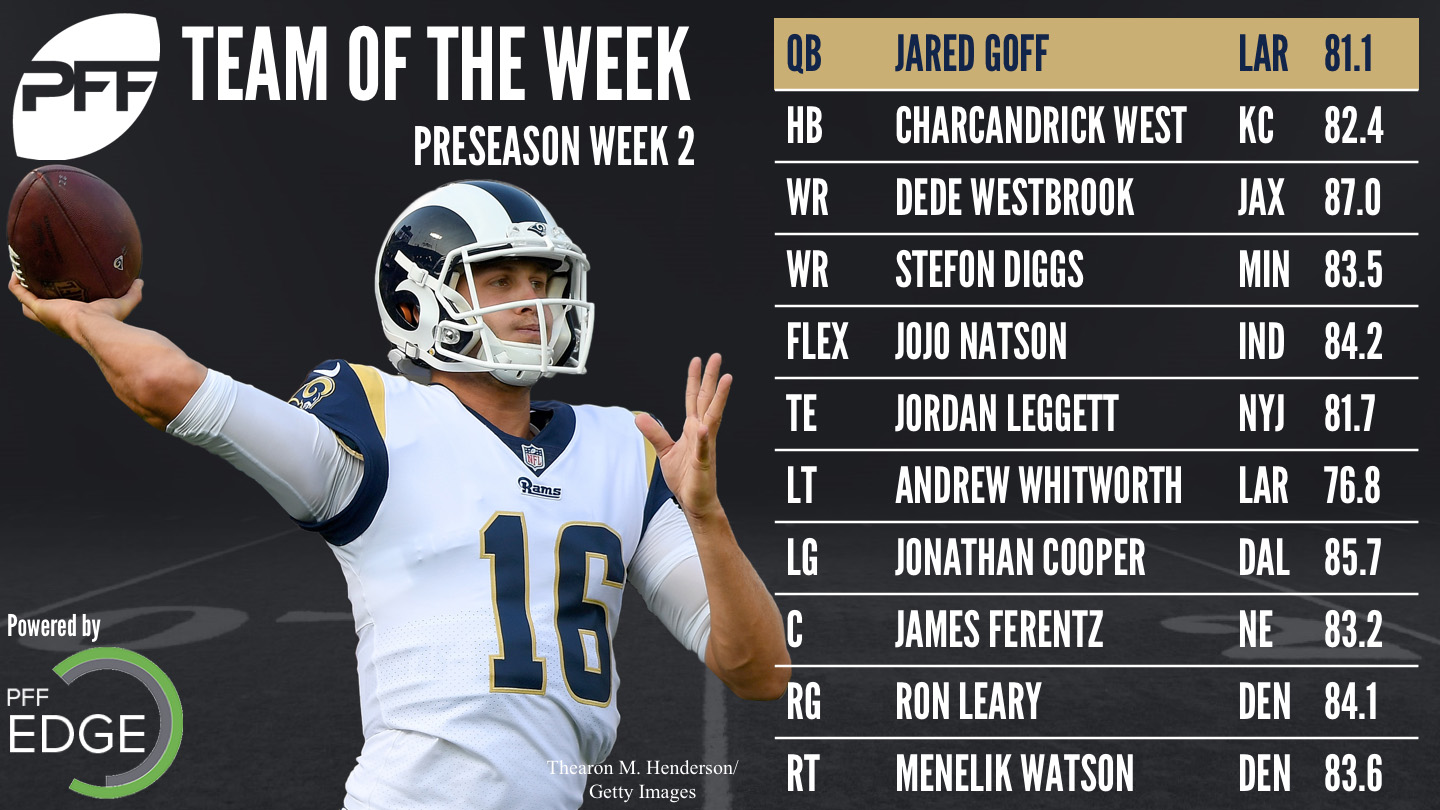 For the first time in his short career, Goff showed some of the enticing traits that led to the Rams selecting him first overall in 2016. While his short passing game was near-perfect (he completed 16-of-18 attempts of less than 10 yards), he was excellent downfield and outside the numbers. On outside throws that travelled at least 10 yards through the air, he connected on 3-of-5 attempts for 54 yards and a touchdown.
West tallied just six yards on five carries in Week 1 against the 49ers, but this week he absolutely shredded the Bengals with 113 yards on the ground on just seven touches, due largely to six forced missed tackles and three separate runs of at least 25 yards. Not surprisingly, he finished second in the league this week in elusive rating (526.5) and fourth in breakaway percentage (90.3 percent) (minimum five touches for both categories).
With six grabs for 131 yards and a passer rating of 118.8 when thrown to, Jacksonville's rookie wide receiver was a dominant force on Saturday. His 7.71 yards per route run led all receivers in Week 2.
Diggs' 5.91 yards per route run wasn't far behind Westbrook, and he finished the week fourth in the category. He snatched 4-of-5 balls sent his way, totaling 65 receiving yards on just 11 snaps in route.
Natson, for the second straight week, had a strong showing, as he grabbed three balls on six targets for 60 total yards. All of his catches came from the slot, making him the top yards-earner for the week from the alignment. Through two weeks he has amassed eight grabs for 111 yards and no drops, and could be a serious competitor to Phillip Dorsett for the starting slot receiver spot in Indianapolis.
Leggett was one of the few bright spots for the Jets on Saturday night, as he hauled in two catches for 40 yards, both good for second on the New York roster against Detroit. Going forward he needs to show he can consistently come up with the contested catch, as he missed two other opportunities for big plays in the end zone against the Lions, but on a roster with few true playmakers at the skill positions, his progress is encouraging. His 80.9 receiving grade was a game-high against the Lions.
Whitworth proved his worth during Week 2, paving the way to the 13th-highest run block grade among tackles at 81.2. He did not allow a single pressure on 11 pass block snaps of Rams QB Jared Goff's 22 total dropbacks. Whitworth has not allowed a single pressure this preseason on a total of 15 snaps in pass protection.
Cooper saw extended time for it being a preseason game, as he tallied 57 total offensive snaps, with 49 of them coming at left guard. He did not surrender a single pressure on 34 pass-block snaps, and posted a solid 81.4 run block grade.
Ferentz made the most of his 50 snaps this week, as he did not give up a single quarterback pressure and also played well on run blocks. His 83.5 run block grade was the second-highest in the league at the center position this week.
Leary is the only lineman on Week 2's Team of the Week to surrender a pressure, but he made up for it with excellent blocking on run plays and in the screen game. His 86.8 run block grade was the best mark among all right guards this week.
Watson put forth a steady performance against the 49ers, as he had a clean sheet in pass pro and posted a run block grade of 82.8 for the game. His play on Saturday was a big turn-around from week one, where he gave up a sack, a hit, and took a penalty on just 13 total snaps.
DEFENSE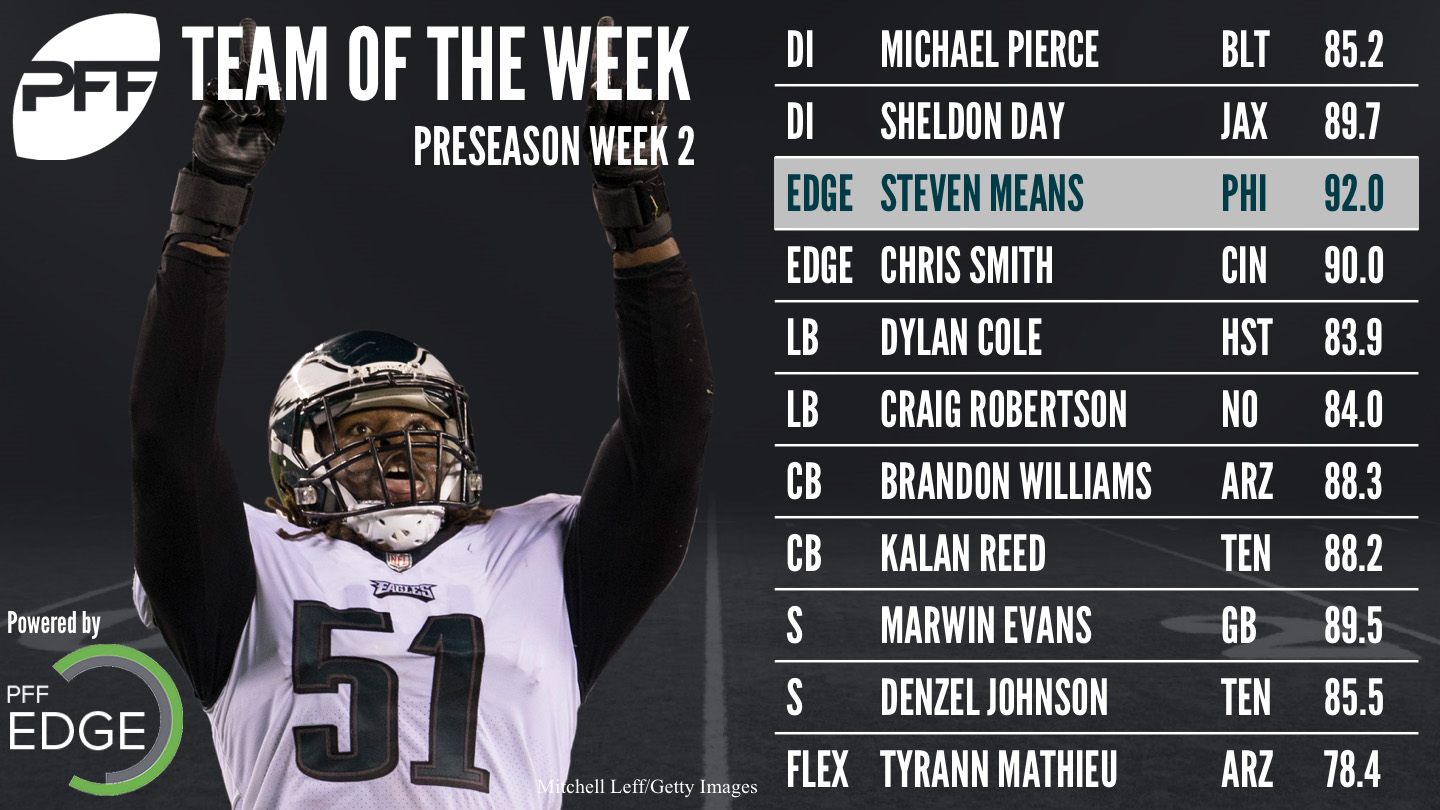 Pierce picked up where he left off last week, accumulating two run stops and a QB hurry. Through two weeks, he is averaging a run stop ever five snaps, third best among defensive tackles with at least 15 run snaps played thus far in preseason.
Day notched two run stops and a sack against the Bucs this weekend. Besides his stops, he was generally unblockable, as he posted and outstanding run defense grade of 92.3, the second-highest of the week.
Means nearly made the team last week, but there was no denying him this time after his play against the Bills. On 32 pass-rush snaps, he tallied two sacks, two hits, three hurries and a batted pass. Through two preseason games he's amassed three sacks, 10 total pressures and two batted passes. Means finished Week 2 with the highest overall grade of any player at 92.0 overall.
Smith is another edge rusher off to a hot start this preseason, as he followed up his seven total pressures from week one by equaling the feat against the Chiefs. This time he hit pay-dirt with a sack, and four of his other pressures ended with a Chiefs quarterback on the turf. Not surprisingly, his 27.6 pass rush productivity score ranks No. 1 among all 4-3 defensive ends through two weeks. Smith's 90.0 overall grade was the second-highest of any player, at any position in Week 2.
Cole racked up two stops in run defense for a run stop percentage of 12.5 and a game-high 91.4 run defense grade. He wasn't tasked with rushing the Patriots quarterbacks, and rather registered seven tackles in the game, without missing a single attempt. Cole was also targeted six times, allowing just three of those to be caught, and impressively limiting receivers after the catch by allowing just seven total yards after the reception.
Robertson consistently defeated Chargers blockers at the point of attack, helping him earn a run defense grade of 90.4. He also notched a sack and a QB hit.
The Bears went after Williams Saturday night, targeting him a total of seven times. He surrendered three catches for just 24 yards, also posting five solo tackles. Through three preseason appearances opposing quarterbacks have a passer rating of just 15.7 when throwing into his coverage.
Reed saw limited time on the field during his rookie campaign in 2016, but his play thus far in preseason suggests he may earn more this year. He surrendered just one catch for eight yards on five throws into his coverage against Carolina, breaking up two of the passes. Opposing quarterbacks are averaging just two yards per target against Reed through two weeks.
Evans had another solid week for the Packers, as he accumulated four solo tackles and three total defensive stops. Through two games he is allowing just 0.27 yards per coverage snap.
Johnson played 54 total snaps against the Panthers, and earned his stay on the field by racking up five solo tackles and a run stop. He also broke up a pass in coverage, and the lone completion against him went for just five yards.
No surprises here to give a flex spot to Mathieu when lined up in the slot, as the slot has always been where Mathieu has excelled best. He was targeted three times while in the slot this past weekend, and while he gave up two receptions, they went for a grand total of negative one yard. His third target against resulted in this.
SPECIALISTS
McManus was called into action on four occasions, and nailed all four attempts. None were of the "gimme" variety either, as three were in the 40-49 yard range, and the fourth was from 51.
O'Donnell accomplished a rare feat this week, as he averaged 51.8 yards per punt while nailing all four inside Arizona's 20-yard line. With just two of them being returned for a total of seven yards, his 50.0 net average was best among punters with at least three kick this week.
Jones was the league's highest-graded returner this week, as he gained a total of 58 yards on four returns. His best effort was a 32-yard return that showcased his speed down the sideline.