All season long, PFF will be ranking the best performing NFL rookies as they race for Rookie of the Year. See where all of our rookies racing to finish with the highest grade find themselves on our mid-season All-Rookie Team. Below is our weekly rookie rankings after the Week 9 games.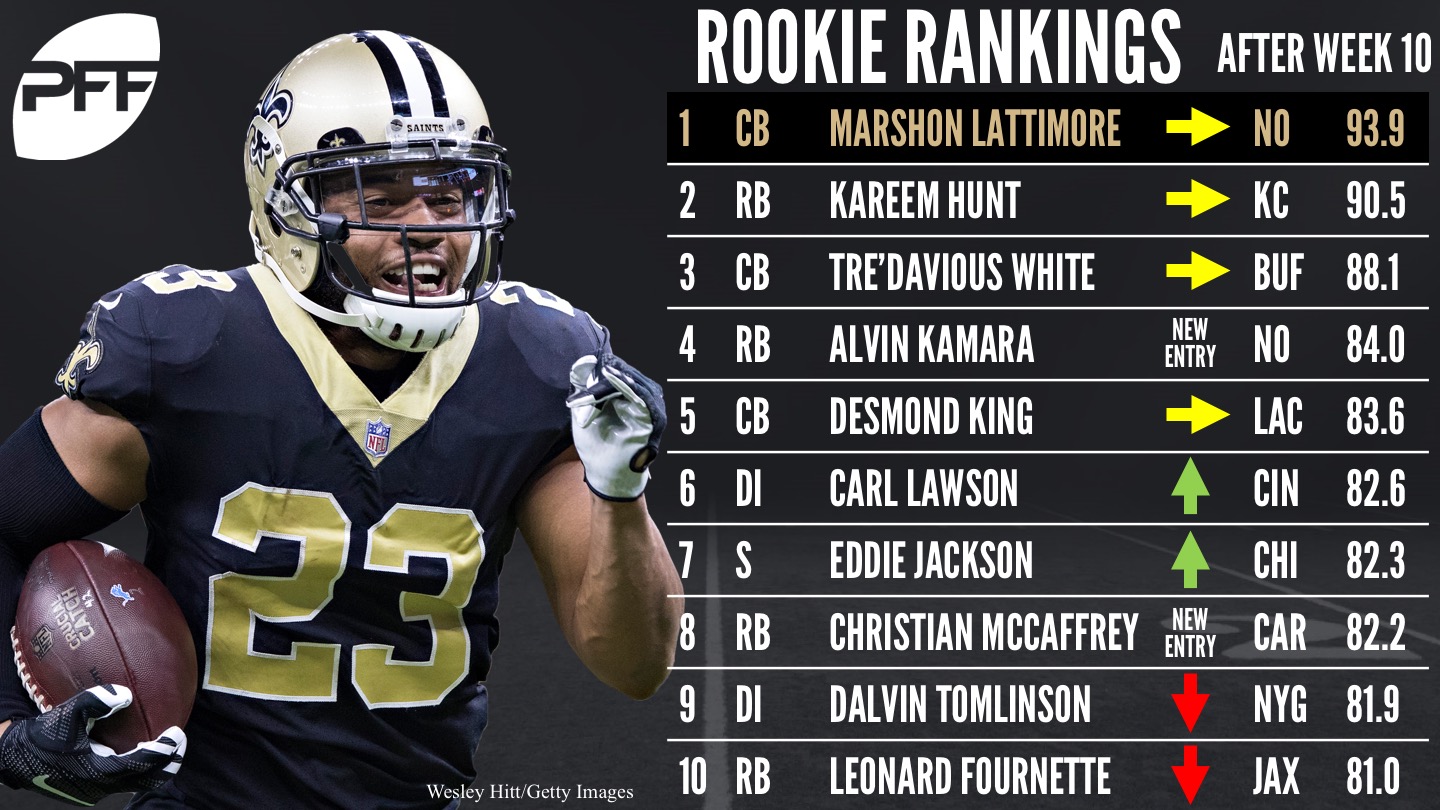 PFF Grade: 93.9
PFF Elite Stat: Lattimore has surrendered 0.63 yards per coverage snap this season (yards given up divided by snaps spent in coverage), the fifth best rate among corners.
No surprise here, Lattimore continues to lead this race for PFF's Rookie of the Year award as we close out Week 10. The rookie sensation received his first game grade since Week 1 that was below 80.0, but at 75.8 it was by no means a disastrous performance and if that's him on an off-day, QBs all around the league have my sympathy when they must face New Orleans. Opposing quarterbacks have targeted Lattimore in coverage 35 times this season and have earned just a 42.3 passer rating on those 35 throws.
PFF Grade: 90.5
PFF Elite Stat: Hunt ranks second among RB with a 96.2 elusive rating.
Hunt retains his No. 2 spot on this list through Kansas City's bye week. Although his performance has dipped a bit as of late, his hot start to the season was so dominant that it's going to take a few more games below 80.0 to really see him start to slide; and if he comes out of Kansas City's bye with a performance that rivals the beginning of the season he could very-well contest Lattimore's hold on the top spot down the stretch. Hunt is currently our highest-graded running back for the season and he continues to be the only running back who ranks within the top-5 in terms of both run grade and receiving grade.
PFF Grade: 88.1
PFF Elite Stat: White has allowed just one catch per every 13.5 snaps spent in coverage so far this season, the second-best rate among rookies (trailing only Lattimore).
White bounced back from – easily – his worst game of the season in Week 9 with an 81.0 overall grade in Buffalo's loss to New Orleans this past weekend, his fifth game of the year over 80.0. White currently ranks eighth among cornerbacks in terms of overall grade, he also ranks eighth with an 87.9 coverage grade. The LSU rookie broke up his league-leading 10th pass in Week 10 and his 21.6 playmaker index (number of pass breakups and interceptions divided by the number of targets into a players coverage) ranks fifth among corners as we head into Week 11.
PFF Grade: 84.0
PFF Elite Stat: Kamara ranks third among RBs with an 81.1 elusive rating.
Kamara has been on a tear since the Saints returned from their Week 5 bye with a little more space in their backfield than they had going into said bye week. Kamara has finished three of his last five games with a grade north of 85.0, including his highest-grade-to-date, 88.3, in Week 10 against the Bills; his 88.2 overall grade during this five-week stretch ranks second among running backs. For the season he now ranks fourth among RBs in terms of overall grade and he joins Hunt as being the only two running backs who rank within the top-10 in both run grade and receiving grade. Can he continue this tear and challenge the top-3? Stay tuned.
PFF Grade: 83.6
PFF Elite Stat: King ranks third among corners with 13 coverage stops (a stop is a solo tackle that results in a "win" for the defense given the situation).
King currently ranks 17th among cornerbacks in terms of overall grade and he's been getting it done for Los Angeles in the slot this season, as he's one of just nine corners to have spent at least 200 coverage snaps in the slot while allowing a passer rating less than 100.0 in slot coverage. The fifth-round pick has also been as sure a tackler as there's been in coverage this year, he and Jason McCourty are the only two CBs who are yet to miss a tackle in coverage while tallying at least eight stops.
PFF Grade: 82.6
PFF Elite Stat: Lawson ranks third among edge defenders with a 14.7 pass rush-productivity rating.
10 weeks into the season and Lawson is still yet to have a game where he hasn't tallied multiple pressures, earning five last week (two hurries, two hits and a sack) against the Tennessee Titans, the third time this year he's totaled at least five pressures in a game. Lawson is on pace for 71 pressures this season; since the start of 2014, Khalil Mack, Markus Golden and Joey Bosa are the only three edge defenders to finish their rookie year with at least 50 pressures, with Bosa's 59 last year leading the way.
PFF Grade: 82.3
PFF Elite Stat: Jackson is one of six safeties to have spent at least 200 snaps in coverage without missing a tackle (and among that group his two missed tackles in run defense are the fewest).
Jackson ranks 21st among safeties in terms of overall grade and he's one of just 11 safeties who rank within the top-30 in both coverage and run defense grade. Jackson got off to a rough start to his rookie year, grading below 50.0 in each of his first two games; since then though he's been a consistent, reliable player for the back end of Chicago's defense, grading below 73.0 just once since.
PFF Grade: 82.2
PFF Elite Stat: There are 20 qualified running backs who've dropped one or fewer passes this season, McCaffrey leads that group with 57 receptions, besting second-place recipient James White by 11 catches.
McCaffrey's play in the passing game has been sensational over the first 10 weeks as he leads all running backs with an elite 92.0 receiving grade. That grade is so exceptional (no other RB even has a receiving grade of 88.0) that despite ranking 40th among RBs with a 55.0 run grade he still ranks 10th among the group in terms of overall grade. McCaffrey has demonstrated in the first 10 weeks that he's a unique offensive weapon: he's lined up as a wide receiver on 25 percent of his offensive snaps and when he catches the ball the Panthers have picked up a first down or touchdown on 42.1 percent of those receptions, the seventh-best rate among 25 RBs with at least 20 catches.
PFF Grade: 81.9
PFF Elite Stat: Tomlinson leads all rookie interior defenders with 13 run stops.
Tomlinson currently ranks 32nd out of 113 qualified interior defenders in terms of overall grade while his 83.5 run defense grade ranks 24th. The big run-stuffer out of 'Bama had his worst game of the season last week against San Francisco (40.6 overall grade) but it was just the second time this season he finished a game with a grade below 79.0. The Giants will need him to bounce back in Week 11 when they square off against Kareem Hunt and Co. fresh off a bye week.
PFF Grade: 81.0
PFF Elite Stat: Fournette has forced 27 missed tackles this season as a runner, the fourth-highest total among RBs.
Fournette ranks 15th among running backs in terms of overall grade as we round the corner into Week 11, while his 79.5 run grade sits at 10th. 215 of his rushing yards this season have come on rushes that went for at least 15 yards, and even when he's not carving out large gains he tends to at least manage to get something: his 18.4 stuff rate (the percentage of a RBs runs that go for 0 or fewer yards) is the 18th best among 57 qualified running backs.
*Editor's Note: Reuben Foster has logged three full games this season, and with continued play, will find his rightful place on the rankings of our year-long race for the rookie of the year.
PFF Grade: 89.0
PFF Elite Stat: Foster's 12.5 run stop percentage ranks fourth among all linebackers.
If Foster keeps up the level of play we've seen from him in the past two weeks he's going to burst into this race with a force rivaled only by Jadeveon Clowney when he sees a Michigan running back. The only thing preventing Foster from placing within the top-10 in this week's update for this season-long race is playing time, when he's been on the field his play has been borderline elite. Foster has been on the field for 141 snaps over the past two weeks – after making it onto the field for just 64 snaps in the first eight weeks of the season – and he's earned game grades of 85.7 and 86.8. Over the last two weeks he's tied for the lead among linebackers with nine run stops and he's also one of 20 linebackers to have three stops in coverage over that span. Leonard Fournette may want to look over his shoulder, his former SEC rival is right on his tail to crack this top 10.
Honorable Mentions:
Marlon Humphrey, CB, Baltimore Ravens
Ryan Ramczyk, T, New Orleans Saints
Zach Cunningham, LB, Houston Texans
John Johnson III, S, Los Angeles Rams
Marcus Williams, S, New Orleans Saints
Takkarist McKinley, edge, Atlanta Falcons
Adrian Colbert, S, San Francisco 49ers
Cooper Kupp, WR, Los Angeles Rams