The Pittsburgh Steelers are seemingly always in the conversation as one of the top teams in the NFL year after year. With all of the injuries they had to overcome throughout last season, it was extremely impressive that they made it as far as they did. The Steelers are once again expected to compete at a high level in 2016; let's see how all their units stack up compared to the rest of the NFL.
[More: Be sure to check out PFF's ranking of all 32 NFL QB situations, offensive lines, running back units, receiving corps, secondaries, and defensive front-sevens. Catch up on all the team previews here.]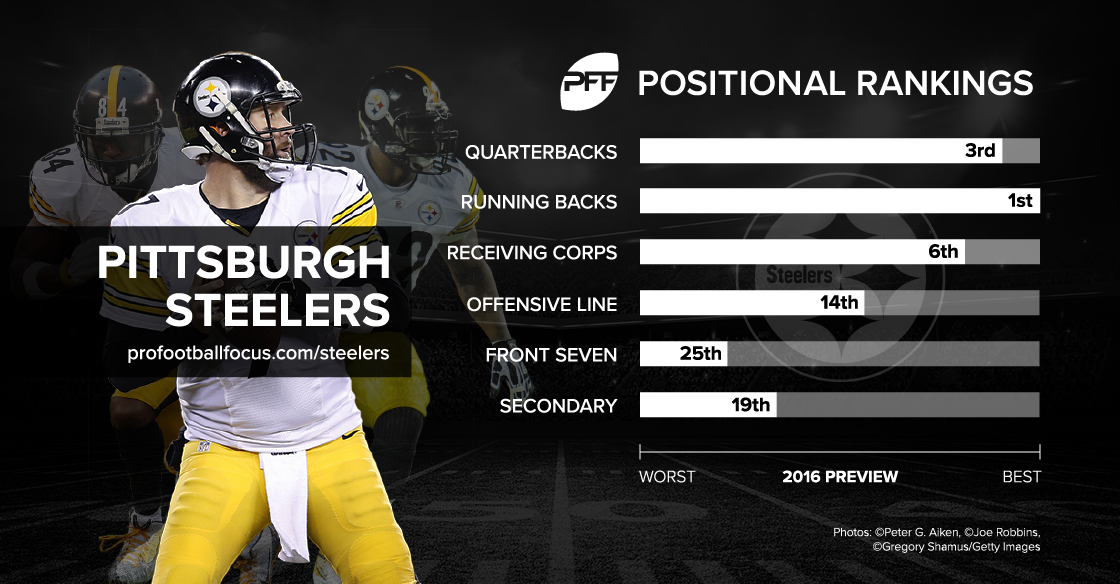 Roethlisberger excels on deep pass, but durability an issue
Quarterbacks: Third in PFF's season preview rankings
There's no real surprise that the Steelers rank this high on the list in terms of quarterbacks. Ben Roethlisberger is one of the best QBs in the entire league, and is still playing at an elite level—even at the age of 34. Last season, he led the NFL in deep-passing accuracy, with an adjusted completion percentage of 50.7 on throws over 20 yards. The one concern with Big Ben is his durability; in his younger years, he was able to take some huge hits and bounce right back up and keep going. Nowadays, those hits seem to do more and more damage. If Roethlisberger is forced to miss time again this season, backup Landry Jones has not yet proven to be an effective replacement.
Steelers own the NFL's best running back unit
The Steelers are blessed with the NFL's top running back corps, and it starts with Le'Veon Bell. Despite his injury, Bell earned the highest overall grade among running backs last season, at 94.0. He was top-five in the league in both elusive rating and breakaway percentage. Bell in unquestionably the best RB in the NFL, and the Steelers hope he can remain healthy this season. If health does once again become a concern, though, Pittsburgh has one of the best backups at the position in DeAngelo Williams. Last season, Williams ranked as the league's sixth-highest-graded running back after taking over for Bell. With both of these guys healthy, the Steelers' ground attack will be among the league's best.
(PFF Fantasy Insight: Bell is the No. 1 running back in our staff consensus rankings, and No. 2 overall. Ross Miles made the case for why Bell could even be first across all of fantasy. Part of the rationale is that DeAngelo Williams found such success in Bell's stead last year, so the situation is set up for success no matter who is the bell cow.)
Antonio Brown currently reigns as top receiver in football
The Steelers' receiving corps is essentially a one-man team, though it just so happens that that one man is arguably the best receiver in the NFL. Antonio Brown may not have the height or speed of other No. 1 receivers, but he's simply productive. He's been our highest-graded receiver the past two seasons, and his 2.89 yards per route run were second among receivers in 2015. The issue for the Steelers is that, looking past Brown, there's not much there for receiving threats. Martavis Bryant is suspended for the entire season, Darrius Heyward-Bey graded negatively last year, and Markus Wheaton has been very inconsistent as a receiver. Pittsburgh signed TE Ladarius Green (Chargers) to replace recently-retired Heath Miller, but Green has yet to prove that he's on the same level as Miller as a receiving threat.
Depth the biggest question along Pittsburgh's O-line
The Steelers have a lot of good pieces for their offensive line, but the question is whether or not they can all stay in place. Guards David DeCastro and Ramon Foster both ranked in the top-16 among their position last season. Center Cody Wallace was one of the league's worst at the position in 2015, but he'll be replaced by the returning Maurkice Pouncey, who was one of the best in 2014. Left tackle is still an issue; while newly-signed Ryan Harris may be an upgrade over Alejandro Villanueva, the former still struggled mightily at times last season in Denver. Then the issue becomes depth; if any of the starters get hurt, it will be up to guys like Wallace or Villanueva to replace them. Based on their play last season, that will leave a lot to be desired.
Hewyard, Harrison highlight otherwise shallow front-seven
Pittsburgh's defensive front-seven is essentially a two-person unit when you look at strength. Interior defender Cameron Heyward had some truly explosive games last year, and his 58 total pressures were the fifth-most at his position. But he also had a lot of games where he seemingly vanished. Then there's OLB James Harrison, who keeps coming back and playing at a very high level. Aside from those two however, they have some issues. Young players like Bud Dupree and Jarvis Jones struggled last season, and the Steelers will have to hope for improvement this offseason. Linebackers Lawrence Timmons and Ryan Shazier missed tackles at an alarming rate in 2015, and will need to fix those issues in 2016.
First-round pick Artie Burns the biggest question mark in secondary
The biggest issue last season for the Steelers' secondary was the poor play of corner Antwon Blake. Now that he's no longer with the team, they should see somewhat of an improvement in 2016. CB Ross Cockrell was a pleasant surprise last season, and was graded as the 27th-best corner in football. He should be a bright spot this year for the Steelers' defense. S Mike Mitchell and CB William Gay were not great players last year, but they performed at an above-average level, as they have for much of their careers. There's no reason to think that won't continue this season. One of the biggest questions will be rookie CB Artie Burns (University of Miami). The PFF draft analysis team was not as high on him as the Steelers clearly were, but if he can reach the potential that they see in him, the Pittsburgh secondary may be stronger than predicted.