It's difficult not to think that something was off about the Packers 2015 season. It was almost the same personnel at the 2014 season yet with vastly different results. Now they're banking on last year's divisional round exit being a fluke. Jordy Nelson, Jared Cook, Kenny Clark and possibly Blake Martinez are the only new projected starters, and they'll need to make a big impact to push them over the edge.
[More: Be sure to check out PFF's ranking of all 32 NFL QB situations, offensive lines, running back units, receiving corps, secondaries, and defensive front-sevens. Catch up on all the team previews here.]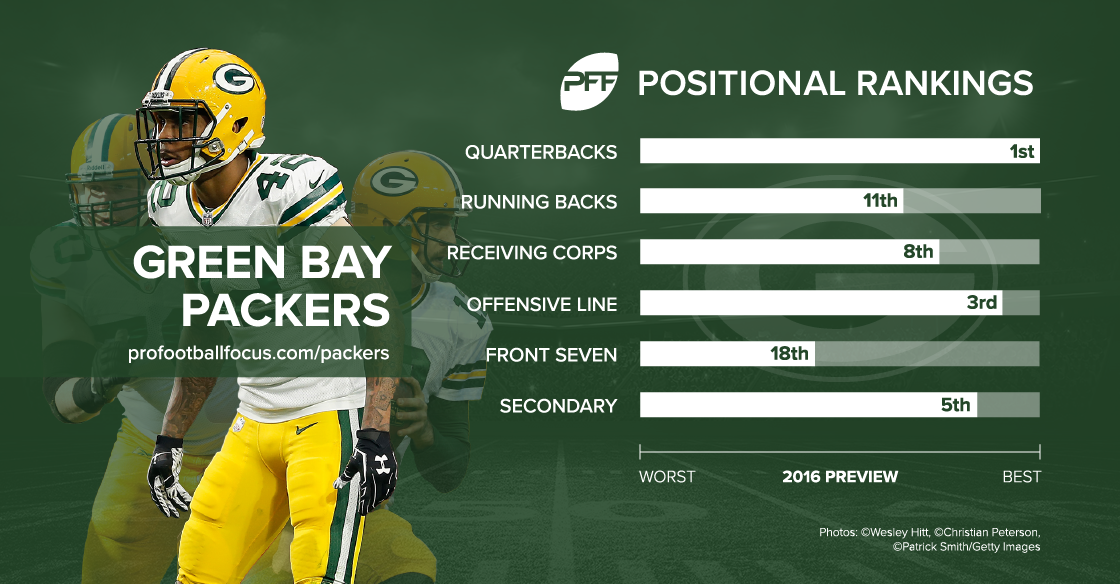 Bet on Rodgers to return to form
Quarterbacks: First in PFF's season preview rankings
Aaron Rodgers is a two-time MVP. Last season was his lowest-graded in his career as a starter, though, and I already went in depth why I'm not too worried about it. The heavily timing-based new-age west-coast offense that the Packers run never had their timing down last year. No one emerged as Rodgers' go-to, and his average time to throw grew from 2.86 seconds in 2014 to 2.96 seconds in 2015. The talent didn't disappear though, and a bounce-back season seems imminent.
A smaller Lacy should be a better Lacy
Running backs: 11th
There's no sugar-coating it: Eddie Lacy was overweight last season. It affected his game. Lacy won't be overweight this season though, if Mike McCarthy has any say in it, and that's a good thing for the Packers offense. Lacy's rushing grade was among the top- 0 in 2013 and 2014 before it got chopped in half in 2015. There's no reason to think that it won't get back to that top-10 level in 2016.
Another candidate for big improvement in Green Bay
Receiving corps: Eighth
Yet another "if they bounce back" ranking. If Jordy Nelson returns to form, they could even be better than eighth. We know what Randall Cobb can do if freed up on the inside. The real questions are who is WR3 (Davante Adams, Jeff Janis, Jared Abbrederis and Ty Montgomery in play) and is Jared Cook the dynamic threat at tight end they've been missing since Jermichael Finley's career was cut short? To do that, Cook will have to fix his drop issues — he had 10 drops on 49 catchable passes which, was worst rate in NFL last year.
Health should be key to unit improving
Offensive line: Third
Fully healthy, this is easily a top-five offensive line in the NFL. It was injuries and a slowed-down passing attack that made them look worse than they were a year ago. They also excel exactly where you'd want an offensive line to excel in this day and age: pass protection. Over the past two seasons, their +84.5 pass-blocking grade is the highest in the NFL. They'll have the same starting five for the third straight year and this time with the drafting of Jason Spriggs and Kyle Murphy they won't be as devastated if injuries do strike.
Green Bay's worst position group is still roughly average
Front-seven: 18th
The line of scrimmage is solid in Green Bay. Mike Daniels is a top 101 player in the NFL. Clay Matthews should be back to a more impactful position on the edge and Julius Peppers doesn't seem to be aging at 36 years old. B.J. Raji hadn't been an impact player in quite some time and his production should be easily replaced by Letroy Guion and first-round pick Kenny Clark. The linebackers, however, are not solid. Jake Ryan, Sam Barrington and Blake Martinez are in the running to start. Martinez is obviously an unknown coming out of Stanford, but Ryan and Barrington have never graded out positively nor shown much in the way of potential. If there's one player that could have a breakout year, I'd tab Datone Jones along the defensive line. He's quietly been a positively graded pass-rusher the past two seasons, but he's only played 816 snaps over that time.
If the unit meets its upside, it could be elite
Secondary: Fifth
There is a tad bit of projection here with second-year players Damarious Randall and Quinten Rollins stepping into larger roles. Randall had flashes, though he too often got burnt, yielding 1.53 yards per coverage snap, the 10th-worst figure in the NFL. Rollins on the other hand was solid as can be, giving up completions on only 56.4 percent of his targets while getting his hands on seven of 39 targets. He should fit in seamlessly in the slot. Everyone else in the secondary could be categorized as above average at this point and there's reason to think they could have one of the best safety tandems in the NFL. Ha Ha Clinton-Dix came on strong in year two, finishing with the third-highest run-defense grade of any safety, while Morgan Burnett finished with the ninth-best overall grade.