In a numbers-driven league, touchdowns, interceptions, and sacks are oft-used to objectively evaluate player performance. Of course, Pro Football Focus goes beyond the box score to provide advanced statistics and grades that more accurately convey how a player has performed in any given game, season, career, etc.
Here, we've looked past box-score totals and unearthed the hidden gems in the PFF databases that are key stats to know following Week 6 of the 2018-19 NFL season.

Amari Cooper's usage underwhelming amidst trade rumors
Per NFL's Ian Rapoport, the Oakland Raiders are asking for a first-round pick for 24-year-old wide receiver Amari Cooper despite coach Jon Gruden explicitly saying his team wasn't shopping the former Alabama standout.
Gruden also confirmed his previous statement when asked of the Cooper trade rumors, saying Coop will "be a big part of our offense" after Sunday's loss to the Seattle Seahawks. That, however, hasn't been the case, as Cooper ranks 53rd among the 66 NFL wideouts with at least 150 receiving snaps played in target share percentage (targets/receiving snaps) through Week 6.
Bengals may be in line for a change at guard
Three-year veteran guard Alex Redmond, who has started for the Cincinnati Bengals in all six of their games so far this season, has, to put it lightly, underwhelmed. The former undrafted free agent has allowed the second-most pressures (26) of any guard in football after allowing five in the team's heart-breaking loss to the Pittsburgh Steelers in Week 6. Redmond also leads all offensive linemen in total pressures allowed within 2.5 seconds of the snap with 12.
Backing up veteran Clint Boling at left guard, 2016 fifth-round pick Chrisitan Westerman may force the Bengals' hand in benching Redmond in favor of himself. Westerman allowed zero pressures in his 97 pass-block snaps during the 2018 preseason and just six total in his 251 preseason pass-block snaps.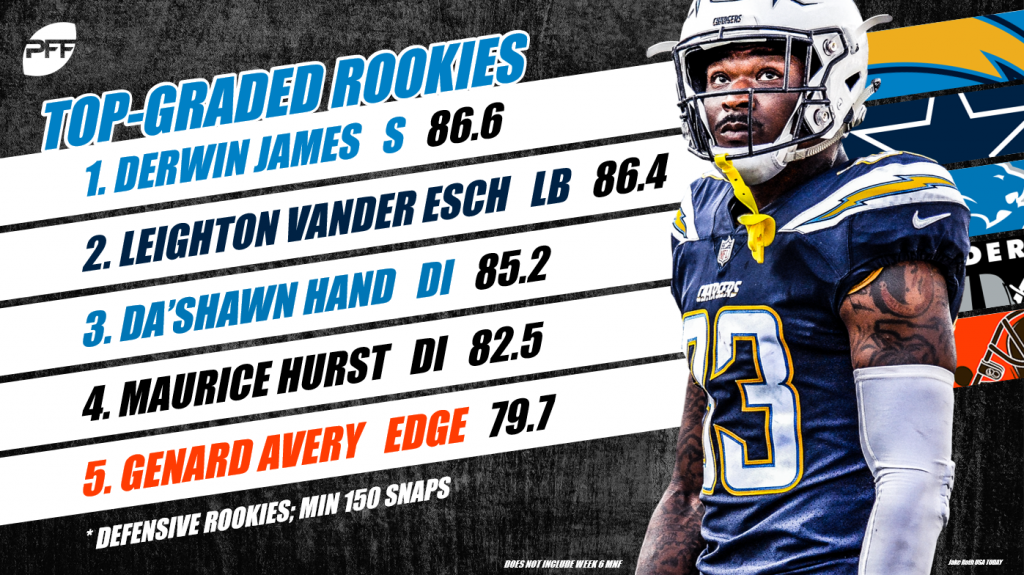 Leighton Vander Esch is having a historic start to his rookie season
Of the 70 off-ball linebackers to play at least 150 defensive snaps through the first six weeks of their rookie campaigns in the PFF era (2006-Present), Dallas Cowboys' Leighton Vander Esch ranks second behind Seahawks' Bobby Wagner in overall grade at 86.4.

Los Angeles' receivers are all about the big play
Los Angeles Rams' Brandin Cooks, Cooper Kupp and Robert Woods have each recorded 10-plus receiving yards on north of 50% of their targets this season, ranking first (58.3), second (54.1) and fifth (51.0) among wideouts with 20-plus targets through Week 6.
Yes, that's good.
Tyler Boyd gets the job done on 3rd and 4th down
Third-year Pittsburgh product Tyler Boyd, a former second-round pick for the Bengals, is tied for second in total targets on third and fourth down (21) and tied for seventh in percentage of said targets going for first downs (57.1) through Week 6. After a slow start to his NFL career, Boyd is slowly emerging as a top receiving threat on Sundays.
Jerry Hughes can't be stopped on critical downs
Buffalo Bills veteran edge defender Jerry Hughes has totaled 17 pressures, including 11 hurries, two hits and four sacks, across his 58 pass-rush snaps on third and fourth down so far this season. His 17 pressures and 29.3 pressure rate both rank first among all NFL defenders with at least 25 pass-rush snaps on critical downs through Week 6.
Is press coverage Austin Hooper's Kryptonite?
When pressed at the line of scrimmage, Atlanta Falcons tight end Austin Hooper has been targeted on just 12.1% of his receiving snaps. Conversely, in off coverage looks, he has been targeted on 25.0 percent of his receiving snaps. The 12.9% differential is the third-largest among qualifying tight ends so far this season.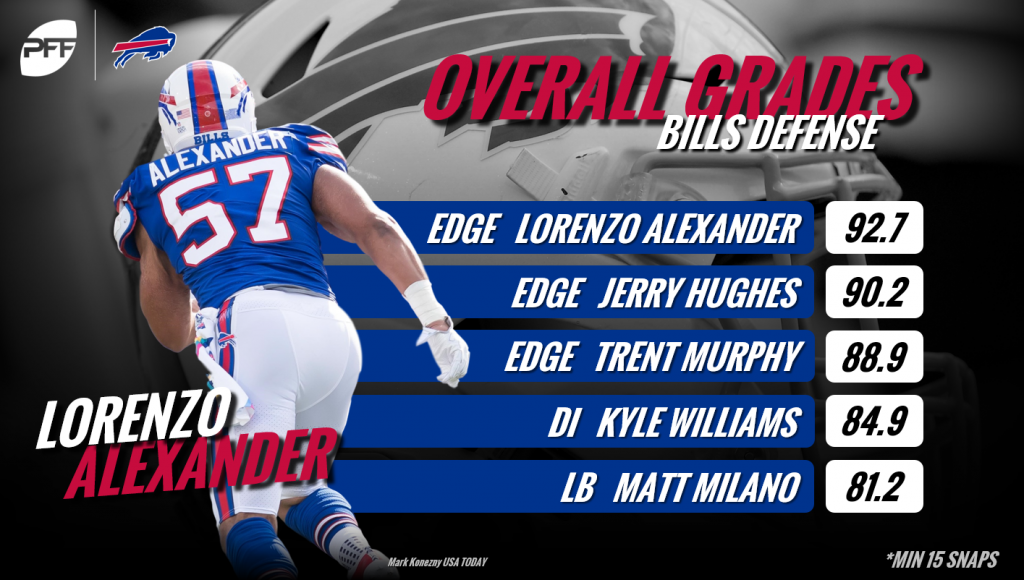 Hughes isn't the only one getting it done along the edge in Buffalo
Opposite of Hughes, 35-year-old veteran Lorenzo Alexander (90.9) leads all NFL edge defenders in overall grade through Week 6, including the likes of younger standouts Khalil Mack (90.0) and JJ Watt (90.5).
Desmond King II is a man among boys defending the slot
Los Angeles Chargers second-year defensive back Desmond King II has allowed just a 29.3 passer rating when targeted while defending a slot receiver so far this season, which leads all defenders who have been targeted at least 10 times while defending a slot receiver.

Derwin James is the league's best at defending tight ends
In addition to King's dominance in the slot, Chargers rookie safety Derwin James, who is a clear front-runner for Defensive Rookie of the Year honors through six weeks, has practically eliminated opposing tight ends this season. Of the  17 NFL defenders who have been targeted at least 10 times when covering tight ends through Week 6, James ranks first in passer rating allowed (14.6).
Seahawks running back Chris Carson can do a lot with nothing
Among the 30 running backs with at least 25 carries in which they've been contacted at or behind the line of scrimmage, Seattle's Chris Carson ranks first in yards per carry (2.3) and yards after contact per carry (3.4).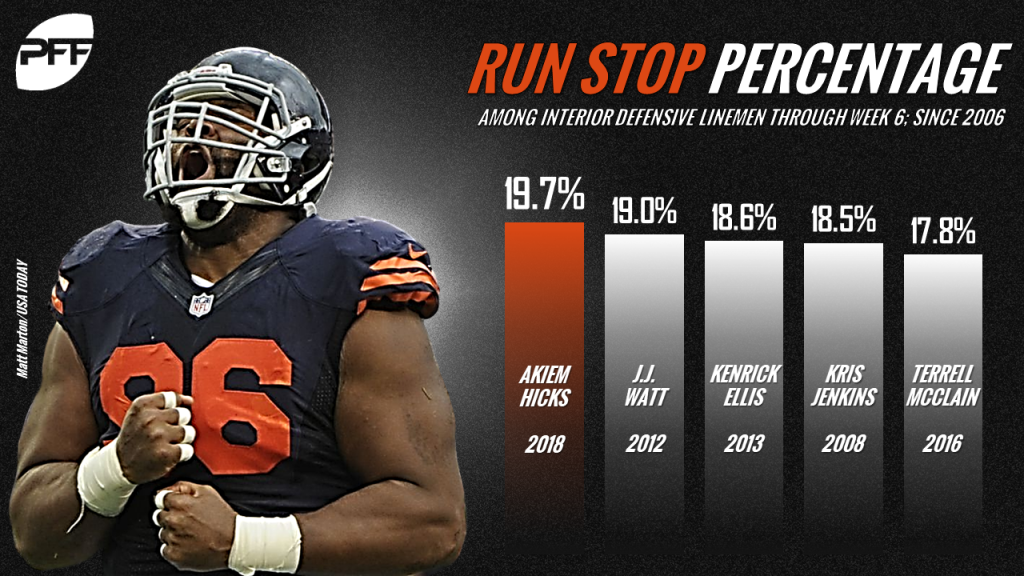 Akiem Hicks isn't the Akiem Hicks you used to know
Chicago Bears defensive interior Akiem Hicks, a University of Regina product who stood out to as many people that can say they've heard of the University of Regina to start his career, is finally turning heads in the Windy City. After earning 76.-plus overall grades in 2016 and 2017, Hicks ranks third among all qualifiers at his position in overall grade at 92.4.
At his best against the run, Hicks' 19.7 run-stop percentage is the highest of any interior defensive lineman through six weeks since PFF began tracking the statistic in 2006. Compare that to Hicks' meager 6.9 run-stop percentage in his rookie year, and you've got quite a leap.
Morris Claiborne thriving in press coverage
New York Jets cornerback Morris Claiborne, a former first-round pick with the Cowboys in 2012, is having the best start to a season of his seven-year NFL career, and his play in press coverage is at the root of his success. Among the 63 NFL cornerbacks to play press coverage on 100-plus snaps through Week 6, Claiborne ranks first in passer rating allowed (38.0).

Don't' play off coverage against Tyler Lockett
When gifted a free release off the line of scrimmage via off coverage, Seahawks' Tyler Lockett has caught 14-of-14 targets for 224 yards, four first downs and four touchdowns through Week 6. His 158.3 passer rating when targeted leads all receivers with at least 10 targets in off coverage looks.
Vic Beasley struggling to find 2016 magic
Falcons first-round edge defender Vic Beasley Jr. recorded a career-high 65 total pressures and led the league in sacks with 16 in his sophomore campaign in 2016. He, however, has yet to look the part since.
Beasley's pressure total fell to just 34 the following season, and now six weeks into the 2018 season, he ranks dead last among 114 qualifiers at his position in overall grade (40.4).