Roughly six weeks removed from shipping Khalil Mack to the Chicago Bears, the Oakland Raiders are reportedly shopping one of their top offensive weapons in four-year veteran wide receiver Amari Cooper.
Per NFL's Ian Rapoport, the Raiders "have had some conversations about potentially trading [Cooper]" and are currently asking for a first-round pick in exchange for the 24-year-old wideout's services.

Though he aimed for Cooper to be the "focal point of the offense" prior to the season, Raiders coach Jon Gruden and his run-first offense haven't utilized the Alabama alumnus to the extent to which he had been in recent seasons. In his first three seasons in the NFL (2015-17), Cooper was targeted on 21.1% of his receiving routes, but his target share as the "focal point" of Oakland's offense has dropped to just 14.4%.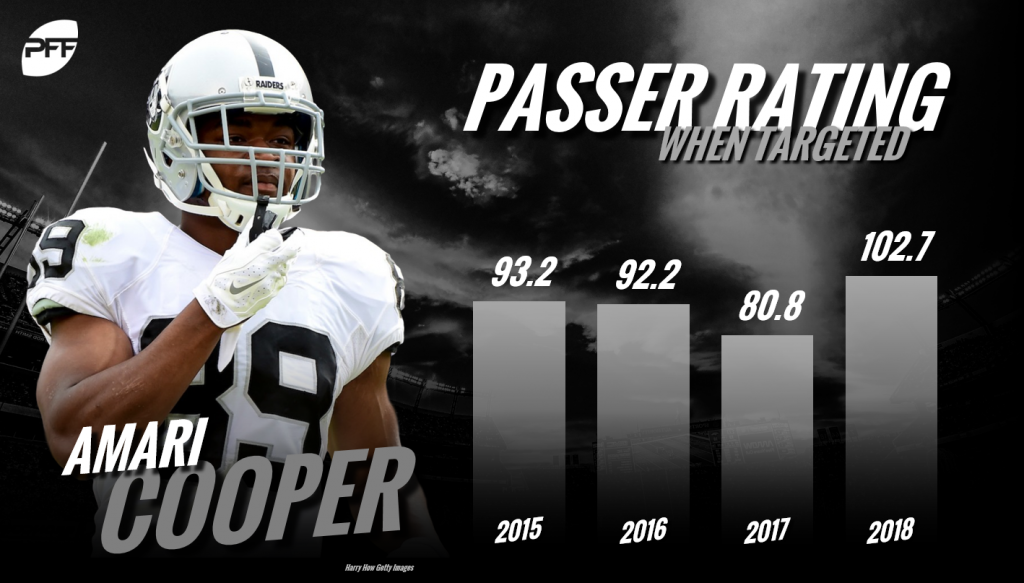 The concerns regarding Cooper's drops are legitimate, as he ranks outside the top-70 receivers with at least 1,000 receiving snaps from 2015-18 in drop rate (15%). His 35 career drops will frustrate any coach, but Gruden doesn't have Cooper's hands to blame in 2018, as Coop has recorded just two drops through six games. 
Cooper's tendency to disappear in games is also oft-pressed narrative tied to his inconsistent production, as he's had fewer than 30 receiving yards in 19 of his 52 career games in the NFL. However, his usage — or lack thereof — stands out in the 19 games.

Cooper averaged 4.15 targets per game in the 19 poor performances as opposed to a 9.1 target average (more than double) in the other 32 games. Also, just 35% of Cooper's 79 targets in the 19 bad games were thrown 10-plus yards down the field, while 45% of his 291 targets in the other 32 games were of such depths.
Four of Cooper's 19 games of 30 or fewer receiving yards have occurred in 2018, but he totaled just nine targets between the four of them (2.25 target average) and ran just seven routes in the most recent of which (Week 6) due to injury (concussion). In the other two games Cooper has played in this season, he has totaled 244 yards and a touchdown from a whopping 21 targets (10.5 target average).
Staying in 2018, Cooper has had one step or more of separation between him and the closest defender on 80.0 percent of his 30 targets, ranking fourth among the 81 wide receivers with at least 20 targets through Week 6. 
The most important thing in determining Cooper's worth is remembering that he is a 24-year old offensive weapon in the middle of his fourth season who has shown how great he can be in this league. Any team in the NFL could use a player of Cooper's caliber, so narrowing down his ideal landing spots from 31 to four isn't easy.
Although every team needs an explosive wide receiver, here is a look at some of the potential landing spots that make the most sense.

Jacksonville Jaguars
There has been a lot of heat on Blake Bortles regarding the production of the Jacksonville Jaguars' offense, but this could be caused by the lack of weapons on the roster. The team's highest-graded skill position player, Dede Westbrook (71.5), currently leads the team with 64.5 receiving yards per game. Their bell-cow running back Leonard Fournette has only seen action in two games this season, and Jacksonville is currently in a skid where they've dropped three out of their last four games.
Green Bay Packers
Aaron Rodgers would love to have a weapon with Cooper's prowess to add to his arsenal. The Green Bay Packers' offense has been questionable as a result of the week-to-week injury concerns of their receiving corps. Green Bay also has the trump card with two first-round picks in the 2019 draft as a result of the New Orleans Saints moving up in the draft to select Marcus Davenport. This move would also place Cooper outside of the conference, which is surely a plus in the Raiders' eyes.
New York Jets
Two of the three highest-graded New York Jets' offensive players are wide receivers Jermaine Kearse and Quincy Enunwa, who have both earned 73.9 and 73.0 season grades, respectively. However, their passing game 27th in the league in terms of overall grade. Enunwa leads the team with an underwhelming 47.8 receiving yards per game and is expected to miss three or four weeks with an ankle injury, per Rapoport. A trade for Cooper would greatly benefit their rookie quarterback Sam Darnold, whose top-10 average depth of target (9.4) matches up well with the Oakland receiver (11.5).
Seattle Seahawks
The Seattle Seahawks are similar to the Packers in that they have a franchise quarterback making do with what he has with a battered receiving corps. Seattle is in desperate need of receiving help with Doug Baldwin just returning from injury. The team has seen what could be if Baldwin were to get hurt again, so adding another downfield threat would stimulate this offense. Tyler Lockett has flashed impressive potential and is also the team's highest-graded skill player (75.8), but the next highest-graded receiver is Baldwin (68.1). Cooper could take this 23rd-ranked offense to the next level.
New England Patriots
Put simply, the Brady-to-Cooper connection would be too good to leave off this list.