Atlanta Falcons four-year edge defender Vic Beasley Jr. had a stellar sophomore campaign after going in the first round of the 2015 NFL Draft, as he led the NFL in sacks and ranked fifth in pass-rush grade (85.3) among qualifiers in 2016. Unfortunately for the Falcons and their injury-riddled defense, Beasley's strong 2016 season looks every bit the part of an extreme outlier.

This offseason, our data scientists dove into the Fort Knox of data available to them, focusing on the stability of our measures as well as the impact of many others. The endeavor focused on the impact of sacks and their importance to the defense. In the article, PFF's Eric Eager described how pressure rates and PFF's pass-rush productivity (PRP) numbers are much more stable year-over-year compared to sacks. Well, the test case has been, and might forever be, Beasley. 
As the article above pointed out:
"However, sacks are not the best way to project pass-rushing efficacy moving forward: Beasley's relatively weak pressure rates (18th among 3-4 outside linebackers in PRP in '16) in relation to other similarly statured edge defenders was a cause for concern, and his fall to five sacks in 2017 somewhat predictable."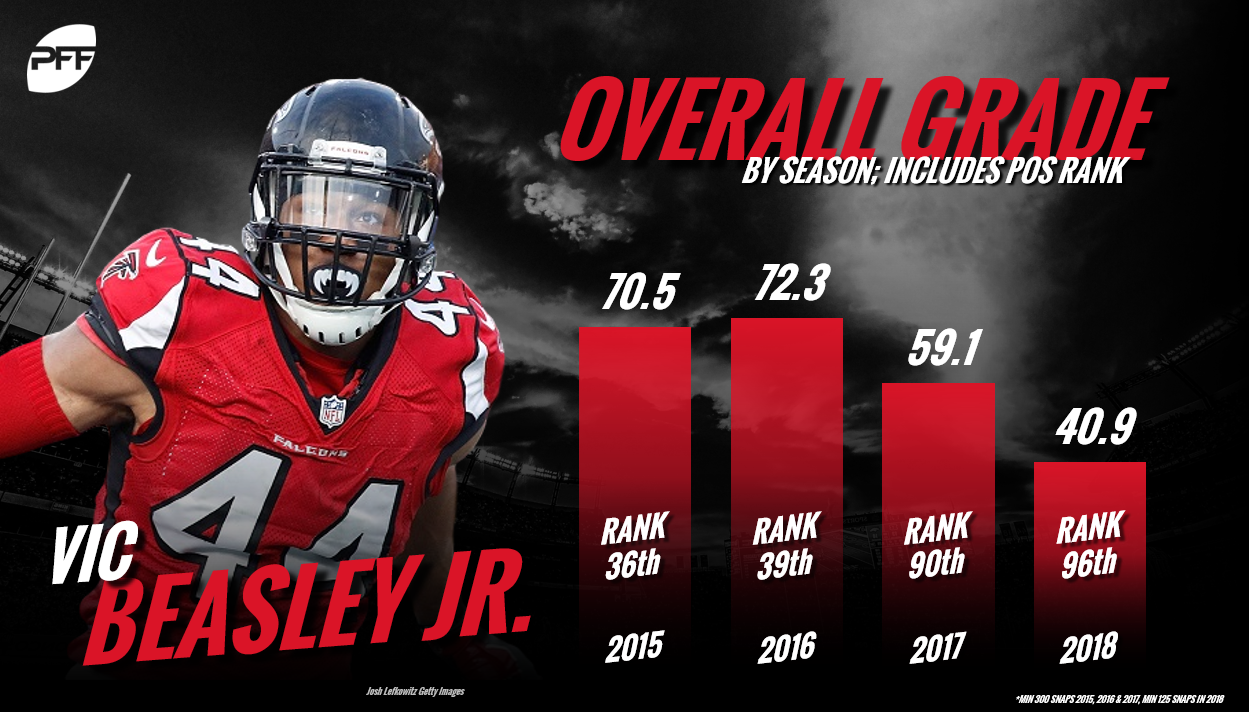 Fast forward to this season and, if the Falcons are going to hang around in the playoff picture, Beasley isn't living up to his 2016 season.
After this weekend's game against the Tampa Bay Buccaneers, Beasley has now had a game grade less than 50.0 in five of the Falcons' six games (42.8 against Bucs). Through six games, among edge defenders with at least 125 defensive snaps, his 40.9 overall grade ranks 96th… out of 96 qualifiers. His pass-rush grade out of those same 96 edge defenders ranks 87th (53.6). Also, his pass-rush productivity of 4.7 is currently 80th among qualifying edge defenders.
How does it get better? Unfortunately, at this point, the question is hard to answer.
Even in his great 2016 season, his 13.9 pass-rush win percentage ranked 43rd among qualifying edge defenders, and that number has decreased to 11.7 percent in 2018 (46th among edge defenders). NFL tackles have been able to sit on Beasley's speed rush, frequently push him past the pocket and easily keep him from disrupting the quarterback.
Furthering the outlier narrative, a whopping 27% of Beasley's total pressures in 2016 resulted in sacks — an outlier in an of itself compared to the rest of the league. Since 2014, the league average for sack percentage (sacks/total pressures) is just 14.6%.
For Dan Quinn and the Falcons, Beasley needs to find some of his 2016 magic, or Atlanta might be seeing their playoff hopes fade away. Beasley & Co. take on the New York Giants, who rank 29th in pass-blocking efficiency through six weeks, in Week 7 — a much-needed opportunity for Beasley to bounce back.
[Editor's Note: For further analysis of Beasley's 2016 season and its rarity, please view our Player Grades Case Study.]