Derwin James, as expected, has hit the ground running in the NFL, earning 70.0-plus overall grades in five of his first six games with the Los Angeles Chargers. As a result, the 17th overall pick in this year's draft leads all qualifying rookies – not just defenders – in overall grade (86.6) through Week 6, feeding the argument that he's running away with this year's Defensive Rookie of the Year award.
Leighton Vander Esch, however, is the counter-argument.
The Dallas Cowboys' first-round pick (19th overall) played only 44 defensive snaps through Week 2, but an(other) injury to nine-year veteran off-ball linebacker Sean Lee cast Vander Esch into a lead role starting in Week 3. In four of the five games in which he's played at least 20 defensive snaps (Weeks 2-6), the former Boise State standout has earned 74.0-plus overall grades.

Among the 72 off-ball linebackers with at least 150 defensive snaps this season, Vander Esch ranks third in overall grade (86.4), sixth in run-defense grade (82.6) and fourth in coverage grade (81.1). Diving into the PFF history books, Vander Esch ranks second among the 70 rookie off-ball linebackers with 150-plus defensive snaps in the first six weeks of the season in the PFF era (2006-Present) in overall grade, behind Seattle Seahawks All-Pro Bobby Wagner.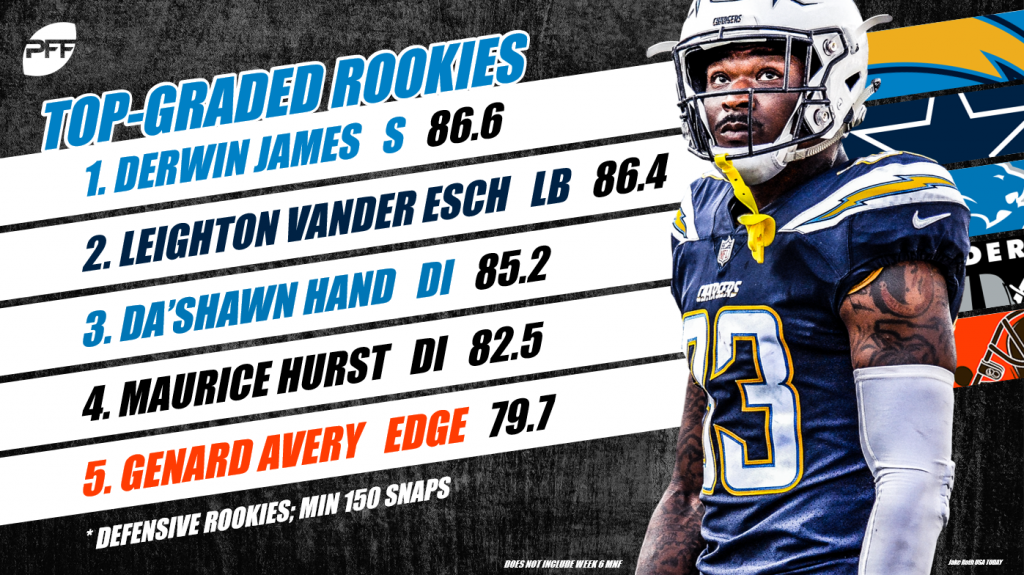 James' 86.6 overall grade carries similar weight in history, as it ranks third among all safeties with 150-plus defensive snaps in the first six weeks of their rookie seasons, and it falls just behind John Johnson III and Eric Reid.
The former Florida State standout has picked up where he left off in Tallahassee and is redefining the meaning of Swiss army knife in the NFL. James has played at least 40 defensive snaps at box safety (118), free safety (166), slot cornerback (47) and along the defensive line (40). To no surprise, he's excelled at all four positions and multiple phases of the game.
Leading all safeties in pass-rush snaps (28), James has recorded 10 total pressures, including four hurries, two hits and four sacks, so far this season. To add perspective, his 35.7 pressure percentage leads all defenders with at least 25 pass-rush snaps this season, and he is just 12 pressures behind fellow first-round pick Bradley Chubb, who has rushed the passer 115 more times than James.

In coverage, James has allowed receptions on nine of his 16 targets for 48 yards, four first downs, a touchdown, and an interception. He ranks first in defensive stops (eight) and second in yards allowed per target (3.00) among safeties with at least five targets in coverage this season. He has also forced an incompletion via a pass breakup, interception or close coverage on 25% of his targets, which ranks fourth among the 49 NFL safeties with at least 10 targets through Week 6.
Vander Esch has gone toe-to-toe with James in the advanced statistics department, as well.
At 6-foot-4, 255 pounds, Vander Esch embodies the traditional build of NFL linebackers. He plays aggressively in the run game and can shed blocks with the best of them, as evidenced by his fifth-ranked run-stop percentage (12.5%) among linebackers with 75-plus run-defense snaps. His average depth of tackle (2.95) also ranks eighth among the 30 linebackers with at least 15 tackles on the year.
Vander Esch's size and athleticism also pay dividends in coverage, as he ranks eighth among qualifying linebackers in yards allowed per target (6.23) and has missed just one tackle across his 144 coverage snaps.
The race is far from over but James and Vander Esch are the clear front-runners to claim Defensive Rookie of the Year honors that will follow the 2018 season.