As the Premier League season nears its exciting finale, the reality of relegation weighs heavily on the teams at the bottom of the table. Southampton, Nottingham Forest, Everton, Leeds United, Leicester City and to a lesser extent AFC Bournemouth are still in fear of going down, but despite their team's precarious positions, there's no denying that individual talent does exist within their squads.
Using PFF player grades, we've handpicked one standout player from each relegation candidate who, regardless of their club's fate, truly deserves to remain in the Premier League next season.
This article focuses on PFF player grades for the following facets: shooting, passing, crossing, carrying, challenges, clearances, defending against carries and shot stopping (for goalkeepers). The PFF player grading system evaluates every player for every event during a game. Each player is given a grade of -2.0 to +2.0 in 0.5 increments on a given play with 0 generally being the average or "expected" grade. For a detailed breakdown of how PFF player grades are calculated, we detailed the process in this article.
Southampton: James Ward-Prowse, midfielder
There's no doubt about the standout candidate at Southampton: James Ward-Prowse. The tireless midfielder has played every possible minute so far, and it's hard to imagine how much worse things would look for Southampton without him.
With five PFF player grades above 80 (shooting at 86.6, crossing at 85.7, passing at 84.6, defending against carries at 82.6, and clearances at 81.0), he undoubtedly deserves a place in the top flight next season, which would also give the 28-year-old set piece maestro the chance to pursue his quest to break David Beckham's record for goals scored from direct free kicks.
Nottingham Forest: Brennan Johnson, winger
When assessing standout performances at Nottingham Forest this season, two names come to mind: Morgan Gibbs-White and Brennan Johnson. However, with age serving as the tiebreaker, Johnson secures the nod.
At just 21 years old, the talented forward leads the club in scoring with eight goals, thanks largely to his exceptional shooting ability. Earning an 86.7 PFF shooting grade, Johnson ranks 9th overall and seventh among centre forwards.
Amidst a tumultuous season that saw the club sign a staggering 36 players, Johnson has managed to stay afloat. If Forest were to face relegation, there's little doubt that Johnson would be the subject of interest from a host of Premier League clubs this summer.
Everton: Amadou Onana, midfielder
Given the number of players that surface when assessing individual performances at Everton, one can't help but think the club should not be in the relegation battle they find themselves in (although having James Tarkowski with the highest PFF shooting grade on the team gives an idea of where things have gone wrong).
Considering all facets, the player with the highest ceiling is Amadou Onana. The Belgian international (6 caps) holds the team's highest grades for both carrying and defending carries, showing his importance both on and off the ball. Everton fans will be hoping for a quick return from Onana, who is currently out injured and therefore unable to help his team fight against relegation.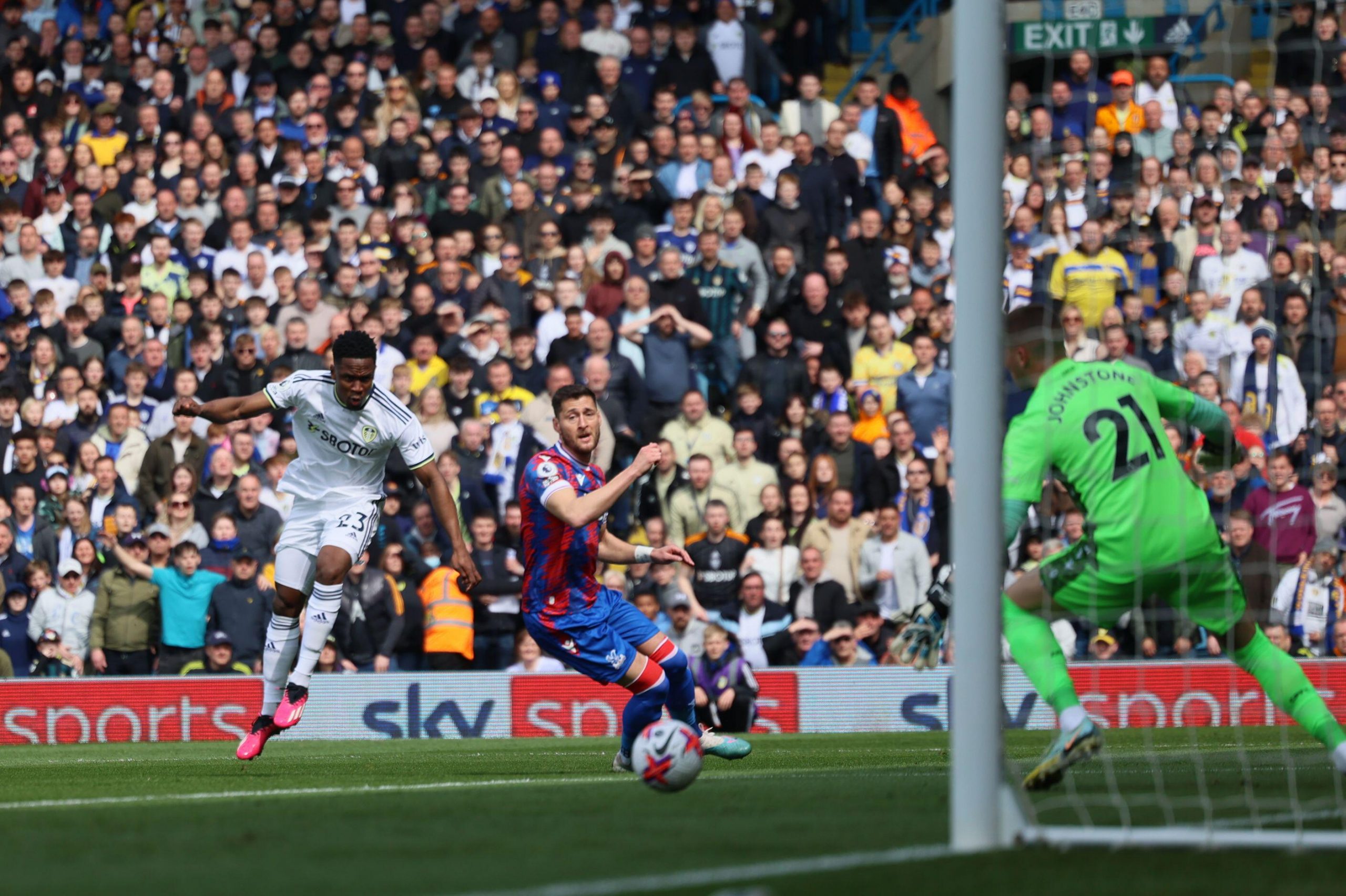 Leeds United: Luis Sinisterra, winger
Although Leeds United's squad likely includes several players who could pique the interest of other Premier League clubs, our pick, Luis Sinisterra, might be a surprise due to his limited playing time caused by injuries.
Despite playing the equivalent of little over nine full matches, Sinisterra has already demonstrated his prowess on the ball, with grades above 75 for carrying (80.4), shooting (75.4), and passing (75.2).
While clubs may have concerns about his physical attributes and ability to maintain consistent performance in the Premier League, his undeniable talent and potential upside make him a risk worth considering for teams seeking a dynamic attacking option.
Leicester City: James Maddison, attacking midfielder
Selecting James Maddison from Leicester City as a standout player is undoubtedly one of the easier choices for this article, given the club's otherwise underwhelming season.
Maddison is one of only four Premier League players to boast at least three grades above 80 for attacking facets (carrying at 85.9, crossing at 83.2, and shooting at 81.2).
If Leicester, who find themselves battling against relegation a mere six years after their legendary title triumph, were to face relegation, the 26-year-old would likely have no desire to spend his prime years in the Championship and he is likely to attract the attention of many if not all Premier League clubs.
AFC Bournemouth: Philip Billing, attacking midfielder
With AFC Bournemouth being five points clear from a relegation spot with only a handful of games to go, the Cherries are likely to stay up, but stranger things have happened in football. If Bournemouth were to go down, the player that warrants a transfer most in the summer would be Philip Billing.
The midfielder is the club's top goalscorer with seven goals and he currently has the highest PFF shooting grade of all central midfielders in the Premier League at 88.6 (fifth overall). Combined with above average grades for clearances (78.0), defending carries (76.9), carrying (73.2) and passing (71.1), Billing has established himself as a versatile player that would be a valuable addition to most Premier League squads.