If you want to win money betting on the NFL, individual player props are for you.
PFF's  NFL Player Props Dashboard leverages PFF's grading of every player on every play to bring you the best predictions for single-game player prop bets (passing/rushing/receiving yards, passing TDs, interceptions, receptions, etc.) to identify the best bets around the NFL every single week. The dashboard also allows users to adjust the line and odds for any player prop bet to account for the ranging prices offered by varying sportsbooks.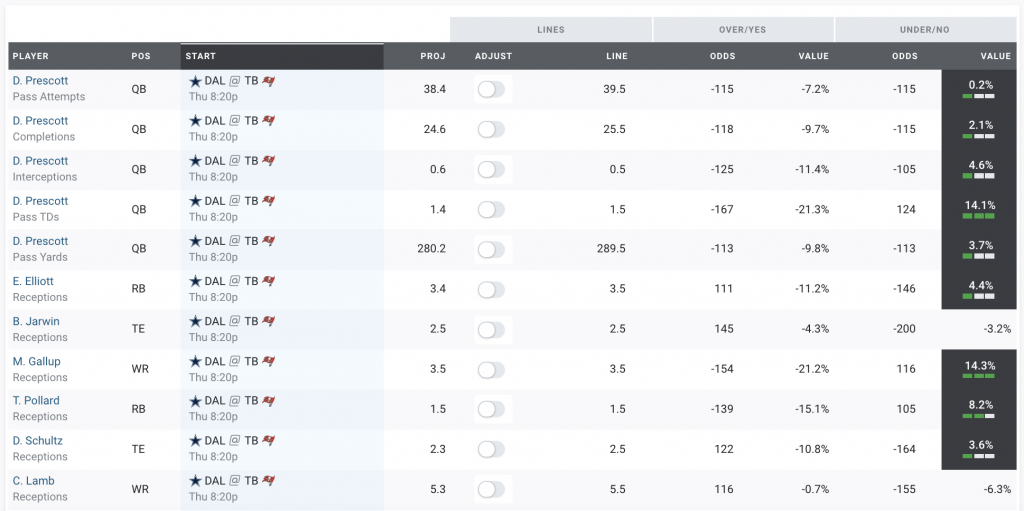 Consensus lines and odds are displayed and can be adjusted to customize cover probability, break-even, and value percentages. The higher the value, the greater the opportunity.
Player props odds are generally made available 24 to 36 hours prior to kickoff. Check in as kickoffs near and more props become available.
All of PFF's ELITE subscribers can access the new NFL Player Props Dashboard in addition to NFL & NCAA Greenline and PFF's NFL PFFELO Ratings.  Subscribe today using promo code KICKOFF30 if you're not already an ELITE subscriber.
What else is in PFF's ELITE subscription?
While the NFL Player Props Dashboard is well worth the price of admission, it's not the only tool/feature made available in PFF's ELITE subscription. Here's a breakdown of ALL that's available in PFF ELITE.
ALL EDGE Content, Tools & Products – Yes, everything in PFF's EDGE subscription is made available to ELITE subscribers. All. Of. It. We like to throw everything and the kitchen sink at our ELITE subscribers. 
Premium Stats 2.0 – And you thought NFL Player Grades for the most recent season were fun… All ELITE subscribers get access to Premium Stats 2.0, a stats database that includes PFF's advanced stats and player grades for every NFL player with at least one snap played since 2006. ELITE subscribers can also turn back the clocks and view AAF and XFL player grades and advanced stats. 
PFF NFL and NCAA Greenline – Using PFF's advanced data and player grades, the company has created an online dashboard (PFF Greenline) that provides a real-time look at NFL and NCAA games with PFF predictions for the spread, moneyline and over/under. All ELITE subscribers have access to PFF NFL and NCAA Greenline.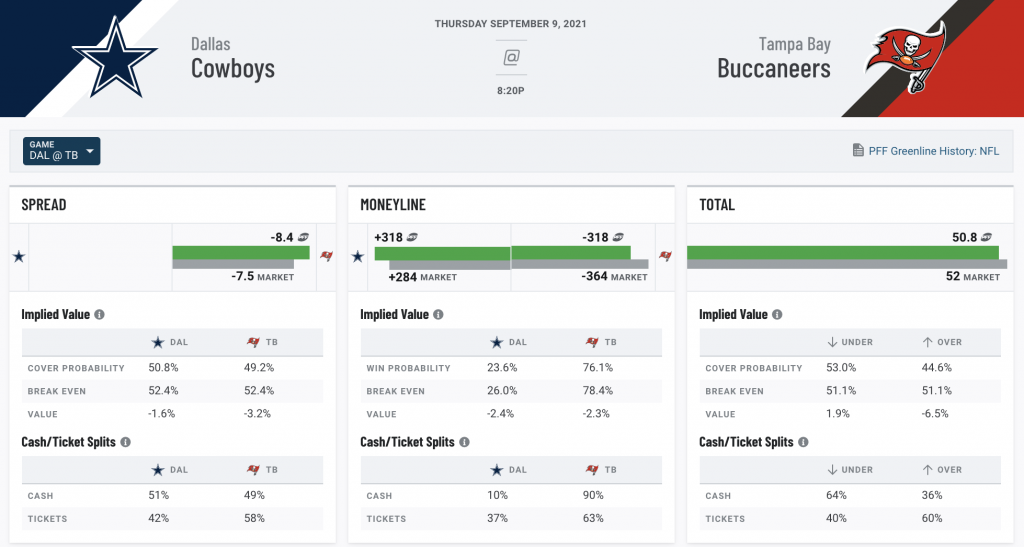 NFL DFS Optimizer – All ELITE subscribers have access to PFF's NFL DFS Optimizer, which helps users generate single- and multi-team lineups for DraftKings, FanDuel and Yahoo! DFS contents. 
NFL DFS Ownership Projections – All ELITE subscribers have access to PFF's NFL DFS Ownership Projections for FanDuel and DraftKings. 
SUBSCRIBE NOW using promo code KICKOFF30 to save 30% off your new PFF subscription today.