•  Best Bet: Ravens QB Lamar Jackson to be named NFL MVP, +2000 on BetMGM
•  Best Bet: Steelers RB Najee Harris Under 1,149.5 rushing yards, -115 on BetMGM
•  Use PFF player grades to help find the best player prop bets
Despite the 2022 offseason nearly being over, with many of the premiere betting opportunities (win totals, outrights) already pounded into place, the books can't get everything right. 
In this article I go through one bet I like for each AFC North team.  Enjoy!
---
Baltimore Ravens (+155 to win the division, win total of 9.5)
The market has really loved the Ravens all offseason, with some of the sharpest bettors we know jumping on the over 9.5 wins, which drives up that price.  Baltimore's four largest 2022 cap hits — Jackson, LT Ronnie Stanley, CB Marcus Peters, CB Marlon Humphrey — missed a great deal of time last year, but they all come back.  If they hit, and Jackson can continue to press the edge of being the one true rushing quarterback that consistently changes the math for everyone on the field, he could be a repeat winner of the award. 
Bet to Make: Ja'Marr Chase to win offensive player of the year +3000 on BetMGM
Chase is already one of the best wide receivers in the NFL.  In fact, using charting and tracking data from a season ago, no player "played faster" on deep passes a season ago than Chase did, with a tracking-data-adjusted 40-yard-dash time of 4.31 seconds.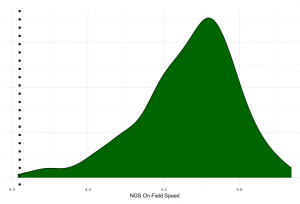 The distribution of on-field speed on eight and nine routes 2017-2021.  Vertical dotted line is Ja'Marr Chase's value.
Bet to Make: NICK CHUBB over 1199.5 rushing yards (-115) on BETMGM
Even if Deshaun Watson is suspended for the entire 2022 campaign, Nick Chubb is the best pure runner in the NFL, averaging more yards per carry on runs that were not perfectly blocked (4.3 yards) than some starting running backs averaged overall last year.  There are questions about Kareem Hunt's role, which further plays into the bull bet on Chubb.  With two of the best guards in football locked up, injuries at the center position, while bad, should be mitigated in their importance.  Bet Chubb. 
Pittsburgh Steelers (+900, 7.5)
Bet to Make: Najee Harris under 1149.5 rushing yards (-115) on BetMGM
Harris had a decent rookie year — at least volume-wise.  However, when you look at metrics like EPA or yards per carry, he wasn't terribly efficient. That means that if anything drops his volume down at all — a team struggling to pass the ball, a more difficult schedule, an injury — Harris is really going to struggle to get to this number.  I get "Todd Gurley 2016" flashbacks when I think about 2022 for Harris.