The 2022 NFL offseason provided a flurry of activity at the wide receiver position, with star players getting traded and signed to record-breaking deals. Here are seven wide receivers who could benefit from that movement with bigger roles in 2022.
From Week 10 through the playoffs, Davis' 87.8 overall PFF grade ranked fifth among NFL wide receivers, behind only Cooper Kupp, Davante Adams, Justin Jefferson and Deebo Samuel. His true breakout performance came in the divisional round of this past year's playoffs when he caught eight passes on 10 targets for 201 yards with four touchdowns in a loss to the Kansas City Chiefs.
Davis started just four games last season, but the Bills have since released Cole Beasley and not re-signed Emmanuel Sanders, both of whom played more offensive snaps in 2021, priming the third-year pro for a much bigger role in 2022.
Davis hasn't missed a workout since the end of the 2021 season, bulking up from his listed weight of 210 pounds to 227 this offseason (he was around 220 pounds last year), according to his trainer Bert Whigham. 
"He's bigger, faster, stronger," Whigham said. "He's put on muscle. People say that's too big, but he's 23 years old. He's just growing into his natural body. You're going to see a big receiver."
The Ravens traded top wide receiver Marquise Brown to the Arizona Cardinals during the draft, and one source said Bateman, a 2021 first-round pick, is "ready to be a WR1."
The Minnesota product missed Baltimore's first five weeks of the 2021 season but caught 46 passes for 515 yards with a touchdown while competing for snaps in the team's tight end-heavy offense with Brown and Sammy Watkins, who left in free agency to the Green Bay Packers. Unless Baltimore adds another wideout, Bateman, Devin Duvernay and James Proche are expected to be the Ravens' top receivers this season. Bateman should see his snaps increase from the 604 mark he put up as a rookie.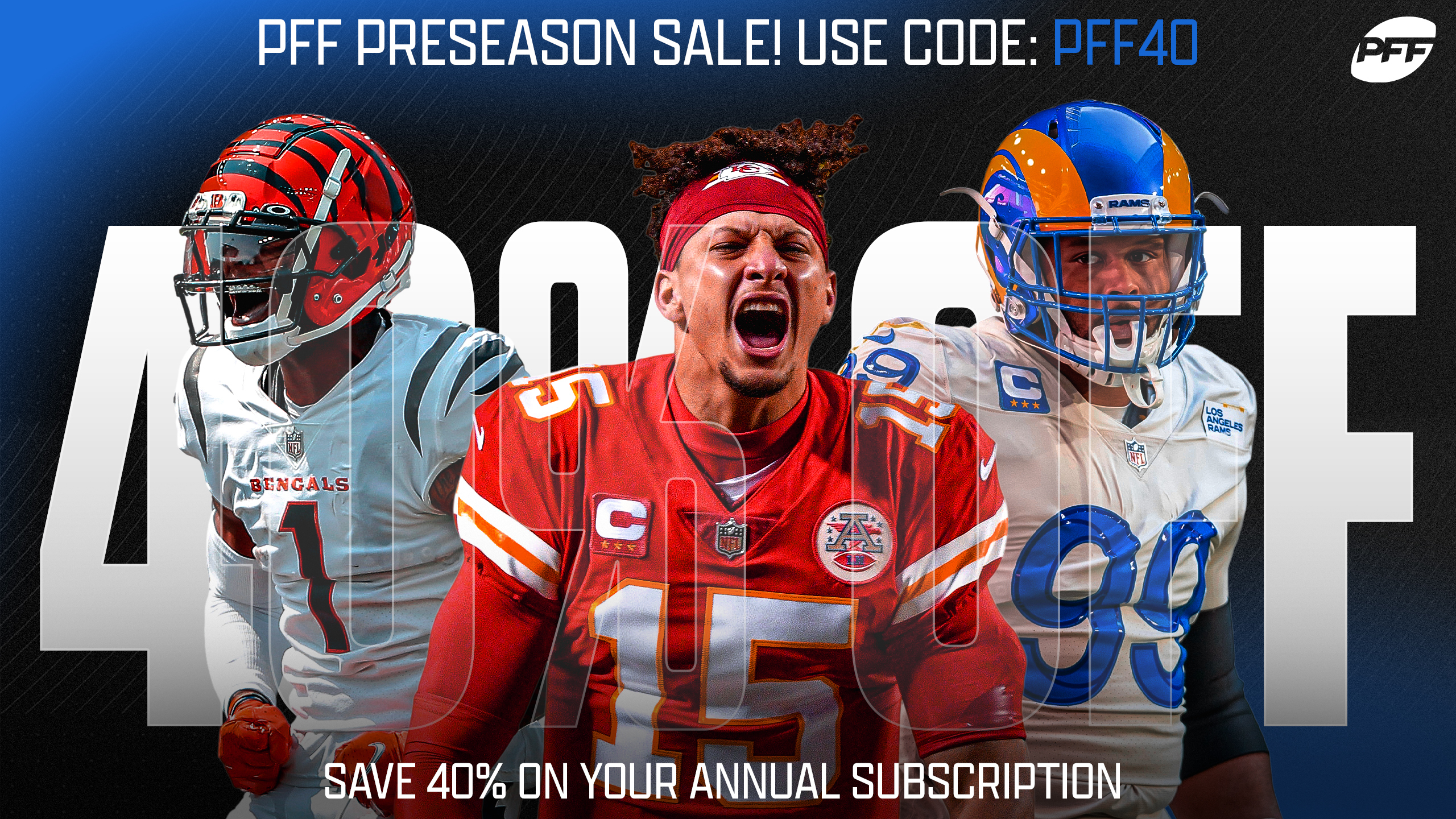 A sixth-round pick in 2018, Wilson didn't see significant offensive work until last season with the Dallas Cowboys when he played a career-high 589 snaps, put up a 71.6 PFF grade and caught 45 passes for 602 yards with six touchdowns.
Wilson played 16 games but only started four in 2021. He left in free agency when he signed a three-year, $22.05 million contract with the Dolphins. Miami still has Jaylen Waddle and added Tyreek Hill via trade this offseason, but Wilson should still be locked in as a starter in Mike McDaniel's offense. Last season, he was only a starter when Michael Gallup sat out with injuries in Dallas.
Wilson has also impressed his new team during offseason workouts, per a source.
The former Green Bay Packers receiver took his time in free agency and landed in an optimal spot with the Chiefs after Tyreek Hill was traded to Miami. Valdes-Scantling traveled to Texas to spend some time with new quarterback Patrick Mahomes before OTAs and minicamp, and it appeared to have paid off. The Athletic's Nate Taylor dubbed him the Chiefs' "best receiver" in their offseason workout program.
Kansas City is excited by what it saw from Valdes-Scantling this offseason, per one source. MVS started 39 games over four seasons with the Packers but has a chance to be Mahomes' top wide receiver in 2022.
Mooney is looking to continue his upward trajectory since being selected in the fifth round of the 2020 NFL Draft out of Tulane, and he has little competition for targets in Chicago since the Bears let Allen Robinson II walk in free agency.
Mooney surprised with 61 catches for 631 yards with four touchdowns as a rookie, then quietly put together an 81-catch, 1,055-yard campaign in 2021.
One source wouldn't be surprised if those numbers significantly increase again in Mooney's second season playing with quarterback Justin Fields.
The Cardinals lost Christian Kirk to a massive free-agent deal with the Jacksonville Jaguars, and DeAndre Hopkins is suspended for the first six games of the 2022 season.
Arizona acquired Marquise Brown in a trade with the Ravens and re-signed A.J. Green, but expect Moore, who showed explosive ability at times as a rookie last season, to see an uptick in snaps from 452 last season.
Head coach Kliff Kingsbury said earlier this offseason that he expects Moore to be a much bigger part of the offense with the goal of getting him the ball in space.
Moore is also a riser for fantasy football purposes, as PFF's Kevin Cole noted in his breakout wide receiver series.
Unprompted, Bert Whigham — Gabriel Davis' trainer quoted above — talked up Watkins, who's also working out in Orlando with Davis. The Packers' wide receiver room is wide open between Watkins, Allen Lazard, Randall Cobb, second-round pick Christian Watson, fourth-round pick Romeo Doubs, seventh-round pick Samori Toure, 2021 third-round pick Amari Rodgers and others.
Watkins played only 457 snaps last season and caught 27 passes for 394 yards with a touchdown in 2021. He didn't catch a pass after Week 13.
"That guy is going to be good for the Packers. He started working with us like seven weeks ago, and he said he wanted to be 'college Sammy.' Sammy is going to have a big year. He told me, 'I want to be Clemson Sammy Watkins.' And I was like, 'OK, let's do it.' He's just up there squatting 405 for eight right now like it's nothing. He started around 218, and he's at 225 right now, too. He's going to go be a No. 1 in Green Bay.
---