The New Orleans Saints held on for a divisional victory over the Carolina Panthers after one of the longest field goal attempts in NFL history fell just short from 65 yards. Joey Slye's attempt might have been good from 64, falling just below the crossbar with just under 2 minutes remaining in the game.
Editor's note: All of PFF's grades and advanced stats from this game will be finalized and made available to ELITE subscribers within 24 hours of the final whistle.
Story of the Game
The game was a low-possession affair, as both teams created short completions and neither defense could get an important stop until the Saints forced the late field goal try. Drew Brees and former Saints quarterback Teddy Bridgewater combined for 53 completions and only 11 incompletions. 
The Panthers offense gained .47 expected points per play — easily their best mark of the season, as the Saints defense continues to struggle. Carolina's offensive line was a big reason why they were able to sustain drives all game. Teddy was kept clean and made the right decision time and time again.
Bridgewater had a very low average time to throw of 1.98 yards, which was made possible by the offensive line and the Saints' coverage unit continuing its season-long tribute to the porous 2015 Saints defense. Whenever the quarterback wanted a slant throw to Robby Anderson, it was wide open. Anderson was targeted the most by Bridgewater and ended up with six catches on his eight targets.
D.J. Moore caught two touchdowns and five of his six targets. Mike Davis led the team in rushing with 12 yards on seven carries and forced two missed tackles. Ten of this 12 yards came after contact.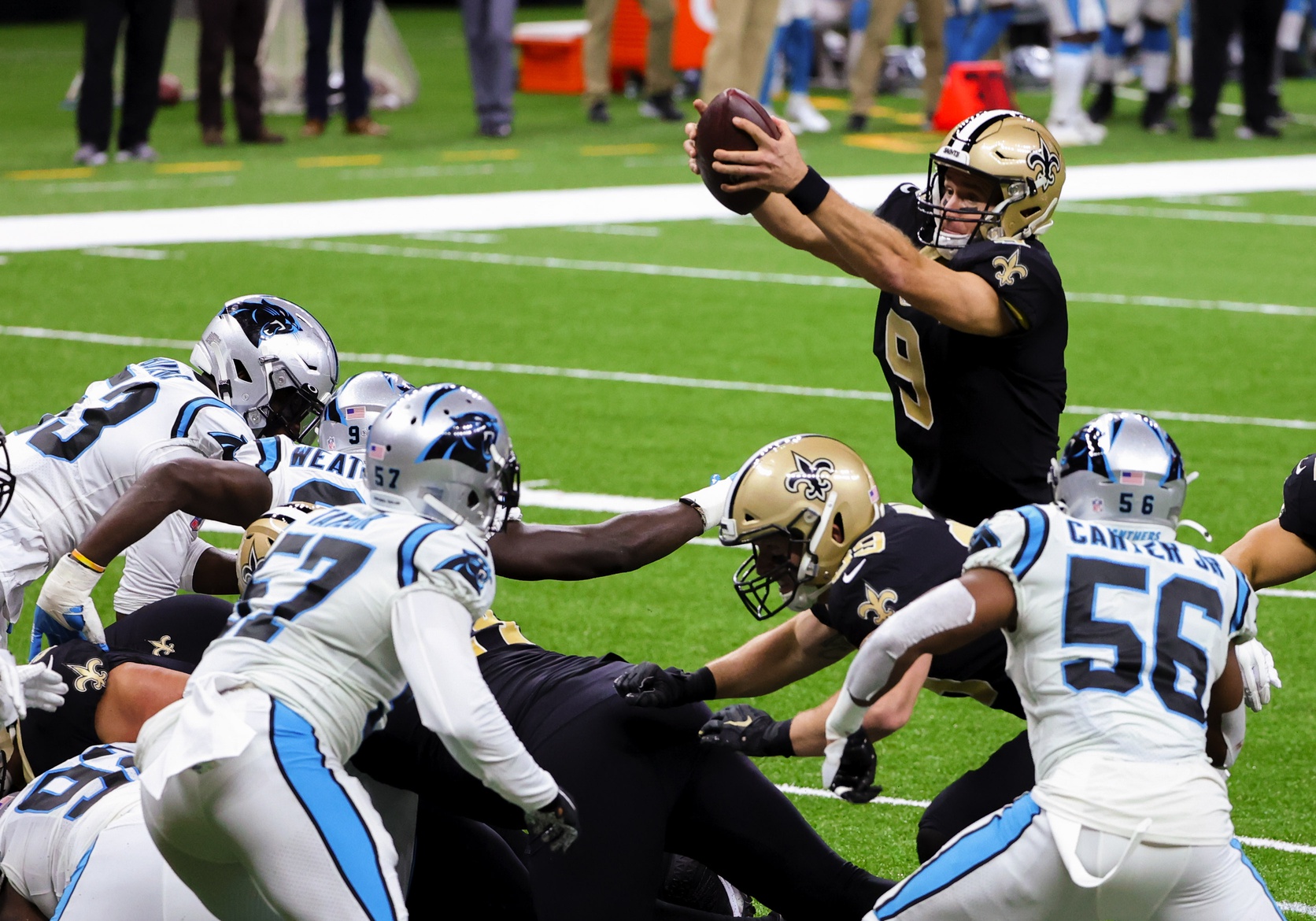 Whatever ailed Brees early in the season seems to have gone away. Without Michael Thomas and Emmanuel Sanders, the quarterback treated us to a vintage game throwing to no-name players the whole game. He targeted undrafted rookie Marquez Callaway six times for 56 yards on five completions. Brees spread the wealth as usual with seven players catching at least one pass.
Alvin Kamara caught all six of his targets for 59 yards and added 83 yards on 14 rushing attempts. This was the most efficient Saints attack this season at .36 expected points added per play — they've bounced back from a 1-2 start to sit at 4-2. 
Rookie Watch
Rookie safeties Sam Franklin and Jeremy Chinn played the entire game for the Panthers defense, with Chinn collecting four tackles and Franklin making two. Neither missed a tackle. Chinn, however, was targeted in coverage five times and allowed a catch each time, four of them for first downs and one for a touchdown.
Troy Pride Jr. was also picked on by Brees, as he was targeted four times, allowing a catch each time as well with two of them going for first downs. First-round pick Derrick Brown played 40 out of 51 snaps and collected one pressure. The only rookie to play snaps on the Panthers' offense was safety-turned-running back Myles Hartsfield, who carried twice for three yards. 
Saints first round pick Cesar Ruiz played all 51 snaps for and looked good, especially as a pass protector — he did not allow a pressure. Tight end Adam Trautman played 16 snaps and was targeted once but could not come away with a catch. Zack Baun was the only Saints rookie to participate on defense. He played 13 snaps and had one tackle, missed one tackle and did not record a pressure on his four pass-rush snaps.
ELITE subscribers can view player grades, advanced statistics, positional snap counts and more in Premium Stats 2.0.