• Bet Browns -2.5 vs. the Patriots: Nick Chubb has 42 broken tackles in 5 games, a span over which New England ranks 30th in yards before contact allowed per rush. Hard to see how the Patriots can totally stop this Browns offense, meaning Bailey Zappeis gonna need to keep pace. Hard sell.
• Bet Packers RB A.J. Dillon — Under 50.5 rush yards (-110): Dillon ranks dead-last in explosive run rate since entering the NFL, and Aaron Jones has been the superior Packers back (+1.41 RYOE compared to Dillon's -0.90), who should continue to earn more of the work.
• New users who bet $10 or more at BetMGM will receive a free year's subscription to PFF+ — a $79.99 value.
Last updated: Sun. Oct. 16, 9:45 a.m.
Estimated reading time: 2 mins
---
Here are PFF staff best bets for the early-afternoon Sunday window in Week 6:
Arjun Menon: Indianapolis Colts RB Deon Jackson — Over 14.5 receiving yards (-110 FanDuel; play up to 15.5)
Jacksonville allows the 4th-most receiving yards to RBs on the season. Jackson looked like the better back than Philip Lindsay and should get the brunt of the work this game with Nyheim Hines and Jonathan Taylor both out. The Jags' D-line is superior to the Colts' offensive line, so there should be plenty of opportunities for Jackson to get a couple dump-offs in the flat or over the middle when Matt Ryan is pressured.
The belief here is that the market is moving too slow to upgrade the Jets and too slow in downgrading the Packers, leaving room for opportunistic bettors to capitalize.
Where are these teams being ranked? Our graph belows helps us to understand.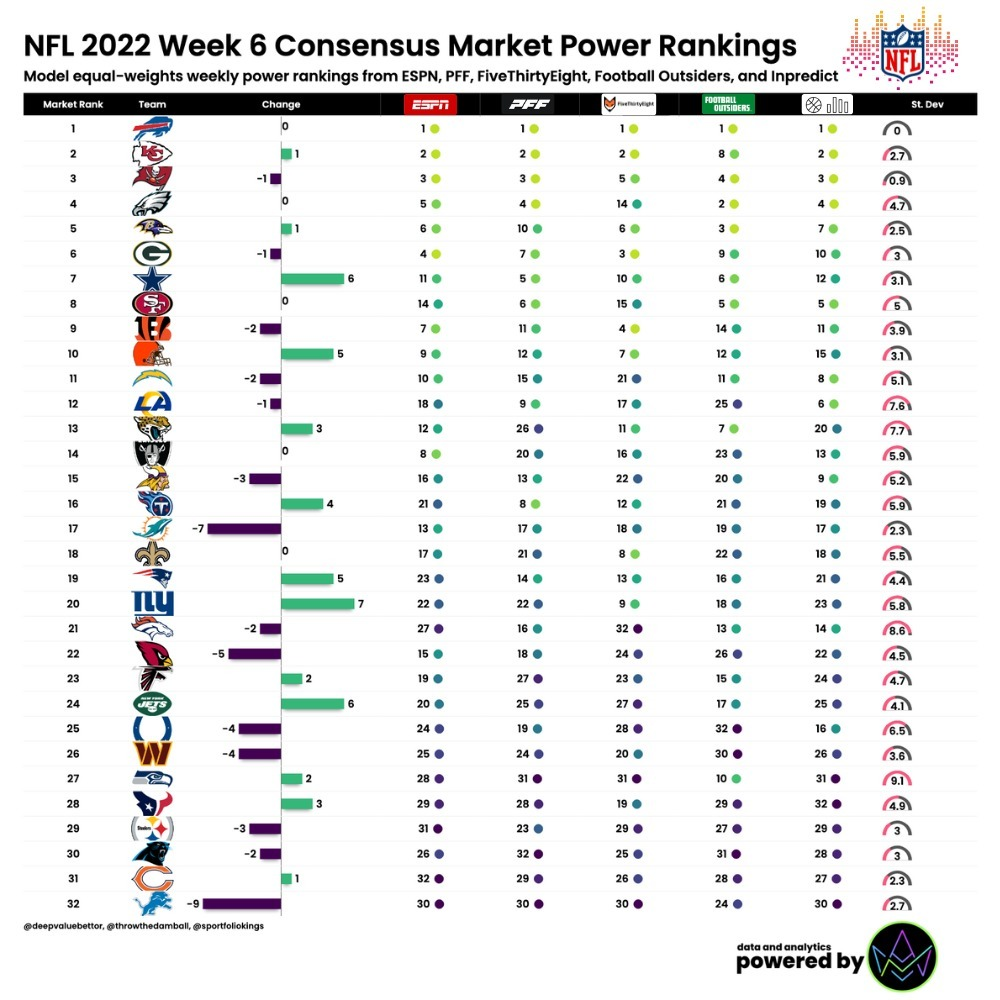 Using a bunch of different media and market proxies, we can begin to quantify and see how the market views both of these teams. The consensus market view on Green Bay is still that of an upper echelon team (No. 6 on the graph), and the Jets near the bottom (24th).
Tej Seth: Packers RB A..J. Dillon — Under 50.5 rush yards (-110 FanDuel)
Since the 2021 season, A.J. Dillon ranks dead last in explosive run rate. Meantime, Dillon's counterpart, Aaron Jones, sits at +1.41 in Rushing Yards Over Expected (RYOE) this season, compared to -0.90 rushing yards by Dillon. Last week against the New York Giants, Jones out-rushed Dillon 13 to 6, and we can expect that gap to continue as Dillon continues to struggle and Jones continues to shine.