· Bet Ravens QB Lamar Jackson o52.5 rush yards vs. Bills (-114 FanDuel): NFL's most effective rusher has 107 total rushing yards over expected on designed runs.
· Bet Colts RB Jonathan Taylor u93.5 rush yards vs. Titans (-115 BetMGM): Taylor has been average, with only 5.5 yards over what has been blocked for him.
• New users who bet $10 or more at BetMGM will receive a free year's subscription to PFF+ — a $79.99 value.
Estimated reading time: 3 mins
---
Rushing yards can be misleading, as it's a lot harder to get one yard on third-and-2 than it is to get five yards on third-and-15. This is where rushing yards over expected (RYOE), built using PFF charting data, can come into play. RYOE adjusts for game situation, how well the offensive line blocked and how well the defense is at defending the run. Both expected yards and rushing yards over expected can be useful when looking at running back prop bets, as we can see which running backs are being put in advantageous spots to run and which are getting a majority of the carries on their team because they are the better rusher.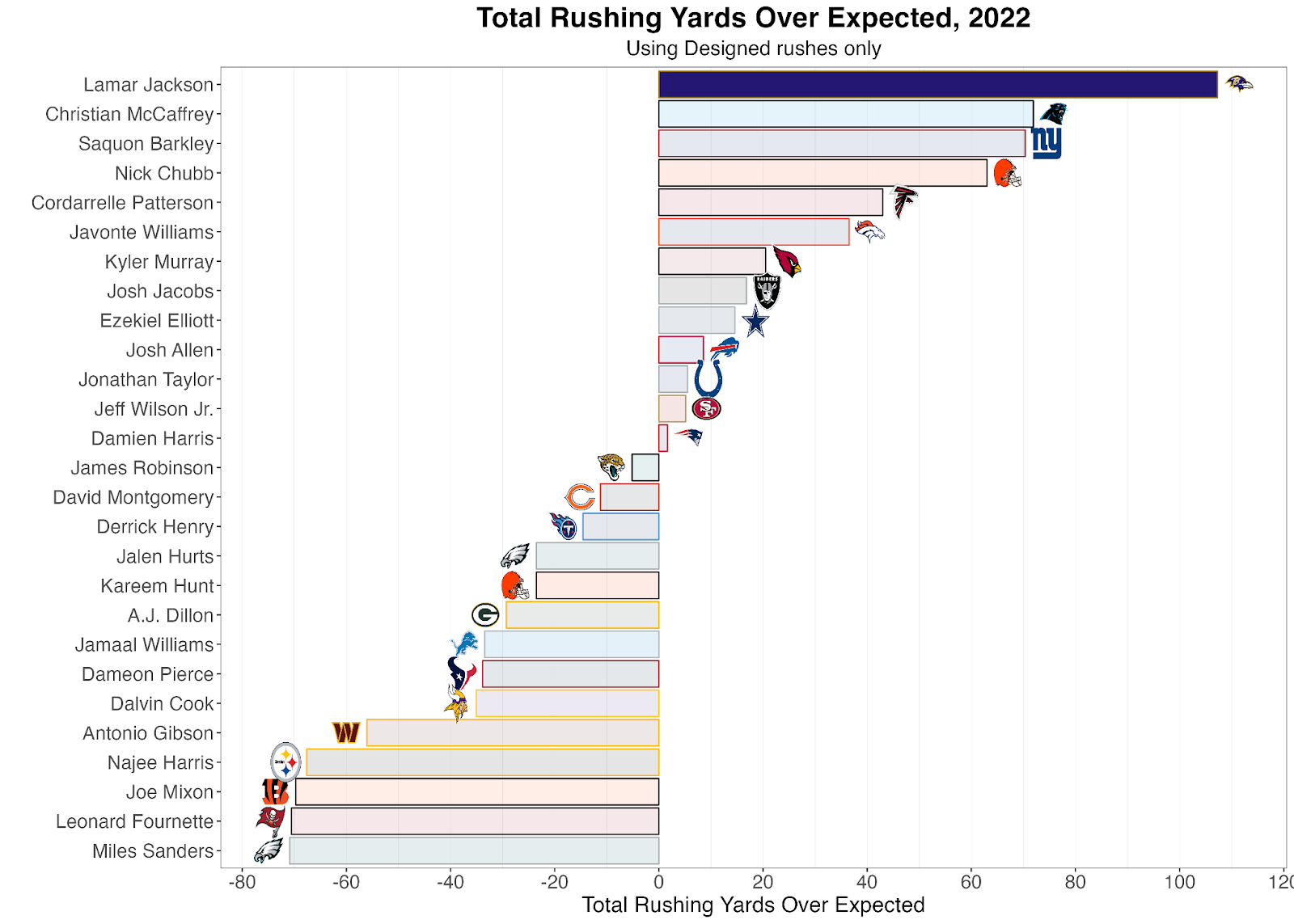 · Lamar Jackson is the Best Pure Rusher in the League: With 107 total rushing yards over expected this season on designed runs, Jackson is once again the most effective rusher in the league.
· Jackson Usually Goes Over: In 58.7% of his career starts, Lamar Jackson has gone over 55.5 rushing yards. In the past two weeks, he has 119 yards against the Miami Dolphins and 107 yards against the New England Patriots.
BET: Bills RB Devin Singletary u33.5 Rush Yards at Ravens (-110 BetMGM; playable to 31.5)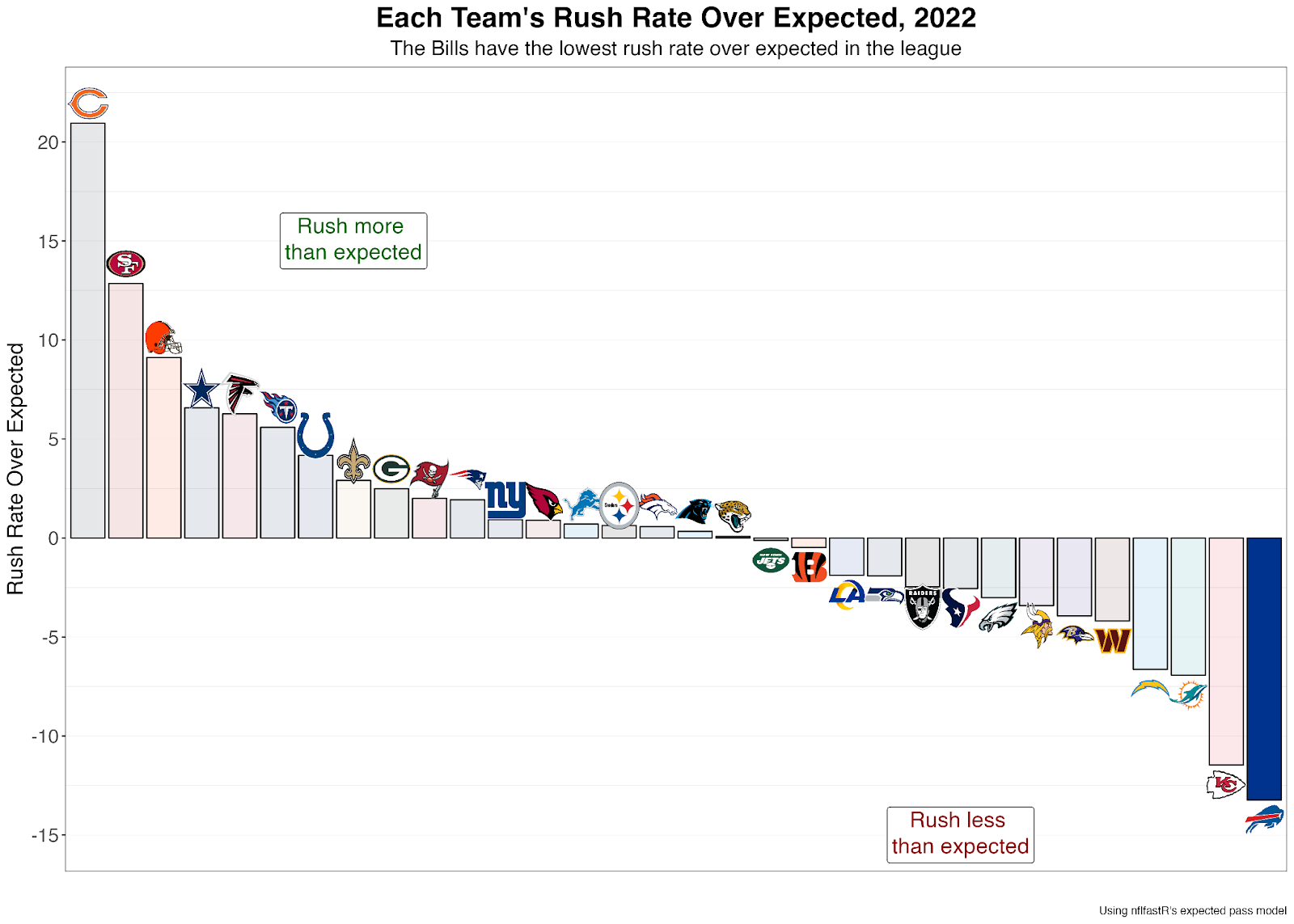 · The Bills Rarely Run: Through the first three weeks of the season, the Buffalo Bills have the lowest rush rate in the league when accounting for game situation. Devin Singletary hasn't had a game over 10 carries the entire season. 
· Singletary has been Struggling: Out of the 41 backs who have had at least 20 rushes this season, Devin Singletary ranks 38th in rushing yards over expected. He has gotten 3.5 yards per carry when expected to get 5.1. This has translated to rushing performances the past two weeks of 19 yards and 13 yards against the Titans and Dolphins, respectively.
· PFF's Player Props Tool has this bet as this bet as a +4.9% edge.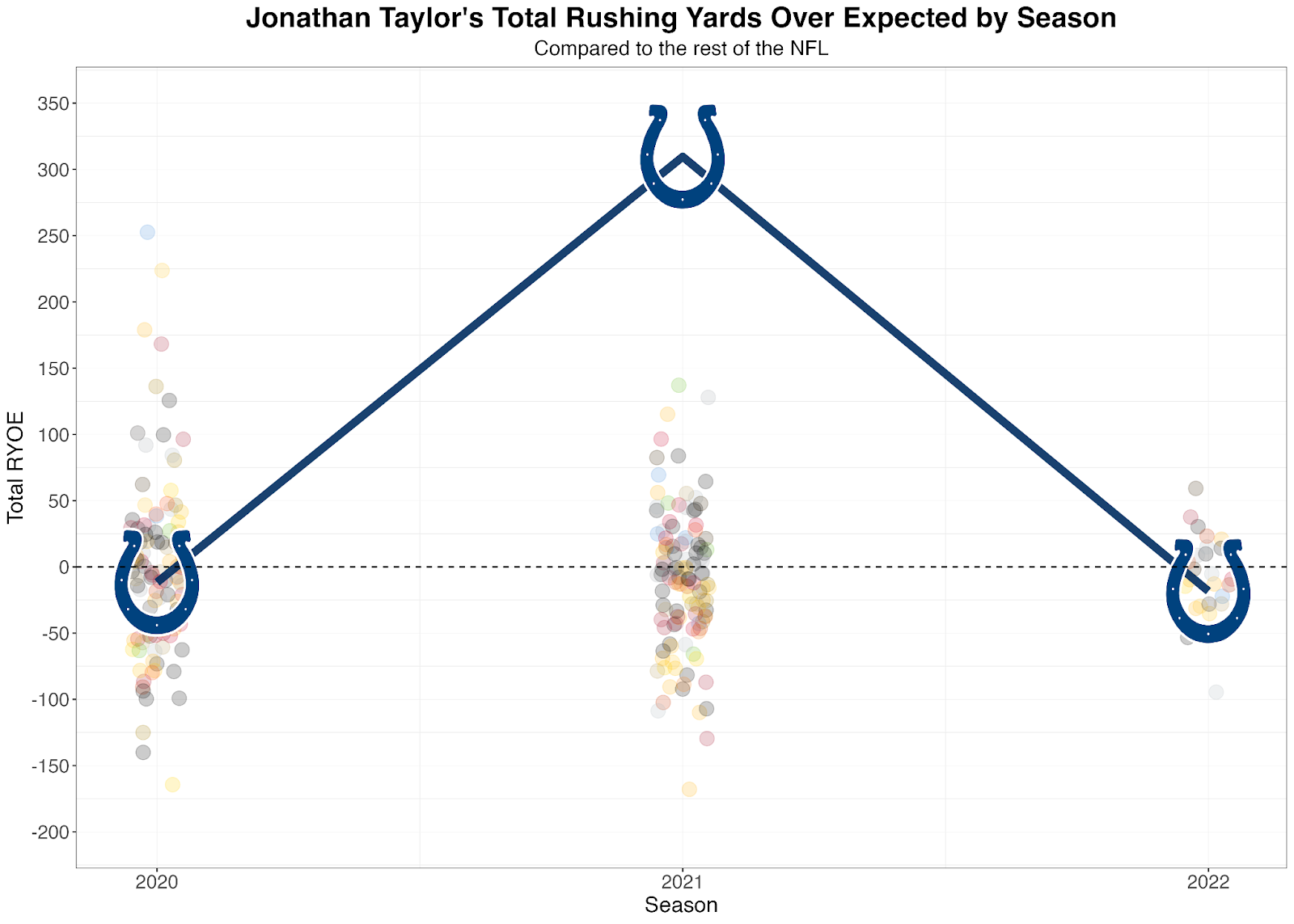 · Taylor Has Been An Average Rusher This Year: After lapping the field in 2021 and having the most total rushing yards over expected, Jonathan Taylor has been an average rusher this season, adding 5.5 yards over what has been given to him.
· The Colts Can't Run as Often as Last Season: Since the Colts were the better team in most of their games last season, they were able to get into advantageous run situations. This year, their neutral run rate has gone from 48% of plays to 55% of plays, so Taylor is getting the ball less often.
---
Tej's RB prop bets went 2-1 in Week 3, bringing his season record to 3-3 (-0.4 units).
· Rushing yards over expected was created using an extreme gradient boosting model (XGBoost). The most important factor in determining expected rushing yards is the number of graded and negatively graded blocks on a play. The importance is followed by yards from the end zone, number of box defenders, defensive strength, seconds left in the half and score differential.
· This model can predict 22% of the variance in actual rushing yards and has a year-to-year correlation of 0.21. A shiny app to explore RYOE for each player can be found here.