· BET Chiefs alt line -7.5 vs. Bucs (+240 FanDuel): The teams are being priced as nearly equals, but they're in fundamentally different tiers right now.
· Disparities in explosive play rate (K.C. No. 2 vs. T.B. No. 28) and early-down success rate (3rd vs. 23rd) illustrate the gulf between these offenses.
· Bucs 'D' has thrived, but early success has come against offenses ranked 14th, 25th and 31st in expected points added (EPA).
• New users who bet $10 or more at BetMGM will receive a free year's subscription to PFF+ — a $79.99 value.
Estimated reading time: 4 min
---
Entering the preseason, the Chiefs and Buccaneers were juggernauts, with the second- and third-shortest Super Bowl odds, respectively. Following 2-1 starts for each team, the market is essentially again pricing these teams as equals.
But the early evidence suggests that these teams are trending in polar-opposite directions. There is a big disparity in their offensive capabilities, making this an attractive spot to grab the alternate line before the market adjusts closer to both teams' fundamental values.
Bottom line
The Bucs offense is in a legitimate swoon, and until their guys get healthy, there is no reason to assume the team will just turn it around. Betting on a defense — especially one that hasn't been tested — to slow down Patrick Mahomes and the Chiefs is a shaky proposition. The teams are being priced as nearly equals, but they're in fundamentally different tiers right now, resulting in a price inefficiency. 
---
Drive quality quantifies how well teams move the ball independent of the realized scoring outcome: The below graph suggests that while the Chiefs have once again been elite on offense, the Bucs are among the league's worst at moving the ball.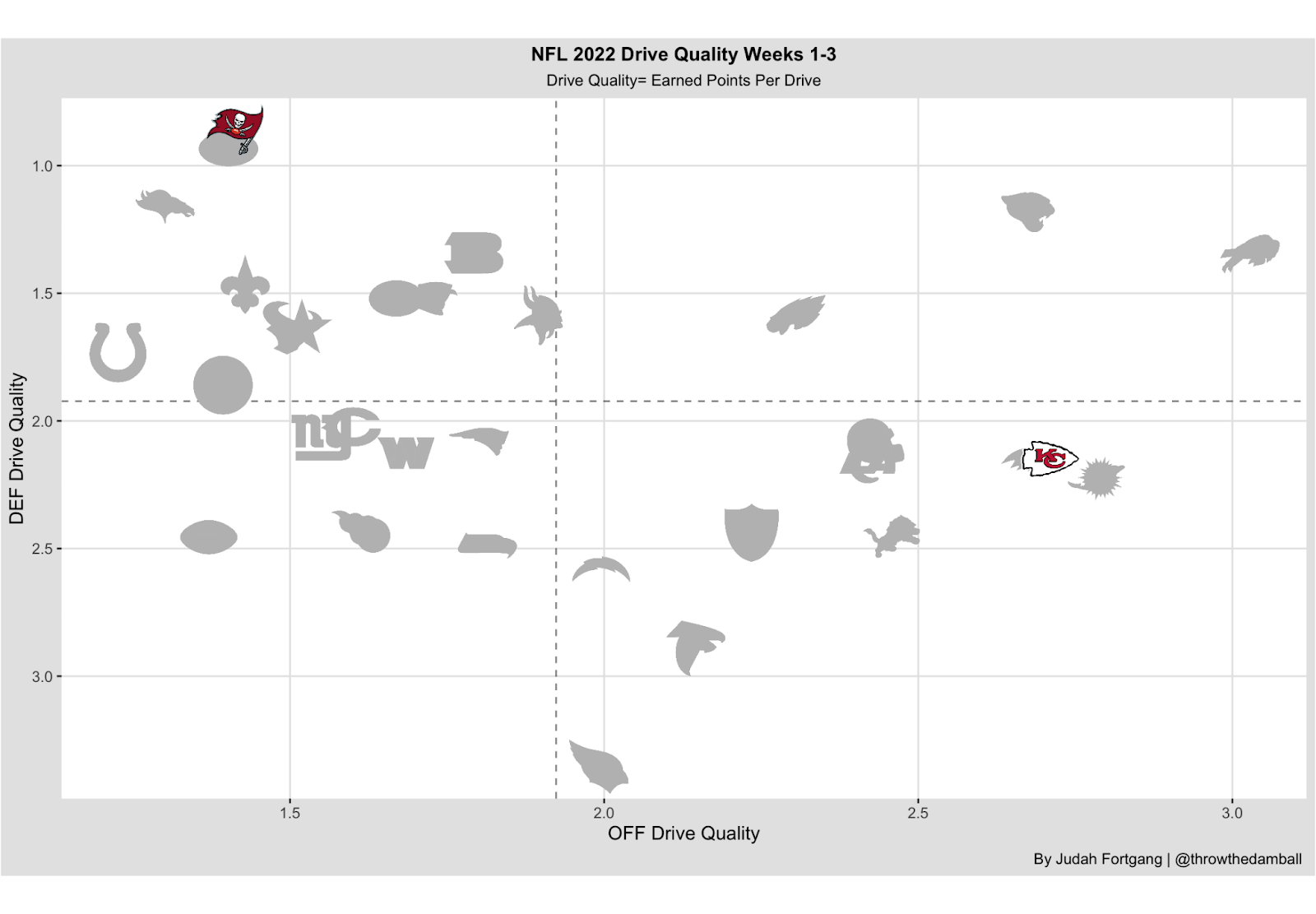 Additional offensive efficiency metrics:
· Explosive Play rate: KC 2nd, TB 28th
· Early Down Success Rate: KC: 3rd, TB: 23rd
· Yds/Play: KC 7th, TB: 25th.
OL, WR issues
The Bucs are not playing up to their preseason expectations, despite their 2-1 record. And the offensive line — which was a worry in the offseason — is becoming a serious problem.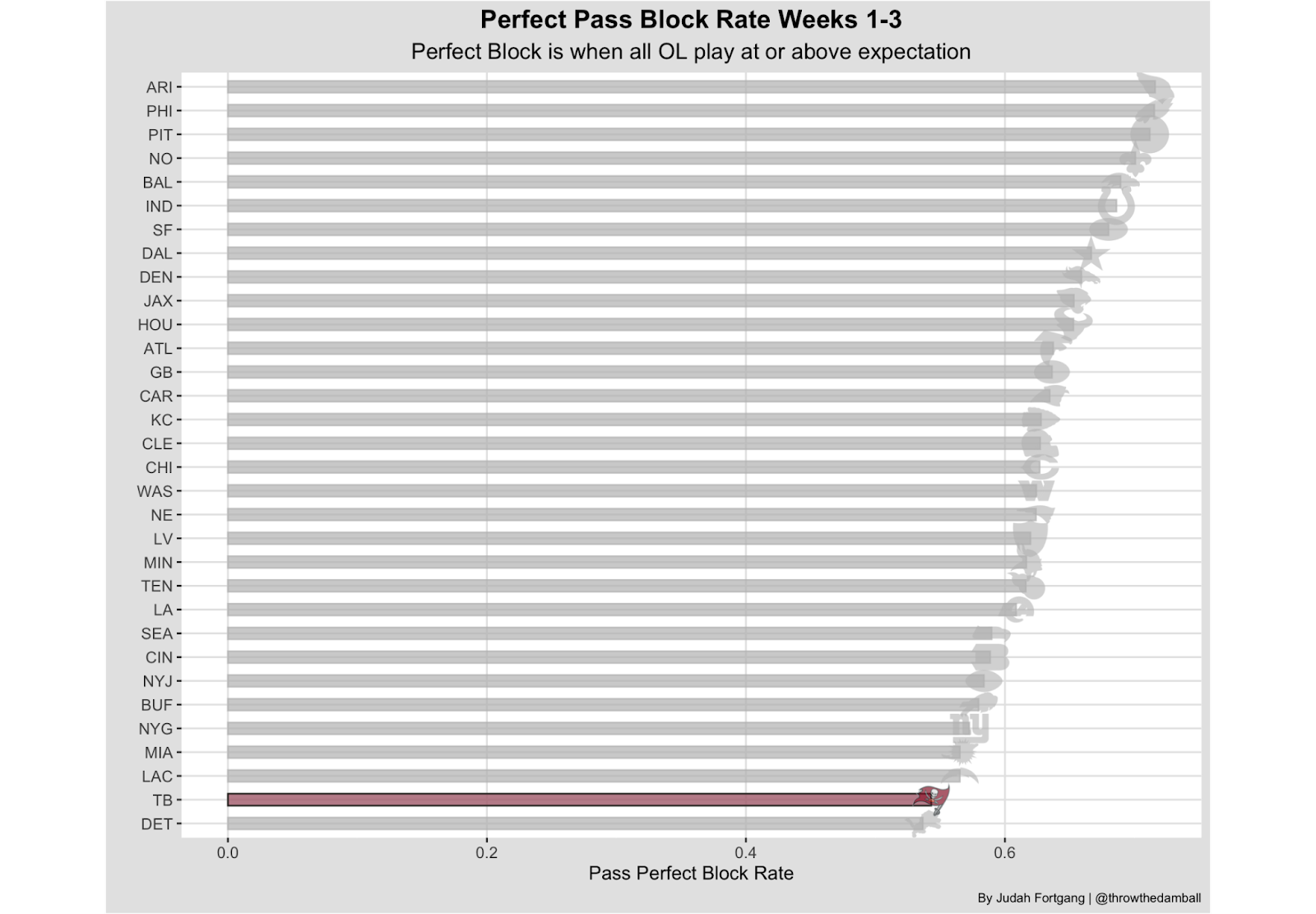 · As readers can see above, since the Bucs finished first in Perfect Pass Block rate in 2021 (72%), they have plummeted to No. 31 (54%). 
· Tom Brady's EPA when the play is perfectly blocked is fourth-best since 2017, but when the play is not perfectly blocked, he is 13th.
· A matchup against the Chiefs is not the remedy for what ails Tampa Bay's protection, as Kansas City ranks 7th in the NFL at pressuring opposing QBs. 
· Adding to the issues up front, after Brady's receiving corps generated the second-highest PFF grade before the catch point over the past two seasons, this year they are 19th in the same category. 
· The Bucs receiving unit is No. 24 overall in PFF's rankings.  
With the same key pieces still injured on the O-line and at receiver, there is little reason to think in Week 4 the Bucs will all of a sudden remedy the issues that have plagued this offense and begin to produce. 
Chiefs Offense vs Bucs Defense 
If the Buccaneers offense remains hampered, one might argue that their defense has been so good it will slow down Mahomes and the Chiefs. But this would be a precarious bet. 
Angle 1
:  Bucs 'D' hasn't been tested
· Perhaps the Bucs 'D' has contributed to the poor offensive start for their opponents: But the Cowboys, Saints and Packers so far rank 20th, 24th and 26th in drive quality, and 14th, 25th and 31st in EPA, respectively. Tampa Bay's defense has yet to face an above-average offense — and certainly not an elite one like the Chiefs. 
Angle 2
: 
Even if the Bucs defense is legitimately great, when playing Patrick Mahomes, matchups don't really matter. 
· Play great coverage? Mahomes is the best at defeating perfect coverage, almost .11 better than the second-best in the same category. 
· Defeat KC's blocking? Mahomes is best in the NFL in EPA when the play is not perfectly blocked.
· Generate pressure? Mahomes is best in the NFL in EPA while under pressure. 
· Try and blitz? Mahomes is by far the NFL's best quarterback against the blitz. 
Why the alt line? 
· The thesis of this bet is not overly complex: The market is pricing these two teams for their past production, and while the Chiefs have remained elite so far in 2022, the Bucs have taken a huge step back on offense. There is little data to suggest it is simply noise and they will right the ship. This bet works on two planes: 
1.) The fundamental point spread should favor Kansas City in this game by several more points,  suggesting value on the Chiefs' end simply as a derivative of a mis-priced line.
2.) In games with a projected low scorer — as we're projecting for the Bucs — alt lines become even more valuable. Poor offense means more drives for Kansas City, which obviously means more opportunities to score without Tampa Bay being able to muster up the offense to come back.
---
Judah's 'Leveraging Tails' picks went 1-0 last week, improving to 2-1 this season (+2.37 units).