· BET Cordarrelle Patterson O 42.5 rush yards at Seahawks (-122 FanDuel; playable up to 44.5): CP averaging 5.0 yards per carry and 0.27 ROE; four players already have at least 41 yards vs. Seattle.
· BET Commanders RB Antonio Gibson U 52.5 rush yards vs. Eagles (-110 DK): Gibson is an inefficient runner (3.1 ypc / -0.46 ROE); Eagles just held Cook-Mattison duo to 8-25 rushing combined.
• New users who bet $10 or more at BetMGM will receive a free year's subscription to PFF+ — a $79.99 value.
Estimated reading time: 2 mins
---
Player Props have one of the most popular markets offered in sportsbooks right now. Because of its similarity to fantasy football, something most bettors grew up playing, it's easy to translate the thought process from fantasy football to player props. Here at PFF, you can utilize the Best Bets tab on the website to help sift through the most +EV props to bet on based on our model to help with your betting success. 
Play of the Week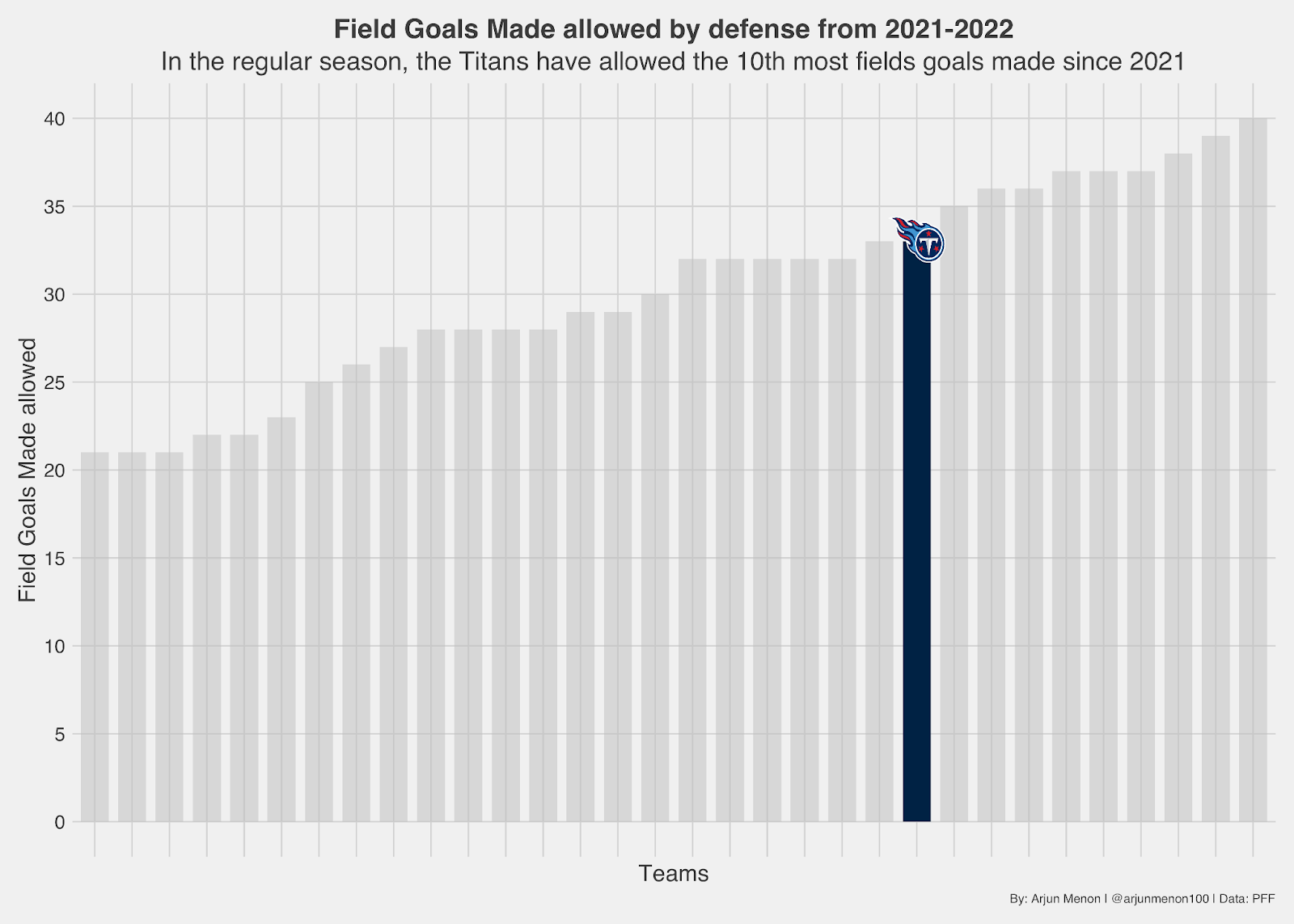 · Titans have allowed the tenth-most made field goals to opposing kickers since start of 2021: Their defense also hasn't been very good in 2022, allowing a 0.141 EPA/play (28th) and 45.6% success rate (20th), which means there should be plenty of scoring opportunities for the Raiders.
· Daniel Carlson has been an absolute weapon: He's made 2 or more field goals in 9 of his past 11 games and converting every attempt since November 9th.
· The Raiders have the third-highest FG drive % in 2022: And going back to 2021, they rank 1st in FG drive %. With how bad their offensive line is, the Raiders should have some success moving the ball but will likely stall in opposing territory because of their run-game inabilities.
· Anytime we get Patrick Mahomes over 2.5 passing TDs: It deserves a look, but in this matchup, we have to take it. In seven games in a dome, Mahomes has passed for 20 touchdowns, and specifically looking at his past four dome games, he's thrown 16 touchdowns (average of 4 per game).
· Mahomes eats up Cover 3: Since his first full-time season as a starter, Mahomes has averaged a 0.32 EPA/pass vs. Cover 3, which is tops in the NFL among all NFL starters. 
· Gus Bradley loves playing Cover 3: In fact, no defense has played more Cover 3 so far in 2022 than the Colts. Add in the fact that LB Shaquille Leonard is out, and we could see Mahomes cash this bet in the first half again like in Week 2.
· Cordarrelle Patterson has been a very efficient back so far this season: He's averaging 5.0 yards per carry and 0.27 rushing yards over expected through the first two games. He barely missed this number last week despite only getting 10 carries in a game in which the Falcons were constantly playing from behind.
· Statistically, Seattle's run defense isn't awful on a per-play basis: But it gives up a lot of rushing yards. In 2 weeks, the Seahawks have allowed four different players to hit this prop number — and at least 100 rushing yards in both weeks. The Seahawks new look defense is also running a lot of split-safety looks, so that invites teams to run the ball, which also should help Patterson.
· Gibson is not an efficient running back: Averaging 3.1 yards per carry, and -0.46 rushing yards over expected, he's always leaving yards on the field. Now he faces a defense that has one of the best front sevens in the league.
· The Eagles run 'D' looked really bad vs. the Lions: But we think this is more of a product of how good the Lions run game is than it is an indictment on Philly's unit. We saw last Monday how well it shut down the Vikings run game, as Dalvin Cook and Alexander Mattison combined for 8 rushes and 25 yards.
· The Commanders' offensive line is a sieve: It's allowed the 3rd highest % of rush attempts where the first contact is made behind the line of scrimmage. Given Gibson hasn't been great at creating yards for himself, this plays into our bet nicely.
---
Season Record and last week recap: 3-1 (+1.5 units)
We were a Younghoe Koo 44 yard field goal away from a clean sweep last week, but a nice bounceback for us which brings our season total to -0.72 units.