What a week of NFL football! The Atlanta Falcons somehow choked again, the Los Angeles Rams came back from the dead after being down 28-3 (but still lost after Josh Allen orchestrated a game-winning touchdown drive), we had our first tie of the season and so much more.
PFF is here to break it all down for you using advanced data and our unique play-by-play grading. Below, you'll find key takeaways from the Sunday slate of NFL action as well as the Week 3 PFF Team of the Week and numerous player awards, from Offensive Player of the Week to Rookie of the Week. Enjoy!
[Editor's Note: PFF's advanced statistics and player grades are powered by AWS machine learning capabilities.]
PFF TEAM OF THE WEEK
Offense
QB: Patrick Mahomes, Kansas City Chiefs
RB: James Robinson, Jacksonville Jaguars
WR: Justin Jefferson, Minnesota Vikings
WR: DeAndre Hopkins, Arizona Cardinals
TE: Mo Alie-Cox, Indianapolis Colts
FLEX: Tyler Boyd, Cincinnati Bengals
LT: Eric Fisher, Kansas City Chiefs
LG: Michael Onwenu, New England Patriots
C: Erik McCoy, New Orleans Saints
RG: Wyatt Teller, Cleveland Browns
RT: Daryl Williams, Buffalo Bills
Defense
DI: Jeffery Simmons, Tennessee Titans
DI: Chris Jones, Kansas City Chiefs
EDGE: Khalil Mack, Chicago Bears
EDGE: Myles Garrett, Cleveland Browns
LB: Jamie Collins Sr., Detroit Lions
LB: Myles Jack, Jacksonville Jaguars
CB: Xavier Rhodes, Indianapolis Colts
CB: Levi Wallace, Buffalo Bills
S: Harrison Smith, Minnesota Vikings
S: Mike Edwards, Tampa Bay Buccaneers
FLEX: Trayvon Mullen, Las Vegas Raiders
KEY TAKEAWAYS
1. It's amazing how much better Josh Allen has been
Allen's first two years in the NFL weren't all that great from a passing perspective — he was the fourth-lowest graded passer as a rookie then marginally improved in Year 2, raising his grade to the NFL's sixth-lowest mark.
The biggest issue was Allen's accuracy, or lack thereof. In that two-year span, 17.8% of Allen's pass attempts resulted in a quarterback-fault incompletion, a figure over two percentage points worse than any other quarterback. This year, however, things have been vastly different.
Through three weeks of play in 2020, Allen has the third-lowest rate of uncatchable passes thrown over 10 yards downfield. He has benefitted from a lot of those targets being open thanks to the slew of separators he has in the receiving unit, but Allen has also been sharp on the throws he has had to make to a tight window. This has helped the third-year quarterback produce an 83.9 passing grade over the first three weeks, fifth in the NFL. His Week 3 outing against the Rams was actually his highest-graded game as a passer of his NFL career.
As my colleague Kevin Cole wrote about this offseason, it's extremely rare for a quarterback to break out in their third year, making Allen, at least up until this point, an anomaly.
2. Nick Foles saved the day for Chicago, but he'll need to be a heck of a lot more consistent if he wants to actually make this a formidable team
The day finally came — Mitchell Trubisky got benched in favor of Nick Foles. And to no surprise, the offense looked far better.
Trubisky led the Bears to a negative EPA per pass play mark and a lowly 49.9 team passing grade up until the point he got pulled. On top of that, he had two turnover-worthy plays and zero big-time throws.
Things didn't get off to the greatest of starts for Foles, as he threw an interception on a jump ball to Allen Robinson II that Darqueze Dennard ripped out of the receiver's hands at the last second. Things started to heat up in the fourth quarter, though, as Chicago scored 20 unanswered points in the final period of play, ultimately sealing a 30-26 win. Foles, of course, made three big-time throws in the process, one of which was the go-ahead touchdown: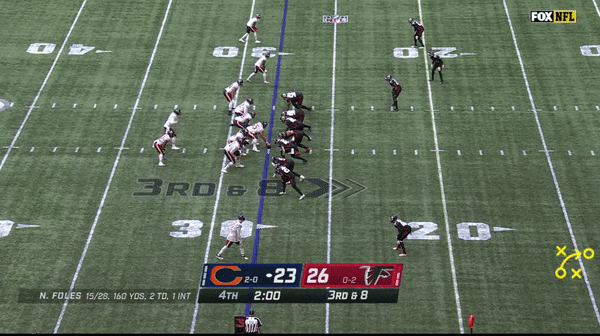 While Foles put a number of "clutch" throws on tape, he also had his fair share of bad ones, including two he got a bit lucky with. As an example, here is one that went right through the defender's hands due to a collision with his teammate. The pass ended up falling right to Jimmy Graham's hands.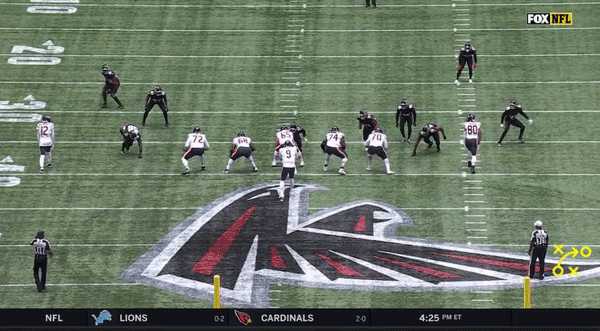 Foles looked like the better option because of that high-end play, but he'll need to be more consistent if he wants to hold on to the job.
3. Russ is, in fact, cooking.
Wilson did his usual thing against the Cowboys in Week 3, recording a 90.3 passing grade while putting up five big-time throws and keeping his turnover-worthy play column at a goose egg for 2020. The only other quarterback without a turnover-worthy play in 2020 is Aaron Rodgers.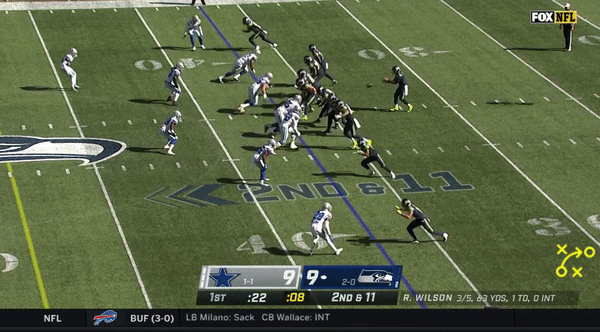 After posting the highest passing grade of the week on throws of 10 or more yards downfield, Wilson is now the highest-graded passer on the season on such passes. He's thrown an accurate pass on 75% of his passes thrown 10 or more yards downfield, the highest rate in the NFL by over 12 percentage points.
Wilson has now produced a PFF game grade north of 88.0 in each of his three games this year. It's the first time in his NFL career that he has had three consecutive game grades above even 85.0.
We can confirm: Russ is cooking.
4. Joe Burrow playing phenomenally well, given the state of the offensive line
Burrow might not have enough time in a clean pocket to effectively attack deep downfield, but he didn't let that bother him too much this week as he peppered the Eagles at the short and intermediate level.
The 2020 No. 1 pick produced a 91.3 passing grade on throws up to 19 yards in Week 3, the third-best of the week. So far this season, Burrow is second to only Aaron Rodgers in passing grade on such throws.
Perhaps the most impressive part of his strong performance against Philadelphia was how calm he was when under pressure. Burrow had the fourth-highest rate of dropbacks under pressure (44.2%) yet posted the lowest negatively graded throw rate overall of Week 3. Burrow's pressured passing grade was also the second-best of the week, and he made a couple of plays off-structure that gave us 2019 LSU vibes.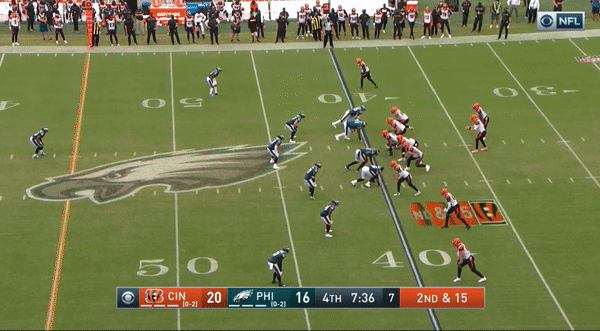 Burrow finished the game with a passing grade of 84.4, the fourth-best of the week. And that now gives him a 76.1 passing grade for the year, the 10th-best among qualifying quarterbacks. And he's done all this in spite of an offensive line that has allowed eight more pressures than any other unit in the league.
5. The Indianapolis Colts are low-key looking pretty hot
There is only one team in the NFL that ranks in the top five in percentage of pass plays producing positive EPA and top five in percentage of pass plays allowed that produced positive EPA: The Indianapolis Colts.
Yes, they just got done blowing out perhaps the worst team in the NFL in Week 3, but Indy was still shining both on offense and defense even prior to facing the New York Jets. Philip Rivers is looking sharp and is one of four quarterbacks to produce top-10 marks in both positively graded and negatively graded throw rate (Cam Newton, Russell Wilson and Jared Goff are the other three). Through three games, Rivers is the seventh highest-graded passer at 82.1. It's amazing what having an offensive line that's not a liability can do for a quarterback. From a clean-pocket, Rivers has recorded the highest rate of accurate passes thrown at 75.3%. There were a few bad throws the veteran had in his debut in Week 1, but the offense has been clicking the last couple of weeks. It will be interesting to see how Rivers and the offense fares against the Bears this week considering they have a good defense and, well, Minnesota and New York both have really bad ones.
On defense, Indy's outside cornerbacks have combined to form the highest-graded unit in the NFL and their combined passer rating allowed of 49.6 is also the best. Similar to the offense, the Colts defense has been clicking in the last two weeks, as they have allowed -0.44 EPA per pass play. For perspective, second sits at -0.22.
We are going to find out a lot about this Colts team against the Bears' defense in Week 4, but I'm really liking what I have seen thus far.
6. Washington needs to start thinking about life after Dwayne Haskins
Haskins' Week 3 really could not have been too much worse than what it was. He produced a 29.2 PFF grade, which is the lowest in a single game of any quarterback in 2020. Haskins' Achilles heel had been his accuracy, with his ability to protect the ball being his greatest strength. Against Cleveland, though, that all went out the window. The second-year quarterback racked up a total of five turnover-worthy plays. For perspective, he entered the game with six in his entire career. Accuracy was still an issue, too, as he had the second-worst uncatchable pass rate of the week, bringing his rate for the year to 31.2% (last). In addition to that, Haskins has produced the worst positively graded and negatively graded throw rate of the 2020 season.
Haskins didn't show a whole lot to get excited about in 2019, other than the fact that he didn't make those mental errors that almost every rookie quarterback makes or tried to be superman. But now he's starting to put the ball in harm's way, and I haven't even mentioned yet that his pocket presence is no better than what it was last year either.
It might be time for Washington to put Alex Smith out there in replacement. Either way, they are a prime candidate for one of the top quarterbacks in the 2021 class.
7. Philadelphia, for the second week, I am asking you to please put in Jalen Hurts
Whether you thought Carson Wentz was overrated or not entering the season, nobody saw this bad of play coming from him to start 2020. Against Cincinnati, Wentz had four turnover-worthy plays en route to a passing grade of 43.9. That brought his turnover-worthy play total to 12, which is over twice as many as any other quarterback in the NFL. Yes, you read that correctly. That also helped lower his season passing grade to 40.1, just a hair above Haskins for the worst in the league.
Wentz has been completely unable to throw the ball downfield effectively and has on numerous occasions passed up on open receivers. On throws of 10-plus yards, Wentz has the lowest passing grade in the NFL at 33.9 and has thrown 62.2% of such passes completely uncatchable. That's over 12 percentage points worse than anyone else.
Wentz and his receivers are clearly not on the same page, and it seems far from likely that his decision-making or accuracy will magically fix itself within the next game. What's holding Philadelphia back from putting Jalen Hurts in at quarterback and seeing what they have? At this rate, it's their best chance at winning some games.
8. Second-year players lit up Week 3 all over the place
There were a few second-year players teasing a possible Year 2 breakout in the first couple of weeks in the 2020 season, but on Sunday we saw several have standout performances. Which might be the first of many on a path to a breakout season.
Starting with the defensive side of the ball, we saw interior defensive lineman Jeffery Simmons of the Titans lead in both run defense and pass-rush grade. In addition to Simmons, there were a few other standouts on the line in edge defenders Josh Allen and Chase Winovich, who ranked sixth and seventh at the position in PFF grade for the week. Allen joined Shaq Lawson and Khalil Mack as the only two edge defenders to produced 75.0-plus grades both against the run and in the pass-rush, while Winovich was second to only Mack in pass-rush grade at 92.1. In the secondary, Raiders corner Trayvon Mullen had himself a career day, as he allowed just one catch for eight yards while forcing eight incompletions, leading to the second-highest coverage grade for the week.
On the offensive side of the ball, there were two wide receivers in particular that saw little to no game action in their rookie campaigns but are now seeing the field and made some noise. Arizona's Andy Isabella caught all four of his targets for 47 yards en route to an 83.9 receiving grade, and Tampa Bay's Scotty Miller was right behind Isabella by producing an 82.3 receiving grade that featured an impressive contested snag.
These are just a few of many second-year receivers who might be on that breakout path for the rest of the year. Only time will tell, but by the look of it, we are going to see quite a few players make a name for themselves in Year 2.
OFFENSIVE PLAYER OF THE WEEK & ROOKIE OF THE WEEK
Minnesota rookie wide receiver Justin Jefferson was too good to win just PFF Rookie of the Week for his big-time performance against Tennessee — he dominated his respective position better than anyone on the offensive side of the ball. Jefferson finished the day with a 93.8 PFF grade, which was the third-best single-game grade we have ever recorded by a rookie wide receiver in the PFF era (since 2006). From his contested grab on Malcolm Butler to his 71-yard touchdown in the second half, Jefferson was out there making plays for the Vikings. Our biggest concern with the former LSU Tiger in the draft process was his ability to get off press coverage, but if his Week 3 was any indication, that won't be an issue.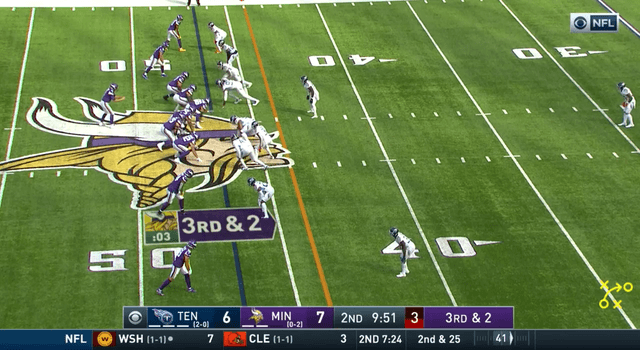 DEFENSIVE PLAYER OF THE WEEK
What a turnaround for Xavier Rhodes. After allowing a 131.1 passer rating in coverage in 2019 and producing the eighth-lowest coverage grade at the position in Minnesota in 2019, Rhodes was cut and ended up with Indianapolis. In Week 1, he looked like the same old guy as he had a 39.3 coverage grade for the game. He had a strong showing in Week 2 against his former team (80.3 coverage grade), but managed to top that in Week 3 with the best performance of his eight-year career. Rhodes earned a 94.0 coverage grade against the New York Jets, allowing just one catch for 11 yards while intercepting two — one of which went for six.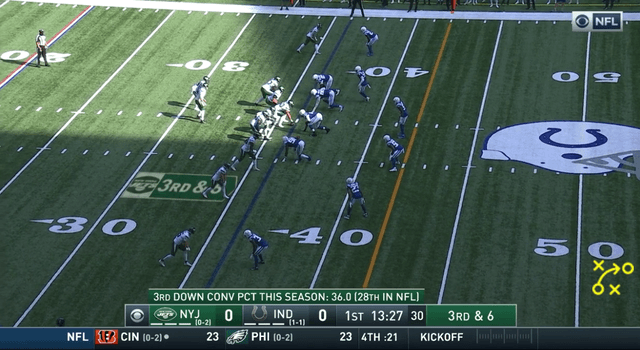 Maybe a change of scenery is all Rhodes needed.
OFFENSIVE LINE OF THE WEEK
No offensive line came close to sniffing the Patriots in PFF unit grade in Week 3. New England's line combined to produce a 90.2 PFF grade, which was nearly 10 grading points higher than second. They were great in pass protection, but their dominance in the run game is the reason why they take home the honor here. The Patriots offensive line helped give on average 2.8 yards before contact per attempt and presented Sony Michel with a couple of holes that resulted in runs of 38 and 48 yards.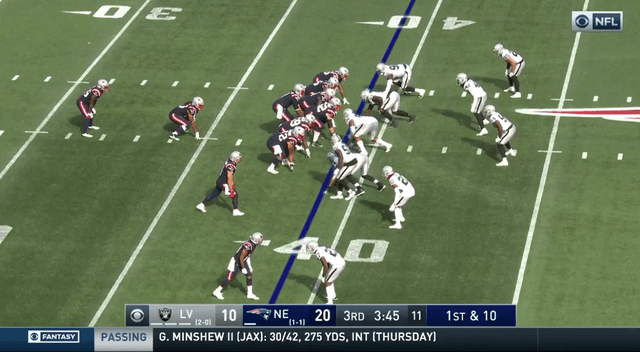 New England produced positive EPA on 58% of their carries (third-best of the week) and a big reason for that was the big men up front.
SECRET SUPERSTAR OF THE WEEK
Simmons had "breakout player" written all over him entering the 2020 season and we got a taste of that on Sunday with his monstrous day against the Vikings. As you might recall, Simmons tore his ACL prior to the 2019 NFL Draft, which caused him to slip to Tennessee with the 19th overall pick. Had he not gotten hurt, Simmons likely would have been gone by pick 10. Simmons had a day reminiscent of his time at Mississippi State, as he produced a PFF grade of 92.8 for the game. Whether he was defending the run or rushing the passer, Simmons excelled and produced a grade above 90.0 in both facets of play.
Simmons was consistently making the Vikings offensive linemen's lives hell. He won on 33.3% of his pass-rush reps and recorded a pressure on 25% — both of which just edged out Aaron Donald for the best by an interior defensive lineman for the week. Minnesota's offensive line is bad, but that kind of production against any offensive line is remarkable. This might just be the first domino to fall in the Simmons breakout campaign.
PLAY OF THE WEEK
Alvin Kamara doing things only Alvin Kamara can do
Kamara saw almost triple the number of targets of any other Saints receiver against Green Bay (14). On one of them, the running back turned what would have been a few yard loss for most backs into a 48-yard touchdown:
ALVIN KAMARA IS ELECTRIC ⚡️⚡️⚡️pic.twitter.com/9WuP4tlwwz

— PFF (@PFF) September 28, 2020
Kamara broke four tackles on that play, bringing his total for the night as a receiver to seven. We all know at this point that if you're a running back in the NFL, you must bring at the very least some receiving ability to the table. Even then, those targets typically aren't very efficient. Similar to Christian McCaffrey, Kamara is a different breed. While running backs still aren't an important position on the field, plays like this are why Kamara is as good as you can get at the position and has been the second-most valuable back since entering the league.
AN EARLY LOOK AHEAD TO WEEK 4
Thursday Night Football isn't a truly exciting matchup, as the winless Denver Broncos take on the winless New York Jets, but it's the tank bowl! Both of these teams are bound to be at the bottom of the league standings by season's end, and this could be a huge tiebreaker for draft position next April.
We have a Battle of the Unbeatens to look forward to next Sunday, as the Pittsburgh Steelers take on the Tennessee Titans. Ben Roethlisberger has had a noticeable drop in play thus far, as he ranks 24th of 30 qualifying quarterbacks in negatively graded throw rate and 19th among that same group in big-time throw rate. That said, the passing attack has been above-average overall — the Steelers have produced 0.18 EPA per pass play, ranking 12th in the NFL. The matchup to watch will be how Pittsburgh will handle Tennessee's play-action-heavy offense. Ryan Tannehill is tied for first in yards per play-action pass at 11.9, but on non-play-action, Tannehill is tied for last at 5.4.
Another interesting matchup will be between the 2-1 Indianapolis Colts and 3-0 Chicago Bears. Nick Foles will make his first start as a Bear and will be trying to find consistency. As for Indy, their offense has been flying under the radar since they were upset in Week 1 against Jacksonville. Philip Rivers has been great for the Colts, ranking in the top 10 in both negatively graded and positively graded throw rate. Indianapolis has generated positive EPA on 58.3% of their pass plays, which is actually the second-highest rate in the NFL. And they'll get a tough Chicago secondary that has allowed the fifth-lowest EPA per pass play thus far.