• Biggest riser: Tampa Bay Buccaneers (up four spots from Week 1)
• Biggest faller: Pittsburgh Steelers (down four spots from Week 1)
• 49ers climb into top three: After a Week 1 shellacking of the Steelers, San Francisco jumps the Bills and Eagles.
Estimated Reading Time: 7 minutes
---
Week 1 was full of surprises. The top three teams in last week's power rankings lost, with the Chiefs falling in a Thursday night thriller, the Bengals falling flat against the Browns and the Bills crumbling on Monday night in overtime. Still, the top two hold onto their spots for another week.
You can find a statistical review of Week 1 here.



---
Week 2 Power Rankings
---
The Buccaneers entered halftime in a tie game with the Minnesota Vikings and did enough in the second half to claim victory. Even without Tom Brady, they managed to outperform one of last year's playoff teams. As a result, Tampa Bay moved up four places in our rankings this week.
Baker Mayfield finished Week 1 with an 82.9 PFF grade, which ranked fifth among quarterbacks. None of the Buccaneers' receivers or rushers earned a grade over 70.0.
Defensively, the Buccaneers tied for the most quarterback hits on the week (seven). Their run defense recorded the second-best EPA allowed per play figure, too (-0.564). Linebacker Devin White was one of the highest-graded defensive players this week (90.8), finishing as the second-highest-graded linebacker behind the Colts' Zaire Franklin.
---
The Steelers' performance in their loss to the 49ers, albeit a tough opponent, was lackluster. They ranked 28th in offensive grade this week after posting only 17 rushing yards, the fewest in the league. Their offensive line did not help, grading out as the worst pass-blocking unit of the week after letting up five sacks. While Kenny Pickett didn't earn the worst passing grade of his career, a 53.4 mark had him ranked 23rd among Week 1 starters. Only 9% of Pittsburgh's drives were successful, which is abysmally low. Plus, Diontae Johnson's injury will have him sidelined for a few weeks. He was the team's leading receiver last year.
Their defense didn't hold up against the 49ers' offense, allowing the second-worst EPA per play figure this week (0.231).
---
WAR Lost to Injuries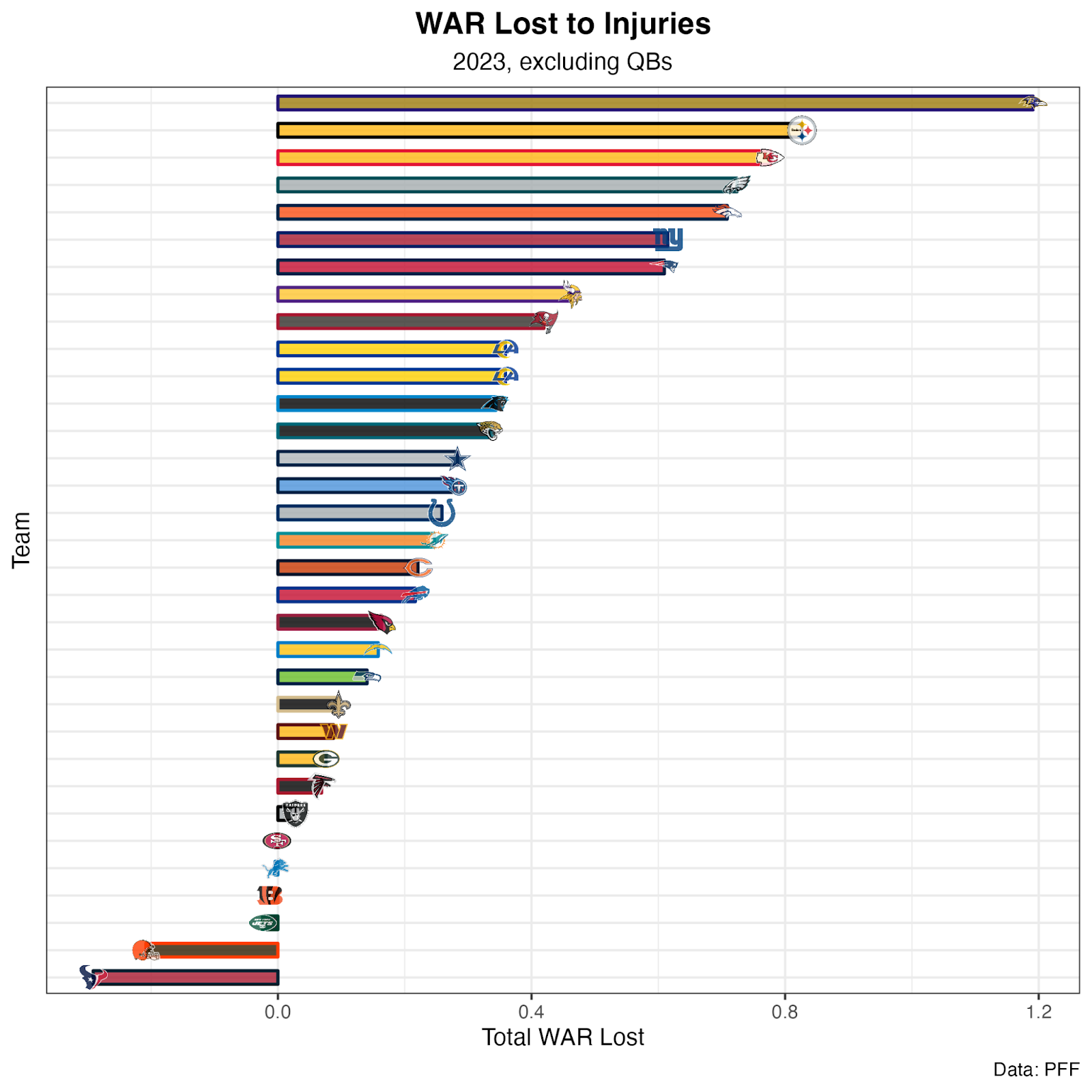 Browns tackle Jack Conklin, Ravens running back J.K. Dobbins, Eagles linebacker Nakobe Dean and Broncos safety Caden Sterns were among the notable injured players in Week 1.
The Eagles signed former Titans' first-round pick Rashaan Evans, who generated 0.1075 wins above replacement in 2022, to replace Nakobe Dean (-0.018 WAR).
The Chiefs struggled without Travis Kelce, who accounted for 0.6942 WAR in 2022, which ranked third among non-quarterbacks. Kansas City placed 26th in receiving grade (58.4) and 18th in receiving EPA per play this week.
The Colts are thin on running backs, as rookie Evan Hull injured his knee in Week 1. Deon Jackson and Jake Funk, who is on the practice squad, are the team's lone healthy running backs.
---
Late-Down Decision Making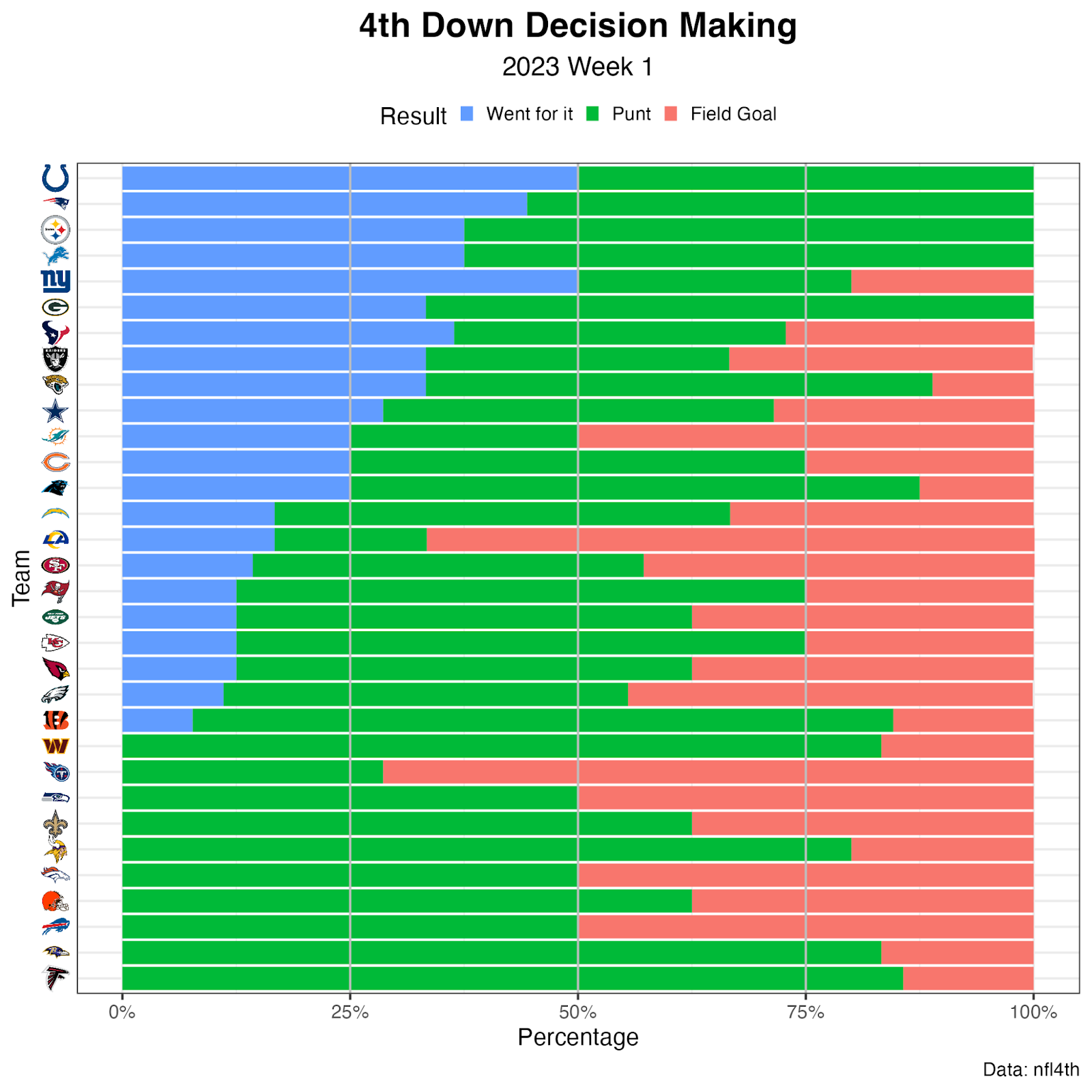 Remember that this is only one week's worth of fourth downs. Some teams had only a few such snaps.
Ryan Tannehill made some poor decisions on late downs. He finished with a 31.3 passing grade on such plays, with a sack and two interceptions. That's his worst grade on late downs since Week 12 of 2021 against the Patriots when he earned a 28.6 grade.
Jordan Love and the Packers recorded the highest EPA per play figure on late downs (1.354). Love passed for 141 yards and two touchdowns with an 80% completion rate on those plays.
Josh Allen posted the second-worst passing grade on late downs (31.0), ahead of only Justin Fields. That's no surprise, given he had two interceptions on late downs. Somehow, the Bills still produced positive EPA per play on late downs (0.098).
---
Game Finishers
The Rams, Lions and Dolphins earned the highest second-half offensive grades in Week 1. That aligns with what we saw in terms of successful drive rate, which means that a drive ended in a touchdown or a field goal. The Lions are an exception, as they converted around 20% of their drives in each half. They made the most of their opportunities, though.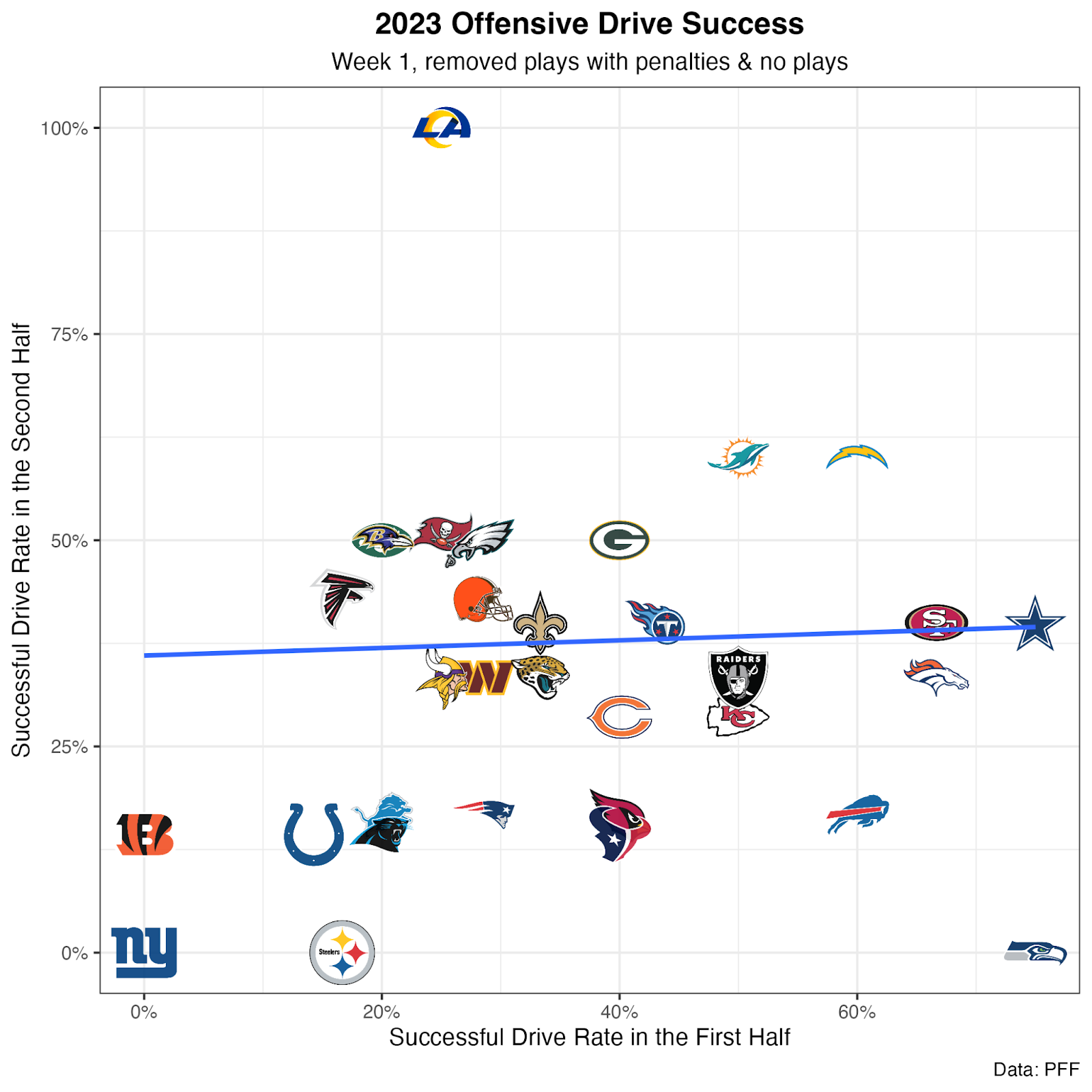 *Chart includes overtime
Although the Chargers ended up losing to the Dolphins, their second-half conversion rate was the highest in the league (37.5%). Miami was right behind them (33.3%), so it was tough for the Chargers to build a sizable lead.
The Cowboys did not back down in the second half of their contest, converting to a new set of downs 31% of the time — the fourth-best rate in the league this week.
The Bills' offense tanked in the second half of their game against the Jets, despite Aaron Rodgers getting hurt in the first half. Meanwhile, the Jets were able to convert 50% of their third and fourth downs to a new set of downs. The Bills defense performed well but was unable to make up for Josh Allen's mistakes.
---
Defensive Success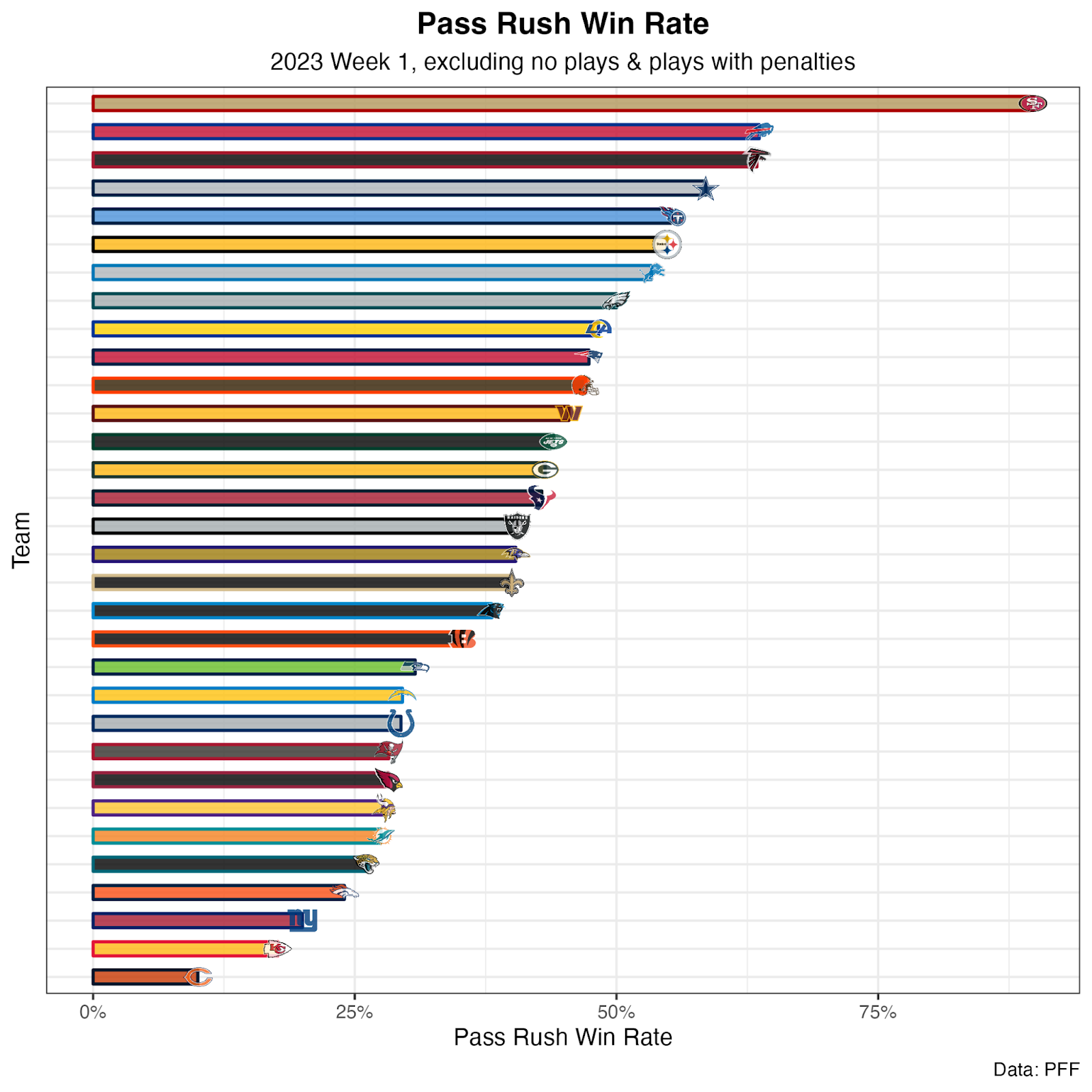 The Bears' defense struggled against the Packers; they were credited with only six pressures and a 10% pass rush win rate which is PFF's lowest mark since 2021. The Packers, on the other hand, thrived. They were credited with 35 pressures, trailing only the Cowboys in Week 1.
Packers team was credited with 35 pressures, trailing only the Cowboys for most in Week 1 (36).

Bears were credited with 6, and a 10% pass rush win rate that is PFF's lowest mark since 2021.

— Brad Spielberger, Esq. (@PFF_Brad) September 11, 2023
Despite the Colts' loss to the Jaguars, their defense was stout. E.J. Speed, DeForest Buckner and Zaire Franklin were the defense's three highest-graded players (minimum of 25 snaps) in Week 1.
Rookie Jalen Carter was the highest-graded player on the Eagles' defense, sporting a 92.1 grade after tallying eight pressures.
The Bills finished third in pressure percentage (50%) and second in pass-rush win rate (63.6%) this week. Despite this, they were unable to topple the Jets, who ranked first in coverage grade in Week 1.
Myles Garrett and the Browns' defense allowed the lowest EPA per play in the league (-0.478).
---
The Trenches
The Falcons' and Titans' offensive lines performed very well on run plays, both earning a positive grade on more than 94% of their run-blocking snaps. Pass blocking didn't go as well for the Falcons, however. They allowed three sacks.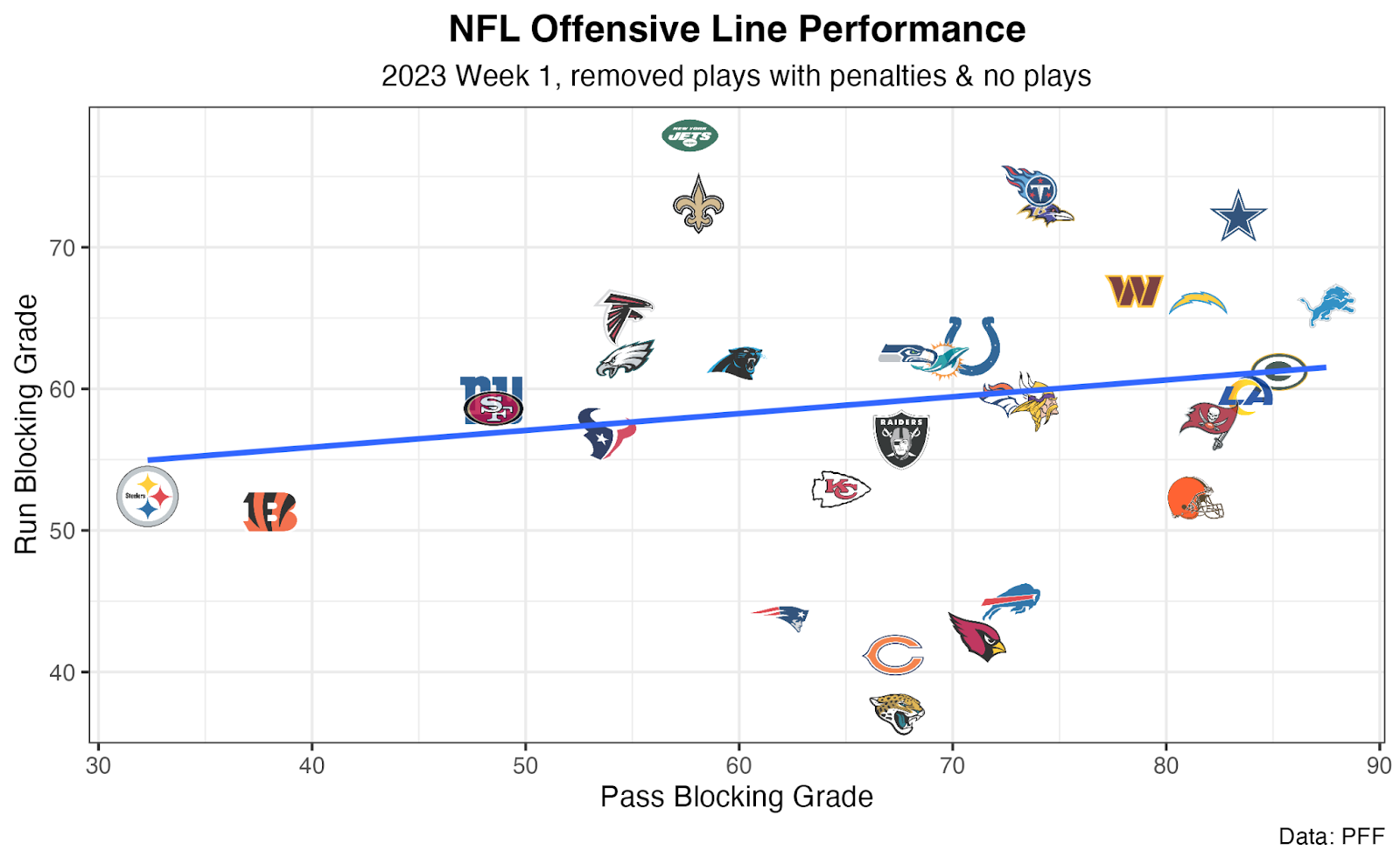 The cluster of teams at the bottom of this graphic is interesting. All five teams were negatively graded on at least 79% of their run-blocking plays. Bills guard Connor McGovern was one of the lowest-graded offensive linemen this week (43.4). The Bears' line allowed the most hurries (17), aiding in Justin Fields earning a 62.6 passing grade. However, guard Braxton Jones garnered one of the highest pass-blocking grades of the week.
The Giants could not get away from the Cowboys' defense, with Evan Neal and Mark Glowinski having two of the highest pressure rates allowed this week. As a team, they allowed pressure on 53.7% of their pass-blocking snaps, ranking ahead of only the Jets. The Giants' offensive line finished 30th in pass-blocking grade and 17th in run-blocking grade this week.
The Cowboys' line performed well. Tyron Smith, Terence Steele and Zack Martin did not allow any pressure. The unit ranked fourth in run-blocking and pass-blocking grades.
After a down year for Quenton Nelson, the Colts' line looks to have recovered a bit. He allowed pressure on just 2.2% of his pass-blocking snaps. As a unit, the Colts' offensive line ranked 10th in run-blocking grade and 15th in pass-blocking grade.
The Chargers' offensive line was solid, as well. They ranked 17th in offensive grade in 2022 and come in at third through Week 1. Rashawn Slater ranked third among tackles in overall grade (80.9) this week.
Quinnen Williams earned the highest run-defense grade (91.5) among defensive linemen this week. The Jets' defense also earned the top team coverage grade of the week.