Now through Week 13 of the 2019 NFL season, we at PFF have updated our power rankings using PFFELO.

Like any ELO system, it adjusts the ranking of a team after each game based on what happened in the game and the perceived strengths of the team and its opponent prior to the game. As opposed to most other ELO systems, PFF ELO doesn't use the final score to update the rankings. Instead, we compute what the final score should have been based on the player grades. Thus the predictive power of our grades carries over to a strong predictive power of our ELO rankings, though we should note that other variables go into our season-long or game-by-game projections.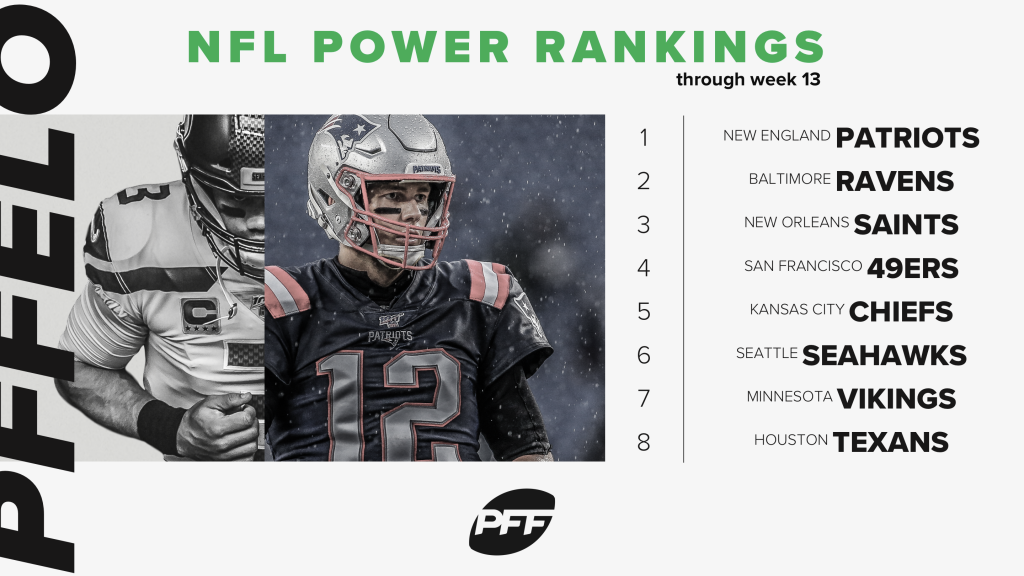 Last Week: 1st
The 10-2 Patriots retain the top spot on the list despite the Week 13 loss to the Houston Texans in primetime. There's little doubt that Tom Brady is playing at a lower level than he has in the past, but his overall body of work this season isn't as bad as the stats would indicate. He was the highest-graded quarterback in the league after three weeks, but he's dropped to middle-of-the-pack since Week 4, a concerning trend that coincides with numerous miscommunications and inconsistency from a subpar supporting cast in New England. On the season, Brady has more pass incompletions due to receiver error than any other QB in the NFL, and as we mentioned earlier in the week, for the first time in a long time, Brady seems unable to overcome the problem by himself.
Last Week: 2nd
The Ravens' Week 13 matchup with the San Francisco 49ers was touted by many as a Super Bowl dress rehearsal, so if that was the case, then quarterback Lamar Jackson and this unstoppable offense seem more than good to go. Through 13 weeks, Jackson has earned the third-highest PFF grade among qualifying quarterbacks thanks to a sixth-ranked 113.7 passer rating from a clean pocket and a position-leading 7.0 yards per rush attempt. With Jackson pulling the strings, this Baltimore offense has generated 0.301 EPA per pass play and 0.157 EPA per rush attempt, both of which lead the league, so the question has to be asked — how do you stop this offense?
Last Week: 3rd
A series of successful onside kicks in the closing minutes of the Falcons' Thanksgiving contest with New Orleans made things closer than the Saints would have liked, but for the second straight week, they escaped with a one-score win. Nick Easton (28.2 overall grade) and Patrick Omameh (58.7 overall grade) both turned in sub-standard performances filling in for starters on the left side of the offensive line. However, the right side was anchored once again by Ryan Ramczyk. His overall grade of 88.0 ranked second among right tackles last week, and he leads all players at the position with an 89.0 grade on the season.
Last Week: 4th
Considering the Ravens have made several good teams look utterly hopeless in recent weeks, the 49ers losing by only a field goal on the road in Baltimore is a hard result to get discouraged by. Deebo Samuel didn't have a huge game, but he did manage 41 receiving yards and a touchdown in the poor conditions. He's started to emerge as a legitimate threat in the 49ers' passing attack in recent weeks, ranking fifth among all wide receivers in yards per route run (2.57) since Week 10. After having no reliable weapons at wide receiver early in the season, Samuel's emergence and the trade for Emmanuel Sanders gives the 49ers two to pair with the best tight end in football — George Kittle (93.8 overall grade).
Last Week: 5th
Andy Reid is a Hall of Fame coach and a leader in our play-by-play coaching metric in large part due to the decisions he makes on second down. Over 76% of his second-down decisions are the optimal one, with almost 47% of such plays yielding positive expected points added (seventh in the NFL). The Chiefs are running play-action on 23 % of their total offensive plays while running the ball on 33 % of plays. Their rate of 0.71 play-action passing plays per run play is best in the NFL by 0.14. In a league where deception is increasingly important, Andy Reid remains ahead of the curve even in a season when Patrick Mahomes has both been injured and seen his play regress (if only slightly). This year, Mahomes' negatively-graded throws have increased by 5.2%, highest in the league, though he's still peppering the field with his usual helping of big-time throws (5.7%, ranks third). A big part of the regression may be due to multiple injuries (both to Mahomes and his playmakers) as well as a pass-blocking unit that has dropped from fifth to 13th in the league.
Last Week: 7th 
A win over the Vikings on Monday Night Football was enough to propel the Seahawks into sixth on the PFF ELO rankings heading into Week 14. It wasn't Russell Wilson's best effort of the season individually, but he still has just as strong a claim on the MVP race as any other player. Perhaps most impressive has been his play under pressure — something he is dealing with on 40% of his dropbacks thanks to shaky play upfront and his propensity to hold onto the football to try and make a play. Wilson's passer rating of 102.2 is the highest in the NFL among qualifying quarterbacks, and it is higher than the NFL average passer rating for a quarterback from a clean pocket (100.9).
Last Week: 6th
Monday Night Football has been a house of horrors for Kirk Cousins, and last week was no different. The loss to the Seahawks brought his record to 0-8 in Monday Night Football games over his career. Cousins and the Vikings' offense, which ranks third in the league in EPA per play, hasn't been their weak spot this season, though. The area for concern is the play coming from their cornerbacks, particularly Xavier Rhodes. Rhodes' completion percentage allowed of 87% is over 10% higher than any of the 48 cornerbacks who have seen at least 50 targets into their coverage so far this season.
Last Week: 11th
The Texans jump three spots in our ELO ranking after Deshaun Watson made mincemeat of the New England defense on Sunday Night Football, completing 18-of-25 passes for 234 yards, three touchdowns, two big-time throws and zero turnover-worthy plays. Through 13 weeks, Watson has earned the NFL's eighth-best passing grade and is marching his offense to the tune of 0.131 EPA per pass play, the sixth-best mark among offenses. In addition to Watson's excellence on Sunday night, we were also treated to a plus performance from cornerback Bradley Roby, who allowed a passer rating of just 29.2 to the mighty Tom Brady. Roby added another interception to his career total in the game, taking him up to 56 combined pass breakups and interceptions since he entered the league in 2014 — the 14th-most among cornerbacks in that span.
Last Week: 10th
There was an expectation that the Cardinals would give the Rams a competitive game last week. That wasn't the case in the slightest, however, as the Rams rolled to a 34-7 win. Their highest-graded defender for the game was Cory Littleton (90.5), who now ranks sixth among all linebackers in overall grade this season. It may not come with a whole lot of recognition, but Littleton has been one of the premier coverage linebackers in the NFL for some time now. He now ranks fifth among all qualifying linebackers in coverage grade since 2016, and he owns top-10 marks in both forced incompletion rate and passer rating allowed over that same span.
Last Week: 9th
Aaron Rodgers and the Packers' offense needed a get-right spot after failing to do much at all against the 49ers. Luckily, all they had in their path in Week 13 was the Giants' defense. Only the Rams had a higher EPA per play than the Packers did last week, and they went on to win 31-13 in the snow. Davante Adams came through with two touchdowns receiving, both of which came in the red zone. Since the start of the 2016 season, Adams has the most receiving touchdowns from inside the 20 (31), and his 57 receptions total inside the red zone rank second among all players (Michael Thomas – 59).
Last Week: 13th
The Steelers crept up two spots in our ELO ranking after they came away with a Week 13 win over the Browns, albeit with a different quarterback than they had for the fateful Week 11 affair. Devlin Hodges provided a much-needed spark for the offense, completing 14-of-21 attempts for 212 yards, one touchdown and one interception to go along with three big-time throws to zero turnover-worthy plays. In his first start in place of Mason Rudolph, Hodges earned an 81.3 passing grade and generated 0.213 EPA per pass attempt — figures that far surpassed anything Rudolph was able to do in his time under center. Defensively, this team's pass-rush is as formidable a unit as you'll find in the NFL. No other defensive line in the league has produced more total pressures (240), recorded a higher collective pass-rush win rate (64.7%) or produced pressure at a higher rate (50.7% of snaps) than the Steelers.
Last Week: 15th
Ryan Tannehill's resurrection has given the Titans a legitimate shot at January football, though he has had help from those around him. Through 13 weeks, Tannehill ranks first in clean-pocket passer rating (125.1), throwing past the sticks on a third-ranked 46.1% of passes in stark contrast to his rate of 32.8% that he accrued over his first seven seasons as a pro. Unlike Tannehill, running back Derrick Henry has been his usual self and enters Week 14 as the only running back in the NFL who has carried the ball more than 50 times and averaged more than four yards after contact per attempt (4.11). Defensively, this team has been stellar against the run, earning the league's third-best team run-defense grade and missing one tackle per 12 attempts, a rate that ranks second among all defenses. They'll need every ounce of that run-stopping power if they want to contain Josh Jacobs and the Raiders' ground game this week.
Last Week: 13th
Josh Allen had arguably the best game of his career on Thanksgiving Day, completing 19 of his 24 attempts for 231 yards and a score while adding 43 yards and three first-down conversions on his 10 rushing attempts. The Wyoming product has improved in the short and intermediate game this year (passes in the 1-19 yard range), where his 85.5 passing grade is tied for fifth in the league, but his 34.3 passing grade on throws of 20-plus air yards is the worst in the league by a wide margin, as he's completed just 27.7% of these attempts.
Last Week: 8th
The Cowboys had another chance to build a lead in the NFC East and show on a national stage that they could beat a good team in the Buffalo Bills. Again, they came up short. That loss prompted the biggest fall in the PFFELO rankings this week, from eighth to 14th. When targeting the Cowboys' linebackers, Josh Allen went 5-for-5 for 54 yards and a touchdown. It's an area that teams have been keen to pick on all season against Dallas. Their 113 receptions allowed by linebackers in primary coverage rank third-worst among all teams this season behind just the Seahawks and the Cardinals.
Last Week: 12th
The Colts have slipped down two spots in our ELO ranking thanks to the 31-17 loss to the Titans in Week 13, a game in which Jacoby Brissett started well but tailed off towards the end. Entering Week 14, Brissett has the fourth-lowest percentage of positively graded throws, his big-time throw percentage ranks just 36th among his peers and 53.9% of his yards have come after the catch, which is good for the fourth-highest figure in the league. Defensively, this team is in the middle of the pack in terms of EPA allowed per pass (0.006, 16th) and per rush (-0.087, 14th) and the standout so far has been the ever-reliable Justin Houston. Through 13 weeks, Houston ranks 15th among edge defenders in PFF grade while his pass-rush win rate of 18.0% ranks 19th.
Last Week: 17th
Mitchell Trubisky has received a lot of deserved criticism from the analysts here at PFF, but credit where credit is due, he played a great game against the Lions on Thanksgiving. His 90.2 passing grade led all quarterbacks for the week. Downfield passing is an area in which he has struggled for much of the season, but against Detroit, he went 12-of-18 for 207 yards and a touchdown on passes 10 or more yards past the line of scrimmage. The Bears will need that iteration of Trubisky more often if they're going to come out successful in their uphill battle for the postseason.
Last Week: 14th
Since their bye in Week 10, the Eagles have been in free fall, losing games to the Patriots, Seahawks and Dolphins over the past three weeks. Luckily for them, the Cowboys are trying their hardest to keep things interesting in the NFC East. Jalen Mills and Ronald Darby both got abused by the Ryan Fitzpatrick–Devante Parker super connection, each of them allowing over 100 passing yards into their coverage in the game. No matter how strong their defensive front and pass-rush is, there is certainly reason to be concerned about their secondary holding up against any sort of test.
Last Week: 20th
Don't look now, but the Buccaneers are winners of two straight after handling the Jaguars so badly that Nick Foles got benched in favor of Gardner Minshew for the rest of the season. Jason Pierre-Paul had by far his best game of the year since returning to the field in Week 8. He racked up 10 total pressures in 45 pass-rushing snaps, joining Carlos Dunlap and Cameron Jordan as the only pass rushers to record double-digit pressures for the week.
Last Week: 19th
The Chargers once again found themselves on the receiving end of a heartbreaking and improbable loss, this time at the hands of the Broncos, who drew a long pass interference penalty in the waning seconds to place them within game-winning field goal range. After starting the game slowly—and after watching Tyrod Taylor warming up on the sideline—Philip Rivers perked up a bit as the game went on, and he ended the contest with a 73.2 overall grade — a much-needed improvement after ending Week 10 and 11 with grades of 43.8 and 47.6, respectively. While Rivers is not quite living up to his 2018 standard, he's still ranked 11th among quarterbacks in big-time throw percentage, but there have been far too many careless decisions. In fact, Rivers has the fifth-highest percentage of turnover-worthy plays (4.9%) entering Week 14. There may be a decline in "zip" from his early years, but this isn't an unfamiliar story in Rivers' career, and it's too early to write him off as "washed up."
Last Week: 18th
The Browns suffered a loss to the Steelers last week, which sees them drop two spots in our ELO rankng. Baker Mayfield once again struggled, earning a passing grade of just 52.4, while he added one turnover-worthy play and zero big-time throws to his 2019 record. For the year, Mayfield owns a 17:15 big-time throw to turnover-worthy play ratio, and he ranks tied with Marcus Mariota for 25th among quarterbacks in the percentage of passes that have been charted as uncatchable and inaccurate. One of the biggest disappoints of the year continues to be Odell Beckham Jr. in a browns uniform — through 13 weeks the star pass-catcher is on pace to record career-lows in target percentage, receiving grade and yards per route run.
Last Week: 24th
It took what could be fairly described as a miracle, but the chuck-it-deep-and-pray-for-a-flag tactic ultimately landed Drew Lock his first career win as a Bronco. The rookie signal-caller completed 19 of his 30 pass attempts for 138 yards, two scores, one pick, one big-time throw and one turnover-worthy play, though two of his passes were dropped on the day. It's not just Lock who is generating fanbase excitement, though. Through 13 weeks, sophomore wideout Courtland Sutton ranks 10th among wide receivers in PFF receiving grade, while his 2.24 yards per route run rank tied for ninth.
Last Week: 22nd
After going on a post-bye surge and beating the Saints and Panthers in back-to-back weeks, the Falcons have come back down to earth with back-to-back losses against NFC South foes. Matt Ryan has struggled in those losses, especially when it comes to avoiding negative plays. His 15 sacks taken across those two weeks are the most in the NFL, as are his nine turnover-worthy plays. It's hard to put the blame entirely on Ryan, though, seeing that he's been under pressure on 40% of his dropbacks (third-highest mark in the NFL) despite averaging time to throw that ranks as the 12th-fastest in the league over the course of the season.
Last Week: 23rd
The Raiders struggled to get anything going offensively in Week 13 and left the game with a 40-9 loss at the hands of Patrick Mahomes & Co. Considering the outcome, naming an offensive standout is somewhat redundant, but rookie running back Josh Jacobs ran hard and made the most of each of his touches. He racked up 104 yards and 55 yards after contact — the ninth time this season that he's surpassed 50 yards after contact — and he also added another four forced missed tackles to his stat sheet. Through 13 weeks, no running back has broken more missed tackles than Jacobs, who now has an astonishing 61 forced missed tackles next to his name — the next closest back is at 53.
Last Week: 21st
Remember when the Panthers were 4-2 and people were wondering whether or not Kyle Allen was the long term solution at quarterback for the franchise? The Panthers are 1-5 since then, Allen is the 31st-graded passer in the NFL out of 32 qualifiers and Ron Rivera was just fired. It's been a rough stretch for Carolina, who now find themselves at 24th in the PFF ELO rankings. Christian McCaffrey has continued to show the versatile, dynamic playmaking ability that made him, Alvin Kamara and Todd Gurley the only backs with 1,000 or more rushing yards between the tackles and 1,500 receiving yards since 2017, but that's not going to translate to much with bottom-of-the-barrel quarterback play.
Last Week: 25th
The Jets looked outmatched at times in Week 13 against the once-winless Bengals, though that was no fault of Sam Darnold. The sophomore signal-caller completed 28 of his 48 attempts for 239 passing yards, three big-time throws and zero turnover-worthy plays, and five of those passes clanged off the mitts of his targeted receiver. Add into the mix the fact that Darnold was put under pressure on 46.3% of his dropbacks and you can see that he wasn't really given a chance. On the defensive side of the ball, this coverage unit has allowed a passer rating of 99.6 and is giving up 11.0 yards per completion, 18th and 13, respectively, among teams.
Last Week: 26th
Gardner Minshew is back as the starter for the Jaguars after a couple of underwhelming starts from Nick Foles. Minshew has had quite the ride as a sixth-round rookie. He's thrown the ball well, grading at 90.3 on throws of 10-plus air yards, good for 13th in the league. However, the turnover-worthy plays have started to creep up on him, as he has the 16th-highest percentage of turnover-worthy plays (3.6%) while ranking just 22nd in big-time throw percentage (3.4%). Defensively, this once-formidable coverage unit is a shell of its former self. Through 13 weeks they've allowed a 21st-ranked 0.038 EPA per pass play and a 17th-ranked 98.7 passer rating.
Last Week: 29th
Dwayne Haskins' stat line — 13 / 25, 147 yards, 0 touchdowns and 0 interceptions — isn't going to stick out at first glance. What does stand out, though, is his 86.0 passing grade, the third-highest mark of any quarterback in the NFL last week. Haskins came through with three big-time throws for the game, and he had several nice tight-window passes in the game which didn't go his way. Overall, it was an encouraging performance from the rookie. Haskins and the Redskins will look to string together their third win in a row against the Packers in Week 14.
Last Week: 27th
There was a time early in the season following a near loss to the Chiefs that the Lions were considered to be contenders in the NFC North. A 1-7 stretch of games later tells us that that time has come and gone, and Matthew Stafford and Jeff Driskel have come and gone with it. The pass-rush has been one of the more disappointing elements of this team given all the talent they put together on the defensive line. Their 30.4% pressure rate on the season ranks 30th among all teams, and they're recording a quarterback sack or hit on just 11.0% of their pass-rushing snaps (30th).
Last Week: 28th
In the same week that Haskins had a career-best PFF grade, Kyler Murray had by far the worst game of his NFL career. Murray recorded an overall grade of 27.2 against the Rams, unable to get much of anything going on offense until the late stages when it was already out of reach. Murray took six sacks and had three turnover-worthy plays in the game. Things won't get much easier next week against the Steelers, who are boasting the third-best defense in the NFL based on EPA allowed per play.
Last Week: 32nd
The Bengals rise from the depths of our PFFELO rankings thanks to the Week 13 win over the New York Jets. Andy Dalton was average in his return to the fold, but Tyler Boyd was borderline unstoppable, hauling in all six of his catchable targets for 76 yards, one score and four additional first downs, with three of those catches going for explosive plays of 15 or more yards. On the other side of the ball, William Jackson's work this year is a small cause for concern. After missing his rookie 2016 season, Jackson burst onto the scene with a lowly 34.9% catch rate allowed and an elite 90.4 coverage grade in 2017. But his catch rate jumped to 55.1% in 2018 before jumping to 68% in 2019 after a Week 13 performance that saw him allow 10 catches from 11 targets.
Last Week: 31st
The Dolphins pulled off a major upset by beating the Philadelphia Eagles at home in Week 13. DeVante Parker arguably had the best game of his career, hauling in seven of hs 10 targets for 159 yards, two touchdowns and three more first downs while bringing in all four of his contested targets. The Fins also got plus play from first-round pick Christian Wilkins, who notched a hit and four hurries from 31 snaps as a pass-rusher.
Last Week: 30th
Finding yourself in last place behind the Dolphins and Bengals isn't a place that you want to be, but it is exactly where the Giants are in the PFF ELO rankings. Eli Manning is expected to start for an injured Daniel Jones this week for New York, but his play can't get much worse than what they've seen from Jones in his rookie season. Only Jameis Winston has more turnover-worthy plays than Jones' mark of 27 this season.