PFF Senior Analysts Sam Monson and Steve Palazzolo reviewed the film, advanced stats and grades to offer their key takeaways from Week 13 of the 2019 NFL season.
[Editor's Note: All ELITE subscribers have access to PFF's advanced statistics and grades referenced below. Subscribe today to gain access!]

Tom Brady isn't the problem in New England, he's just not able to hide the problems anymore
We've seen the New England Patriots struggle for an identity on offense in the past and we've also seen Tom Brady surrounded by a weak supporting cast, but the difference now is that he's no longer able to paper over those cracks simply with the excess greatness he has carried around for most of his NFL career. Brady is now 42 years old and just needs a little help from those players around him in a way he didn't always need. Despite his numbers looking far more pedestrian this season, and the Patriots coming up short in critical AFC showdowns, Brady remains ranked inside the top 10 in terms of PFF grade — a play-by-play account of his actual input into the offense. Brady is not the problem in New England, but for the first time in a long time, he might not be able to overcome what is.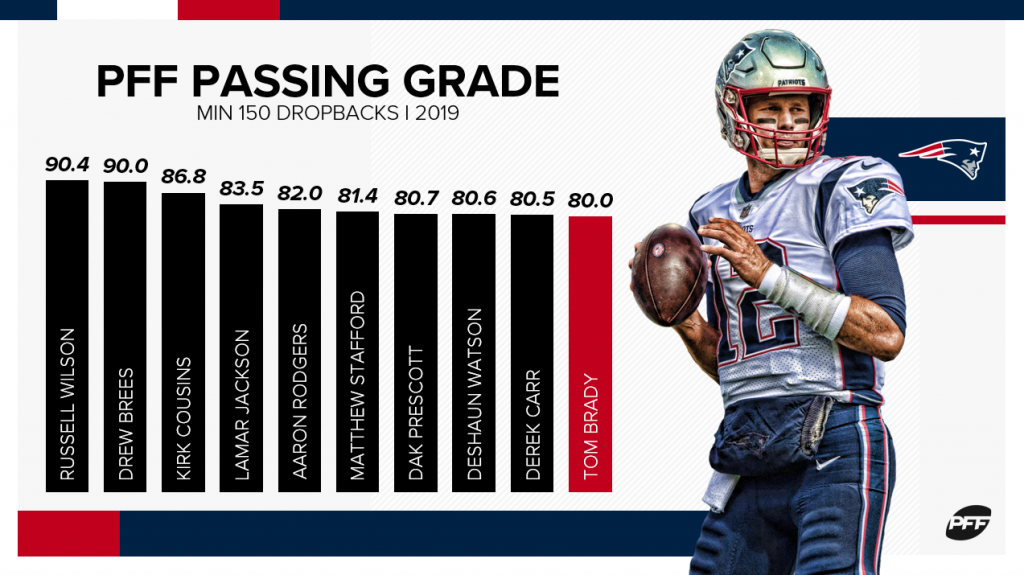 Pump the brakes on Josh Allen a little bit…
Nothing warps perception more than a big performance (good or bad) in a nationally televised or primetime game. Josh Allen just had maybe the best game of his career (certainly the best game against a team not named Miami) on Thanksgiving Day against Dallas, so people are looking to cash in receipts. I don't want to take anything away from his performance Thursday night — Allen was spectacular — I just want to caution against believing that this is his baseline. From digging out a botched snap only to power himself for a first down to executing multiple difficult passes, this was a high watermark for Allen. His adjusted completion percentage was 79.2%, and he showcased that incredible arm strength. If this was the play the Bills got from their quarterback every week, they would be among the favorites for the AFC. Instead, it's just a taste of where his ceiling is so far.
Mitchell Trubisky may cause the Bears a problem with his play down the stretch
The worst thing that could happen to the Chicago Bears over the rest of the season is for Mitchell Trubisky to play well enough to convince them he's worth another year of investment. Given what we've seen over the past few weeks, there's a real danger of that happening. His best four PFF grades of the season have been his previous four outings, and three of those games represent his only forrays into the green and blue shades of 'good or better' PFF grades. Trubisky playing at this level can be more than good enough for Chicago to win games, but we are now approaching three consecutive seasons of average play at the position, even if the rollercoasters within those seasons have been dramatic.
The Lions may have finally solved their second CB problem
Darius Slay is one of the better cover corners in football, but Detroit's big issue has been finding someone who could hold up on the opposite side. The early returns suggest they may have done just that with fifth-round draft pick Amani Oruwariye. He has only played in three games this season, and only two with a representative amount of snaps, but those two games have seen impressive PFF grades (85.6 and 73.7), and he has yet to be beaten for a pass longer than 19 yards. It's still very early, but anybody showing the ability to lock down that second starting cornerback spot would be a huge boost for this Lions defense.
Have the Jaguars regressed into what they should have been offensively?
There was a point in the season where the Gardner Minshew-led Jaguars offense was a threat on a weekly basis, and Minshew was getting the best out of what appeared to be a bottom-five group of playmakers coming into the season. Minshew cooled off before Nick Foles made his return with mediocre play, and suddenly this offense is more of what we expected. We may not get to see Foles bounce back from yesterday's poor 32.2 overall grade, but still, that volatility is tough to overcome for a Jaguars offense that still needs to upgrade its receivers while improving the play along the offensive line.
Raiders' passing game trying to find its way
Speaking of regression, the Raiders came into the season with similar question marks at receiver, and despite breakout seasons from tight end Darren Waller and rookie wideout Hunter Renfrow, the lack of depth may be catching up. Oakland quarterback Derek Carr has not pushed the ball downfield nearly enough, especially during the blowout losses over the last two weeks where his average depth of target is only 6.4, third-lowest in the league during that time. Carr has all of the necessary big-time throws in his arsenal, but either his conservatism or perhaps a lack of downfield playmakers has hindered Oakland's ability to create big plays in the passing game.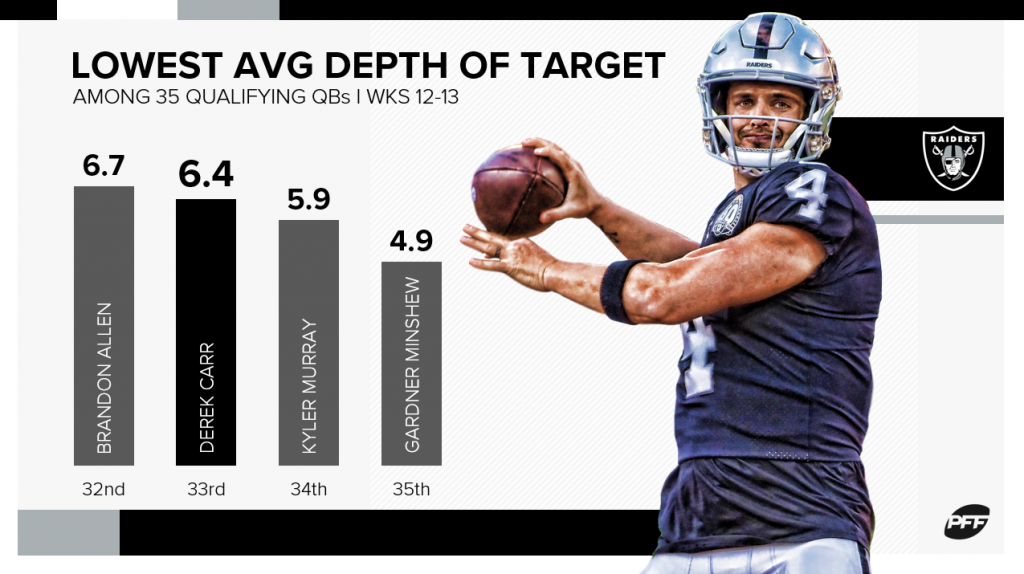 The Steelers' defensive front continues to dominate
Pittsburgh is still in the playoff hunt thanks to their defense, particularly a pass-rush that ranks first in the NFL in team pass-rush grade (91.2). Interior defensive lineman Cameron Heyward is having a career year with a 92.0 overall grade that ranks second behind only Aaron Donald among players at the position. Edge defender T.J. Watt is getting all of the big hype, and he deserves it, having earned a league-high 91.0 overall grade. Watt's counterpart, Bud Dupree, also has a career-high 84.1 overall grade that ranks 19th among the league's edge defenders. Throw in interior defender Javon Hargrave, who is grading at 87.3, and Pittsburgh has the best group of run-stuffers and pass-rushers in the league.
Rams get back on track
Was it a one-week blip or a sign of things to come for the Rams? The Rams' Week 13 outfit looked like the Sean McVay offense of old, averaging .452 EPA/play, a monster number. They threw for over 300 yards in the first half alone, as wide receiver Robert Woods caught 13 passes for 172 yards and eight first downs, while tight end Tyler Higbee contributed five first downs/touchdowns of his own. Jared Goff earned the highest grade of the season (78.9), Todd Gurley posted his best rushing grade since 2017 and the Cardinals' defense had no answers for anything the Rams threw their way. At 7-5, Los Angeles has almost no margin of error in the NFC, but this week was a step in the right direction.