Since trading up to draft quarterback Deshaun Watson in the first round of the 2017 NFL Draft, the Texans have been treading water trying to recapture their draft capital and build a well-rounded team around their signal-caller.
The effort has been compounded by multiple high draft picks being traded in other deals, leaving the Texans with question marks in the secondary that remain unresolved. Trading star wide receiver DeAndre Hopkins also didn't help matters, though there's an intriguing group of receivers in Houston that could get similar, if not better, production out of Watson.
The roster-building effort has resembled "Whac-A-Mole," as Houston spent its limited 2019 draft capital on the offensive line while this past draft was used to shore up a depleted defensive front. The big question remains on the back end of the defense, where Houston must be able to stop good teams if they want to give Watson and the passing offense a chance to win high-scoring games. Their development will likely determine just how far the Texans will go.
Subscribe to PFF's EDGE or ELITE subscriptions to get access to the following tools, charts, etc. 
– All Premium Article Content
– Fantasy Football Rankings & Projections
– Fantasy Football Draft Guide, Cheat Sheets & Advanced Stats
– Fantasy Football Mock Draft Tool (DraftMaster)
– Fantasy Football Strength of Schedule Matrix
– NFL Player Grades
– NFL Premium Stats
ADDITIONS/SUBTRACTIONS
Additions/players brought back:
RB David Johnson (via trade)
CB Bradley Roby (re-signed for three years, $36 million)
WR Randall Cobb (signed for three years, $27 million, $18.75 million guaranteed)
K Ka'imi Fairbairn (re-signed for four years, $17.65 million, $9 million guaranteed)
TE Darren Fells (re-signed for two years, $7 million)
QB A.J. McCarron (re-signed for one year, $4 million)
Losses:
WR DeAndre Hopkins (via trade)
DI D.J. Reader
CB Johnathan Joseph
S Tashaun Gipson
QUARTERBACK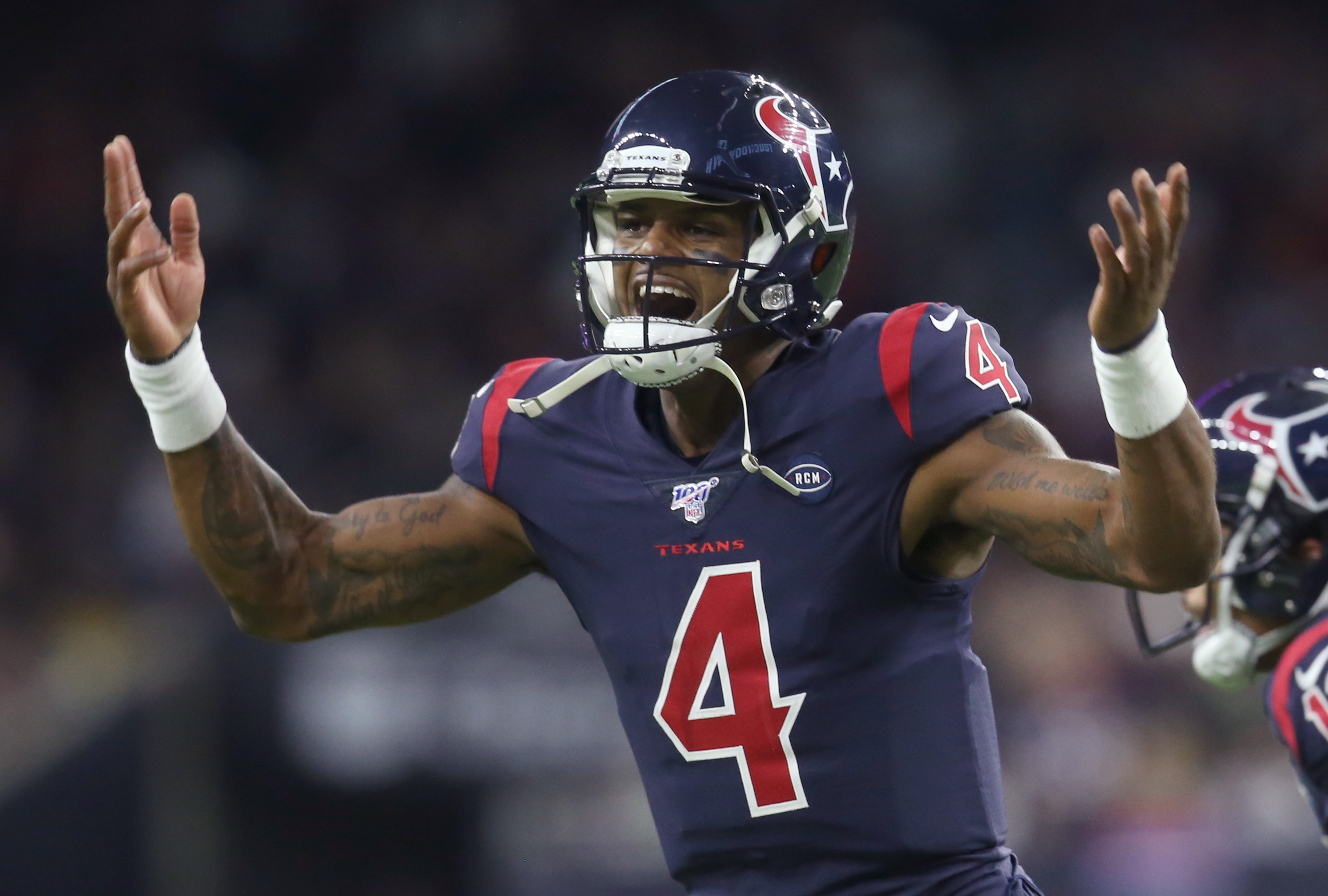 Here's what I said about Deshaun Watson after the 2019 season:
Watson continues to light up the highlight reels, but the week-to-week consistency still needs work. For the second straight year, Watson had six games that earned an 80.0-plus grade, and those are the games in which he looks like an MVP candidate capable of carrying a team. However, he also had three games that graded under 50.0, and those games usually involve poor ball security and him taking too many sacks. Watson ranked among the league's best in big-time throws once again, but in order to take the next step as a true MVP candidate, he must cut down on the faults that have plagued him to low game grades in the past. It's a difficult balance, as Watson's high-risk, high-reward style pays off more often than not, but it's still leading to too many games in which his poor play is too much for Houston to overcome.
Watson has clearly exhibited the high-end play that shows the Texans have something to build around, now it's just a matter of avoiding the disastrous games that have plagued his early career. Watson creates big plays inside and outside the pocket, but he'll often try to do too much in the pocket, leading to too many sacks and turnover-worthy plays. The next step for Watson is cutting down on those lulls and taking more "easy" throws to keep the offense on schedule, all while maintaining the highlight-reel plays that will make him a perennial MVP candidate.
RUNNING BACK
The Texans acquired running back David Johnson as a part of the DeAndre Hopkins trade, and the team will hope to rejuvenate Johnson's career as one of the best all-around backs in the league. Johnson did his best work in 2016 when he led the way with a 90.0 receiving grade, and he had 263 more receiving yards than any other running back. However, we haven't seen that level of play from him in a while, and he's been in and out of the lineup over the last three years while failing to rush for at least 4.0 yards per carry during that time.
Duke Johnson Jr. is the top returning running back, as he posted an 82.3 rushing grade to go with 3.8 yards after contact per attempt last season. Over the last three years, Duke has forced 0.25 missed tackles per attempt, second-best in the NFL, while ranking fifth among running backs with an 88.4 receiving grade. He could be in line for even more touches, especially given the difficult-to-cover playmakers the Texans have at wide receiver.
The rest of the depth chart is rounded out by relative unknowns in Buddy Howell and Karan Higdon. If David Johnson gets back to form, this is one of the best running back rooms in the league. But regardless of his performance, keep an eye on Duke Johnson, as he's been one of the most productive backs since entering the league in 2015.
WIDE RECEIVER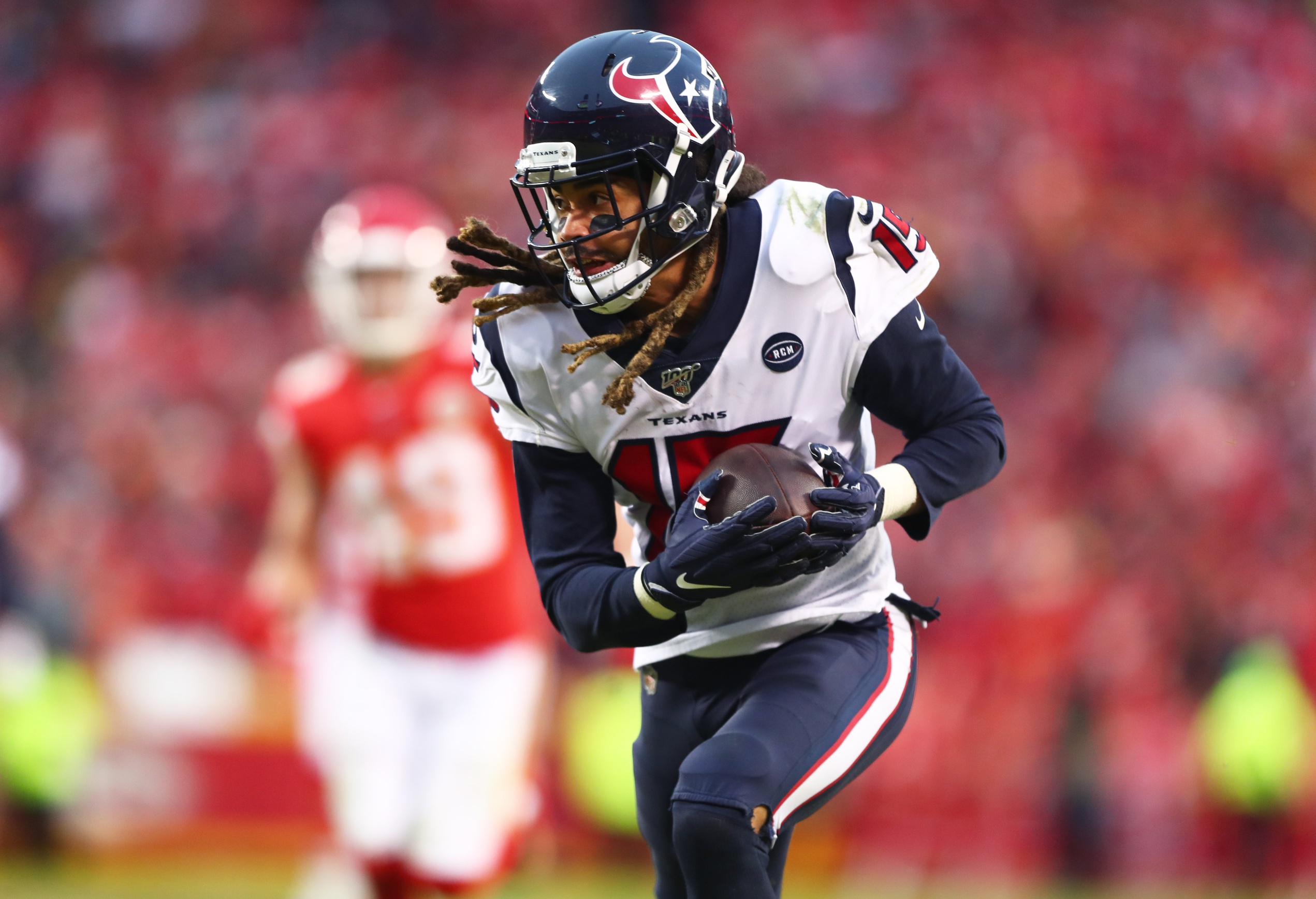 With DeAndre Hopkins traded to the Cardinals, the pressure is on the rest of Houston's receivers to make up for the loss of one of the league's most productive receivers. However, the Texans have plenty of speed and playmaking options on the roster.
Will Fuller V adds an explosive downfield element to the passing attack, and his presence has made the offense better when he's on the field, though injuries have been an issue. Fuller ran a 4.32 at the scouting combine — opposing defenses are aware of where he is at all times. The Texans traded for Brandin Cooks, a productive outside receiver who ran a 4.33 of his own and now joins his fourth team in five years. Cooks runs the vertical route tree well, and his quarterbacks have a passer rating of 107.8 when targeting him during his six-year career.
Kenny Stills is yet another sub-4.4 threat who has averaged 15.7 yards per reception in his seven years in the league — Houston quarterbacks had a passer rating of 127.5 when targeting him last season. Then we get into the slot options as Randall Cobb was signed this offseason after he put up 828 yards and a 70.9 receiving grade for the Cowboys last season, the best we've seen from him since 2016.
If Keke Coutee can stay healthy, he has the speed and quickness to work the underneath routes and jet sweep game, as he's averaged 6.6 yards after the catch per reception during his two years in the league. While losing Hopkins creates new challenges for the Texans, a healthy receiving unit will provide challenges of their own for opposing defenses. The Texans have speed and quickness all over the field, and they'll be one of the more difficult on-paper matchups for opposing defenses this season.
TIGHT END
Last season, the Texans' tight ends were a complementary piece in the passing game, but the team did a fine job of scheming it up to collect over 70 catches and nine touchdowns during the regular season. Darren Fells used his 6-foot-7 frame to catch a career-high seven touchdowns and generate a 132.2 passer rating when targeted.
Jordan Akins is a solid route-runner and has some wiggle, forcing eight missed tackles on just 36 receptions. Jordan Thomas is also in the mix after a solid 72.5 receiving grade in his rookie season in 2018, though he was limited to just 67 snaps last season.
While it's not the most exciting group of tight ends, all three players bring different skillsets to the table. The Texans can take advantage of the middle of the field with this group of speedy receivers commanding the attention on the outside.
OFFENSIVE LINE
The quest for mediocrity is a crucial one for poor offensive lines, and Houston took a huge step in that direction last season, finishing 20th in our final rankings. Left tackle Laremy Tunsil made an immediate impact after coming over from the Miami Dolphins as the Texans' left tackles had allowed a pressure once every 10 pass-blocking snaps across 2017 and 2018. Tunsil allowed a pressure once every 28 snaps last season and finished with the third-best pass-blocking grade in the league at 88.2, but he also led the league with 20 penalties, including the playoffs. Even with the penalties, Tunsil immediately turned a weakness into a strength at left tackle for the Texans.
The rest of the line made strides in pass protection, as all five starters posted pass-blocking grades above 70.0. QB Deshaun Watson holds the ball longer than any quarterback on standard dropbacks and invites plenty of pressure himself, and the Texans had the league's sixth-best pass-blocking grade last season at 79.1 after two years ranking near the bottom. The run blocking was not nearly as good, finishing fifth-worst at 52.2. Left guard Max Scharping and right tackle Tytus Howard finished with near-identical grades — 59.1 for Scharping, 59.4 for Howard — as both rookies struggled in the run game, ranking near the bottom of their respective positions.
Center Nick Martin profiled similarly, with a 79.8 pass-blocking grade that ranked eighth but a run-blocking grade of 58.0 that ranked 25th among centers. Right guard Zach Fulton was even worse in the run game with a 42.5 grade that tied for fourth-worst among guards, but he finished 21st with a pass-blocking grade of 73.9.
Houston returns all five starters from last season, and there is no line with a bigger discrepancy between pass-blocking and run-blocking ability.
DEFENSIVE LINE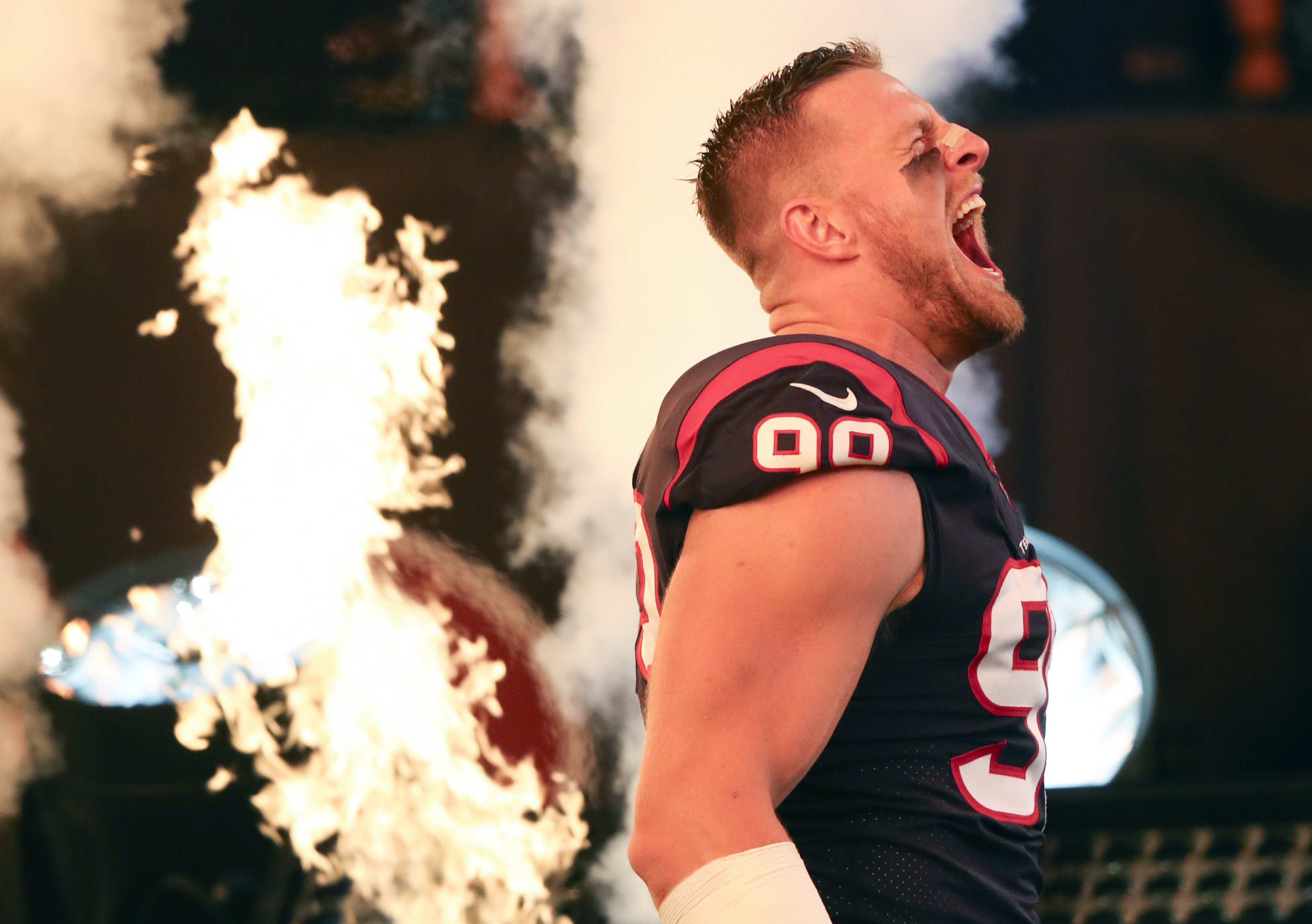 Once again, the weight falls on the shoulders of J.J. Watt for the Houston Texans' defensive front.
Last season, D.J. Reader was an impact player inside, but he has departed for Cincinnati in free agency, leaving a hole that is likely to be filled by second-round rookie Ross Blacklock. Blacklock had a dominant run defense grade last season at TCU, and while his pass rush took a step forward, it was still the weaker area of his game. He has high-end athleticism and physical tools but is low on technique and polish at the position; he may take some time to transition to an effective force at the next level.
Watt getting back to his best play would be a huge boost for this team, and in 2019 he threatened to do exactly that before a pectoral injury sidelined him for half of the regular season. Watt's PFF grade over the past two seasons is almost back to where it was before injuries first started to derail a Hall of Fame career. He notched 52 total pressures last season in just eight games and was on pace to lead the NFL with his best pass-rushing grade since the 2015 season. If he picks up in 2020 the way he was playing before that pectoral injury, the Texans will have one of the most dominant defensive linemen in the game.
Whitney Mercilus rediscovering his best play would also go a long way to helping this unit. He has earned PFF grades in the 60s over the past two seasons, 20 full grading points lower than his best seasons of 2015-2016. He had 47 total pressures last season, but it took him 591 pass-rushing snaps to get them, and 33 of those pressures were just hurries. Mercilus has top-tier potential, but he hasn't played to that ability for a while now.
Outside of the players already mentioned, the Texans don't have much in the way of impact players, with the likes of Charles Omenihu, Brennan Scarlett and Angelo Blackson likely to earn playing time but without much quality play on their resumes. Rookie third-round pick Jonathan Greenard was very productive at Florida last season but struggled against the best competition he faced. He will at least see opportunity to prove he can step up at the next level.
LINEBACKER
The Texans have the only two linebackers to rank in the top 10 in run defense over the past three years in Benardrick McKinney and Zach Cunningham. McKinney is a power player at 257 pounds who can mix it up in the run game and has been one of the best tacklers in the league, missing just 6.9% of his tackle attempts — ranking 16th-best since 2014. He has his limitations when left in single coverage, but McKinney handles short-zone responsibility well enough and has posted 70.0-plus coverage grades in three out of his five NFL seasons.
Cunningham is the playmaker of the group, leading the league in run-stop percentage last season (14.2%). Cunningham uses his great length to slice through blockers to get to the ball in the run game, but he has similar coverage limitations that make him exploitable against quick running backs. His best coverage grade was just a 62.1 mark that came his rookie season in 2017. Cunningham has combined with McKinney to be one of the most durable and productive duos in the league over the past three years.
The backups include Dylan Cole, who has just 470 career snaps, and Peter Kalambayi, who has seen the field just 123 times in his two years. The Texans have one of the best linebacker duos in the league, though their depth is untested.
SECONDARY
On paper, the Houston Texans' secondary is a concern heading into the season. Bradley Roby's and Gareon Conley's best play in the NFL has come in man-heavy coverage shells, and while the Texans do play a lot of man coverage, even the most man-heavy teams play zone on almost half of their snaps.
Overall, Roby hasn't hit the heights he hit in Denver from 2015-17, and last season he allowed 62.2% of the passes thrown his way to be caught. Conley surrendered six touchdowns and a passer rating of 104.2 when targeted, even if he did tally 11 pass breakups.
Lonnie Johnson gets a chance to recover from his rookie season, where he earned a PFF grade in the 30s and gave up seven touchdowns in just 52 targets. And the team has also kept faith with the Vernon Hargreaves III reclamation project despite little evidence he will turn his career around in Houston. Hargreaves graded only marginally better in Houston than he did in Tampa and remains a long shot to ever justify his draft spot.
At safety, the team signed Eric Murray, formerly of the Cleveland Browns, to a three-year, $18 million contract this offseason in a move that likely would have received significantly more scrutiny had they not also traded away DeAndre Hopkins for a bag of pistachios. Murray has been solid when pressed into action in his NFL career, but he is better against the run than he is in coverage, and that is a highly replaceable trait.
Justin Reid also returns and remains the best player in this secondary. He had a pair of interceptions, three pass breakups and a PFF coverage grade of 79.3 in 2019. Other new additions that could feature are special-teams ace Michael Thomas and fourth-round rookie John Reid. Reid has all the skills to be a plus player covering the slot, and given the uncertainty of the Houston cornerback room, he could easily steal playing time there sooner rather than later.
Howard went on a nice stretch of "green" grades in pass protection from Week 4 through Week 11 before getting injured in Week 12 against the Colts. He finished with just 488 snaps in his rookie season, and the Alabama State product needs more reps to develop all areas of his game. Howard's run-blocking grade was a poor 51.2, and Houston needs better than a 59.4 overall grade from last year's first-rounder.
DRAFT CLASS REVIEW
It was a light class for the Texans as they only brought in five players. The class was led by second-rounder Ross Blacklock out of TCU, a gap-shooter who wins with low pad level but may be limited to that type of role early on. Third-rounder Jonathan Greenard is a productive edge defender who often beat up on lesser tackles on his way to an 88.0 pass-rush grade in 2019. Cornerback John Reid may be the best fit of the draft for Houston, as he can play in the slot right away in their zone-heavy scheme.
Overall, it was an underwhelming draft that leaves the Texans with many of the same holes they've been dealing with in recent years. 
BEST BET
The Texans have seen a drop in their win total after jettisoning star wide receiver DeAndre Hopkins. Despite Hopkins' ability, this is an overcorrection by the betting market. At the current price, both the over 7.5 win total at plus money and the bet for them to make the playoffs at plus money are worthwhile bets purely because of Deshaun Watson's ability. Things could easily implode down in Houston, but given the reduced price on their current markets, this is a situation to buy low on.