Last Thursday, George Chahrouri, Timo Riske, Kevin Cole and I from PFF's Research and Development group, along with FiveThirtyEight's Josh Hermsmeyer and EstablishTheRun's Evan Silva, redrafted the NFL.
[Editor's Note: Watch the first two rounds of PFF's NFL redraft here! A written breakdown of every first-round pick can be found here.]
Unsurprisingly, the six of us went quarterback heavy with the first bunch of picks. Maybe surprisingly, though, it took us until Pick 27 to take a player who wasn't a signal-caller. I selected Tampa Bay Buccaneers wide receiver Chris Godwin with that pick, and people had some … questions. In this article, I want to explain some of the reasoning behind why I took the fourth-year superstar from Penn State.
[Editor's note: Subscribe to PFF ELITE today to gain access to PFF's Premium Stats and new Player Grades experience in addition to the 2020 NFL Draft Guide, 2020 Fantasy Rookie Scouting Report, PFF Greenline, all of PFF's premium article content and more.]
The Best Grade Profile in the NFL in 2019
No non-quarterback in the NFL generated more wins above replacement last season than Godwin. And given that he missed the final two games of the season and had to share targets with one of the best receivers in the NFL in Mike Evans (for 13 games), that's really impressive.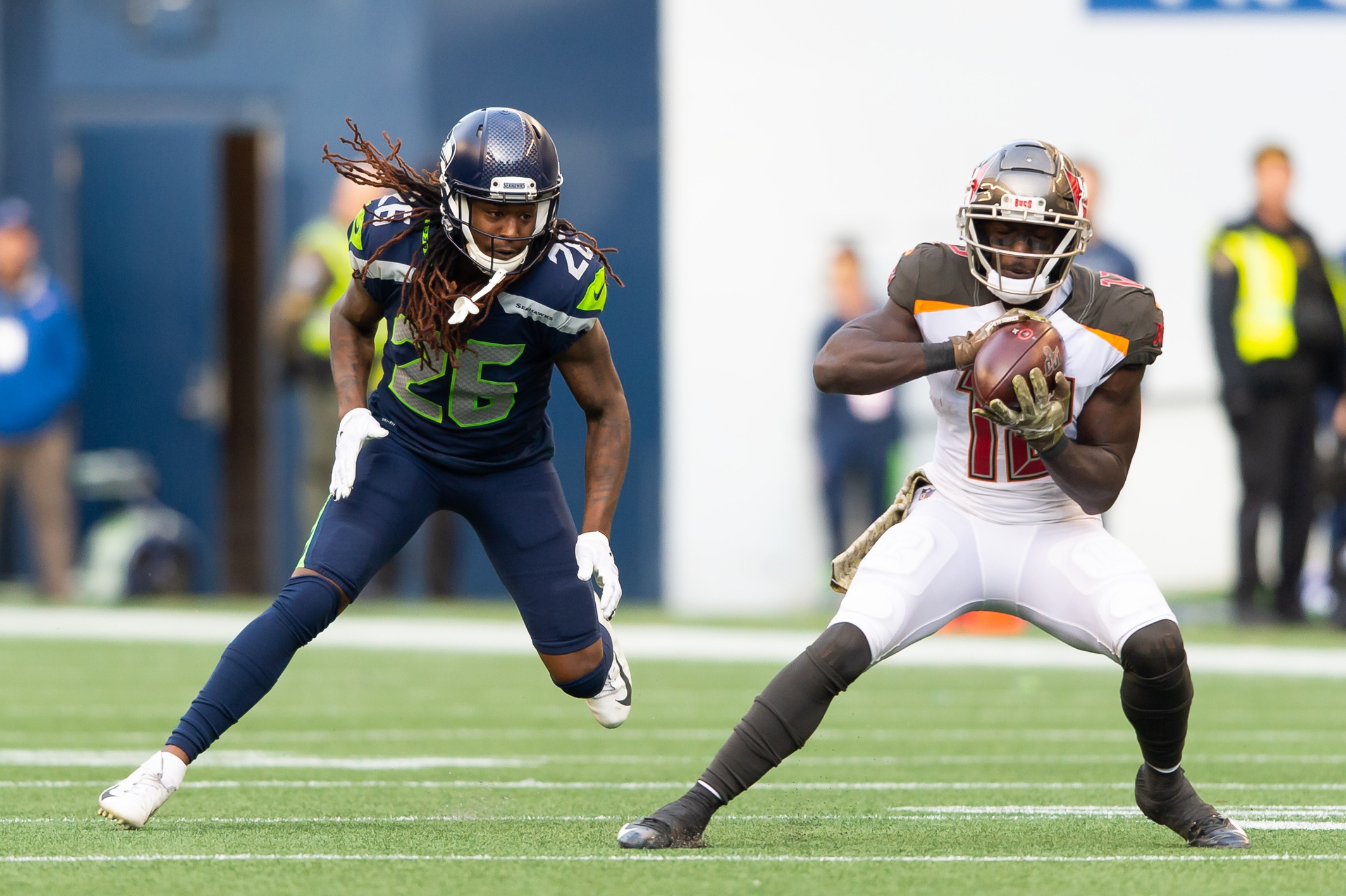 There's a lot that goes into generating value, and part of that is earning targets and making something happen with those targets. In terms of routes run that earned a positive grade in 2019, Godwin was one of the best in the league. He did so 75 times, ranking behind only Michael Thomas, DeAndre Hopkins and Julio Jones at the wide receiver position.
However, where Godwin stood out from the rest of the pack was his outright refusal to make bad plays. His one dropped pass all season was tied for the third-lowest among receivers with more than 50 targets in 2019, and his four negatively-graded plays were the second-fewest among receivers with more than 500 routes run (Emmanuel Sanders had just three). In short, when the offensive line blocked it up and the quarterback made the decision to go to Godwin — and that decision was a good one — he almost never gave any of that value back to the defense.
Not Weak in Any Areas
While a lot of receivers do one thing really well and other things moderately well, Godwin separates himself by doing almost everything a receiver is asked to in an elite fashion. Underneath the coverage, Godwin was a top-10 player in the NFL a season ago in terms of yards after the catch. He averaged 6.7 yards after the catch per reception, trailing only John Ross, Deebo Samuel and A.J. Brown among players with more than 50 targets. This is despite the fact that Godwin's quarterback the past three years, Jameis Winston, has not always been the most conducive player to YAC, ranking 19th in limiting passes that we deem "catchable, but inaccurate" and 23rd in producing "accurate-plus" passes — which are the most conducive to YAC. 
Subscribe to PFF Edge to continue reading
Already have a subscription? Sign In