Following the rampant speculation of a shocking return that all started with a report from NFL Insider Leroy on April 8, the news that Rob Gronkowski was going to come out of retirement and reunite with Tom Brady on the Tampa Bay Buccaneers went from 0 to 100 on Tuesday afternoon.
Just days before the 2020 NFL Draft, it is the kind of news that ignites excitement for those craving a distraction from a world without sports.
[Editor's note: Check out PFF's 2020 Mock Draft Hub, NFL Draft Big Board and NFL Mock Draft Simulator. PFF Elite subscribers can also download the 1,250-page 2020 NFL Draft Guide.]
Gronkowski was not only the league's most dominant tight end from 2010 to 2018, but he was a larger-than-life personality — the fact that he is coming off a WWE title win in his year off from the game tells you about all you need to know about the character that he has created for himself. So, his return can't be deemed anything other than good for the NFL — he's set to inject a healthy dose of fun into the league once again.
The question becomes, how much will he affect the Buccaneers on the field, and what does this move mean for the other tight ends on Tampa Bay's roster — O.J. Howard and Cameron Brate?
2018 Gronkowski was not the Gronkowski that already has a spot reserved in Canton
When Gronk retired, we wrote a tribute to him titled, "See you in Canton Rob Gronkowski, an all-time great." That's how dominant the Arizona product had already been over his nine years in the NFL. Let me just rattle off a few of his accomplishments to paint the picture:
After grading at 86.2 in his rookie season (third among all tight ends), he picked up grades of 90.0 or higher every season from 2011 to 2017. Looking at all tight end seasons with 300 or more snaps over those seven years, Gronkowski had seven of the nine marks above 90.0, joined by

Greg Olsen

in 2015 and

Jimmy Graham

in 2011.

From 2010 to 2019, Gronkowski had over half a win above replacement more than any other tight end despite not playing a single snap in 2019. 

His 235 regular-season receptions of 15 or more yards from 2010 to 2019 are 45 more than any other tight end. Once again, he did not play in 2019. 
Gronkowski has enough accolades to keep going. This guy dominated the position unlike anything we've seen at PFF since 2006 other than perhaps what Aaron Donald has been doing with the Los Angeles Rams.
There is no comparison for Gronk. At his peak, he was simply too big and too athletic for anyone to handle by themselves, and the spikes in the end zone are there to prove it. 
That wasn't the player who showed up in 2018, though. It appeared as if injuries had started to take their toll. His overall grade of 75.2 in 2018 ranked 11th among qualifying tight ends — he didn't exactly crawl to the finish line, but it also wasn't the same dominant form that we had come to expect from the veteran tight end.
His 60.1 run-blocking grade in 2018 was the lowest of his career, as were his 1.71 yards per route run (the first time in his career he fell below 2.00). Yet, he was still able to finish his career by making big plays on the biggest stage.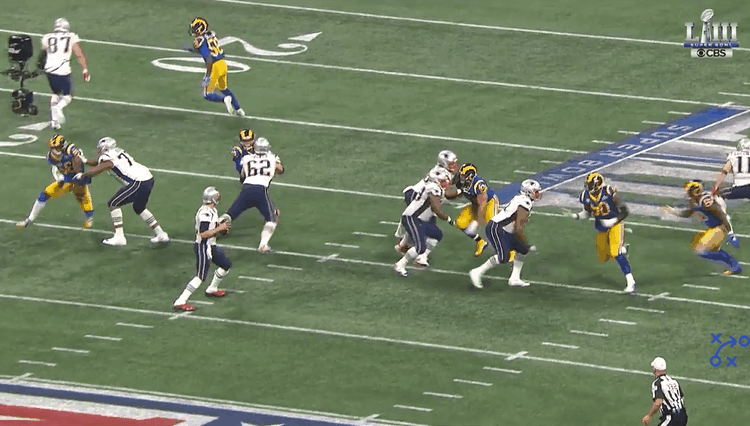 That is the last reception we saw from Gronkowski before his retirement. It put the Patriots on the doorstep of the end zone in a tied game in the fourth quarter of Super Bowl LIII. 
For the Buccaneers, the player they're getting is a bit of an unknown. Will Gronkowski return to his old dominant self after taking a year off to get back to full health? Or has he permanently lost a step along with the weight?
Regardless, bringing in a player who was on the trajectory to be the greatest tight end of all time — a player who is also about to turn just 31 — for merely a fourth-round draft pick is a no-brainer move on the part of Tampa Bay. It reunites the Brady-to-Gronkowski connection, one that has yielded a league-high 129.6 passer rating in the PFF era, and it does so on an offense that has the kind of weaponry that Gronkowski has never quite had around him. 
Mike Evans and Chris Godwin offer a different kind of threat than any wide receivers that Gronkowski has ever played alongside. Yes, Gronk played with Wes Welker and Julian Edelman, but Evans and Godwin provide a different sort of downfield threat than those two. That is a role that Gronkowski filled on those New England Patriots offenses, and it's one that he filled well — his seam routes were borderline unstoppable. But the mere presence of Evans and Godwin will take less pressure and attention off Gronk, making his transition back into the league a potentially smoother one. 
For Brady, it gives him back his favorite target, providing a level of familiarity that is hard to replicate. We may not know exactly what version of Gronk will return to the field in 2020, but that Tampa Bay offense just became much, much more exciting.
But what happens with the tight ends on Tampa Bay's roster?
The obvious fallout from the trade for Gronkowski is that they now have three starting-caliber tight ends in a market that is short on them. In free agency, there remains a 36-year-old Delanie Walker and a host of depth pieces while the draft boasts a weak tight end class that sees its leader come in at 79th on the PFF Big Board (Hunter Bryant).
Supply and demand dictates that the Buccaneers are in a position to capitalize on a market, with teams such as the Washington Redskins and Chicago Bears potentially desperate for difference-makers at the position. It's not unrealistic to think that O.J. Howard could net a Day 2 selection, and he just became that much more expendable.
Howard looked to be on a fast track to stardom following a 2018 season in which he burst on to the scene with an 89.1 overall grade before being sidelined with an injury following Week 11. The Buccaneers simply weren't interested in using him in the same way as a receiver last season, though. Howard ran a route on just 51.3% of his snaps in 2019 compared to his figure of 60.1% in 2018, and he was targeted on only 12.9% of those routes, down from 18.0% in 2018. 
He is still a former first-round pick who is just 25 years old and has at least shown the ability to produce at a high level as a receiving threat. There is no doubt that if he is on the market, he is the most appealing option. And it could be best for both sides to part ways — the Buccaneers recuperate draft capital, and another team gets a chance to draw that potential out of Howard.
As for Cameron Brate, I think it's more likely that the Buccaneers hold on to him. His trade value will not be near to what Howard could draw, and the Buccaneers could take advantage of two-tight end sets with both Brate and Gronkowski on the field.
Much is made of Bruce Arians' aversion to using tight ends, drawing back to comments made in Arizona, where he said, "We pay Larry (Fitzgerald) and those guys too much money to throw it to the tight ends. They're here to block." But when your options at tight end are Darren Fells, Jermaine Gresham and Troy Niklas, I have to say that I agree with Arians. 
More recently, in an interview preceding the 2019 season, Arians said he has never had two utility tight ends like Brate and Howard on his roster before. "You can dictate a lot of things with two tight ends who can run and catch but still block," he went on.
Actions speak louder than words, though. Yes, the Buccaneers' offense did not feature their tight ends last season, but I think the narrative that Arians is anti-tight end is still a little misguided.
There is room for two tight ends on that offense, and imagining empty sets with Godwin, Evans, Brate (or Howard if he remains on the roster), Gronkowski and one of either Jerry Jeudy, CeeDee Lamb or Henry Ruggs III should have opposing defenses terrified.
Offensive tackle is the consensus pick at No. 14 if one of the top guys falls, but I'm more excited by the scenario in which the Buccaneers target one of the top three wide receivers. One of the greatest tight ends of all time could potentially be the fourth player that defenses must worry about. A year after operating with no one who could separate downfield, Brady must be loving the thought of that.