• Former lacrosse superstar and Division II quarterback Jared Bernhardt made the Atlanta Falcons' initial roster as a wide receiver, earning a 77.7 PFF receiving grade this preseason.
• Rookie linebacker Jack Sanborn shined for the Chicago Bears this preseason and secured himself a roster spot as a result despite going undrafted.
• Joshua Onujiogu, a Division III product, made the Seattle Seahawks' initial 53-man roster against all odds after racking up seven pressures in the preseason.
Estimated reading time: 5 mins
---
The annual cutdown date, when NFL teams trim their rosters from 80 players down to 53, is a brutal experience for one-third of the league. But for the handful of players on each team who entered Tuesday thinking they were on the bubble, never got called up to the coach's office and made the initial 53-man roster, there's no better feeling.
Here are some of the surprise stories of the summer who survived roster cuts and made it through Tuesday's initial 53-man cuts.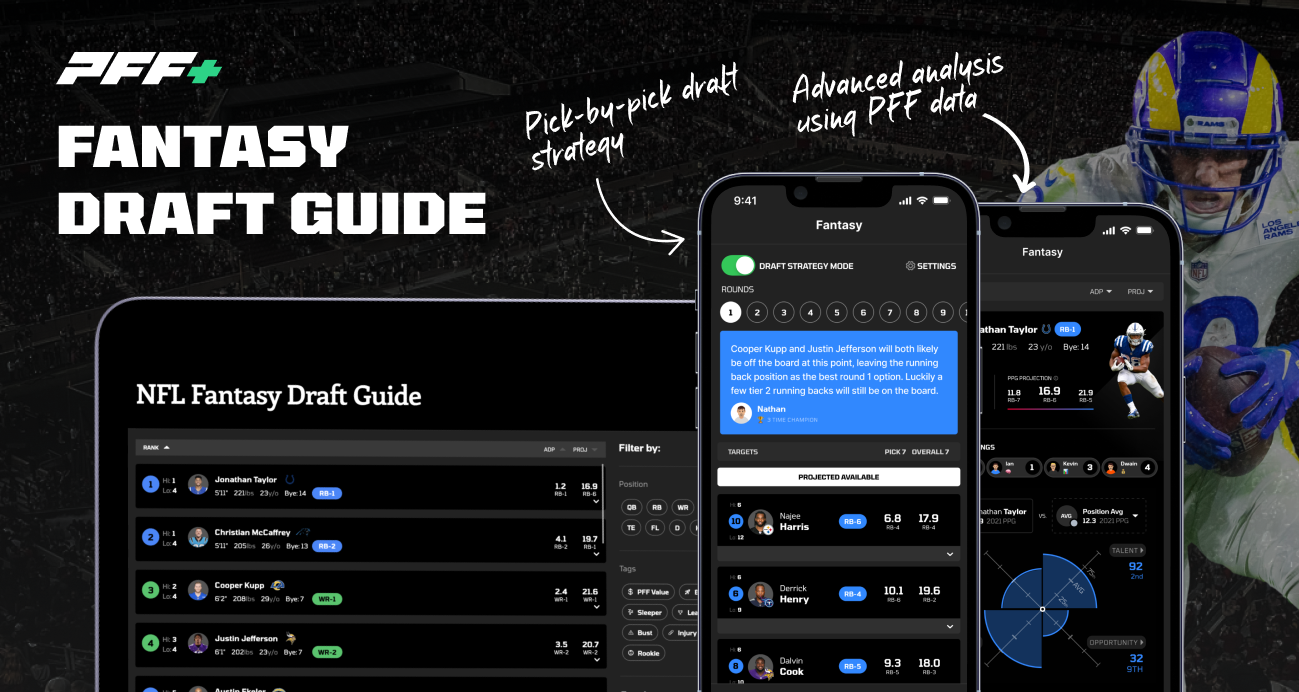 ---
Bernhardt is one of the best stories of the preseason. The Tewaaraton Award winner as the nation's best lacrosse player in 2021 at Maryland, Bernhardt transferred to Division II Ferris State to play quarterback last season. He went undrafted but signed with the Falcons as a wide receiver and earned a 77.7 receiving grade during the preseason while catching five passes on seven targets for 102 yards with a touchdown.
---
The Ravens love their tight ends — so much so that they kept five players (plus fullback Patrick Ricard) on their initial 53-man roster. Baltimore is expected to place rookie tight end Charlie Kolar on injured reserve later this week, according to beat writers. Oliver was an unexpected inclusion with Mark Andrews, Nick Boyle and rookie Isaiah Likely also on the roster.
---
On top of keeping five tight ends and a fullback, the Ravens also included 11 offensive linemen on their initial 53-man roster, and Colon was the biggest surprise with fellow centers Tyler Linderbaum and Patrick Mekari also on the team.
---
Sanborn made the team as an undrafted free agent out of Wisconsin after posting an 83.0 PFF grade this preseason.
---
It was hard to envision the Browns keeping five running backs, but that's exactly what they did, electing to roster Felton, Nick Chubb, Kareem Hunt, D'Ernest Johnson and rookie Jerome Ford.
Felton does have the ability to play out of the slot and return kicks, but there's an excess of backfield talent in Cleveland right now.
---
The Raiders, like the Browns, kept five running backs, and none of them were named Kenyan Drake — a surprise cut last week who's now expected to sign with the Baltimore Ravens. Brown, a seventh-round pick out of UCLA, was the biggest surprise, though Ameer Abdullah didn't look like a sure thing to make the team when he signed in March, either.
---
McCutcheon was a preseason standout for the Rams, who elected to keep seven wide receivers and roster the 6-foot-3 undrafted free agent out of Montana State. McCutcheon earned an 83.2 PFF grade this preseason while catching 15 passes on 20 targets for a preseason-high 259 yards with two touchdowns.
---
Sources around the NFL believed Gaskin was set to be a surprise cut after he led the Dolphins in rushing the past two seasons. Instead, he stuck around and Sony Michel was released.
---
The Patriots cut special teams legend Justin Bethel to make room for Schooler, a college wide receiver and safety at Oregon and Texas. It was somewhat telling that Schooler would be included in the initial roster given how much time special teams coordinator Cam Achord was spending with him in training camp, but even people close to the speedy special-teamer were waiting to actually see it happen before they could believe it. Schooler will primarily play in the kicking game, but he did earn a 68.3 PFF grade on defense and registered an interception this preseason.
---
Baun, a 2020 third-round pick, appeared to be on the outside looking in according to reports out of Saints camp. He wound up making the team after posting a 69.4 PFF grade this preseason.
---
Slayton was a popular trade candidate until fellow Giants wide receiver Collin Johnson tore his Achilles late in training camp. Slayton was one of seven wide receivers to make New York's initial 53-man roster.
---
Jets head coach Robert Saleh said Tuesday the team "would have been sick" if they lost Adams, an undrafted free agent out of Illinois, on waivers. He made the team over veteran option Will Parks.
---
Sills was left off most 53-man projections over the summer, but the Eagles like his versatility. He played left tackle and left guard this preseason.
---
Seattle cut 2019 second-round pick safety Marquise Blair to make room for Blount, an undrafted free agent out of Virginia who earned a 78.8 PFF grade this preseason.
---
Onujiogu was playing Division III football at Framingham State in Massachusetts last year. Now he's on an NFL 53-man roster. His tape from last year was simply hilarious. He steamrolled opposing offensive tackles.
He uses opposing tackles as battering rams https://t.co/iYJkI8TRrA pic.twitter.com/Zokkz91GNF

— Doug Kyed (@DougKyed) March 22, 2022
---
The Commanders kept five (!) tight ends on their roster, including three rookies in Hodges, Armani Rogers (both undrafted) and fifth-round pick Cole Turner. Hodges is dealing with an injury, so that number could change in the next few days.