• The surprise cuts have already started around the NFL as teams whittled their rosters down from 85 to 80 players on Tuesday.
• Las Vegas Raiders running back Kenyan Drake, who just signed a two-year, $11 million contract last offseason, was released Tuesday.
• Next, NFL teams have to trim their 80-man rosters down to 53 players. With that will come difficult decisions on cuts or trades.
Here are eight players identified by league sources as potential surprise trade or cut candidates entering the final week of NFL training camp.
---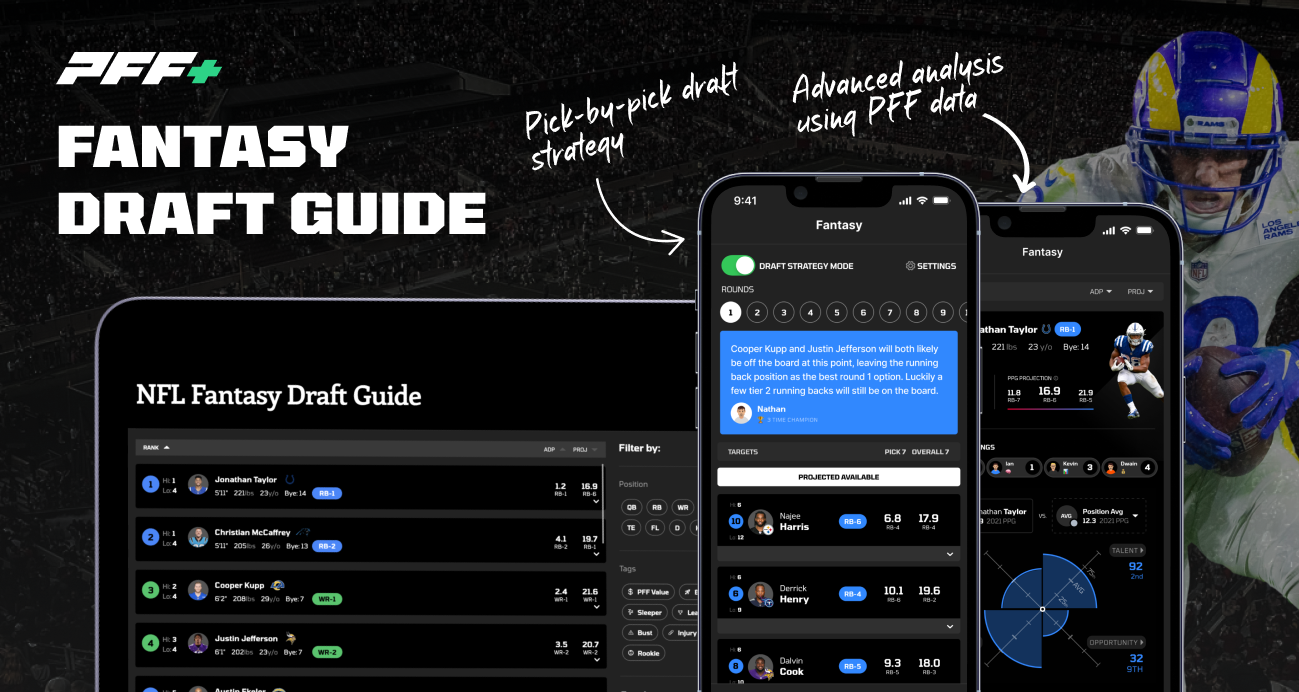 ---
It was notable to see tight end Quintin Morris, not Howard, start in place of Dawson Knox in Buffalo's Week 2 preseason matchup, which Knox missed to be with his family after the tragic death of his younger brother.
Next off the bench was Tommy Sweeney. Then Howard got reps. Morris played seven snaps in the first quarter, while Sweeney received three snaps and Howard was on the field for just one play in the opening quarter.
It wasn't ultimately all that shocking, however, since PFF was told by a source earlier in the week after Jalen Wydermyer was released that Buffalo believed Morris was one of their most improved players this offseason. That source believed Morris could push Howard, who was identified as a training camp "faller" for a piece earlier this month, off the roster.
Morris, a 2021 undrafted free agent out of Bowling Green, boasts a 77.8 PFF grade through two preseason games. He has good size at 6-foot-2, 252 pounds and ran a 4.66-second 40-yard dash last spring. Sweeney has earned a 73.0 mark, while Howard has garnered a 59.6 grade and has played more preseason snaps than Morris and Sweeney.
The Bills would save $2.25 million if they traded or released Howard.
---
Williams is a curious case, but he was a player identified by multiple league sources as someone who could be a surprise cut or trade this summer.
On one hand, his contract is cheap ($1.035 million) and guaranteed, and the Cardinals don't have much in the way of running back depth with Williams, Eno Benjamin, rookie sixth-round pick Keaontay Ingram and Jonathan Ward behind starter James Conner.
On the other hand, Williams has played four snaps all preseason, Benjamin has started both preseason games, Ingram has impressed and Arizona likes Ward. The Cardinals would save less than $895,000 by trading Williams. Since his contract is guaranteed, if cut, they'd only recoup that money if he signed elsewhere.
It's worth noting that Ward suffered a shoulder injury in Week 2 of the preseason and didn't practice Tuesday, but a source said he should be ready to go for the start of the season.
---
The Dolphins, of course, would not cut Gesicki, who's playing on a fully guaranteed franchise tag this season, but a trade isn't out of the question. In fact, the Dolphins have "brought up" Gesicki's name to other teams, a league source told PFF. That doesn't mean anything will transpire, but Miami has been willing to engage in conversations.
On top of that, Gesicki is set to make $10.931 million in 2022, and he played the entire first half of Saturday's preseason game against the Las Vegas Raiders, staying in the game long after other offensive starters, such as quarterback Tua Tagovailoa, wide receiver Cedrick Wilson, tight end Durham Smythe and others, had departed.
And that's because Gesicki has admitted he's learning a new position this season. He previously was a big receiver. Now he's a tight end, and in new head coach Mike McDaniel's offense, he'll be expected to block.
---
Gaskin was the Dolphins' leading rusher each of the past two seasons, but McDaniel came in and added three running backs this offseason in Chase Edmonds, Raheem Mostert and Sony Michel. The Dolphins already had Salvon Ahmed, who briefly played under McDaniel — then a run game coordinator — with the San Francisco 49ers as an undrafted rookie.
Edmonds, who signed a two-year, $12.1 million contract, is expected to be the top back. Mostert has an extensive history with McDaniel, and Michel has yet to play past the first two quarters this preseason.
Meanwhile, Gaskin, who's set to make $2.54 million in 2022, doesn't have a first-quarter snap and has played 70% of his snaps in the second half, including six fourth-quarter plays. Ahmed, who's impressed this summer, has also played in the second half, but the majority of his snaps have come in the first and second quarters.
Gaskin has been left off recent beat reporters' 53-man roster projections and was another player identified by a pro scout as a surprise trade or cut candidate.
---
Roche also was identified by a league source as a potential surprise cut or trade candidate.
He played over 400 snaps and started three games for the Giants last season as a rookie, but it's a new regime in New York, and Roche is seeing most of his preseason action in the fourth quarter.
---
There's a numbers issue for Slayton in New York, which is why sources believe he could be a prime trade candidate this offseason for a wide receiver-needy team. It's looking possible that Sterling Shepard, recovering from a torn Achilles, could be activated off of the PUP list prior to Week 1. Kadarius Toney was a first-round pick in 2021, rookie second-round pick Wan'Dale Robinson is getting first-team reps, and Kenny Golladay's contract makes it prohibitive for New York to move on from him this offseason.
On top of that, Giants head coach Brian Daboll recently had this to say about wideouts Collin Johnson and David Sills:
"They've stepped their game up. I mean they're right in the mix. Not just to make a team, but to play."
Slayton is set to make $2.54 million this season.
---
We said potential surprise trade or cut candidates, right? It ultimately would be surprising to see Las Vegas part ways with Leatherwood so early into his NFL career, but one league source believes it's at least a possibility.
Leatherwood was the 17th overall pick last spring, but he was taken by former Raiders head coach Jon Gruden and general manager Mike Mayock. Josh McDaniels and Dave Ziegler, respectively, are in those roles now, and they're not tied to past selections from the former brain trust.
Leatherwood isn't currently starting for the Raiders in training camp, and he was actually benched during Las Vegas' preseason game against the Dolphins. He's played into the second half of each of the Raiders' past two preseason games, and perhaps there could still be a team interested enough to trade for him in the second year of his rookie contract.
He'd come with fully guaranteed salaries in 2022 ($1.3M), 2023 ($2M) and 2024 ($2.6M), plus a decision on whether to pick up a fifth-year option in 2025.
Leatherwood tested very well coming out of Alabama, and a permanent move to guard doesn't seem out of the question, though he did struggle at the position last year, earning a 54.0 PFF grade. He put together a worse 30.7 PFF grade at tackle last season as a rookie.
---
Vannett was the final surprise cut/trade candidate identified by league sources for this piece. He averaged over 30 snaps per game for the Saints last season but now is mired in a positional battle with Adam Trautman, Taysom Hill, Juwan Johnson, J.P. Holtz and Lucas Krull for snaps and roster spots.
Vannett has played just three first-quarter snaps and four fourth-quarter snaps this preseason, with the majority of his work coming in the second and third quarters. Holtz, Krull and Chris Herndon, who was cut Tuesday, are the only other Saints tight ends to see work in the third and fourth quarters. Trautman, Hill and Johnson have only played in the first half.
Still, if rookie Trevor Penning starts at left tackle, the Saints might want an experienced blocking tight end like Vannett to give the first-round pick some assistance.