Super Bowl LVI is here! Google has confirmed that this is in fact the 56th edition of the NFL's championship game; let's celebrate with 40 fun facts and tidbits for the occasion.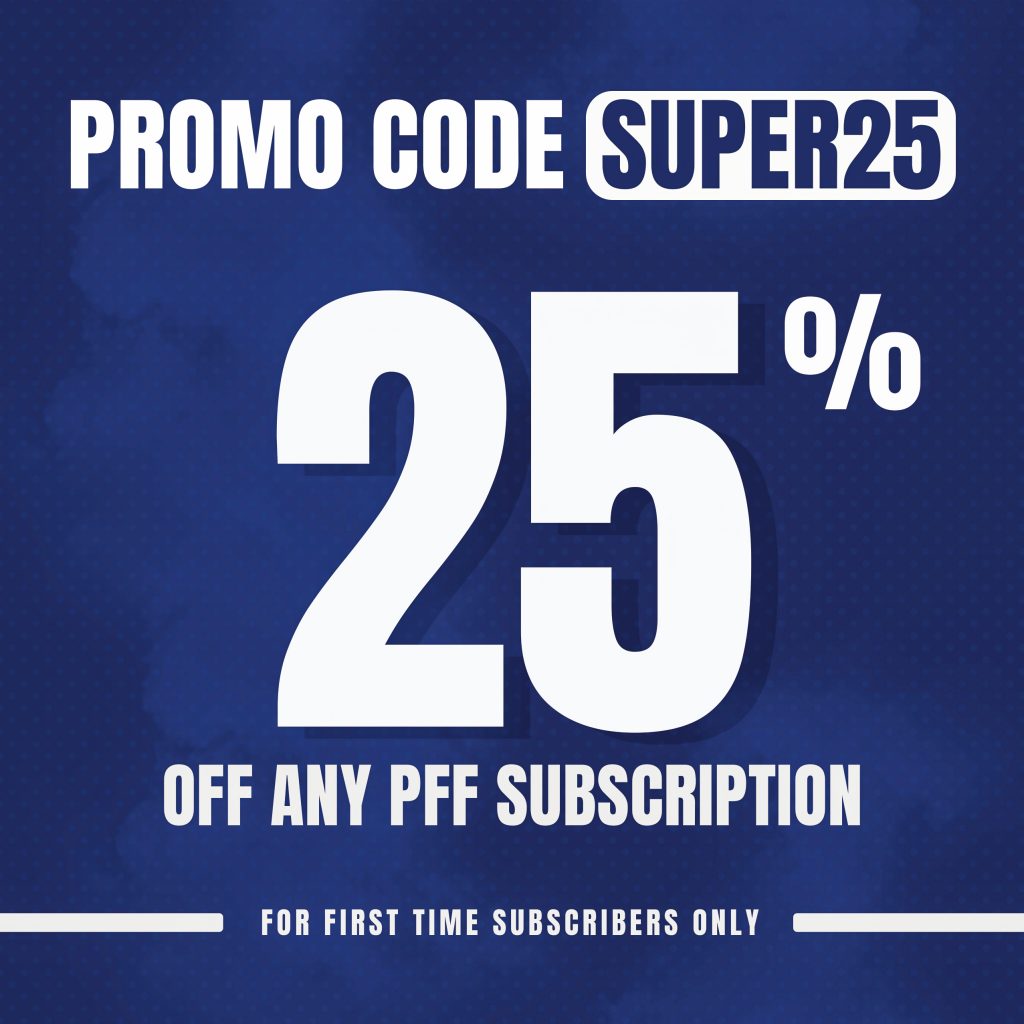 Click here for more PFF tools:
Rankings & Projections | WR/CB Matchup Chart | NFL & NCAA Betting Dashboards | NFL Player Props Tool | NFL & NCAA Power Rankings
Best Bets Tool
---
Stable quarterback metrics are statistics that usually don't show extreme year-to-year volatility and correlate with future success at the position. They include: PFF passing grade: from a clean pocket, on standard dropbacks (from within the pocket), on first/second down, with no play action and on passes at/beyond the sticks.
Burrow's PFF passing grades in these metrics are truly absurd:
Clean Pocket: 95.2 (No. 1 among 35 qualified quarterbacks)

Standard: 92.4 (No. 1)

1st/2nd Down: 90.2 (No. 1)

No Play Action: 92.2 (No. 1)

At/Beyond Sticks: 96.7 (No. 2)
2. This Bengals offense is borderline unstoppable when the pass-catchers get open
Having Ja'Marr Chase, Tee Higgins and Tyler Boyd in the same wide receiver room is truly some king shit. Burrow accordingly made the most out of situations in which his intended receiver was considered open or wide open, posting league-best marks in PFF passing grade (95.5), QB rating (135.0) and yards per attempt (11.2) when targeting open receivers.
Things only get more wild after including a minimum target depth of 10 yards. The man has completed 54 of 63 passes (3 drops) for 1,395 yards (22.1 YPA), 13 touchdowns and not a single interception when targeting open receivers at least 10 yards downfield. Madness.
3. Burrow is a part time wizard
This is technically unconfirmed, but seems likely after the scrambling display he put on against the Chiefs in the AFC Championship.
All first downs lmao pic.twitter.com/6MrRGXziP9

— Ian Hartitz (@Ihartitz) January 31, 2022
4. Burrow for MVP truly wasn't a ridiculous argument
He finished the season ranked third in PFF WAR behind only Tom Brady and Justin Herbert. Pretty, pretty, pretty good.
5. There really isn't a specific coverage that gives Burrow a lot of problems
Obviously, Joey Football is better against certain looks than others, but generally there hasn't been much defenses can do in the way of scheme to slow him down all that much:
Cover-3: 89.8 PFF passing grade

Cover-1: 91.1

Cover-2: 78.2

Cover-4: 77.5

Cover-6: 71.1
6. Getting to throw the ball to Chase makes life easier
Chase has posted top-10 marks in PFF receiving Grade (85.7), yards per reception (17.2), yards after the catch per reception (7.8) and yards per route run (2.47) this season. His impact in giving the Bengals offense an every-play explosive threat can't be understated: Last season, Burrow ranked 30th in PFF passing grade (64.3) on passes thrown at least 20 yards downfield, but this year he ranks sixth (94.4).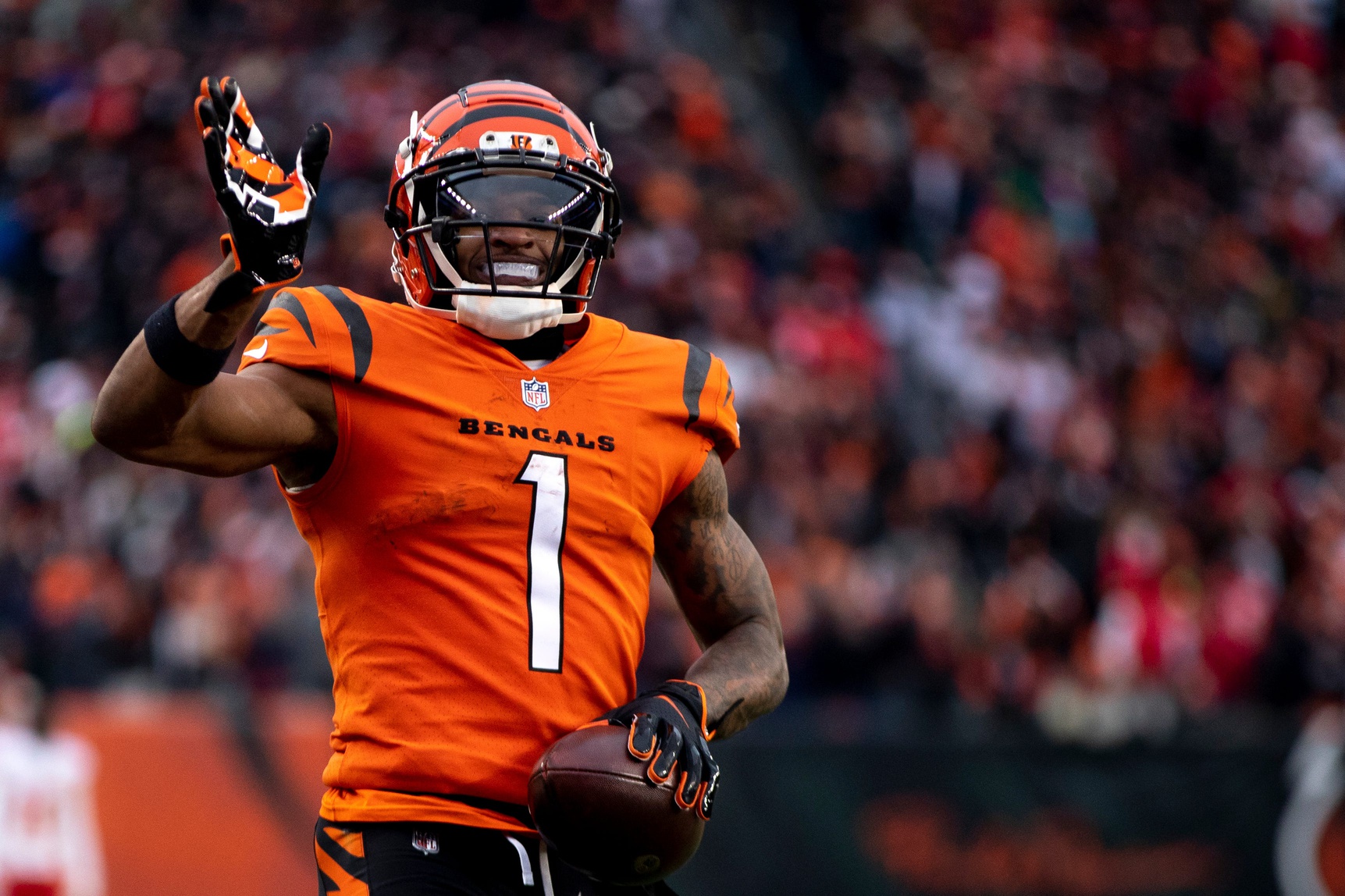 7. This Bengals downfield connection is truly special
Chase joins Justin Jefferson, Cooper Kupp and Tyler Lockett as the only receivers with at least 500 receiving yards on targets thrown at least 20 yards downfield. Nobody has more touchdowns (8) than Chase on these sorts of targets.
Hell, Chase has more deep receiving touchdowns than the: 49ers, Raiders, Colts, Texans, Packers, Steelers, Giants, Saints, Lions, Eagles, Patriots, Ravens, Titans, Jaguars, Jets, Broncos, Browns, Bears, Falcons, Panthers and Dolphins. Pretty, pretty, pretty good.
8. Guess what else is special: Chase's YAC ability
And it's really only rivaled by Deebo Samuel when it comes to consistently racking up yards after the catch despite having a fairly high average target depth.
Yards after the catch per reception and average target depth in 2021-22 (PFF, including playoffs)

Ja'Marr Chase is good at football pic.twitter.com/hO1Dusab1B

— Ian Hartitz (@Ihartitz) February 9, 2022
9. An unstoppable force (Chase) is meeting an immovable object (Jalen Ramsey)
It would sure make sense if the Rams utilize Ramsey in shadow coverage in an effort to lock up Burrow's No. 1 receiver. Ramsey did this almost every week during his days in Jacksonville, but hasn't traveled with No. 1 receivers nearly as often with the Rams. Overall, he's done so 11 times over the past two seasons, allowing the following full game box scores:
Nobody is doubting Ramsey's status as one of the best cornerbacks in the league; in this writer's humble opinion, he's the single-best player at the position. Still, today's rules and new-age offenses make going mono-y-mono against high-volume alpha receivers a close to impossible task in terms of truly shutting down the offense for any cornerback.
10. That Tee Higgins guy is pretty damn good too
The case for the Rams *not* shadowing Chase would be to potentially deploy Ramsey against Higgins, leaving multiple defenders to deal with the 2021 NFL Draft's No. 5 overall pick on an every-play basis.
Make no mistake about it: Higgins is far from an easy day at the office himself. The Bengals' talented second-year receiver caught 88 passes for 1,300 yards and six scores this season. He'll forever live in Bengals' glory for catching the game-clinching first down against the Chiefs prior to Evan McPherson's walk-off field goal.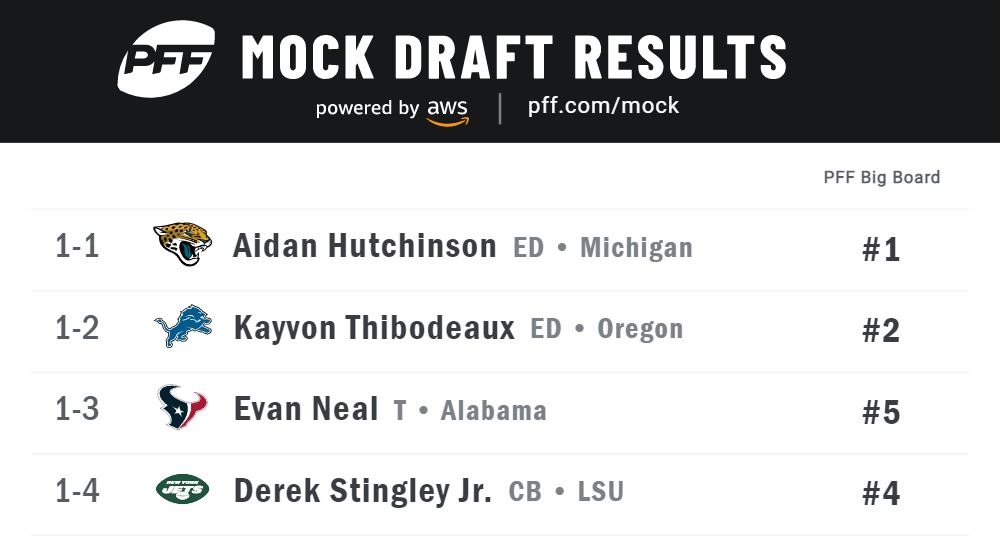 11. Tyler Boyd is allergic to drops
They don't make 'em any more sure-handed than Boyd: He racked up a league-high 99 targets this season without dropping a single pass. The next-closest target total? Cordarrelle Patterson at 63.
Obviously, Burrow and his wide receivers are capable of winning against just about anybody when they're at their best, but this week's matchup could necessitate attacking the defense through a different means. 
12. Offenses have had some success attacking the Rams with tight ends and running backs
Sometimes Ramsey inhabits the nickel corner spot, but the presence of Chase and Higgins on the outside will at a minimum split up his time. This could be beneficial for Boyd, as the Rams simply haven't been the same dominant force when the quarterback has targeted a receiver from the slot:
Yards per attempt vs. slot receivers: 7.61 (No. 12)

Vs. receivers aligned out wide: 7.7 (No. 10)

Vs. inline receivers: 8.3 (No. 25)

Vs. receivers from the backfield: 6.7 (No. 21)
13. There's a difference between being hurt and being injured
C.J. Uzomah (knee) suffered a sprained MCL in the AFC Championship but told reporters: "I'm not missing the biggest game of my life." It sounds like Burrow's trusty tight end will gut things out against a Rams defense that has done a solid enough job containing Zach Ertz (3-21-0), Rob Gronkowski (4-85-0) and George Kittle (2-27-1) during their playoff run.
Uzomah caught at least four passes in each of his four full games prior to getting injured, a mark he reached on just four occasions in Weeks 1-15 combined. The Bengals' passing game sure is deadlier when their Plan B options are healthy; Drew Sample will step in as the starter if Uzomah is ultimately unable to suit up.
14. Guess Joe Mixon isn't injury-prone after all
Fantasy footballers love to play injury predictor in the offseason, and Mixon in particular seemed to be written off following his six-game campaign in 2020. Fast forward to present day, and the 25-year-old talent is poised to play his 20th professional football game in the last five months. He'll join the 400-touch club on his first carry or reception in the Super Bowl, but don't worry Bengals fans: The idea that running backs fall off a cliff following a particularly high-volume season is largely a myth.
15. Mixon is also an objectively great rusher of the football
Mixon stands as PFF's sixth-highest-graded running back in pure rushing grade (82.2). His relatively mundane average of 4.1 yards per carry is made far more impressive by his rate of picking up 3.0 yards after contact per carry. One of just seven running backs to break at least 50 tackles on rush attempts, Mixon is more than just someone who benefits from raw volume.
16. If Mixon is Batman, Samaje Perine is Robin
But don't get carried away. Yes, Perine took a screen 41 yards to the house against the Chiefs in the AFC Championship. Also yes, that was the first time he reached even 15 yards in a game since Week 15. Perine under 13.5 receiving yards sure seems like a good bet considering the added potential for Mixon to resume more of an every-down role than usual. Last game of the year Brent, can't hold anything back now.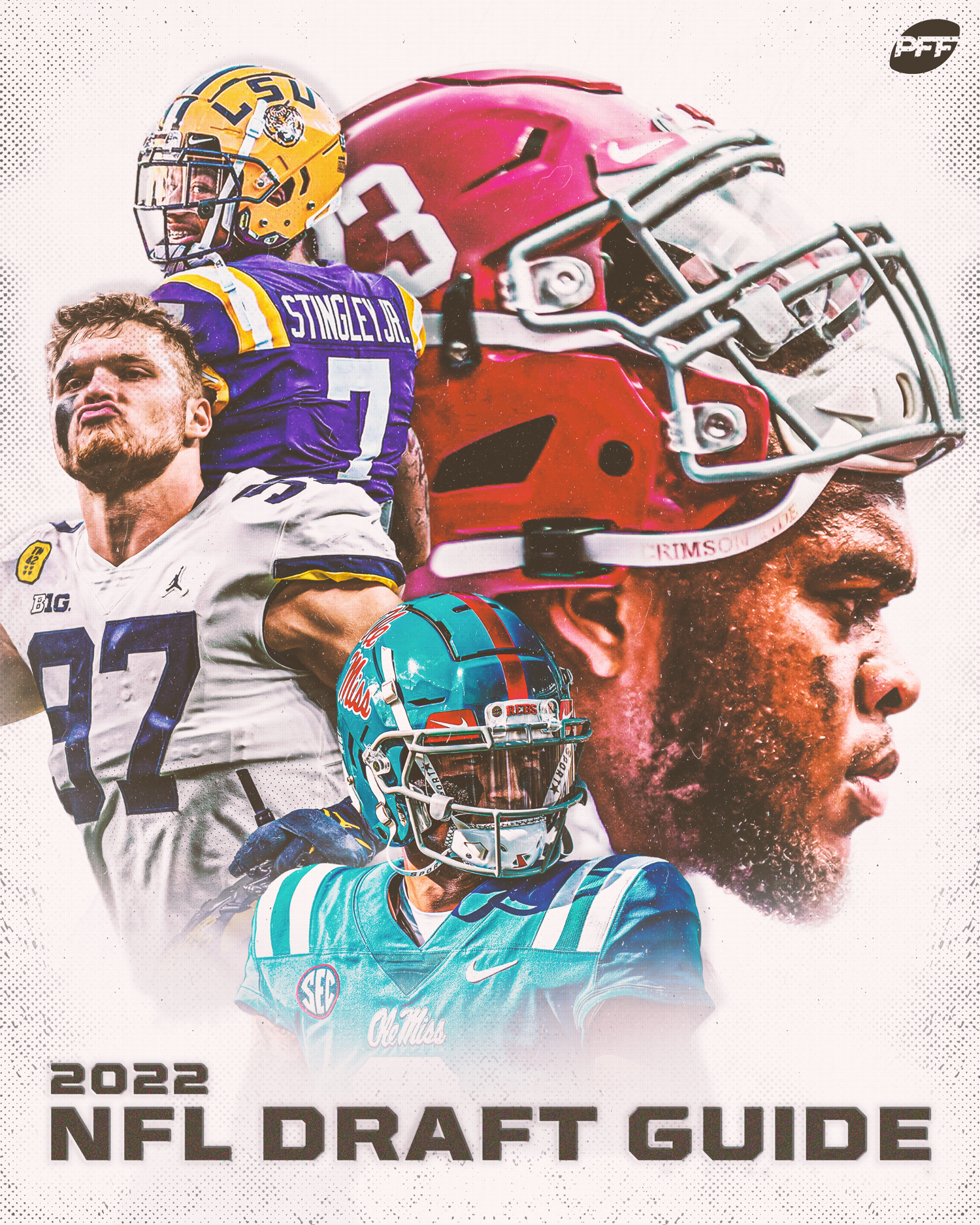 The problem facing Mixon and Perine is life against the NFL's single-best defensive player. At least in terms of PFF grade. And oh yea: He's achieved this honor six years in a row:
The highest-graded defender by season since 2016:

???? 2016 Aaron Donald – 92.6
???? 2017 Aaron Donald – 94.4
???? 2018 Aaron Donald – 94.8
???? 2019 Aaron Donald – 93.6
???? 2020 Aaron Donald – 94.2
???? 2021 Aaron Donald – 93.6

????: @AaronDonald97 pic.twitter.com/Oaxx9v4tmk

— PFF (@PFF) January 12, 2022
18. That Von Miller guy is pretty good too
Donald and Miller are tied for first in the playoffs with 16 pressures apiece. Obviously Burrow and company have shown to be quite human in the pass-protection department; it doesn't take a genius to figure out that the Rams' best chance of shutting down this explosive passing game comes down to absolutely dominating the line of scrimmage.
19. Dealing with pressure is the kryptonite of the Bengals offense
Twenty-six percent of Burrow's pressures were converted to sacks — the third-highest mark in the league behind only Baker Mayfield and Zach Wilson (not great company). Matthew Stafford (17.5%) ranks a far more respectable 19th. This helps explain why the Rams (-0.252 EPA per play when pressured, 4th) have been so much better than the Bengals (-0.405, 15th) despite Burrow's superiority when actually able to get the pass off.
20. Here's the thing: You can't create pressure vs. Burrow by blitzing
Technically you can try, but Burrow (93.0 PFF passing grade) stands as PFF's single-best quarterback against the blitz. The key has been getting pressure on Burrow without blitzing, which leads to his passing grade dropping to 50.2 (18th among 43 qualified quarterbacks). Obviously managing to get pressure without sending additional rushers will cause problems against any signal-caller; just realize Burrow is particularly adept at diagnosing blitz packages and can make even the best secondaries pay in a hurry.
The Rams blitz at the league's eighth-highest rate and have only sent simulated pressures (four-man rushes) on a pedestrian 2.1% of their opponent's dropbacks. The ability for Donald and company to win spectacularly at the line of scrimmage could very well decide Super Bowl 56.
21. Good luck running on this Rams defense
Pick a run defense metric, any metric, and you're going to come to the same realization that trying to run past Donald is largely a useless endeavor:
Rush yards per attempt: 3.9 (No. 4)

Rush yards before contact per attempt: 1.0 (No. 2)

Rush yards after contact per attempt: 2.6 (No. 4)

Explosive run play rate allowed: 10.6% (No. 7)
22. The Bengals run defense? Not so much
Cincy failed to post a top-10 ranking in any of those aforementioned categories, falling to a pitiful 31st in yards after contact allowed per carry. As touched on before the playoffs started in my breakdown on the field's most-complete teams: The Bengals' inability to get ball carriers to the ground in a hurry is probably their single-biggest weakness on defense.
Akers returning from his Achilles injury in such a short time span is one of the best stories of the 2021-22 season. There have been some great moments.
Cam Akers doing cool shit in the year 2022 pic.twitter.com/EZEoEYDnhN

— Ian Hartitz (@Ihartitz) January 19, 2022
The problem … 
24. The Rams rushing offense as a whole has been miserable
Los Angeles hasn't reached even 75 rushing yards in four of their last five games. Overall, they've averaged an NFL-low 2.9 yards per carry during this span; the answer to which running back to play has largely been no:
Sony Michel: 64 carries-195 rush yards-1 TD, 0.09 missed tackles forced per carry, 3 yards per carry, 2.2 yards after contact per carry

Akers: 59-154-0, 0.1 missed tackles forced per carry, 2.6 yards per carry, 2.3 yards after contact per carry
Of course, facing off against the Ravens, Cardinals, Buccaneers and 49ers (x2) is hardly the recipe for establishing the run; just realize the sledding has been rather tough for PFF's seventh-ranked offensive line.
25. Maybe these struggles mean it's a good time to pound Akers' receiving prop
PFF's resident fantasy rankings expert Nathan Janke certainly thinks so.
Of course, the Rams don't usually make a habit of shying away from attempting to get the most out of Stafford's howitzer for a right arm.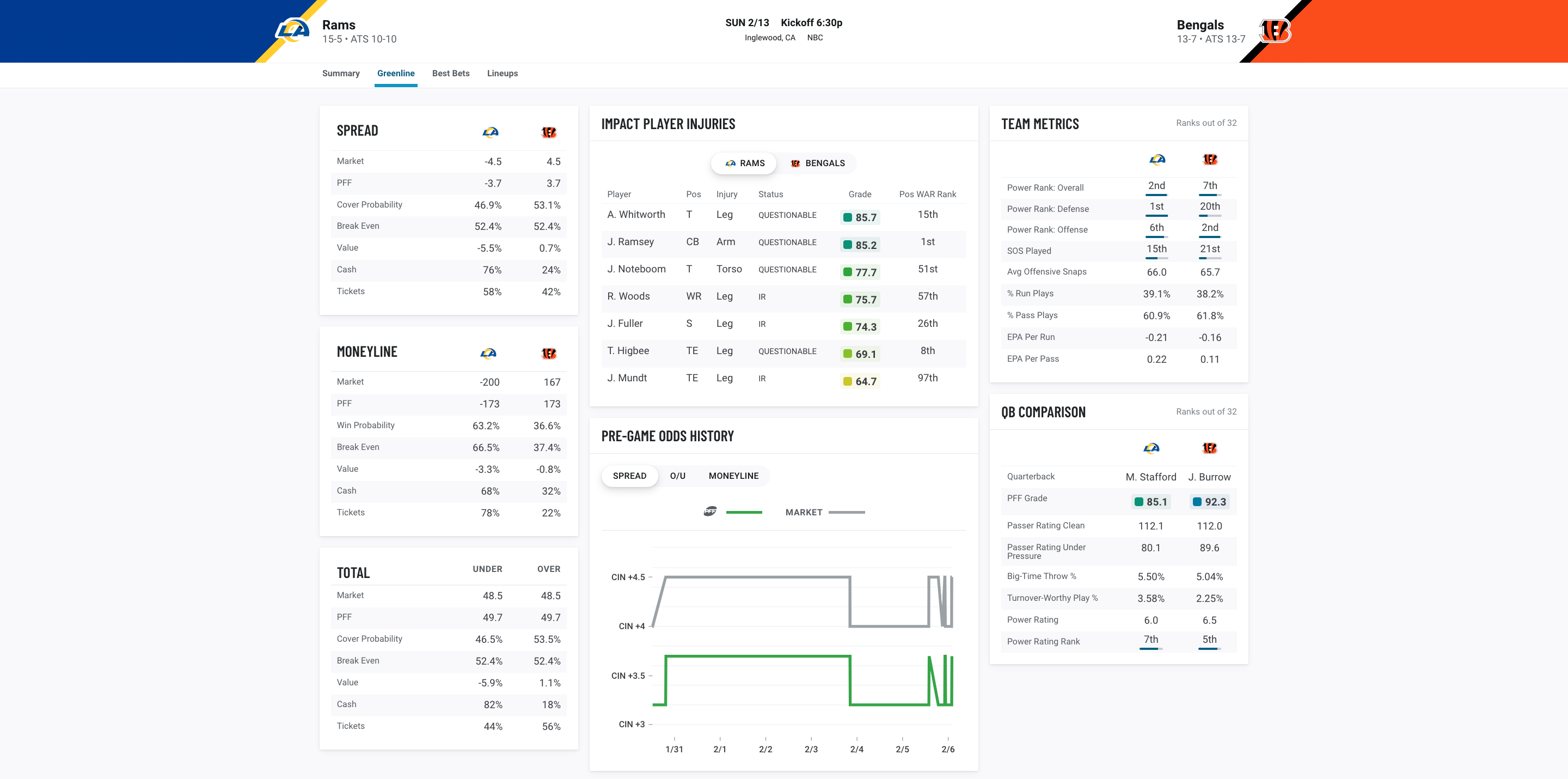 26. Good luck dealing with this downfield Rams passing attack
Stafford earns the slight nod over Burrow when it comes to throwing the ball 20-plus yards downfield:
PFF passing grade: Stafford: 94.5 (tied for No. 7 among 39 qualified QBs); Burrow: 94.4 (No. 9)

QB Rating: Stafford: 94.3 (No. 14); Burrow: 94.8 (No. 13)

Yards per attempt: Stafford: 18.9 (No. 1); Burrow: 15.3 (No. 6)

Adjusted completion rate: 50.6% (No. 6); Burrow: 42.9 (tied for No. 16)
Stafford has largely stayed hot in the playoffs, completing seven of his 14 deep ball attempts for 255 yards and a pair of touchdowns with (luckily) zero interceptions. Meanwhile, Burrow has gone just three for nine for 101 yards, zero touchdowns and one interception when throwing the ball at least 20 yards downfield this postseason.
27. Leaving just one-high safety against Stafford is a recipe for disaster
Stafford has made a habit of absolutely thrashing defenses that left just a single deep defender to deal with Cooper Kupp and company.
PFF passing grade: Stafford: 90.3 (No. 3 among 38 qualified QBs)

QB rating: Stafford: 102.5 (No. 4)

Yards per attempt: Stafford: 9.2 (No. 2)

Adjusted completion rate: Stafford: 78.6% (tied for No. 4)
Vonn Bell and Jessie Bates have done a great job patching up holes in the secondary in recent weeks, limiting Patrick Mahomes (275 yards-3 TD-2 INT), Ryan Tannehill (220-1-3) and Derek Carr (310-1-1) alike during their Super Bowl run. Causing more turnovers this Sunday will be more vital than ever if they can't contain this downfield passing game.
28. Stafford's middle name is unsurprisingly not "mistake-free" (it's Matthew, and his first name is John. Wow)
Stafford was one of the most mistake-prone quarterbacks in the league this season, posting a 3.5% turnover-worthy play rate — tied for the 23rd-highest mark among 35 qualified quarterbacks. He's done a better job in recent weeks of limiting mistakes, but even then his 1.8% turnover-worthy play rate in the playoffs still lags behind Burrow (1.6%).
However, like Burrow, it's risky to try and pressure Stafford into mistakes by blitzing.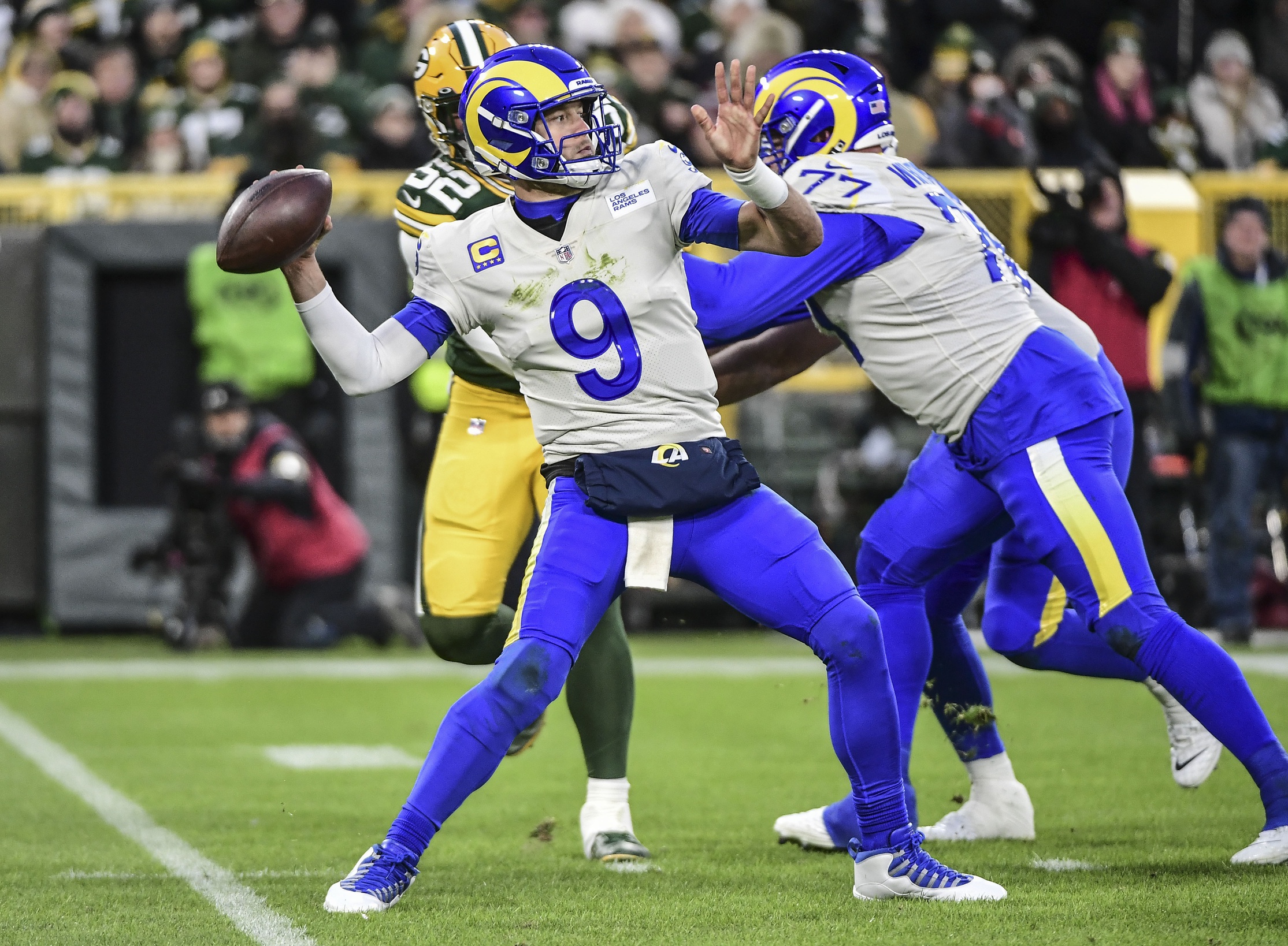 29. The Rams are rather dominant against the blitz
Credit to Stafford for racking up 15 touchdowns against just one interception against the blitz; this is superior to Burrow's 11:5 TD:INT ratio. Burrow holds a rather large edge in yards per attempt (11.2 vs. 9.3), but ultimately Stafford and the Rams lead the league with a robust +0.563 EPA/play when blitz compared to the Bengals' +0.239 third-place mark.
The "problem" is that the Bengals blitzed at the league's second-lowest rate this season. Even then, slowing down a passing game featuring Kupp might be nothing more than a pipe dream at this point.
30. Kupp is fresh off the single-most productive season ever
Kupp scored more fantasy points (PPR) this season than any wide receiver in NFL history. Yes, he got an extra game to get there, but c'mon people: It's clear we're talking about one of the best players in the game here.
That wiggle at the top of the route ???????????? pic.twitter.com/UhmAbjYp4i

— Ian Hartitz (@Ihartitz) January 24, 2022
31. It's reasonable to call Kupp the NFL's single-best receiver
Obnoxious counting numbers aside, most of the metrics that PFF has seem to agree this is the league's single-most efficient receiver on a per-route basis:
PFF receiving grade: 93.2 (tied for No. 1 among 90 wide receivers with at least 50 targets)

Yards per route run: 3.17 (No. 1)

Yards after the catch per reception: 6.1 (No. 8)

QB rating when targeted: 127.7 (tied for No. 7)
32. The Bengals have been rather mediocre against slot receivers
Overall, Cincy ranks 18th and 22nd in yards per attempt and explosive pass-play rate allowed to receivers aligned out of the slot. Nobody has allowed more overall receptions to slot receivers. The likes of Hunter Renfrow (8-58-0), Jamison Crowder (8-84-0), Laviska Shenault (6-99-0), Jarvis Landry (6-75-1) and Keenan Allen (5-34-2) all had productive afternoons against this defense while largely working from the friendly confines of the slot.
33. Fading Kupp in the betting and DFS market alike is risky business
Just ask PFF's critically renowned "prop prophet" Andrew Erickson.
34. That OBJ guy is pretty good as well
Stafford has targeted OBJ 22 times in the playoffs, and the duo has connected 19 times for 236 yards and a score. He's passed the eye test while doing so.
Odell Beckham Jr. in the playoffs:
22 targets
19 receptions
236 yards
1 TD
0 drops pic.twitter.com/VljDnEZyeW

— Ian Hartitz (@Ihartitz) February 9, 2022
35. The scoreboard since the Browns released Beckham is in his favor
Specifically: Baker Mayfield has thrown three touchdown passes to wide receivers since the Browns released OBJ, while the Rams' newfound No. 2 pass-game option has found the end zone on six separate occasions since teaming up with Stafford and company. Makes you think.

36. It's pretty clear where the weak link is inside of this Bengals secondary
The Bengals' starting cornerbacks posted the following PFF coverage grades this season:
Apple has entertainingly turned heel on social media in recent weeks, and he deserves credit for intercepting a pass and forcing Ryan Tannehill's game-sealing pick during the playoffs. Still, he'll need to improve his on-field performance if the Bengals have any hopes of shutting down Kupp and company: Apple has allowed 14 of 20 targets into his coverage to be caught for 155 yards and a pair of scores this postseason.
The Bengals have deployed Awuzie and Apple in shadow coverage at various points this season, most recently having Awuzie track A.J. Brown and Apple latch on to Julio Jones in the divisional round. Still, Awuzie (5.5% slot rate) and Apple (4.7%) have spent such little time in the slot all year that it seems more likely that they'll stay at home on the outside and leave Kupp mostly aligned against Hilton.
Similar to the Rams: Cincy's best chance at slowing down this passing game likely comes down to dominating in the trenches.
37. This Bengals defense was awfully great at creating negative plays during the regular season
So were the Rams. Overall, the top-eight defenses in "Havoc" which is calculated by: ((TFL or no gain + forced fumbles + INTs + PBUs + pressures)/plays) were as follows:
Buccaneers

Dolphins

Bills

Packers

Cowboys

Rams

49ers

Bengals
38. Free agent addition Trey Hendrickson deserves a lot of credit for this
Hendrickson finished as "just" PFF's 26th-highest-graded edge defender this season on an overall basis, but this was largely due to his rather putrid 41.4 grade against the run. Few were better at disrupting opposing quarterbacks, as Hendrickson's 87.8 pass rush grade is good for the eighth-highest mark in the league. The edge defenders with more total pressures than Hendrickson (86) this season (including playoffs): Maxx Crosby (108), Nick Bosa (88) and Rashan Gary (87). Not too shabby.
39. Sam Hubbard deserves a nobel prize for his open field tackle on Mahomes last week
It was truly spectacular.
Unreal open field tackle by Sam Hubbard pic.twitter.com/GlV45jxroh

— Ian Hartitz (@Ihartitz) January 31, 2022
40. If the Bengals win: expect an orange gatorade shower
Hubbard confirmed on Pardon My Take that the Bengals always use orange gatorade. There is a slight advantage to betting on the gatorade being orange (+200) as opposed to taking the Bengals moneyline (+170). Just saying.