As a part of our partnership with ESPN, this is a part of a story that was originally published on ESPN+ and can be viewed in its entirety here with your ESPN+ subscription — Ranking NFL second-year breakout candidates for 2022: 15 players who could become stars, from quarterbacks to pass-rushers
There is no cookie-cutter career progression blueprint in the NFL. Acclimating to the pro game can be a vastly different process for any given player.
One thing is for certain in the data, though, and it's that Year 2 represents the biggest year-over-year difference in performance on average across the league. It shows not only in performance but also in opportunity. Coaches are much more willing to trust a player after a full season of experience in the league, and that shows in their playing time.
The 2020 draft class played a total of 59,509 snaps last season, while the 2021 rookie class saw 8,985 fewer snaps.
Last year we highlighted top breakout candidate Joe Burrow, who went on to lead the Bengals to the Super Bowl. This year, one of the players below could push their respective franchise even further.
Here are PFF's 15 second-year players who have what it takes to break out in 2022. All stats are from PFF: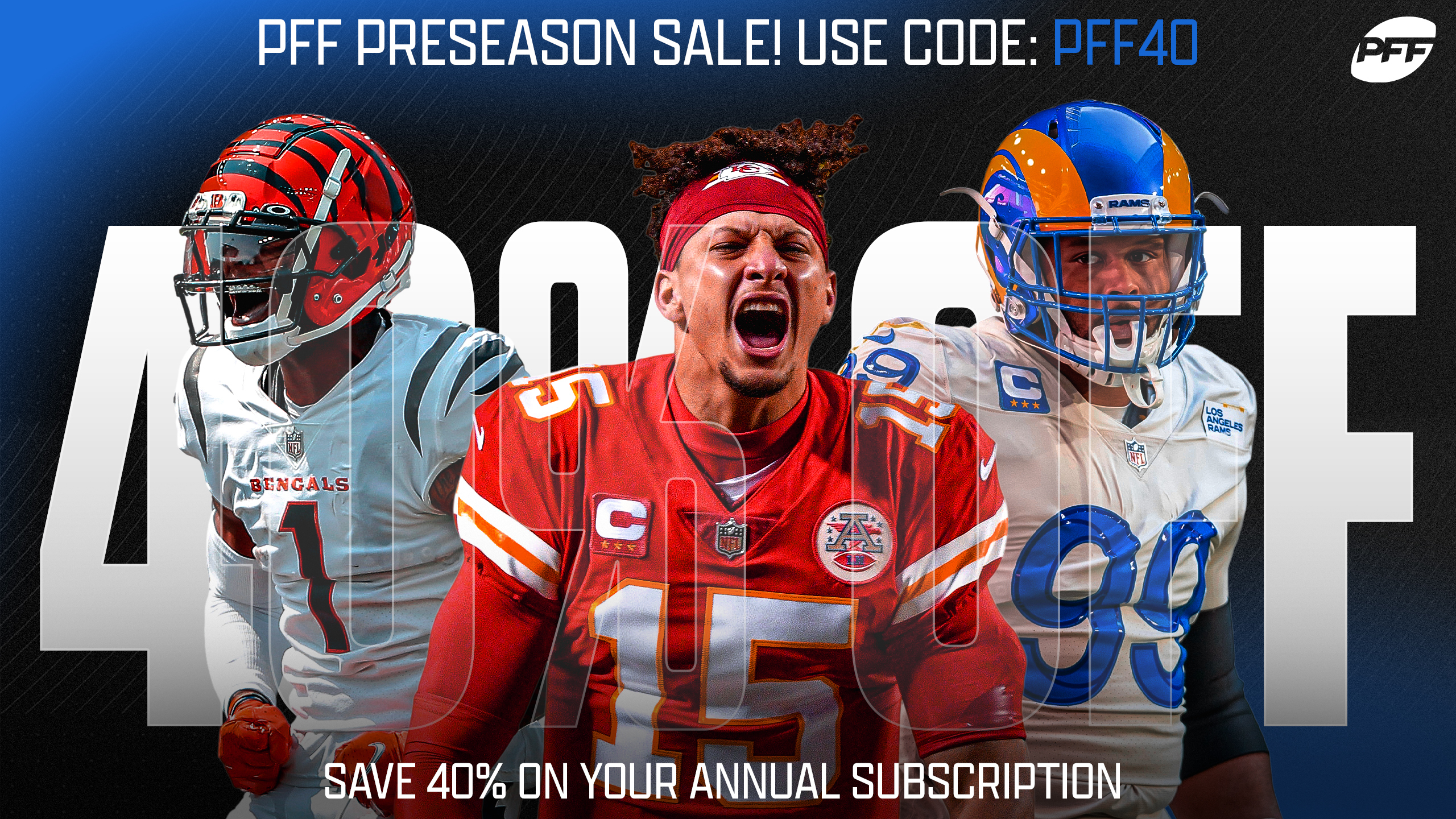 Pick in 2021 draft: No. 1
File this one under "duh." The most-hyped quarterback prospect since Andrew Luck is a popular pick to take the kind of second-year leap we've seen from the likes of Patrick Mahomes, Lamar Jackson and Joe Burrow in recent years at the position.
Lawrence showed in his rookie season why he was considered to be in such rarified air as a prospect. It just took until Week 18 for him to do so. In a meaningless game for the Jaguars, but one that meant everything to the Indianapolis Colts' playoff aspirations, Lawrence didn't flinch.
He delivered the second-highest passing grade any quarterback achieved against the Colts' defense all season, trailing only Lamar Jackson's absurd Week 5 outing when he went for 442 yards and four scores on 37-of-43 passing. Lawrence himself went 23-of-32 for 223 yards and two scores. That stat line would have even been better were it not for four drops from his receivers.
Those troubles were all too common a theme for Lawrence as a rookie. His pass-catchers dropped 37 passes in 2021 — the second most of any quarterback in the NFL — for a total of 226 air yards lost. With an improved receiving corps and a much-improved coaching staff this fall, the Jaguars won't have to wait until Week 18 to see that kind of play from Lawrence in Year 2.
---
Pick in 2021 draft: No. 38
Defensive tackle is right near the bottom of the list among positions where you can expect a rookie to hit the ground running. The physical learning curve going from manhandling teenagers to doing the same against grown men is massive. Even the greatest defensive tackle in modern football history, Aaron Donald, managed a meager 44 pressures as a rookie. He has averaged double that in his seven seasons since.
So, when a second-rounder like Barmore racks up 48 pressures for the Patriots as a rookie, the football world should take note. Even scarier, we already saw him look like a different player in the second half of last season. He went from a 63.5 pass-rushing grade in the first eight weeks of the season to an 82.6 pass-rushing grade across the final nine. The latter figure was good enough for fifth best among defensive tackles over that span.
If Barmore improves, he will be a problem that offenses have to game-plan around very shortly.
---
Pick in 2021 draft: No. 34
This breakout might have already happened in 2021 were it not for New York's quarterback situation and the fact that Moore missed the last five games of his rookie campaign with a quad injury. Flip on the tape, and it's clear Moore can get open. Fellow rookie Zach Wilson simply couldn't find him in rhythm enough.
For the other Jets quarterbacks who filled in when Wilson went down for four weeks with a posterior cruciate ligament injury, finding Moore wasn't a problem. In those contests, Moore averaged 2.92 yards per route with four touchdowns. In the other seven games with Wilson at the helm, the rookie receiver averaged 1.05 yards per route with only one score.
While that obviously means Moore's breakout hinges heavily on Wilson showing considerably improved mastery of the offense in Year 2, it also means the breakout is imminent if Wilson does make that leap.
---
Pick in 2021 draft: No. 8
Were it not for three broken bones in his right foot, Horn might not have even fit the premise of this article. That's because he wasn't playing like a rookie through three weeks. On 95 coverage snaps over that span, Horn allowed a grand total of one catch for 8 yards. That's not a typo.
For any cornerback who played at least 50 snaps in coverage last season, no one came close to Horn's .08 yards per coverage snap allowed. He added an interception, as well, even though it was of the "gimme" variety off a fluttering Jameis Winston overthrow.
Horn's start to 2021 was a far cry from the baptisms the 2020 rookie cornerback class endured. He very much belonged but just never got the chance to fully gain the attention of the football world. That will change in 2022.
---
Pick in 2021 draft: No. 27
Bateman's breakout is more a necessity than a prediction at this point. If not him, then who?
While tight end Mark Andrews will be the focal point of Baltimore's passing game, the Hollywood Brown-less receiving corps of Devin Duvernay, James Proche II, Tylan Wallace, Jaylon Moore and Binjimen Victor isn't instilling fear in anyone.
That means it's on Bateman to serve as the No. 2 option in a Ravens offense that was passing far more than it ever did in the past under quarterback Lamar Jackson. In fact, Jackson set a career-high with 470 passing dropbacks last season despite missing nearly six full games.
Bateman was put behind the eight ball in 2021 by a groin injury that required surgery in the preseason and caused him to miss the first five weeks. He got up to speed quickly as Baltimore's No. 2 receiver and averaged a respectable 1.58 yards per route when Jackson was under center.
Things went south, though, when injuries kept Jackson off the field, as Bateman averaged only 1.03 yards per route with Tyler Huntley and Josh Johnson throwing him passes. With Brown's 139 targets up for grabs, expect the bulk of those to go Bateman's way.
---
Pick in 2021 draft: No. 21
To understand why Paye was included on this list, let's start with an excerpt from his profile in the 2021 PFF Draft Guide: "His pass-rushing toolbox is still fairly barren, but even so, we've seen it improve by leaps and bounds over the past two seasons. If that progression continues, look out."
Paye was by pretty much every draft analyst's estimate a project. The kind of player who is not supposed to make an early impact in the NFL until he gains pass-rushing experience at that level.
Well, that "project" just so happened to lead all rookie edge defenders with a 71.3 pass-rushing grade. And he did it all while playing three-quarters of his snaps lined up over left tackles — the more difficult side to rush the passer from in the NFL, given the talent disparity between left and right tackles. With his size and skill, it seems like only a matter of time before Paye is in the Pro Bowl conversation.
---
Pick in 2021 draft: No. 51
Cosmi was yet another player expected to take his time to find his footing in the NFL. Yet, he allowed only 16 pressures on 282 pass-blocking snaps for a 74.9 overall grade. That was a minor miracle for a tackle whose pass sets at Texas all too often looked like he was trying to give defenders a bear hug.
The sky was always the limit for a player with Cosmi's caliber of tools. His 4.84-second 40-yard dash, 36 bench press reps, 9-foot-9 broad jump, 4.39-second short-shuttle time and 7.35-second three-cone all rank at the 94th percentile or above for the tackle position. If Cosmi makes as big a leap next year as he did prior to his rookie season, he will be a top-10 right tackle in the NFL.
---
Pick in 2021 draft: No. 3
This one is as much about the circumstances as it is about what Lance put on tape as a rookie. On 86 dropbacks as a rookie, he was … fine. His 61.1 passing grade ranked second behind Mac Jones in the rookie class, but that's not saying a whole lot given how the rest of the class fared.
All in all, it was a solid passing grade for a player who was the youngest quarterback in his draft class, played FCS competition at North Dakota State and saw only one game of live action in 2020.
You won't find a second-year quarterback with a better situation around him heading into 2022, though. Lance gets to play behind PFF's 14th-ranked offense line and throw to PFF's sixth-ranked receiving corps this season. Oh, and he gets to do it all with Kyle Shanahan calling plays. If Lance can't succeed with that around him, it might never happen.
---
Pick in 2021 draft: No. 44
While first-round cornerbacks Greg Newsome II and Eric Stokes are also excellent breakout candidates — and Pat Surtain II already qualifies as having broken out — there's reason to believe the Cowboys' second-rounder is in for a big sophomore campaign. It took Joseph a while to see the field as a rookie in 2021, but it was worth the wait. On only 97 coverage snaps, he allowed seven catches on 15 targets for 49 yards with two pass breakups.
What makes Joseph all the more intriguing is the unknown. He played all of 757 snaps for his entire collegiate career. A top recruit in Louisiana, Joseph started at LSU and played 222 snaps in 2018 before being suspended for the Tigers' bowl game and subsequently transferring. He landed at Kentucky, where he allowed only 271 yards in his lone season with the team.
As one of the youngest players in the 2021 draft class, Joseph won't turn 22 until November. All that suggests his arrow should still be pointed upward.
---
Pick in 2021 draft: No. 72
McNeil was another very young draft pick coming out of NC State and didn't turn 21 until a couple of weeks after he was drafted. That isn't a minor detail for the rigors of holding up to double teams in the NFL. Even so, McNeill still held his own for a 60.1 overall grade on 422 snaps as a rookie.
His inclusion comes primarily from what he put on tape in Weeks 17 and 18 last season. McNeill earned two of his three highest single-game grades of the year in those contests (75.8 and 79.5 overall) while playing 65 snaps between the two.
Despite being two years younger and drafted a round later than Levi Onwuzurike, whom Detroit selected at No. 41, McNeill considerably out-graded his defensive tackle counterpart. That means he should be getting every opportunity to break out in 2022 on a much-improved Lions defensive line.
---
Pick in 2021 draft: No. 100
It might not be the hottest take to predict a slot cornerback for a big Year 2, but it only makes sense after following Molden's collegiate and pro careers. He doesn't fit the prototype for many positions other than maybe kicker at 5-foot-10 and 190 pounds, yet he has shown a nose for finding the football at every stop along the way.
In his last full season at Washington in 2019 before COVID-19 cut his senior year short, Molden led all college slot cornerbacks with 30 defensive stops — eight more than anyone else in the FBS.
As a rookie, Molden finished with the 12th-most stops of any defender when lined up in the slot despite playing just the 18th-most snaps there. While he might not "break out" from a fame perspective because of the position he plays, Titans fans will recognize his impact.
---
Pick in 2021 draft: No. 147
Of all the inclusions here, this one is the biggest projection.
That's because there is not too much tape from Jordan's rookie season. He played only 232 snaps and hauled in 20 catches on 28 targets for 178 yards with three scores.
What we did see from him, though, was an ability to create after the catch, a trait that's becoming more and more coveted at the tight end position with the way modern offenses are trending. Jordan broke four tackles on those 20 catches and averaged 5.0 yards after the catch per reception.
The Miami product was always a player who was going to need some seasoning, as he was only 20 years old on draft day. Considering he was playing close to a starter workload by the end of last season, as well as the Texans' limited number of receiving options, Jordan will have every opportunity to break out in 2022.
---
Pick in 2021 draft: No. 103
It's hard to get a bigger vote of confidence from a coaching staff as a third-rounder than what Jones got from the Rams last season. He had played all of 45 snaps combined across the first seven weeks of last season behind starter Kenny Young. Then the Rams traded Young to the Broncos for a pick swap, gave the reins to Jones and never looked back.
The 104th overall pick took some lumps early on but finished with a 68.1 overall grade from Week 12 through the Super Bowl and was a key factor in Los Angeles hoisting the Lombardi trophy. Against the Bengals, Jones played 57 out of 61 possible snaps and allowed three catches on four targets for just 8 yards with a pass breakup. Now he gets to learn alongside future Hall of Famer Bobby Wagner to take his game to the next level.
---
Pick in 2021 draft: No. 70
The Panthers' coaching staff did Christensen's development no favors last season. After lining up at left tackle for 2,490 of his 2,522 career snaps at BYU, Christensen played four different positions for Carolina as a rookie. You might not be surprised to find out that he earned a 69.2 overall grade at left tackle and a 46.5 overall mark when lined up elsewhere.
After the team's offseason additions of Ikem Ekwonu, Bradley Bozeman and Austin Corbett to the offensive line, Christensen finally gets to focus his attention to one spot: left guard. Expect to see a much more consistent player because of it.
---
Pick in 2021 draft: No. 25
Etienne's inclusion doesn't need much of an explanation. He didn't play a single snap in 2021 after suffering a Lisfranc injury in the preseason. Now, he goes to an offense in desperate need of ways to create big plays. The Jaguars had all of 90 plays go for 15-plus yards last season, more than only the Texans. Etienne, on the other hand, was the single best big-play threat at the running back position in college football over the course of his career at Clemson.
The only player with more runs of 15-plus yards over that span than Etienne's 89 was Jonathan Taylor — and it took Taylor 241 more carries to do so (925 vs. 624). The Jaguars need more explosiveness in 2022, and Etienne will be there to provide it.