• Josh Jacobs set to cash in: The Raiders running back had his fifth-year option declined but is currently PFF's highest-graded running back as he's set to hit free agency.
• A capable starter: Jacoby Brissett has filled in admirably for the Browns and now is set to hit free agency again in 2023.
• Nothing to see here: The Packers worked out a free-agent quarterback Tuesday, but starter Aaron Rodgers says he plans to start Week 13.
Estimated Reading Time: 7 mins
---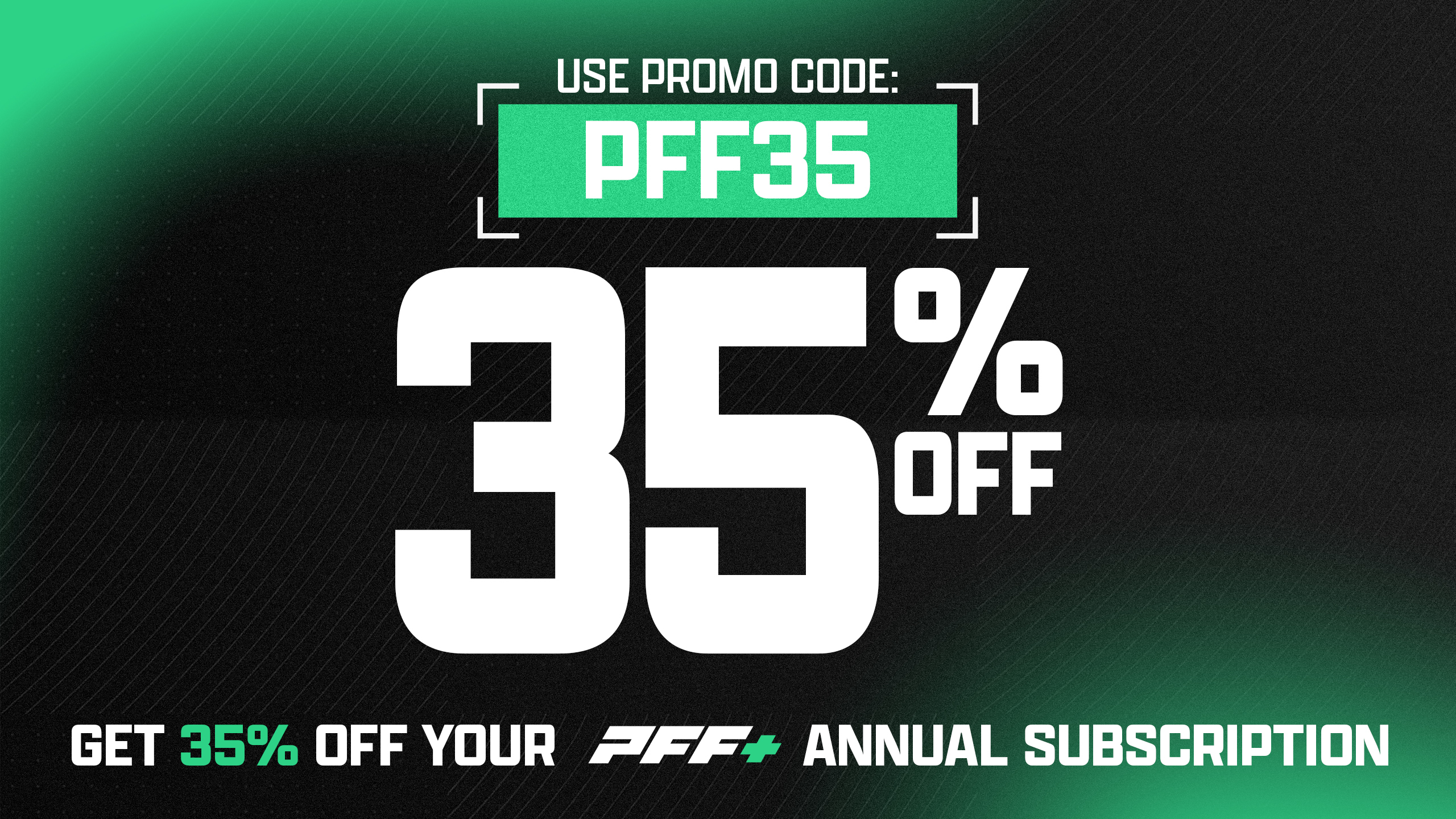 IMPENDING FREE AGENTS WHO HAVE HELPED THEMSELVES THIS SEASON
We asked sources around the NFL to identify free agents who have increased their value with strong performances 12 weeks into the NFL season. Here's a smattering of names who came up.
Jacobs' name was mentioned most frequently, and it should come as no surprise after the performance he put together in Week 12, totaling 303 yards from scrimmage — including an 86-yard walk-off touchdown run in an overtime win over the Seattle Seahawks.
The Raiders elected this offseason not to pick up Jacobs' fifth-year option, which would have cost them $8 million. That's a lot to pay a running back, and only eight players at the position make more on a per-year basis, but Las Vegas might still be kicking themselves. Jacobs is PFF's top-graded running back this season, boasting a 93.1 offensive grade and a 93.4 rushing grade. He's the NFL's leading rusher with 1,159 yards and sits alone as the only qualified back averaging 100 yards per game. He also leads the NFL in yards from scrimmage (1,484).
Jacobs ranks second in yards after contact, fifth in yards after contact per carry, first in missed tackles forced, second in 10-plus yard runs and third in elusive rating. He ranked second in PFF grade among running backs as a rookie in 2019 but tailed off in 2020 and 2021, finishing 20th and 10th, respectively.
It will be interesting to see how the Raiders handle the situation this offseason when Jacobs is set to hit free agency. One source noted it would make sense for the Raiders to apply the transition tag, which would cost a projected $10.197 million, per OverTheCap. A franchise tag would be a projected $12.632 million, per OTC. If Jacobs hits free agency, then the going rate for a running back of his caliber is around $12 million per year. It's notable, however, that every running back making $12 million or more was extended by the team that drafted them. No back who has hit the open market is currently making more than $7 million per year, and there are loads of quality running backs hitting free agency this offseason.
Smith has hit a bit of a lukewarm stretch with 65.0, 65.8 and 60.3 grades over his past three games, but he still ranks seventh among qualified quarterbacks in passing grade, holding an 81.2 mark for the season. Smith hasn't been a full-time starter or taken more than 112 dropbacks since 2014, his second season in the NFL. That year, he posted a 60.4 passing grade. He was solid in Russell Wilson's stead last season with a 71.4 mark but has taken a massive step forward this season.
If he can keep it up, it would be wise for the Seahawks to sign him to a contract extension. One source did note, however, that "there really aren't mid-tier QB contracts."
Teddy Bridgewater signed a three-year, $63 million contract with the Carolina Panthers in 2020. That could serve as the starting point for a new contract for Smith. Jameis Winston signed a two-year, $28 million contract with the New Orleans Saints this offseason, but he was coming off a torn ACL, and Smith has been much better this season than Winston was in 2021.
Jones actually has his lowest PFF grade since his rookie season with a 67.4 mark, but he's proven a team can win games with him at quarterback. His expected points added per play figure ranks 12th this season, as New York has started out 7-4 but has lost its past two games against the Detroit Lions and Dallas Cowboys.
Jones, like Jacobs, had his fifth-year option declined. So, the Giants could place the transition tag on him, though that would cost a projected $28 million. New York also couldn't franchise or transition tag Saquon Barkley in that scenario.
Unless the Giants are looking to move on to a new quarterback this offseason — and there are some attractive veteran options who could become available — then the best move could be to sign Jones to a one-year deal with incentives that could reach the transition or franchise tag figures and then use one of the tags on Barkley.
What a strange career the 2016 New England Patriots third-round pick has had. He's now started games for four franchises in seven seasons and made $40 million in the process. Now he has a chance to cash in again after posting a career-best 82.5 offensive grade and 75.5 passing grade this season while filling in for Deshaun Watson, who was activated from his suspension for Cleveland. Barring an injury to Watson, Brissett's work is done for the season.
Brissett was no slouch for the Miami Dolphins last season, either, earning a 76.3 overall grade while filling in for an injured Tua Tagovailoa. Over the past two seasons, Brissett is PFF's 11th-highest-graded quarterback. He's 13th in EPA per play this season and 24th over the past two years.
Brissett signed a two-year, $30 million contract back in 2019 with the Indianapolis Colts. He's proven he can be a starting quarterback this season, and there are a handful of teams who will be looking for a starter or potential bridge signal-caller this offseason. He's potentially played his way into a similar deal in 11 games with Cleveland.
Hurst signed a one-year, $3.5 million contract with the Cincinnati Bengals as a free agent this offseason, and he's been significantly better and more productive than he was in 2021 with the Atlanta Falcons.
After earning a 55.3 offensive grade and catching 26 passes for 221 yards with three touchdowns in 13 games last year, Hurst has 46 receptions for 388 yards with two touchdowns and a 65.7 offensive grade through 11 games this season. It's not easy to predict tight end contracts, but Evan Engram signed a one-year, $9 million deal last offseason. Ian Thomas, Mo Alie-Cox, Gerald Everett, Austin Hooper, Tyler Conklin, Tyler Higbee, C.J. Uzomah, Will Dissly and Logan Thomas all are making between $5.65 million and $8 million per year.
Steele will be a restricted free agent this season, but he has career-high marks as a pass-blocker (63.0) and run-blocker (81.7) en route to a 73.8 overall mark, ranking 20th among qualified tackles and ninth among right tackles.
Steele ranks below Lane Johnson, Brian O'Neill and Ryan Ramczyk but above Rob Havenstein, Braden Smith and Taylor Moton this season. Those players are signed to contracts that average $16.95 million per year.
One source predicted that the Cowboys will use a second-round tender worth a projected $4.3 million on Steele. A first-round tender will cost a projected $6 million, but second-round tenders are more commonly used even on high-end players. If the Cowboys use a second-round tender on Steele, then another team could sign him to a contract offer sheet. The Cowboys then would have the option to match or let him go and collect a second-round pick. If no team signs him to an offer sheet, he would play for around $4.3 million in 2023. The Cowboys could then sign him to a contract extension knowing they have him on an affordable deal in 2023.
At this point, it seems like it's only a matter of time before Steele becomes another one of the NFL's highest-paid right tackles, but the fact that he's a restricted free agent could delay that by one year.
Garoppolo is turning the ball over less this season, and his turnover-worthy play rate is down from his career average. Otherwise, he's just solidifying his status as an above-average quarterback and a proven winner.
The 49ers couldn't find a trade partner that wanted Garoppolo as their starter last offseason after he underwent shoulder surgery. There's no doubt that he'll enter next season as a starter somewhere, and he's in line to sign another one of those "mid-tier QB contracts" that don't exist.
Barkley's production has tailed off the past two weeks, with him accumulating just 61 yards on 41 carries and 26 yards on six receptions. But his first nine games, when he totaled 931 rushing yards and 197 receiving yards, showed why he was such a highly sought-after prospect coming out of Penn State in 2018.
Barkley's 75.7 PFF grade is his highest mark since his rookie season, when he earned an 85.2 mark.
If the Giants can't reach a long-term extension with Barkley, then they would likely franchise or transition tag him, but as we mentioned, that creates an issue in Jones' contract discussions.
Bradbury is another player who didn't have his fifth-year option picked up, and he was largely given up on by Vikings fans heading into 2022.
His 71.0 PFF grade is nearly 10 points higher than his previous career high, and he's let up just two sacks and two quarterback hits this season as a much better fit in Kevin O'Connell's offense. He ranks 10th among centers in offensive grade, ninth in run-blocking grade and 10th in pass-blocking grade, proving he continues to deserve a starting job in the NFL.
Robinson is set to sign his third NFL contract, and he's still just 27 years old. While he hasn't contributed much as a pass-rusher with just five pressures this season, he's continued to show why he's a valuable early-down run-defender with a 68.7 run-defense grade, which is the third-best mark of his career.
Payne is combining with Jonathan Allen to create a formidable defensive front in Washington. His run-defense grade is down, but his 70.3 pass-rush grade is the second-highest mark of his career, and he's on pace to tie a career high with 47 pressures. His 33 pressures currently ties him for 12th-best among interior defenders.
---
The Packers worked out free-agent quarterback James Morgan on Tuesday, which set off some alarms about quarterback Aaron Rodgers' thumb and oblique injuries. The Packers, who also have Jordan Love on the 53-man roster and Danny Etling on the practice squad, did not sign Morgan, and Rodgers said on the Pat McAfee Show that he plans to play Sunday against the Chicago Bears.
The Packers were also hosting five tight ends, and Morgan, a 2020 fourth-round pick by the New York Jets, was brought in to throw to them, per a source.