• Jordan Davis takes top spot: The Philadelphia Eagles interior defender racked up four pressures on just 11 pass-rushing snaps in Week 3.
• Receivers continue to shine: Chris Olave, Drake London, Garrett Wilson, Romeo Doubs and Alec Pierce feature in the top 15 for Week 3.
• Devin Lloyd looks like a star in the making: The Jacksonville Jaguars linebacker is turning heads as a consistent playmaker already.
Estimated Reading Time: 5 mins
---
More rookie offensive linemen appear on the Week 3 list than at any point in the first two weeks of the season. That should be expected, though, as the learning curve for many of those players starts to flatten after a handful of games. It's still a list dominated by receivers, as this rookie class has delivered early through the air.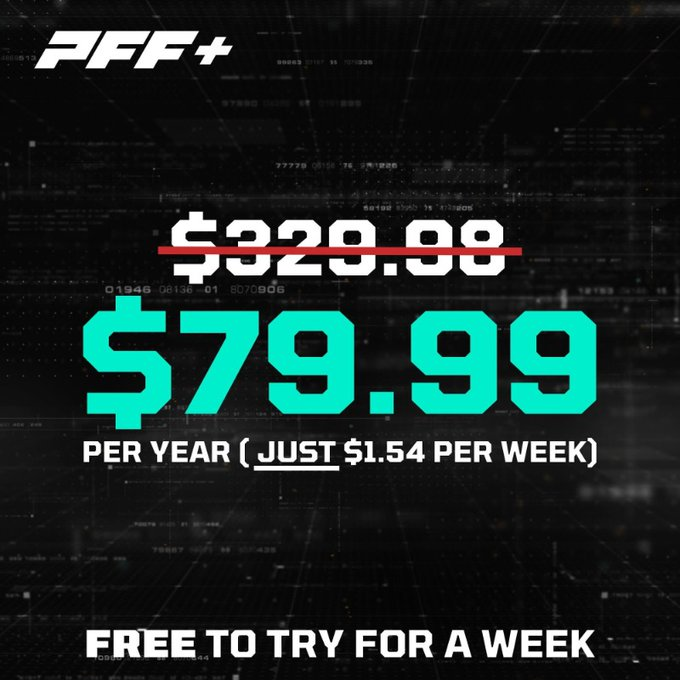 Mitchell has been … not a liability. For a rookie offensive lineman, that's exceeding expectations. The 111th overall pick allowed only two pressures on 58 pass-blocking snaps against the Cincinnati Bengals in Week 3
Jones' work in the run game earned him this grade. He posted a career-high 73.2 run-blocking grade going up against the Houston Texans in Week 3. His pass protection is still a work in progress, but the Bears aren't even letting him get tested much so far, with him playing 67 combined pass-blocking snaps on the season.
Linderbaum makes his first appearance on this list, improving his overall grade each week so far. He went from a 60.6 in Week 1, to a 66.1 in Week 2, to a 70.4 against the New England Patriots in Week 3. This past weekend was his first not allowing a single pressure.
Gardner did a good job frustrating one of the best receivers in the NFL. He allowed only two catches on four targets for 51 yards with two pass breakups. Gardner has now surrendered only 92 yards through three games with three pass breakups.
Sauce Gardner will frustrate A LOT of Receivers. Despite the loss he is FORREAL. pic.twitter.com/NXlPCXUpJA

— Robert Griffin III (@RGIII) September 25, 2022
Green showed why he was the first interior lineman off the board this past week. He allowed only one pressure on 35 pass-blocking snaps against the Chicago Bears. That's only his third pressure allowed all season.
There was clearly an emphasis on getting the ball in Doubs' hands against the Tampa Bay Buccaneers, as the majority of his targets were "schemed" to go to him. He caught all eight of those targets for 73 yards and his first career score. Doubs become the first Packers receiver not named Davante Adams to have eight receptions in a game since 2018.
Every Romeo Doubs reception from Week 3. #Packers pic.twitter.com/qwmIpr05jj

— Tyler Brooke (@TylerDBrooke) September 26, 2022
It may not have been the most impressive route tree, but Bellinger delivered when called upon for the Giants on Monday Night Football. He caught four of five targets for 40 yards, with almost all of them coming in the flat. Bellinger's average depth of target was only 1.2 yards downfield. 
I love how Kafka worked the play action rollout with Bellinger faking the down block and pivoting back outside behind flowing defenders ???????? pic.twitter.com/y5gyFUwvMo

— Nick Falato (@nickfalato) September 27, 2022
Wilson has swiftly become the focal point of the Jets' passing offense. He caught six more passes for 60 yards on seven targets in Week 3 despite getting knocked out for a few plays after a scary shot to the ribs. He now leads New York in targets (29), receptions (18) and yards (214).
Garrett Wilson with a slick release. Tough for any nickel CB pic.twitter.com/sL9oGqYi6n

— Billy M (@BillyM_91) September 26, 2022
After a brutal Week 1 and sitting out due to injury in Week 2, Pierce was back with something to prove. On only 20 pass routes, he caught three of five targets for 61 yards. For an offense that desperately needs a second option, Pierce's emergence would be a welcomed sight.
#Colts offense has needed this for years. Feed Alec Pierce. pic.twitter.com/1ZzEB5gueN

— Indy Source (@SourceIndiana) September 26, 2022
Something tells me London will be a mainstay on this list as the season wears on. He caught a touchdown for the second straight week and finished with three receptions on six targets for 54 yards. It's also worth noting that it came on only 20 passing routes, with the Falcons rarely airing it out against the Seattle Seahawks in Week 3.
Drake London continues to prove he's already a fantastic receiver: pic.twitter.com/Mq2C3XstZI

— PFF ATL Falcons (@PFF_Falcons) September 25, 2022
After missed tackles haunted Brisker the first two weeks of the season, he settled down in that regard against the Texans. He racked up seven tackles without a miss and allowed only nine yards on three targets. 
I haven't seen a true off-ball linebacker come into the NFL this ready in all three facets of the position since at least Shaquille Leonard in 2016. Lloyd is making plays on the football 20-plus yards downfield, for crying out loud.
This is some Bobby Wagner-level stuff by Jaguars rookie LB Devin Lloyd. Not many rookie linebackers can follow a tight end (Gerald Everett) 25-yards upfield in Lockdown Mode. pic.twitter.com/zaLD37O4n6

— Doug Farrar ✍ (@NFL_DougFarrar) September 26, 2022
Against the Los Angeles Chargers in Week 3, he broke up two more passes and picked off another to give himself the league lead at the position in both (four pass breakups and two picks on the season). 
A week after quarterback Jameis Winston missed Olave for gobs of yards through the air, the two finally connected in a big way. Olave hauled in nine catches on 12 targets for 147 yards in Week 3. He now leads the league in deep targets (10) and ranks second in receptions on such throws (4).
Chris Olave is HIM! pic.twitter.com/teb2P4Qiyj

— PFF NO Saints (@PFF_Saints) September 25, 2022
Johnson did most of his work in the run game, where he was a terror against the Cincinnati Bengals. He made three run stops on only 11 run-defense snaps. He was working Cincinnati's tight ends in that regard. You can see him easily eat a crack block for a tackle for loss in the play below. 
Get some, Cordell Volson (LG, 67) pic.twitter.com/EXn8vnmC4b

— Goodberry (@JoeGoodberry) September 26, 2022
Davis continues to eat in a rotational role. He looked more confident using his get-off as a pass-rusher in Week 3, and he was too much for the Commanders' interior to handle at the snap of the ball. Davis finished with four pressures on only 14 pass-rushing snaps. There are some reps where it's impossible to figure out how someone can be expected to block him, and it's amazing to watch. 
Jordan Davis learning a thing or two from Fletcher Cox. Had alot of success with this move on Sunday pic.twitter.com/ThYSjS0FYx

— Nick (@PhillyNick100) September 26, 2022