At its heart, PFF is a player evaluation website, and the most interesting players to evaluate every year are rookies. These first-year players represent the weight of hope for their respective franchises and, depending on the team, can be shouldering the entire weight of that hope.
Editor's note: ELITE subscribers can view player grades, advanced statistics, positional snap counts and more in Premium Stats 2.0. Subscribe today for access.
This season, more than most, the performance of these rookies early on will be interesting to watch because none of them played preseason football to get their feet wet, and some are still waiting for their NFL debuts.
So, let's take a look at some rookie studs and duds in Week 3.
STUDS
Week 3 overall grade: 93.8
It turns out all Justin Jefferson needed was an opportunity. After being stuck behind Olabisi Johnson on the depth chart over the first two weeks of the season, Jefferson got a chance to be one of the starting receivers this week and had himself a day. The rookie out of LSU ended up catching seven of the nine passes thrown his way for 175 yards and a touchdown, leading the Vikings in all receiving categories. 
Jefferson's grade wasn't just the best rookie receiver grade, or even the best receiver grade of the week, but the best grade for any player at any position in Week 3. He provided Minnesota a desperately needed foil to Adam Thielen for the first time since the departure of Stefon Diggs — and some real optimism that he can slide into that role seamlessly and replace that kind of production. 
Week 3 overall grade: 86.7
The man himself may not be there any longer, but the legacy built by longtime offensive line coach Dante Scarnecchia still endures in New England. Michael Onwenu became the latest unheralded offensive lineman to produce high-end play for the team. The sixth-round rookie out of Michigan has been a utility lineman for the team so far this season but started and played all game at left guard against the Raiders this week.
In 69 snaps of offense, he allowed just one hurry and had a run-blocking grade of 83.6, good enough to rank 12th among all offensive linemen this week. Onwenu had four-straight seasons of solid PFF grades in college, particularly in pass protection, but even so his early performance at the NFL level has been impressive and somewhat surprising.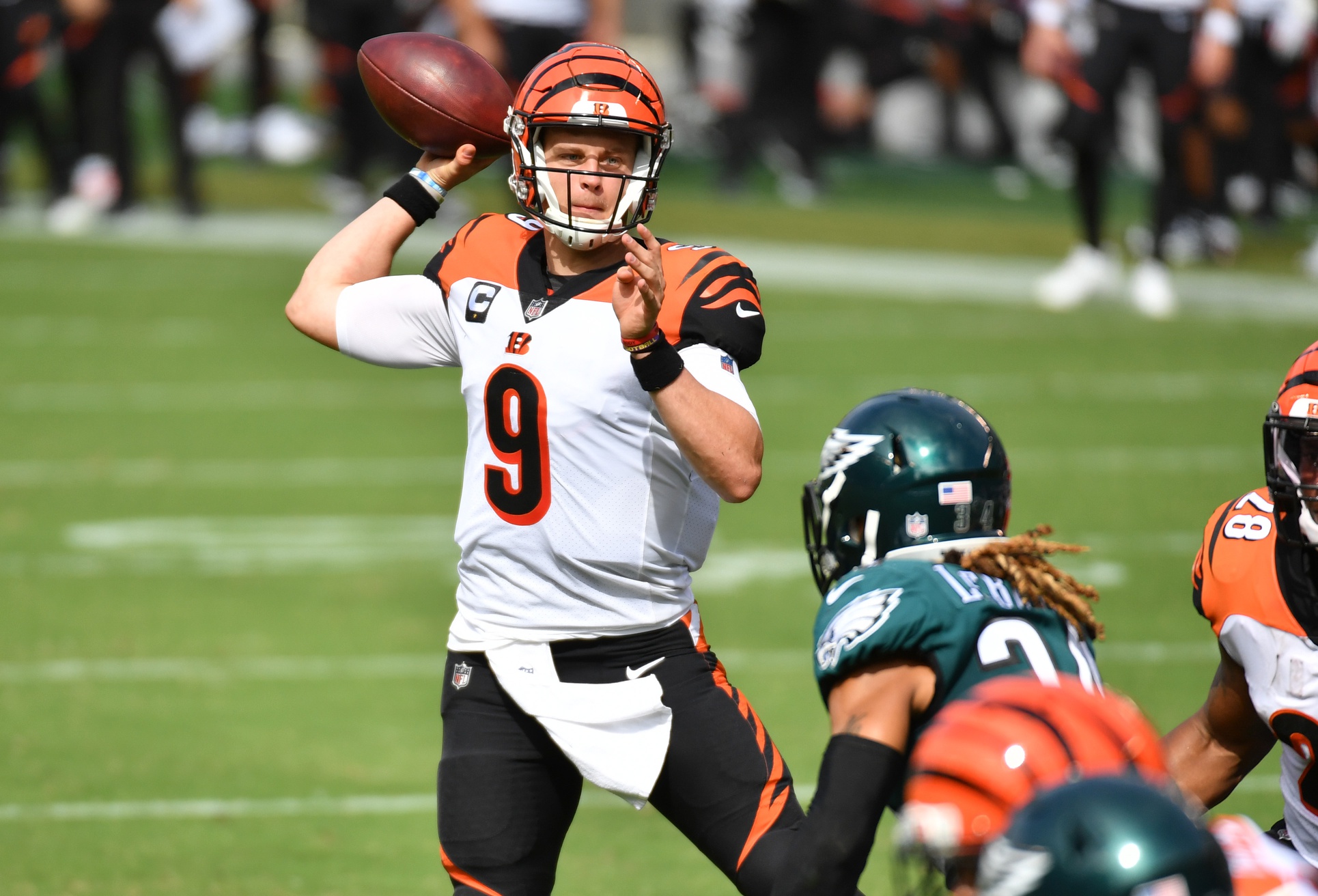 Week 3 overall grade: 86.5
If Joe Burrow survives his rookie year, things are looking up in a big way for the Cincinnati Bengals. Burrow had the best PFF grade of his career in the Week 3 tie against Philadelphia and did so despite being pressured on a massive 44% of his dropbacks. He was under assault all game and at one point took a huge legal shot from Eagles defensive lineman Malik Jackson.
Despite that pressure, Burrow was unfazed. In fact, his PFF grade actually went up when pressured (77.7 to 87.5) and he completed 60% of his passes even when under duress. For Burrow to look that assured when the situation around him is as bad as it is in terms of pass protection is extremely encouraging — but also very risky the longer that continues. No quarterback performs well long-term in the face of huge pressure, so it's something the team need to fix as soon as it can.
Week 3 overall grade: 84.6
Few players were expected to be as solid right off the bat as Derrick Brown for the Carolina Panthers, but over the first two weeks of the season he had struggled badly against a pair of very good offensive lines. Apparently playing the Los Angeles Chargers was all the remedy Brown needed. Los Angeles is having its customary offensive line crisis already, and Brown was able to feast against some sub-standard players.
He finished the game with four defensive stops, three tackles for loss or no gain and an average depth of tackle that was actually behind the line of scrimmage by 0.25 yards. The man averaged a tackle for loss on the play when he brought down the ball carrier!
Week 3 overall grade: 78.0
Not many Jacksonville Jaguars came out of Thursday Night Football with any credit in the bank, but James Robinson was an exception. With things around him failing, Robinson was the only player giving the Dolphins defense any problems at all, and at times was the entirety of the team's offense.
He ended up with 77 yards after the catch on his way to 83 total receiving yards and broke five tackles between catches and carries. Four of his six receptions earned a first down and another was inches from doing so after some tough work after the catch. Robinson looks like a true bell-cow running back and thus far has a better grade (78.0) than the player he replaced (Leonard Fournette) ever managed for the team over a season.
DUDS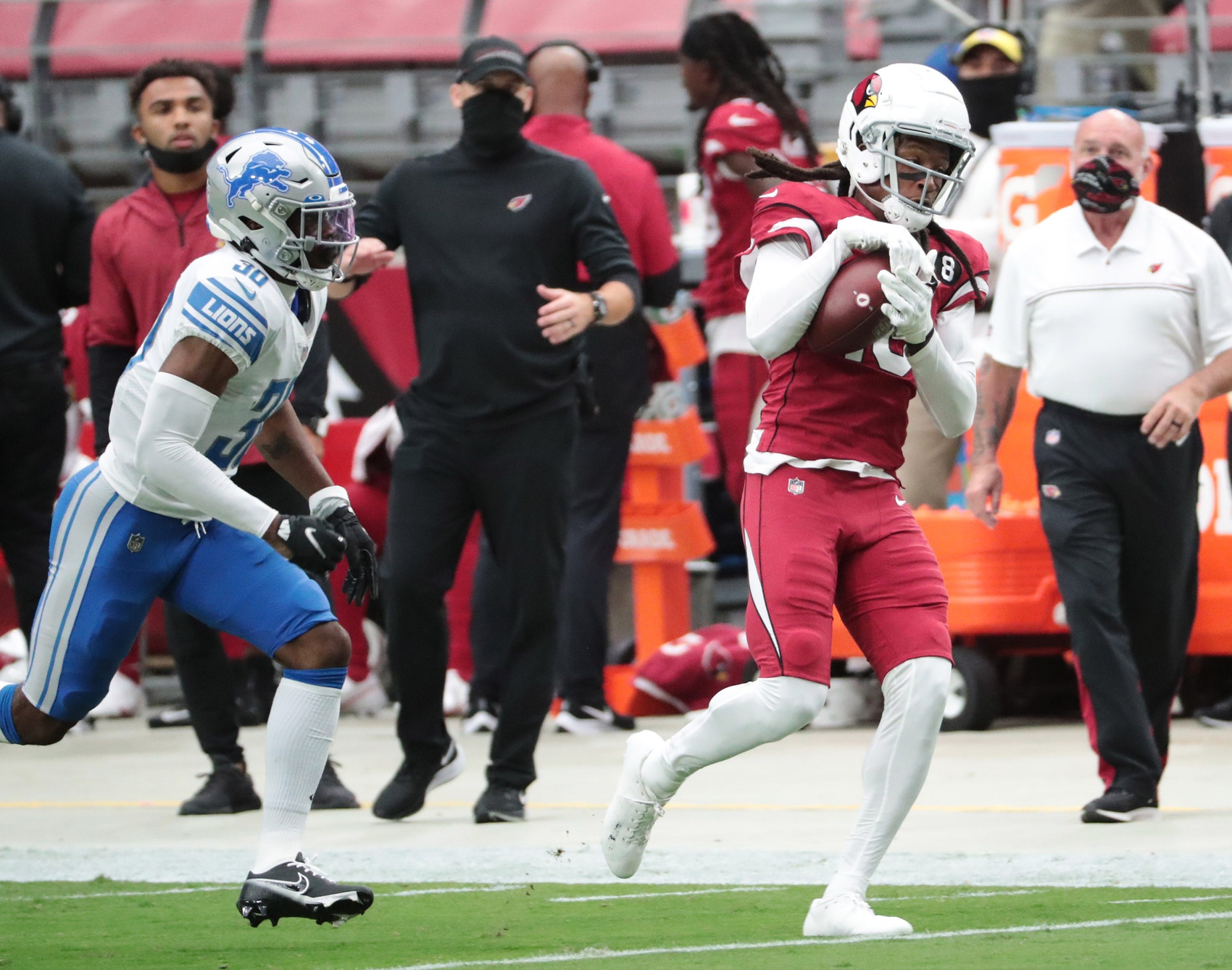 Week 3 overall grade: 35.7
Jeffrey Okudah is being welcomed to the NFL by a trial by fire. After being put in a blender by Davante Adams and the Green Bay Packers offense last week, he had to contend with the combination of DeAndre Hopkins and Kyler Murray this week .
Needless to say, things didn't go much better than a week ago. Okudah surrendered 79 yards on five catches into his coverage, though he did get one back with an interception. He also had to try and stop Murray in the open field. Down in the shadow of his own goal line, he had a one-on-one shot at Murray and was left grasping at air as the quarterback scampered past him into the end zone for a touchdown.
Week 3 overall grade: 29.8
Patrick Queen was fairly emblematic of the Ravens' inability to contend with Kansas City's offense on Monday night this week. It's not that he made no plays at all, it's just that he was exploited like the rest of the Ravens defense far more than he was able to make for a big net win for the Chiefs. Queen had a pass breakup early in the game on a crossing route he was able to tip, but that was his high-water mark.
From then on, he was left badly out of position on multiple occasions as the sheer variety and complexity of what he was seeing left him without direction too often. A missed tackle didn't help his cause. But, like Okudah, Queen was largely the victim of a brutal assignment this week that generated predictable results.
Week 3 overall grade: 36.9
The Jacksonville defense isn't what it was in 2017, but you could be forgiven for thinking it was if you just watched the one-on-one battle on Solomon Kindley's tape from Thursday night's game. Kindley was overmatched in the run game, surrendering tackles to his man on four different occasions and giving him a shot at the tackle another two times. 
On top of that, Kindley was also flagged for holding and had another couple of minor losses at the point of attack. Jaguars defensive lineman Taven Bryan was the chief orchestrator of Kindley's rough night at the office, but he was far from the only player to give him problems. 
Week 3 overall grade: 39.1
Replacing a player as good as Richie Incognito is never easy, but so far in relief it has been tough sledding for John Simpson along the Raiders offensive line. Simpson allowed a sack, two hits and a hurry on Derek Carr against the Patriots this week, but was also flagged twice — once for a false start and another declined penalty for illegal hands to the face.
Simpson's struggles didn't end in pass protection, as he was also fighting a losing battle in the run game. Deatrich Wise was able to beat him for speed as an undersized threat along the defensive line multiple times in both the run and pass game. This will have been a significant learning experience for him.
Week 3 overall grade: 29.7
Jacksonville's first pick in this year's draft, C.J. Henderson had been enjoying a phenomenal start to the season over the first two weeks, so it was perhaps inevitable that he could would back down to earth. It happened with a bang against Miami.
Henderson was just a beat off the pace all game long, whether it was a pass interference penalty on DeVante Parker, a missed tackle on Myles Gaskin or taking a little too long to recognize the route combination that was coming at him and not finding the football heading for Mike Gesicki in time to prevent the touchdown. We've now seen high-end play from Henderson and also how fine the margins are at the NFL level — and how quickly things can spiral away from you if you don't bring you're A-game every week.