Rookie years are far less predictive of future performance than sophomore years. This isn't news. It's rare in any given draft class to see more than a handful of first-round rookies come out and make a massive impact right out of the gate. In almost all cases, it's best to wait until after Year 2 before confidently projecting a player's NFL career.
With the 2020 regular season now behind us, we now have a much better understanding of the 2019 NFL Draft class and can analyze each pick with much more confidence. Today, I'm going to dive into each of the 32 first-round selections from the 2019 NFL Draft and give a regrade based on each player's performance so far.
The regrades for the 2019 first-round selections are not influenced by who was on the board at the time of each player's selection or whether the decision to choose one player over another was the right one. This regrade is based solely on if the player has surpassed, met or fallen short of the expectations that came with the player's draft position.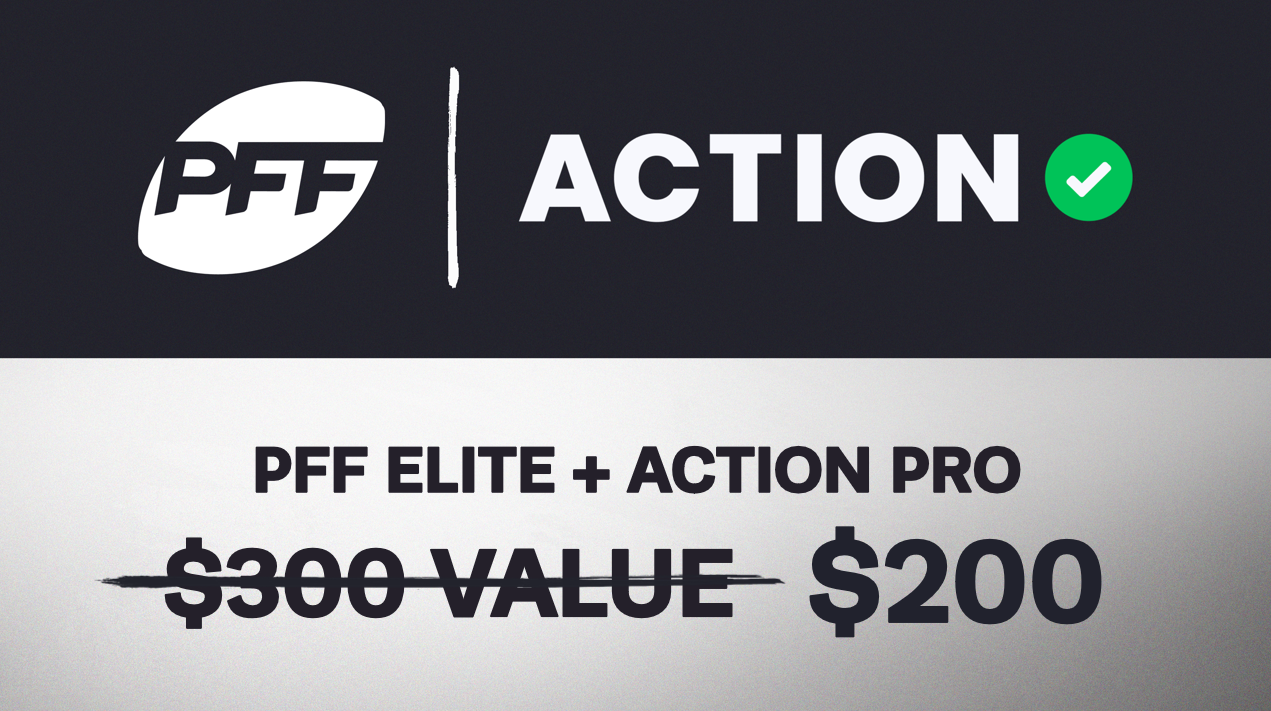 Murray didn't quite have that MVP-esque second-year campaign that many were hoping for, but the 2019 No. 1 overall pick still had an excellent breakout season. After posting a 64.2 PFF grade as a rookie that tied for 26th in the NFL, Murray was a fringe top-10 quarterback in 2020, earning an 82.8 PFF grade that ranked 11th at the position.
He was deadly with his legs — both on designed runs and scrambles — racking up 32 runs of 10-plus yards, tying with Lamar Jackson for the most by a quarterback. As a passer, we saw the same beautiful deep ball that Murray displayed in Year 1 and at Oklahoma, as he finished ninth in deep-passing grade in 2020. Murray also looked far more comfortable and composed in rhythm, which is an area he struggled in last season. He went from dead last in in-rhythm passing grade to 12th this past season.
REGRADE: EXCELLENT
---
Bosa was just 68 snaps into his sophomore season before suffering a season-ending injury. But even with that unfortunate setback, Bosa is all but guaranteed to be one of the league's best pass-rushers in 2021 and beyond. What he did as a rookie in 2019 was something that we have only seen from the elite at the position. Bosa's 89.8 PFF grade trailed only Aldon Smith and Von Miller for the best ever by a rookie edge defender in the PFF era (since 2006), and his 102 total pressures through the Niners' postseason run were 25 more than everyone else in that group.
REGRADE: EXCELLENT
---
Williams went from having one of the best seasons PFF College has ever seen in 2018 to having one of the most disappointing NFL rookie campaigns in 2019. The third overall pick was sufficient against the run, recording a 72.9 grade in that facet (33rd at the position), but he underwhelmed as a pass-rusher with just a 57.7 pass-rush grade (71st).
It looked like the same story through the first three weeks of 2020, but something clicked for Williams in Week 4; he started to look like the dominant interior defensive lineman we were all expecting and proceeded to top his rookie pass-rush grade by 20 grading points. Williams' 77.7 pass-rush grade ranked 15th among interior defensive linemen this past season, and his 11% pressure rate was 11th. The New York Jet finished his sophomore campaign as one of just five defensive tackles to finish in the top 15 at the position in both pass-rush and run-defense grade.
REGRADE: EXCELLENT
---
Ferrell was one of the biggest "surprise picks" of the 2019 NFL Draft, and he underwhelmed right out of the gate, as his 60.1 pass-rush grade as a rookie tied for 74th among 100 qualifying edge rushers.
However, Ferrell did have a few dominant outings as a pass-rusher this past season. Over the 274 pass-rush snaps he managed to play before suffering his season-ending injury in Week 14, Ferrell recorded a 70.0 pass-rush grade to go along with 30 total pressures. The only issue is that 21 of those pressures came in three games, and he recorded a pass-rush grade below 65.0 in all but three games. In other words, consistency was a problem for Ferrell in his sophomore campaign.
REGRADE: BELOW AVERAGE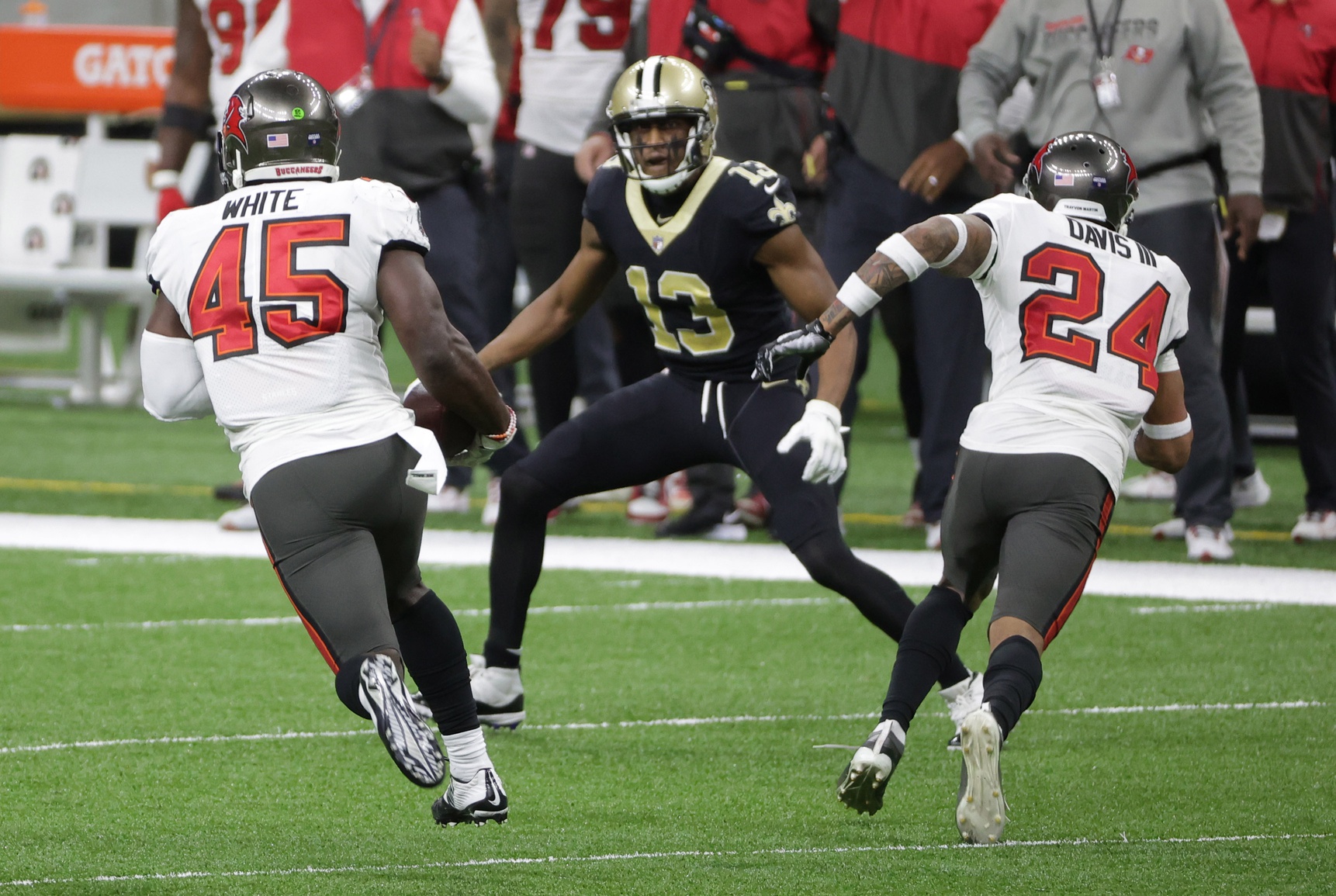 Linebacker is one of the more interesting positions for evaluating young talent, as the rookie year isn't significantly less predictive than the subsequent seasons. Priors matter quite a bit when it comes to making career projections at this position, but the confidence is shrinking for a guy like White, given his output so far.
White is fresh off arguably the best game of his career in the Bucs' divisional-round win over the Saints, a performance anchored by a 92.3 coverage grade. But even with that baked into his grading profile, he still has a 46.7 PFF grade for the 2020-21 season. He earned a 51.9 grade in 2019.
Since PFF's inception in 2006, 40 first-round off-ball linebackers have played  250 or more snaps over their first two years. White ranks 38th among that group in PFF overall grade (44.6), beating only Darron Lee (41.7) and Ernie Sims (40.8).
He has proven to be a quality blitz weapon in Todd Bowles' defense, but White has consistently struggled both against the run and in coverage.
REGRADE: BELOW AVERAGE
---
It's no secret that Jones' pocket awareness has been bad — no quarterback has racked up more fumbles in a collapsing pocket over the last two seasons than Jones has, and he has also taken way too many sacks.
That said, Jones took big strides as a passer in Year 2, ranking 12th in clean-pocket passing grade at 90.5 and 11th in grade on passes thrown 10 or more yards downfield. He ranked in the bottom 10 in those two metrics as a rookie. The Duke product also did some damage with his legs in 2020, recording a 78.8 rushing grade that ranked fifth among quarterbacks.
Jones still has a lot to prove in Year 3, but he surpassed expectations in 2020 to a certain extent. It's way too early to commit to Jones long term, but it is a bit too soon to give up on him. For the time being, this selection gets an "average" regrade until we see if Jones can elevate a team that just ranked 28th in the NFL in expected points added (EPA) per play generated.
REGRADE: AVERAGE
---
Allen still has a way to go with his run defense, but he has proven to be a more than effective pass-rusher at the NFL level. Between playing stand-up outside linebacker and 6/7-technique with his hand in the dirt (which is where he spent almost all of his eight games in 2020), Allen has earned a 74.2 two-year pass-rush grade that is tied for 31st among the 125 edge defenders who have rushed the passer 250-plus times over the past two years.
It's not quite that Bosa, Watt, Garrett or Mack type of level, but it's a promising sign as he looks to bounce back from his injury in 2021.
REGRADE: AVERAGE
---
Hockenson impressed in his NFL debut back in Week 1 of 2019 but failed to make a dent after that. That was far from the case this year, as he came away with the eighth-best PFF grade at his position.
The second-year tight end turned 16 of his targets into a gain of 15 or more yards, the fifth-most at the position. And while he hasn't won as much as we would have hoped when lined up at receiver, Hockenson has been among the most productive inline tight ends in the game. On those plays, the Iowa product ranked fourth in yards per route run in 2020 (2.09).
REGRADE: AVERAGE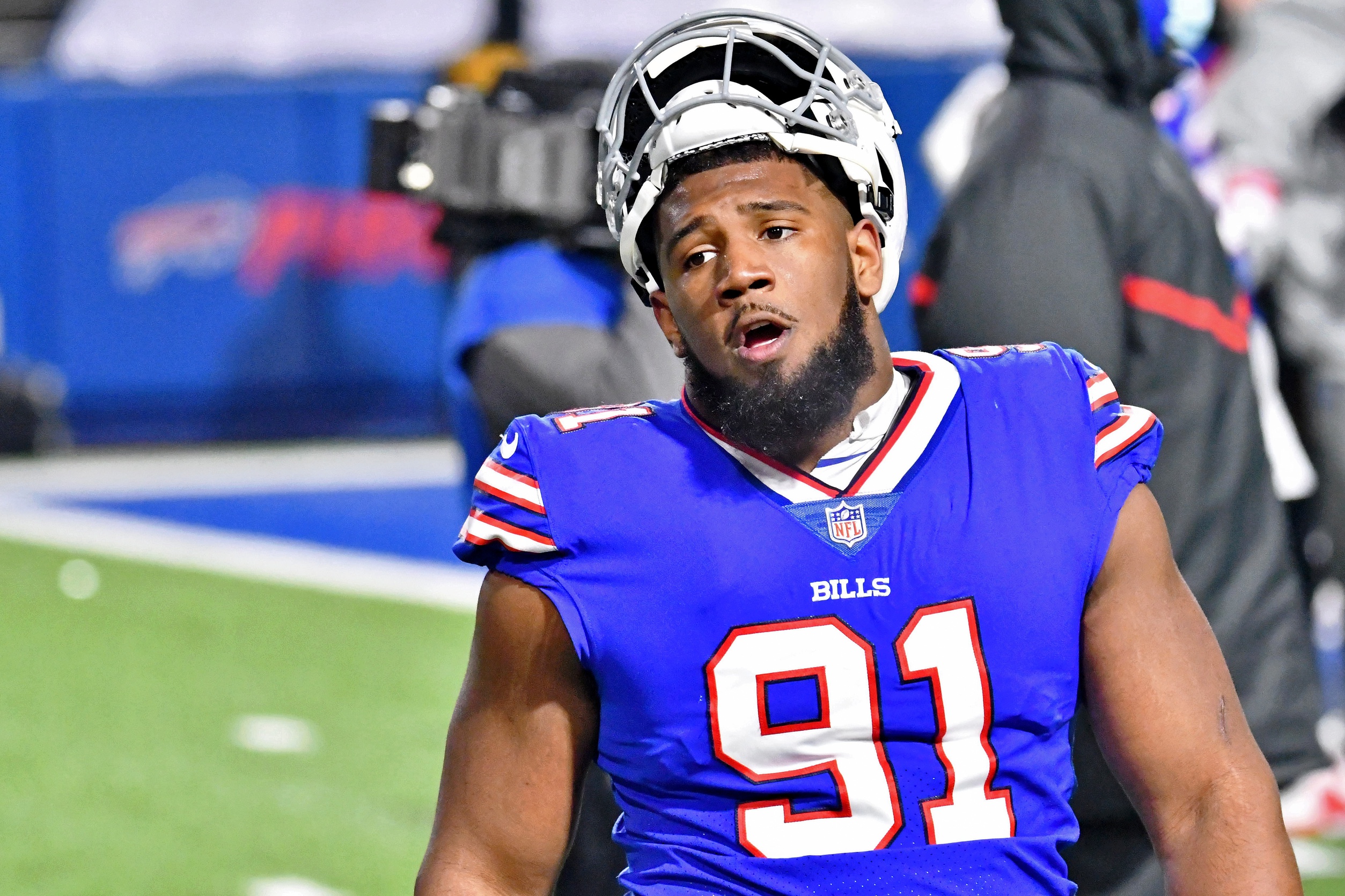 Oliver has been an interesting case study in 2020. His run defense has arguably been the worst at the position. In fact, his 29.7 grade in that facet is the second-worst among all interior defensive linemen this year. On the other hand, Oliver has made a decent impact as a pass-rusher, ranking 24th at his respective position in grade (72.6) while finishing 20th in pass-rush win rate (14%).
REGRADE: BELOW AVERAGE
---
Bush wasn't spectacular, but he was still performing better than fellow first-round linebacker Devin White before going down with a torn ACL in Week 6. Bush has earned a 62.2 PFF grade in his NFL career so far and was fairly productive as a rookie, as he tied for ninth at the position in total defensive stops with 47.
It's looking as though Bush will end up as a better player than White, but he still has quite a bit to prove when he returns from injury in 2021.
REGRADE: BELOW AVERAGE
---
The Bengals may have fielded one of the worst pass-blocking offensive lines in the league this year, but Williams was not the player to blame. After missing all of his rookie season due to an injury, Williams came back and started at left tackle for Cincy in 2020 and ended up ranking ninth among left tackles in pass-blocking grade on true pass sets (no play-action, screen, RPO, rollout, quick throw, three-man rush), finishing between Anthony Castonzo and David Bakhtiari — not too shabby given that it was his first year on the NFL field.
REGRADE: ABOVE AVERAGE
---
Gary is one of the most interesting players to keep an eye on in the NFC championship game because the former Michigan Wolverine has looked like a vastly different player in his last three games.
His Week 16, 17 and divisional-round outings were the three highest-graded games of his NFL career. Gary has earned a 91.5 PFF grade over that stretch while recording seven run stops and a 27% pass-rush win rate. Before that three-game span, Gary struggled to a 55.7 PFF grade across 652 snaps while recording only 11 run stops and a 14% pass-rush win rate.
Gary may have dug himself out of the "poor" category, but we need to see a lot more of this top-tier play before we start considering this a quality pick.
REGRADE: BELOW AVERAGE
---
Wilkins got better against the run in 2020, earning a 73.9 run-defense grade that ranked 19th among the 111 interior defensive linemen who played at least 300 snaps. Still, his work as a pass-rusher was suboptimal. Just like he did in his rookie season, Wilkins failed to record a pass-rush grade above 60.0 in 2020, which gives him a two-year mark that ranks 88th among 123 qualifying interior defenders.
Does this mean that Wilkins will never be a consistently effective pass-rusher? Not necessarily. After all, there are outliers such as Fletcher Cox, who mustered a 61.6 pass-rush grade over his two seasons. Still, the confidence level has grown smaller for Miami's 2019 first-round pick.
REGRADE: AVERAGE
---
Lindstrom just about held up as a rookie, though he was only able to make five starts and played just over 300 snaps due to injury. However, the former Boston College Eagle's 66.6 PFF grade in that limited action wasn't terrible, all things considered.
This year, Lindstrom was fully healthy and had himself a breakout campaign where he recorded a 77.1 PFF grade, fifth among all qualifying right guards.
Consistency will be essential for Lindstrom going forward. He still had some ugly outings this season, such as when he had to go up against Akiem Hicks in Week 3 (42.6 pass-block grade) and Chris Jones in Week 16 (2.0 pass-block grade).
REGRADE: ABOVE AVERAGE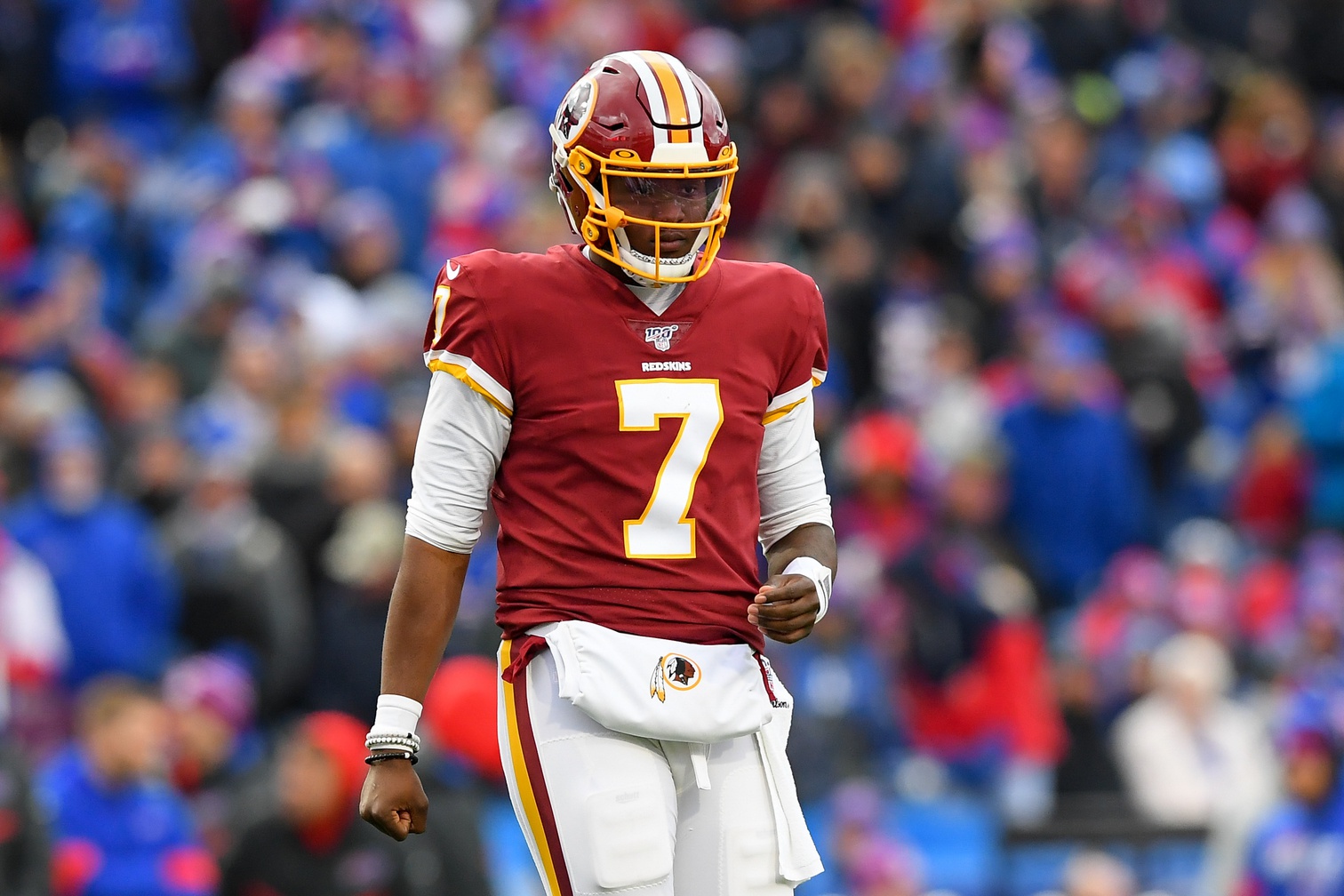 The former Ohio State quarterback's accuracy, pinpoint timing and comfortability with progressions seemingly made him a steal at Pick 15. However, the poor deep passing, consistent struggles under pressure, inability to make plays outside of structure, the high rate of open throws, bad tight-window passing and middling college passing grade (84.9 in his final season) were all major concerns for Haskins coming out.
Those concerns showed up in a big way in 2019 and 2020, and along with the well-documented off-the-field issues, they ultimately led to his release. Haskins earned a 57.8 PFF grade in his first two seasons in the league, which is in the same realm as the marks earned by Brandon Weeden and Geno Smith over their first two seasons.
REGRADE: POOR
---
The five highest pass-rush grades among edge rushers through divisional weekend belong to Khalil Mack, T.J. Watt, Joey Bosa, Myles Garrett and… Brian Burns (86.9). That's good company to be in after just two years in the league. His run defense still left a lot to be desired, but Burns was uber-productive in the pass rush and routinely put tackles in a blender with his crafty inside spin move.
REGRADE: EXCELLENT
Lawrence was one of the few players from this draft class who was able to make an impact right away, earning a 76.2 PFF grade. He managed to maintain that success in 2020 and improved drastically as a pass rusher. Lawrence's pass-rush grade jumped from 64.5 in 2019 to 73.2 this past season, tying for 23rd among 111 qualifying interior defensive linemen.
REGRADE: EXCELLENT
---
Bradbury's pass-protection has been a borderline liability for Minnesota over the last couple of years. Among 41 centers to play at least 500 snaps in pass-protection in their first two seasons in the NFL, Bradbury ranks dead last in pass-block grade by nearly six grading points (36.3). Since being drafted, he has allowed a league-worst 5.2% pressure rate. Considering the low success rate of interior offensive linemen in the first round, as well as the sample we have on Bradbury through the first two years, things aren't looking great for this selection.
REGRADE: POOR
---
Simmons would have likely gone inside the top 10 had he not torn his ACL prior to the draft, so the Titans received impressive value here. Simmons was not expected to see the field during his rookie campaign, but he defied the odds and made his debut in Week 7, logging 397 snaps on the year. Simmons flashed some dominant reps en route to a 67.2 PFF grade and took a leap forward in 2020. This past season, Simmons had two of the best games we saw at the position from a player not named Aaron Donald with a 92.8 PFF grade in Week 3 and a 94.2 in Week 9. That led to him finishing the year with an 83.6 PFF grade, the eighth-highest at the position.
Now we just need to see Simmons consistently perform and produce at that elite-level more often since he only generated three games with a PFF grade over 80.0.
REGRADE: EXCELLENT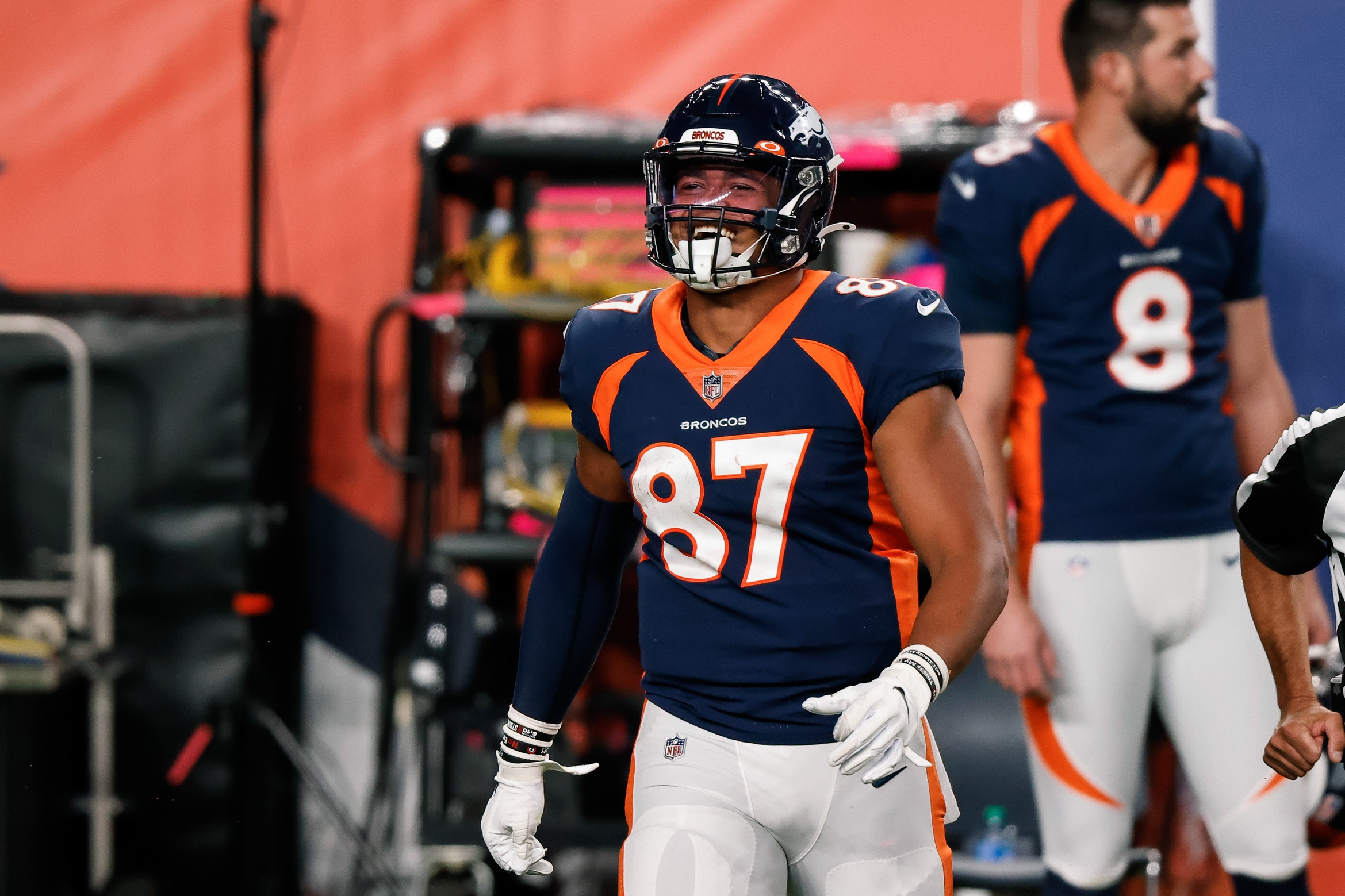 Fant finished his second season with one of the five highest receiving grades at the position (80.3), well above the 61.4 mark he posted as a rookie. He improved his ball skills tremendously, as he won far more against single coverage and created numerous big plays underneath with his run after catch ability — both of which were concerns coming out of college. Among all tight ends this past season, Fant ranked fourth in percentage of catchable targets caught, fourth in receiving grade against single coverage and first in both broken tackles (seven) and yards after the catch per reception (9.7) on underneath concepts.
REGRADE: ABOVE AVERAGE
---
Savage enjoyed a phenomenal rookie campaign, netting a 77.4 coverage grade that ranked 14th of 102 qualifying rookie safeties since 2006 and tied for 18th at the position in 2019. This year, Savage gave up a few more big plays but made up for it with impressive ball production. Savage tied for second among safeties in total combined interceptions and pass breakups with 11, propelling him to another top 20 finish in coverage grade at 74.9.
REGRADE: EXCELLENT
---
Dillard saw at least one snap in 16 games in 2019 but only really saw substantial game action in five. In those five outings, Dillard flashed both high-end and low-end play. He looked stellar against Buffalo and Chicago with PFF grades of 72.0 and 71.9, respectively, but in the other three contests (Minnesota, Dallas and Seattle), he posted sub-55.0 grades and allowed 18 total pressures. Dillard then missed all of his sophomore season due to injury. It's still too early to make a confident prediction or to say that Dillard was a bust, but he has made virtually no impact in the NFL thus far.
REGRADE: BELOW AVERAGE
---
Howard hasn't given up a lot of quick pressures, which is ideal, but he still hasn't performed at a first-round level since entering the NFL. Among 18 right tackles who were taken in the first round and played at least 1,000 snaps in their first two years in the league, Howard ranks 15th in PFF grade at 62.9. He has struggled to hold up on longer-developing plays and has committed far too many penalties, particularly this past season  (11, tied for most among all tackles).
REGRADE: BELOW AVERAGE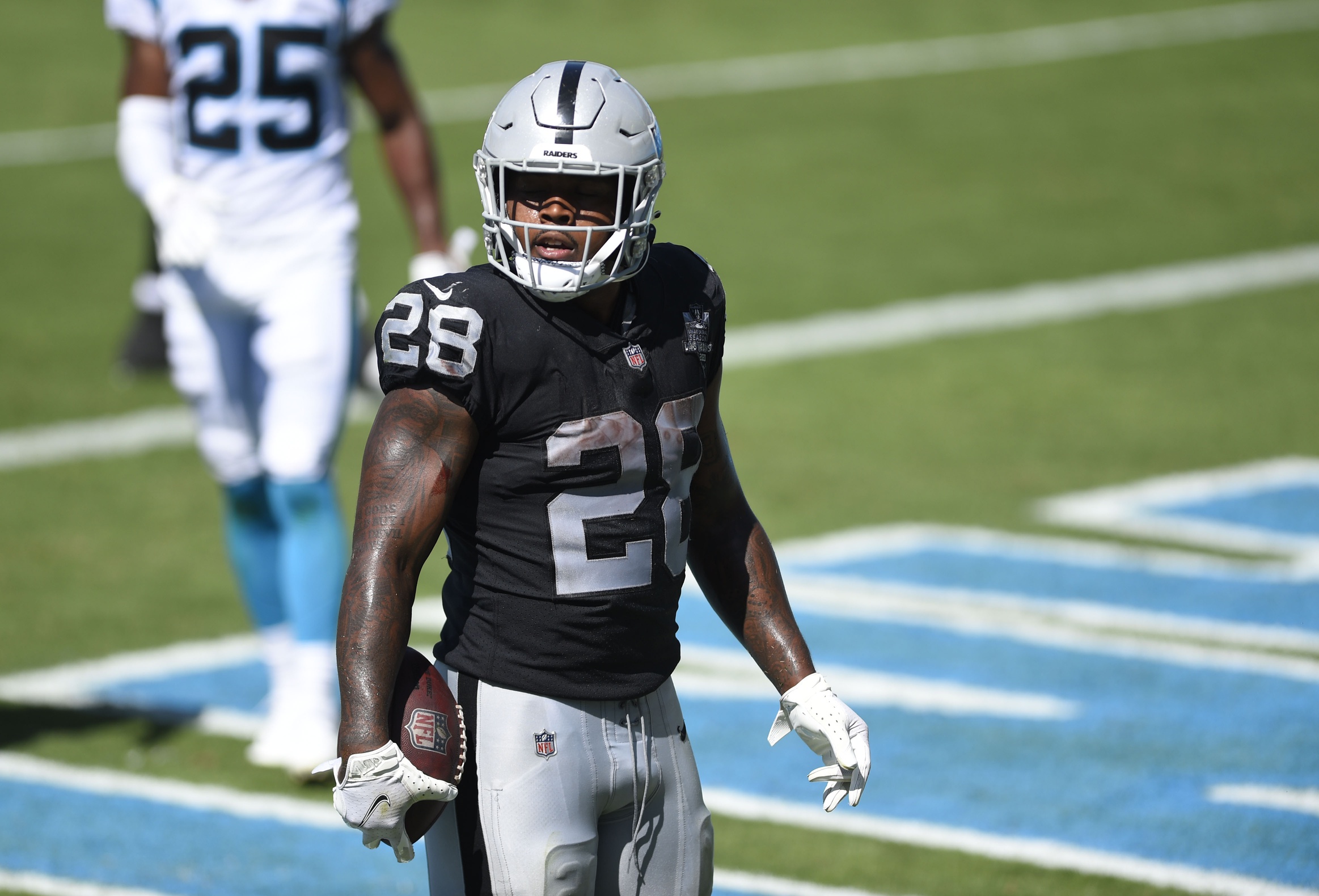 There's really no situation in which a running back should be taken as early as Jacobs was. This is no slight to Jacobs — he is a phenomenal athlete and a quality running back. But he still hasn't generated a significant amount of value for the Raiders' offense, largely because of the position he plays. Not to mention, Jacobs wasn't even one of the 10 most valuable players at this invaluable position in both 2019 and 2020.
REGRADE: POOR
---
Brown hasn't quite been a top-tier performer, nor has he been remotely close to the level as Day 2 selections A.J. Brown, D.K. Metcalf and Terry McLaurin, but he hasn't been terrible, either. Among 42 first-round wide receivers to garner more than 100 targets in their first two NFL seasons, Brown comes in at 20th in receiving grade. He's obviously not winning very many battles in tight coverage given his size, but Hollywood has been a quality vertical threat for Baltimore. Since 2019, including postseason play, Brown is tied for seventh in the NFL in deep receptions in which he created separation from his coverage defender (16).
REGRADE: AVERAGE
---
Sweat saw some success in his rookie campaign but broke out in his second season. After recording a 60.2 PFF grade in 2019, Sweat drastically improved this year, netting an 80.0 grade that cracked the top 10 among edge defenders. He was a constant disruptor against the run with an 87.0 grade on such plays, trailing only Khalil Mack and T.J. Watt for the best at the position.
REGRADE: EXCELLENT
---
This was one of our biggest reaches from the 2019 NFL Draft, and Abram has yet to prove us wrong. He missed almost his entire rookie campaign due to injury and finished his second season as the lowest-graded safety in the NFL (35.9). Defensive back performance is extremely volatile, and Abram did not have a true rookie season due to the injury, but it is not looking great for the Raiders' fledgling safety.
REGRADE: POOR
---
While Abram has confirmed our priors, Tillery has not. The 27th-overall selection is perhaps the most disappointing pick from the first round of the 2019 draft. He was an absolute wrecking ball for the Fighting Irish in 2018, recording a 92.5 pass-rush grade that tied with Quinnen Williams for the best in college football. For the Los Angeles Chargers, however, Tillery has been far from a disruptor. He has earned a paltry 37.8 PFF grade through his first two seasons in the league. That is the second-worst mark among 207 qualifying defensive linemen in their first two seasons in the NFL since 2006. Tillery played primarily 3-technique in 2019 before moving to mostly defensive end in 2020, but regardless of where he has lined up, he has underwhelmed.
It wasn't a bad pick at the time, considering what we saw Tillery do in the collegiate ranks, but he hasn't turned out to be anything like the player that was expected.
REGRADE: POOR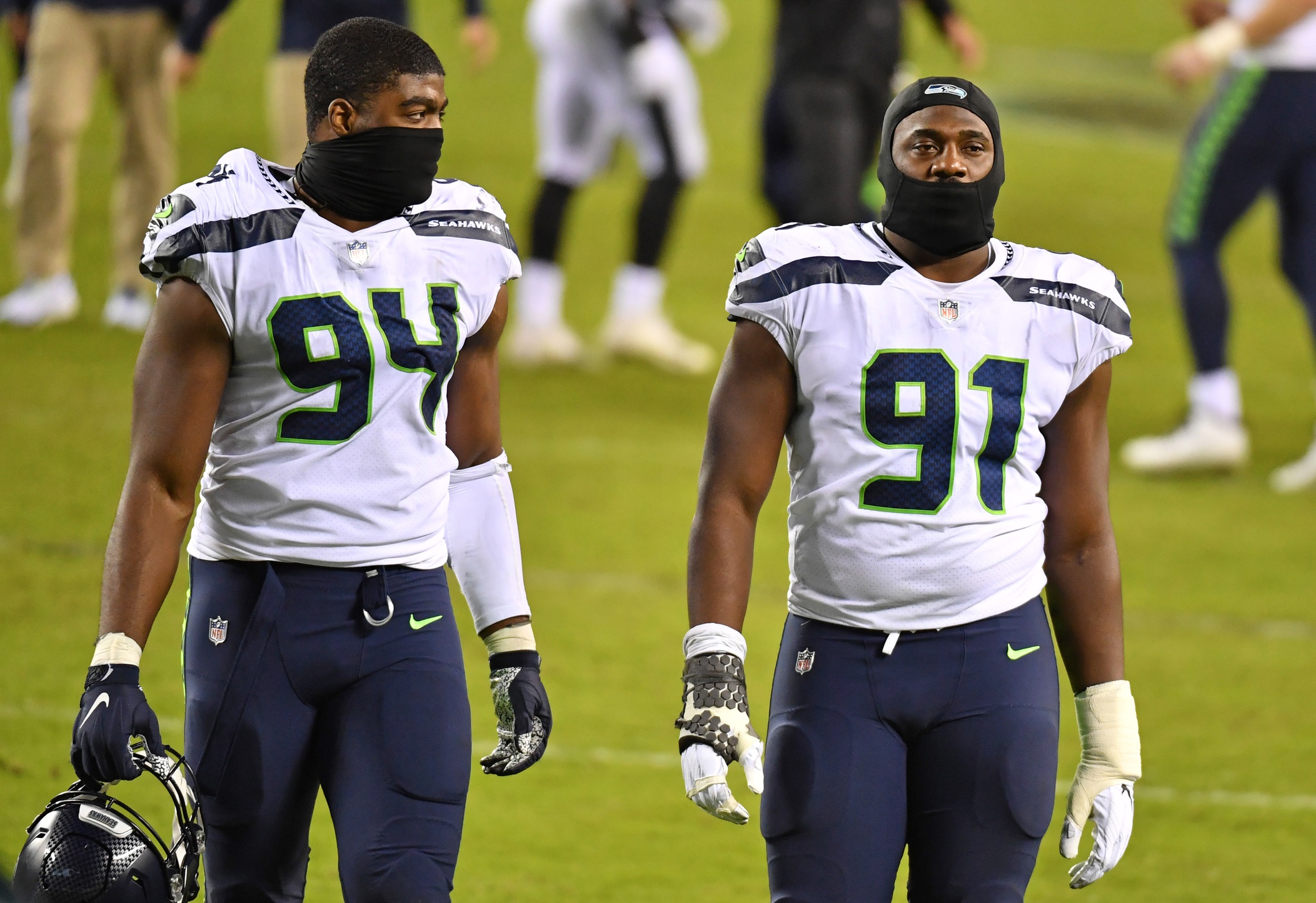 Collier didn't look spectacular in his limited rookie campaign and that remained the case with a larger role in Year 2. The former TCU Horned Frog earned a 48.6 PFF grade across 152 snaps in 2019 and raised that to a middling 60.3 in 2020 across 585 snaps. Perhaps the key to unlocking Collier's full potential is moving him to defensive tackle full-time as opposed to defensive end. He logged 405 snaps on the edge this past season and posted a poor 54.6 grade. On 176 snaps lined up at 3-tech, however, Collier raised his grade to a respectable 74.1.
REGRADE: POOR
---
There were some off-the-field concerns with Baker before the 2019 NFL Draft, and according to ESPN's Jordan Raanan, that popped up from time-to-time throughout his rookie campaign. He had a rocky first year with a 45.6 coverage grade and 130.1 passer rating allowed that was buoyed by eight touchdowns and zero interceptions. Then, following a legal issue in the offseason (Baker was eventually exonerated), the Giants released the former first-rounder.
Baker was then signed by the Kansas City Chiefs in the midst of the 2020 season but suffered a broken femur in his first appearance with the team in Week 17.
REGRADE: POOR
---
McGary struggled mightily in his first season, as he earned a 53.0 overall grade (fifth-to-last among right tackles) and allowed 26 sacks and QB hits. This year, McGary got better as both a pass- and run-blocker but was still far from a strength along the Falcons' line. He ranked 24th among all right tackles in PFF grade at 64.1 and tied for 34th among the same group in pass-block grade.
REGRADE: BELOW AVERAGE
---
This year may have proved that the Patriots gained great value by signing wide receiver Jakobi Meyers after he went undrafted in 2019, but it also proved that Harry may not ever produce like a first-round pick. Harry's 0.93 yards per route run is the third-lowest figure recorded by a first-round wide receiver in their first two seasons since 2006. He owns just four receptions that gained 15-plus yards, the lowest rate among that same group by a considerable margin.
REGRADE: POOR