Was the Cleveland Browns' hype just a year early? The Browns entered 2019 with high expectations but ended their campaign in disappointment. New head coach Kevin Stefanski will look to get the most out of this talented roster, but it won't be an easy task — last year's offense was completely out of sync and, most importantly, quarterback Baker Mayfield needs to get back on track. If he does, the Browns have the pieces to compete in a deep AFC North.
ADDITIONS/SUBTRACTIONS
Additions/players brought back:
RB Kareem Hunt (second-round tender)
QB Case Keenum (signed for three years, $18 million, $10 million guaranteed)
FB Andy Janovich (via trade)
T Jack Conklin (signed for three years, $42 million, $30 million guaranteed)
TE Austin Hooper (signed for four years, $44 million, $23 million guaranteed)
S Karl Joseph (signed for one year)
DI Andrew Billings (signed for one year, $3.5 million guaranteed)
CB Kevin Johnson (signed for one year, $3.5 million)
S Andrew Sendejo (signed for one year, $2.25 million)
EDGE Adrian Clayborn
Losses:
LB Joe Schobert
CB T.J. Carrie (cut)
QUARTERBACK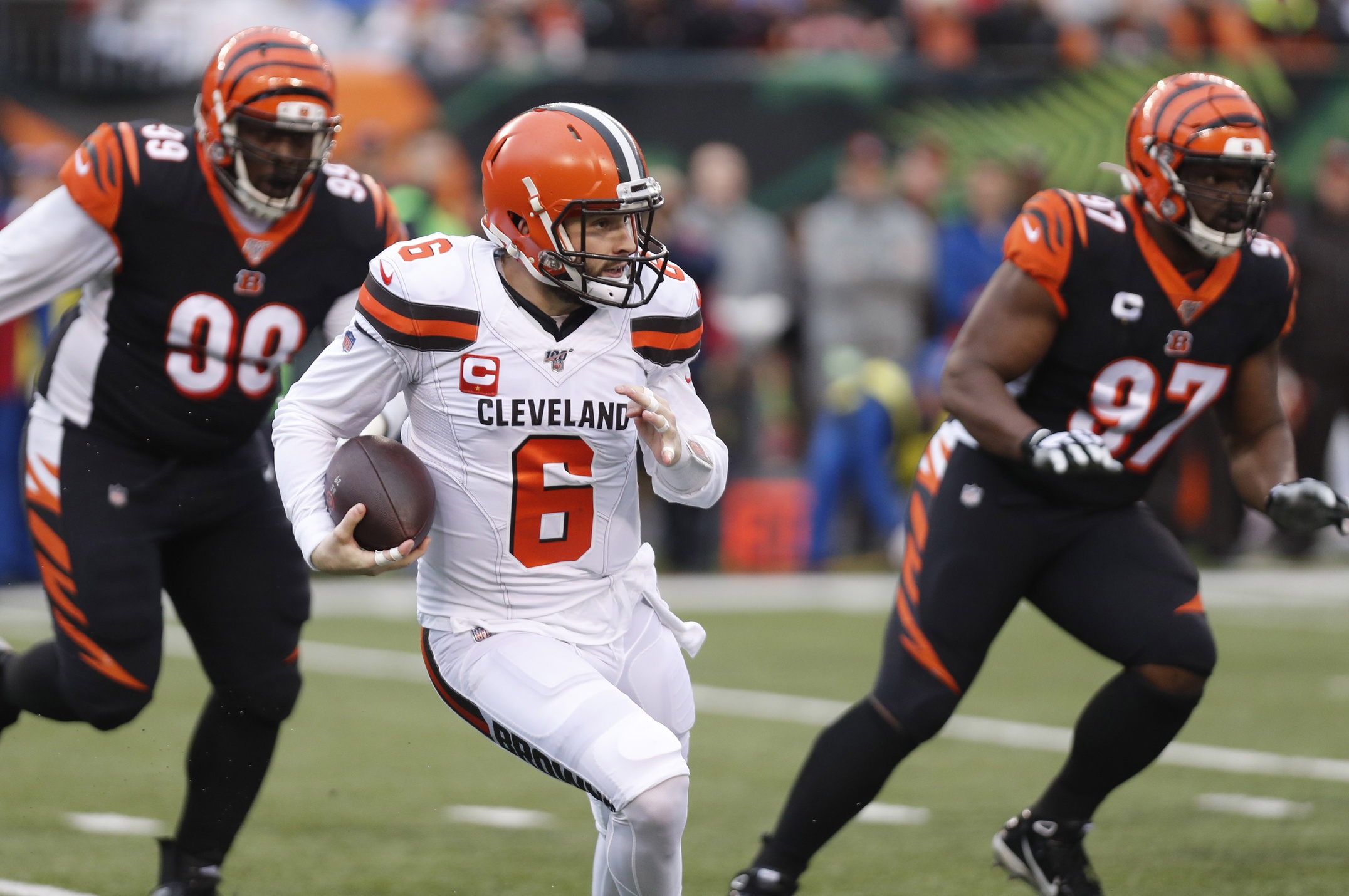 Here's what I said about Baker Mayfield after the 2019 season:
"After one of the best rookie seasons of the past 10 years, Mayfield had a disappointing 2019 — he regressed in key areas, and some of his college weaknesses crept back into his play. The Browns' passing attack was never in sync, and while Mayfield had his fair share of poor decisions, he also had an incredible string of unlucky interceptions (passes that are intercepted less than 3% of the time). Among the concerns was Mayfield's pocket presence, as he invited pressure and vacated clean pockets much more than what we saw as a rookie. Both in college and in the NFL, Mayfield has shown the ability to throw on time and accurately to all levels of the field, and it would not be a surprise to see him return to form despite his setback this season."
It's a pivotal year for Mayfield after he took a downturn last season. The Browns are surrounding him with an improved offensive line and a new offensive system to go with a strong group of pass-catchers at all levels of the field. Mayfield's 2019 season wasn't as bad as the stats showed, but there was a clear dropoff in his performance. We've graded three college seasons and two NFL seasons for Mayfield, and 2019 was clearly his worst of the bunch. However, given his track record of success, it will not surprise if he bounces back with a big year in 2020.
RUNNING BACK
Nick Chubb has the highest overall grade (91.5) and rushing grade (92.1) among running backs over the past two years — he's been excellent at both maximizing his run blocking and creating big plays. Chubb ranks just 47th with 1.04 yards before contact over the past two years, but he's second in yards after contact (4.04). Chubb has also forced 0.32 missed tackles per reception, fourth-best during that time.
Chubb has become one of the most difficult runners to tackle and may be the best pure runner in the NFL. He's complemented by Kareem Hunt, another back who is difficult to tackle. Hunt led the league with 61 forced missed tackles as a rookie in 2017 and has two top-seven finishes as a runner in his three NFL seasons.
Hunt is also an effective receiver, forcing 41 missed tackles while hauling in 11 touchdowns on 119 career receptions. It's a five-way race for the No. 3 spot, led by Dontrell Hilliard, who has 51 career carries, but this unit is all about Chubb and Hunt — one of the best combinations in the NFL.
WIDE RECEIVER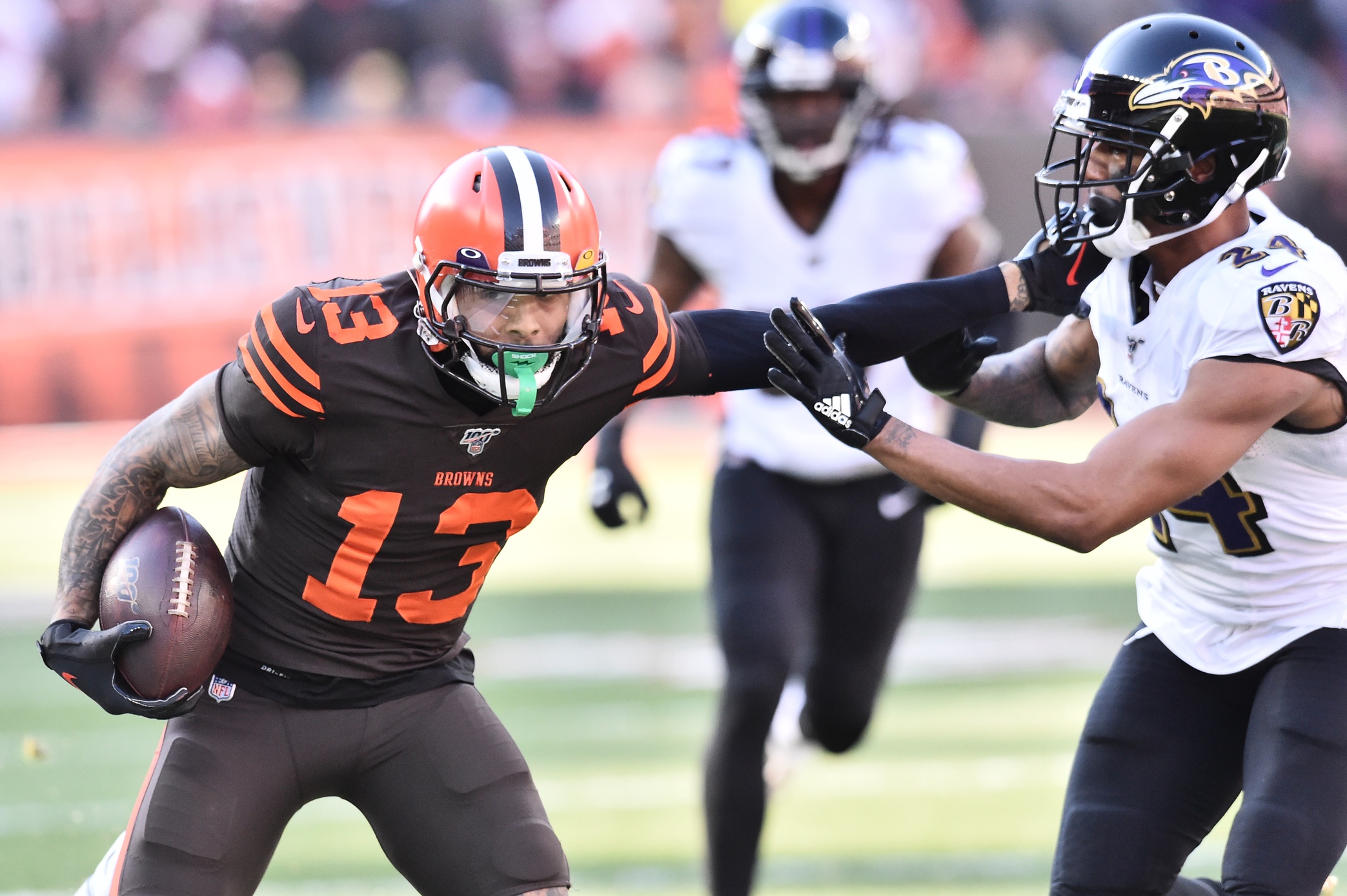 The entire Browns passing attack was out of sync last season, and it was no different in the receiving corps. An offseason trade for Odell Beckham Jr. didn't bring immediate success, as he posted the lowest receiving grade of his career (69.4) while Baker Mayfield had just a 70.5 passer rating when targeting him. Miscommunications and an overall lack of attention to detail were prevalent last season. A new system may be what Beckham needs to get back to the previous form that saw him post an 85.0-plus receiving grade in his previous four full seasons.
Jarvis Landry is a fine complement who has been one of the NFL's most productive slot receivers since entering the league in 2014. The No. 3 role will likely be manned by Rashard Higgins, who had a breakout 2018 but was limited to just 172 snaps last season.
The bottom of the depth chart has a variety of options, including Taywan Taylor, Damion Ratley, J'Mon Moore and sixth-rounder Donovan People-Jones. The hope is that one of them can emerge as a downfield threat to complement Landry and Higgins —both of whom are more of the possession variety. The strength of this group will depend heavily on Beckham getting back to his All-Pro form. If he does, this unit could be a top-10 unit in 2020.
TIGHT END
It's clear that the Browns want to feature the tight end position in their offense, as they signed free agent Austin Hooper to a $42 million contract this offseason. Hooper is a solid all-around player, but he's not a mismatch creator. Over 75% of Hooper's production has come against zone or underneath the coverage since 2016, by far the highest in the league. However, that should make him a productive part of the Browns' offense.
Hooper is a reasonable blocker as well, though he's coming off a career-low 56.2 run-blocking grade last season. The acquisition of Hooper raised questions about 2017 first-rounder David Njoku's future with the team, but he should have plenty of opportunities in the tight end-heavy system. Njoku posted good receiving grades of 71.1 and 65.3 in his first two years in the league and complements Hooper as more of a "move" option in this offense.
The Browns also drafted Harrison Bryant from Florida Atlantic in the fourth round, a productive player and a strong route runner who posted the top receiving grade in the nation last year (92.7) despite his combine workout being indicative of a below-average athlete. Hooper should produce in Cleveland's new offense, but it's Njoku's development that could put this unit over the top and make it one of the league's best.
OFFENSIVE LINE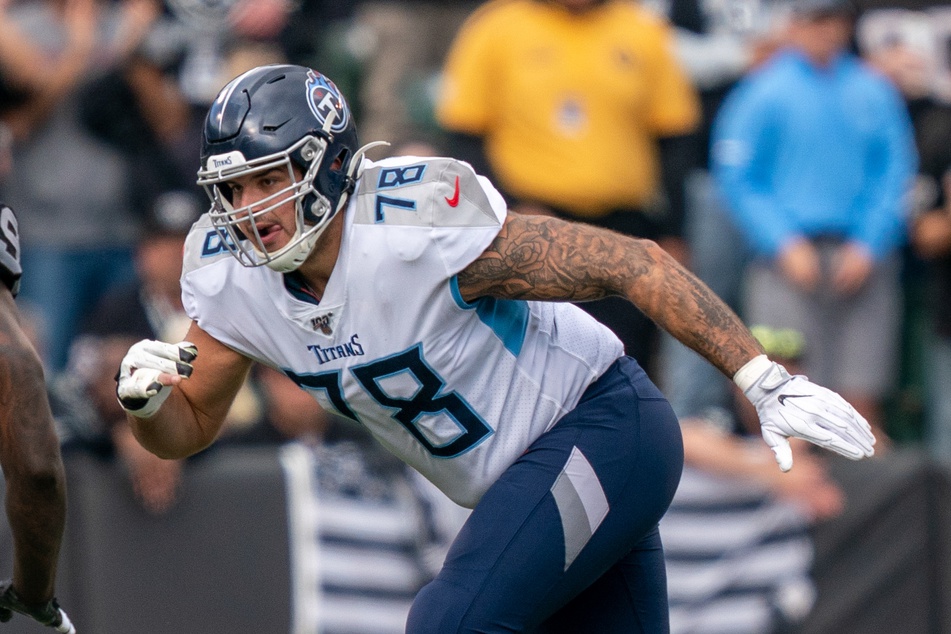 The No. 1 priority this offseason in Cleveland was shoring up the offensive tackle position, and no team invested more than the Browns. The Browns signed right tackle Jack Conklin to a five-year, $42 million deal and used the No. 10 overall pick on left tackle Jedrick Wills Jr. Conklin has the 11th-best run-blocking grade among tackles since entering the league in 2016 and is an above-average pass protector — though he's not the kind of leave-on-an-island tackle who usually garners the biggest contract.
Still, Conklin is a clear upgrade at right tackle, and the most immediate gains should be seen in the run game. Wills played on the right side at Alabama and steps in as the left tackle of the future. He's an explosive run blocker who has developed nicely as a pass blocker, as he allowed only seven pressures over his last nine games last season. At left guard, Joel Bitonio has the 13th-best grade in the league since 2016, including the third-best pass-blocking grade (90.9).
Center J.C. Tretter's 77.3 overall grade ranks 11th among centers over the past four years, and he has the second-best pass-blocking grade during that time (89.4). The biggest question mark is at right guard, where Wyatt Teller has been a solid pass protector but a well-below-average run blocker. He heads into Year 3, where many offensive linemen take a step forward in their development. Last year's starting right tackle Chris Hubbard is now a swing tackle — he's a nice depth piece with three good years of play under his belt.
The Browns finished just 23rd in PFF's 2019 offensive line rankings, but they have the pieces to make the biggest move in the NFL, especially if Wills develops quickly as a rookie.
DEFENSIVE LINE
Before his season was brought to a self-inflicted, premature close last season, Myles Garrett was on track to be the most dominant edge rusher in the NFL. He posted a 91.6 PFF pass-rush grade through 10 games, which was tied for the best mark in the league. He had 49 pressures and was on track to shatter his career-best total. If Garrett can hit 2020 with the same form he had in 2019, he will be one of the game's best defenders and a force to be reckoned with for the Browns.
Olivier Vernon and Sheldon Richardson return as starters, and while neither played badly last season, both are capable of better play. Larry Ogunjobi is likely the other starter on the defensive line, but he will be pushed for playing time by Andrew Billings on base downs. Rookie Jordan Elliott will look to carve out a role rushing the passer in 2020. Elliott had the highest PFF pass-rushing grade of any interior defender in the SEC last season, ahead of first-round talents Javon Kinlaw and Derrick Brown. He was a first-round talent according to PFF's Big Board and could be an impact player for Cleveland if he can maintain that level of play.
Adrian Clayborn provides a useful rotational body and has averaged over 50 total pressures for the past three seasons. Clayborn is particularly adept at beating up on sub-standard tackles and can dominate games against the right opponent.
LINEBACKER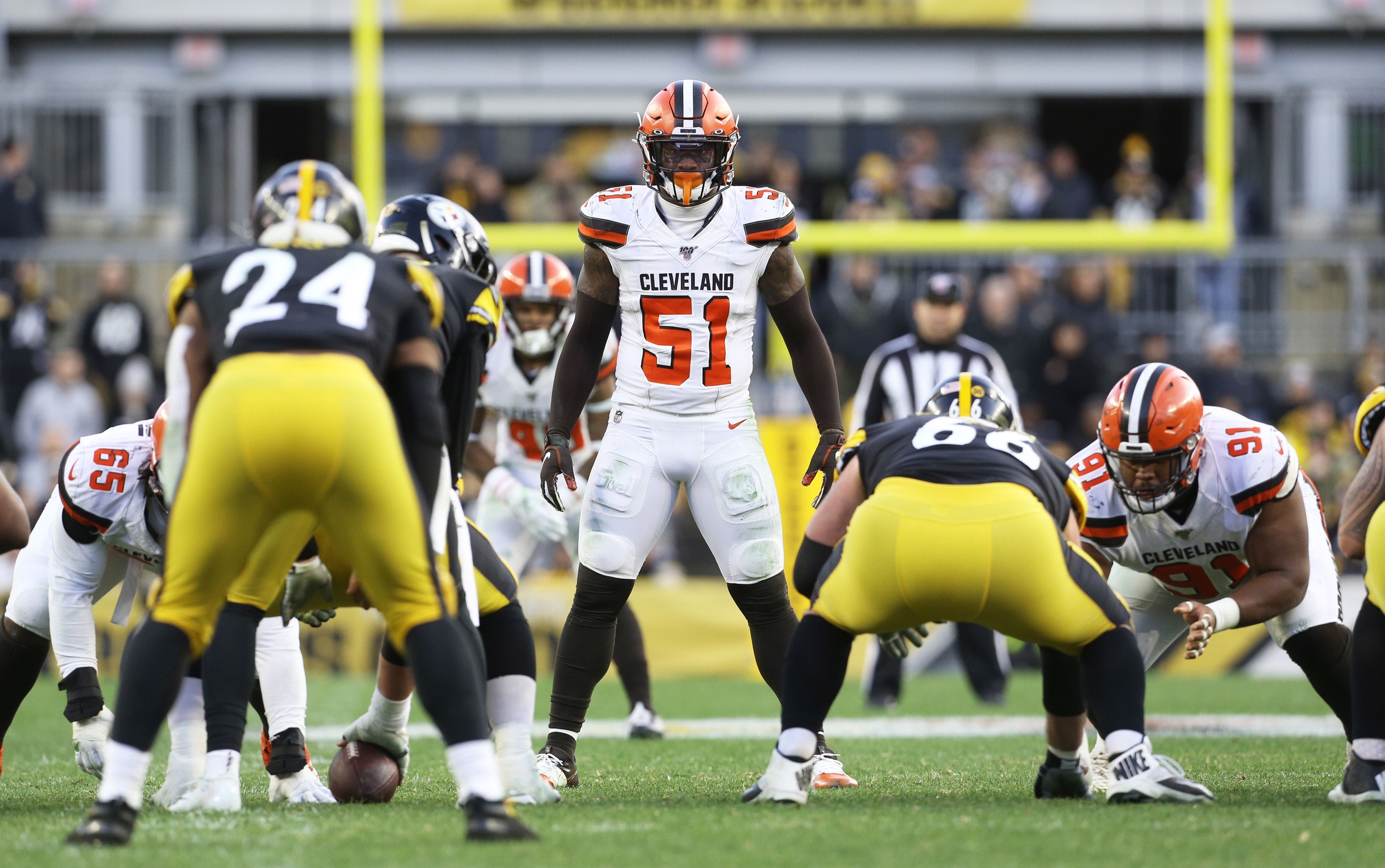 With Joe Schobert moving on to the Jaguars, the Browns lose a valuable piece of their back seven and will trot out one of the younger linebacking units in the league. In 2019, the Browns drafted Sione Takitaki in the third round and Mack Wilson in the fifth, but it was Wilson who played 942 snaps on his way to a 41.7 overall grade that ranked eighth-worst in the NFL. Takitaki played just 105 snaps, showing well against the run with a 75.1 grade.
In this year's draft, the Browns added Jacob Phillips, another run-first player who struggled to a 52.2 coverage grade last year at LSU. The Browns will heavily count on all three players in 2020. Cleveland also signed B.J. Goodson to a one-year deal, and he should provide early-down value — he's graded at 67-0 plus against the run in two of his three full seasons.
Trevon Young and Jermaine Grace round out the depth chart with their 18 career snaps. The Browns had one of the NFL's worst linebacking units a year ago, and they enter 2020 with plenty of question marks among their young players.
SECONDARY
Cleveland's defensive backs have not been put in the best position to succeed in recent years, despite some significant draft capital thrown at the secondary. However, Denzel Ward has still shown some very impressive play. In the NFL, Ward has allowed a 64.9 passer rating when targeted, with fewer than 50% of the passes thrown his way being caught. He has been one of the better man-cover corners in the league and had four games last season with fewer than 20 receiving yards allowed.
New defensive coordinator Joe Woods will be tasked with further developing Greedy Williams — a second-round draft pick last year. Williams excelled in man coverage in college at LSU, and Woods has extensive experience playing man coverage and matchup coverage shells within his coaching history. Williams struggled as a rookie, allowing a 91.5 passer rating when targeted, but if he can be better supported by the scheme, he could be in line for major improvement in Year 2.
Safety is an area where the team now has intense competition for playing time, with new faces joining from both free agency and the draft. Karl Joseph and Andrew Sendejo add veteran experience to the group, while rookie Grant Delpit gets to reunite with his college teammate from LSU a year later. Second-year player Sheldrick Redwine flashed some impressive play as a rookie and will be looking to try and steal playing time, but he may be facing an uphill battle given the investment in more proven or highly-touted options.
All in all, the Browns secondary is a work in progress, but the single biggest impact could come from Joe Woods' scheme and coaching. If he can work his wonder on this group, the Browns' defensive backs are certainly not short on talent, with four former first- or second-round picks potentially starting.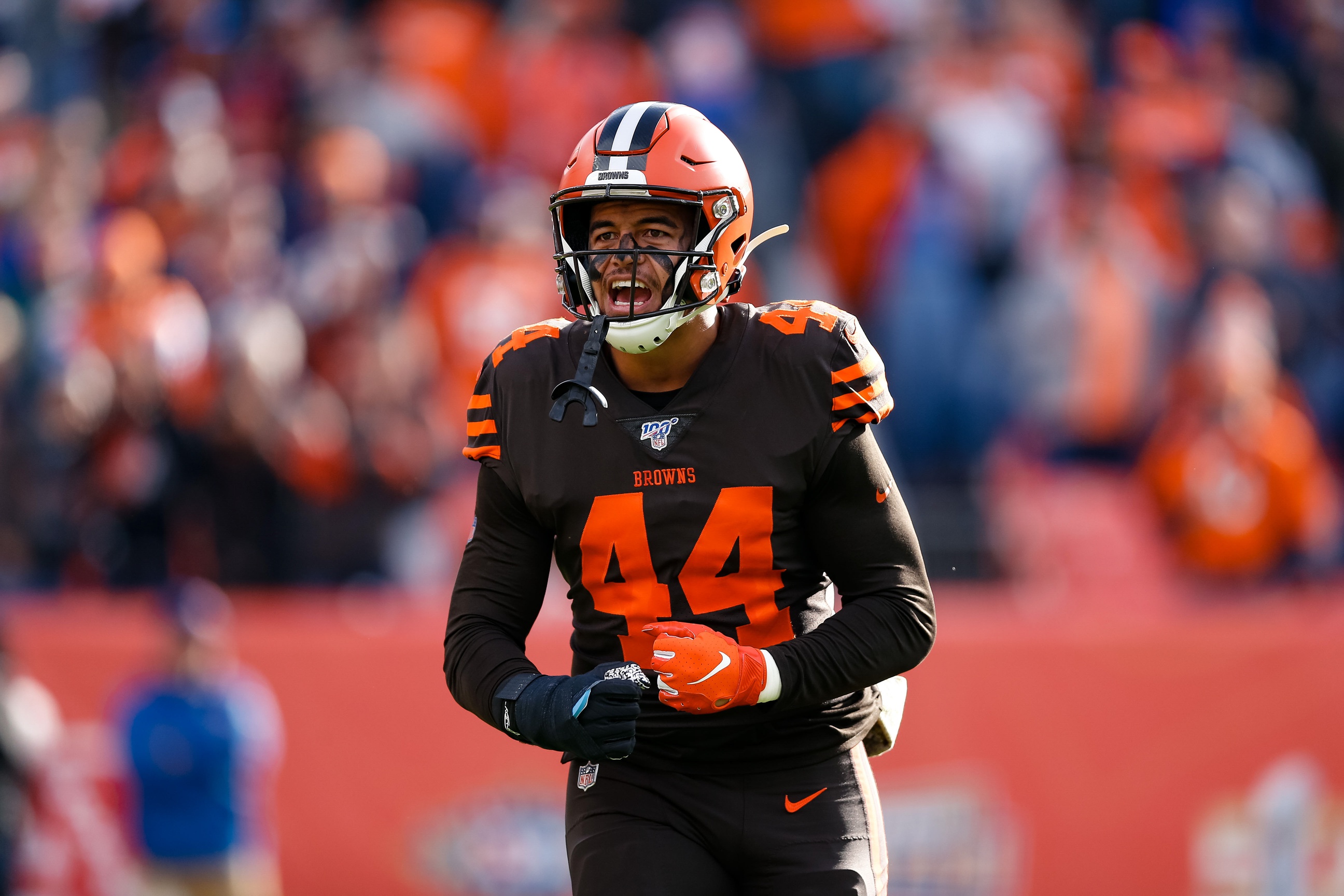 Given the Browns' mild investment at linebacker, they need last year's rookies — Mack Wilson and Sione Takitaki — to take the next step in 2020. Wilson was once hyped up as a first-round prospect, and he had a terrific preseason, but he was just a step behind once the season started.
Takitaki had the same coverage issues that he showed in college, though he did do a nice job in the run game. With Joe Schobert out of the equation, the Browns need both young linebackers to mature quickly in order to shore up the middle of the defense.
DRAFT CLASS REVIEW
Needs and value matched up well for the Browns, as they got two immediate starters in tackle Jedrick Wills and safety Grant Delpit. In addition, third-round defensive lineman Jordan Elliott had first-round production in the SEC.
They also got a solid insurance policy at tight end in Harrison Bryant, while wide receiver Donovan Peoples-Jones was a viable "upside" selection in the sixth round. Overall, the Browns had one of our favorite drafts and should see the impact immediately. 
BEST BET
The Browns let down a significant portion of the betting market with their poor play in 2019. Some have predicted a post-hype sleeper season under new head coach Kevin Stefanski. Our simulation projects a slightly lower win total, picking the Browns to finish with exactly eight wins. The rest of our simulation projections fall in line with betting market odds.
An intriguing player prop is Nick Chubb to finish under 1275.5 rushing yards. Kareem Hunt will continue to siphon off carries, and if the Browns aren't ahead in most games, the expectation is that Hunt sees most of the work on passing downs. Our fantasy projections peg Chubb to finish with 1216.2 yards — over 50 yards below his current season-long player prop.