[As a part of our partnership with ESPN, this is a story that was originally published on ESPN+ and can be viewed in its entirety with your ESPN+ subscription – Ranking the top 53 Chiefs, 49ers players in Super Bowl LIV: Patrick Mahomes tops the list]
The 2019 NFL season has left us with the Kansas City Chiefs and the San Francisco 49ers in Super Bowl LIV in Miami. There is plenty of talent to go around on both teams, but where exactly would each starter fall on a list of the best players in the game?
PFF's play-by-play grading allows us to answer that question. This list contains the 44 projected starters for the game, along with nine rotational players who are expected to see significant time. The order was determined by how well a player performed by PFF grade (including the playoffs) relative to his position in 2019, with several minor adjustments made to prioritize players in positions that have a larger impact on the outcome of the game. We'll also include where each player ranked overall at his position.
Overall, the 49ers have a much more well-rounded roster, as they account for 18 of the top 25 players. However, the top 10 is an even split, as the Chiefs have some obvious star power, and they're led by the league's reigning MVP. Which brings us to the best player ahead of Super Bowl LIV …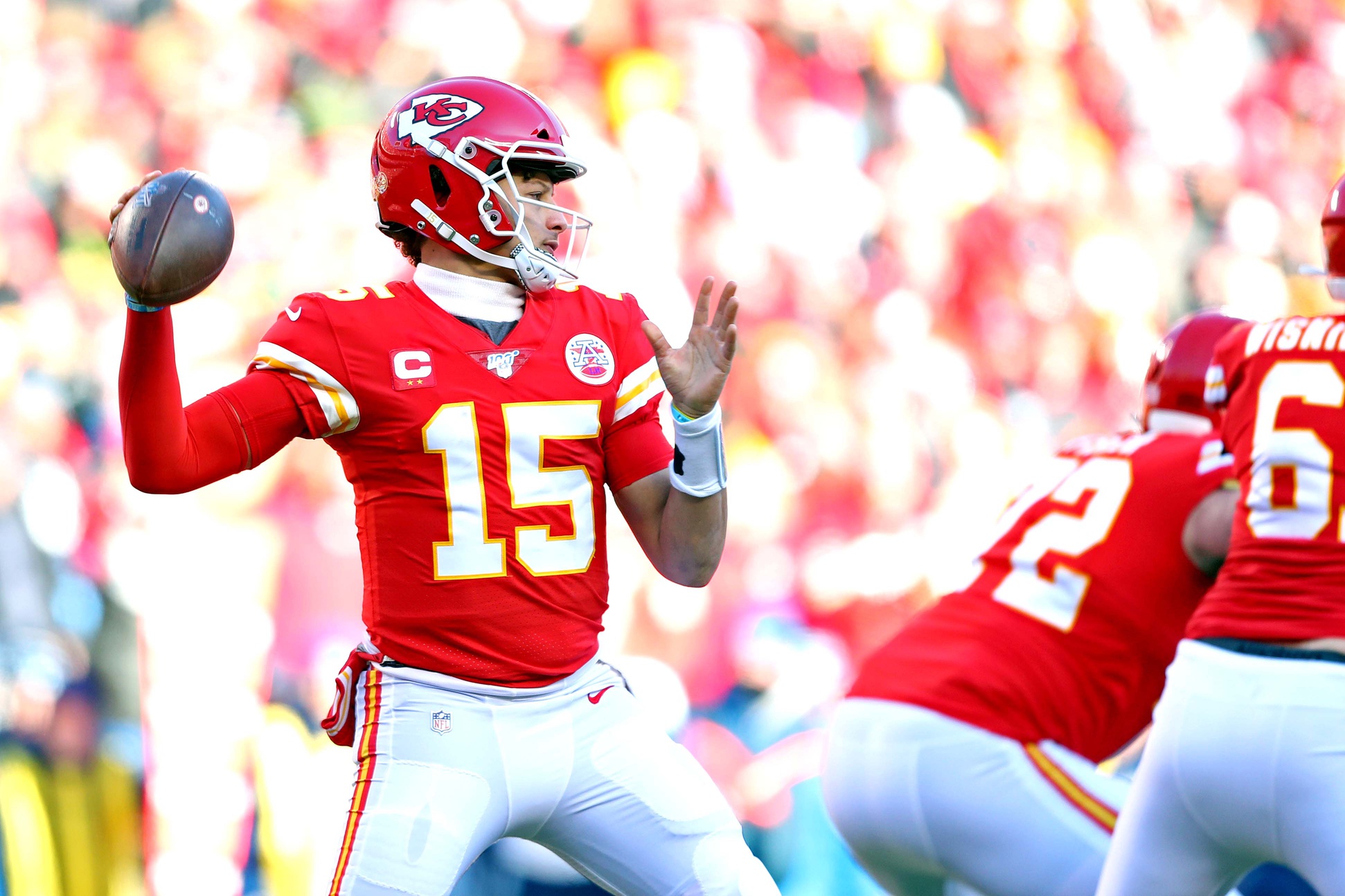 Grade: 90.6 | Position rank: 2
Was there any doubt that Mahomes would find his way to the top of this list? Big-time players step up in big-time games, and Mahomes has done just that this postseason. He has earned a 95.7 overall grade over his team's playoff wins against the Houston Texans and Tennessee Titans, and if he's able to maintain that through the Super Bowl, it would be the best postseason mark we've seen since PFF started grading in 2006. The scary part is that his playoff stat line could be even better, as his receivers have dropped eight of his 70 attempts so far.
---
Grade: 94.7 | Position rank: 1
Kittle recently won PFF's Dwight Stephenson Award, which goes to the best player in the NFL regardless of position or positional value. In most games, he would be the No. 1 choice on this list, but he falls just short of Mahomes in this one. Kittle's 95.0 overall grade during the regular season was the highest single-season grade of any tight end in the PFF era, and that includes the run of dominance we saw from Rob Gronkowski over his career.
---
Grade: 90.2 | Position rank: 1
In his second season removed from an Achilles injury and at 31 years old, no one would have faulted Sherman for not returning to the level of play that we saw from him in Seattle. That's exactly what he has done, though. In 17 games this season, including the playoffs, Sherman has allowed just 29 completions into his coverage for 301 yards, and he leads all cornerbacks in overall grade.
---
Grade: 86.0 | Position rank: 3
Kelce has been in the conversation for the best tight end in the NFL for several seasons now. He looks more like a wide receiver than a tight end when running routes, and that shows in his production when the Chiefs line him up wide. As an outside wide receiver, Kelce had 38 receptions for 572 yards in the regular season, which was more than double the yardage output of the next-closest tight end from those alignments.
---
Grade: 90.0 | Position rank: 3
It might be a surprise to see Armstead ranked this highly, but he's having a career year and ranks third among all edge defenders in overall grade. He has been dominant in the run game all season and has earned a run-defense grade of 88.5 for his efforts, but he really began to up his production as a pass-rusher over the second half of the season. Armstead recorded 42 pressures from Weeks 10 to 17, which tied for the third-most of any defender, and he has added seven pressures in his team's postseason wins over the Vikings and Packers.
---
Grade: 84.3 | Position rank: 7
Jones is one of the league's most disruptive interior defensive linemen, which makes his injury status for the Super Bowl far from trivial. Among interior defenders with 250 or more pass-rushing snaps this season, Jones ranked behind only Aaron Donald in pass rush win rate (17.6%) and pressure rate (14.6%). There are few players in the NFL who can disrupt a backfield as well as Jones can, and the Chiefs will be hoping he's a full go on Sunday.
---
Grade: 83.7 | Position rank: 9
Since entering the league, Hill has taken the throne of the top deep threat in the NFL with ease and has picked up 1,964 yards on passes 20 or more yards downfield, over 300 more yards than any other player. He hasn't stopped there as a one-trick pony, either. Hill has started to expand his intermediate route tree in recent seasons, making him one of the most valuable wide receivers in the league.
---
Grade: 88.7 | Position rank: 8
It's rare that a rookie comes into the NFL and immediately steps into the upper tier of players at the position, but that's exactly what Bosa has done. His 80 total pressures over the course of the regular season were 14 more than any other rookie in the PFF era, and Bosa got those pressures efficiently, as his 17.2% pressure rate ranked fifth among all edge defenders in 2019. Add in his strong play in run defense, and Bosa looks to be a staple at the top of the edge defender position for years to come.
---
Grade: 87.9 | Position rank: 3
The fact that Schwartz doesn't have any Pro Bowl nods at this stage of his career is a travesty, as he has been one of the best pass-blocking tackles in the league for years. Since joining the Chiefs before the 2016 season, Schwartz has allowed pressure on 4.2% of his pass-blocking snaps, the third-lowest rate among right tackles over that span. He's also coming off the highest single-game grade of his career after he earned a 94.5 overall grade and a 95.8 run-blocking grade in his team's win over Tennessee.
---
Grade: 81.6 | Position rank: 6
The biggest improvement on the 49ers from 2018 to 2019 came in the secondary, and Williams' personal improvement was a big part of that shift. His 81.6 overall grade ranks sixth at cornerback, and he allowed just 5.8 yards per target and a passer rating of 69.3 on slot targets over the course of the regular season. That passer rating allowed ranked second among all players with 25 targets in the slot.
---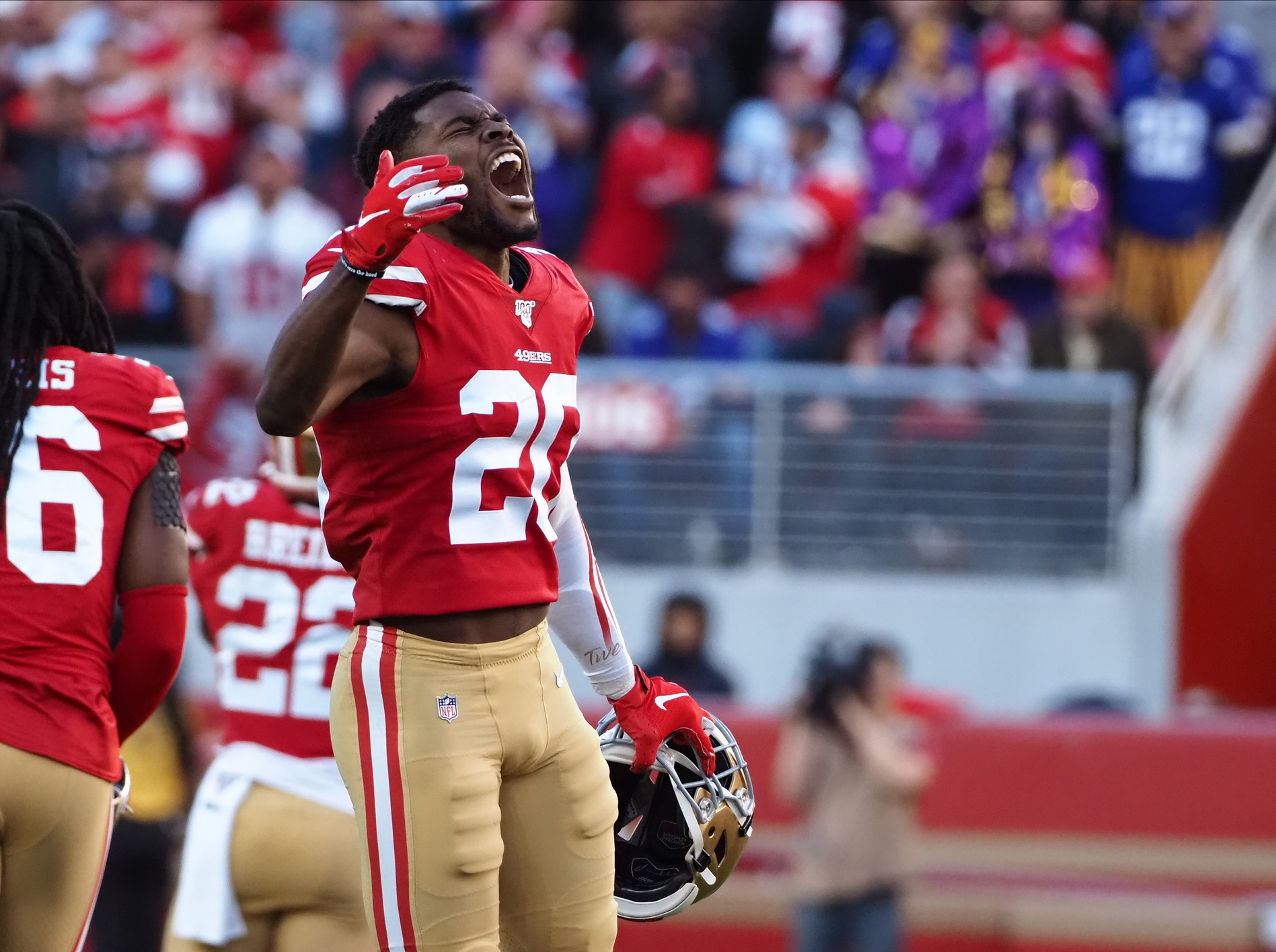 Grade: 85.1 | Position rank: 6
Ward is another player on this list who has done well for himself in a contract year. He served as the team's primary free safety in a regular season in which his the defense allowed just 10 completions of 20 or more yards downfield (six fewer than any other defense). That production will earn him a nice payday this offseason.
---
Grade: 76.0 | Position rank: 14
Mathieu has been a Swiss Army knife for the Chiefs' defense, playing more than 150 snaps in the box, at free safety and in a slot corner role. The slot has been where he has thrived this season, as Mathieu's 5 yards allowed per target in the slot is the second-best mark of any qualifying defender in the league, while his 77 coverage grade from those alignments is a top-five figure. His signing has proved to be key for Kansas City's improved defense.
---
Grade: 80.8 | Position rank: 10
Buckner can get lost in the shuffle on a loaded 49ers defensive line, but he has turned in three consecutive seasons with PFF grades of 80.0 or higher, including the 2019 season. Buckner's sack numbers might not jump out at you, but his quarterback-hit numbers do. Buckner has recorded 50 quarterback hits since entering the league, ranking 10th among all defenders over that span. He brings with him quality play in the run game and as a pass-rusher, and he will be one of the best players to take the field on Sunday.
---
Grade: 77.8 | Position rank: 21
The 49ers' trade for Sanders really sparked an offense that was lying dormant while the defense did most of the work early in the season. Whether by PFF grade or PFF WAR, Sanders has proved himself as a true No. 1 wide receiver over the course of his career. Few were as sure-handed as he was this year, as he dropped only one pass on 96 targets during the regular season.
---
Grade: 76.8 | Position rank: 22
Following up right on Sanders' heels is Samuel, who has been one of the most impressive rookies in a loaded rookie wide receiver class. Along with the wrinkle that Samuel adds as both a decoy and a runner on jet sweeps, he has been one of the best receivers in the league after the catch. Samuel averaged 8.5 yards after the catch, second among qualifying wide receivers, and his 18 broken tackles after the catch were tied for first at the position.
---
Grade: 78.3 | Position rank: 8
Staley has been a staple on the 49ers' offensive line for over a decade at this point, and he's still one of the better players at left tackle in the NFL. Among 40 left tackles with 150 or more pass-blocking snaps in the regular season, Staley's pressure rate allowed of 2.9% was tied for the second-best mark in the NFL. His replacement, Justin Skule, posted a 9.2% mark that ranked 35th.
---
Grade: 77.8 | Position rank: 13
Garoppolo has shown a tendency to make mistakes and produce turnovers over the middle of the field, but all in all, he has operated the San Francisco offense at an above-average level this season. Coach Kyle Shanahan's scheme has taken advantage of short, quick throws that get the ball to their playmakers in space, and of all quarterbacks who have averaged over 8.0 yards per attempt in a season since 2006, Garoppolo's 2019 season had the lowest average depth of target (6.7 yards). Simply getting the ball accurately out to Kittle, Sanders and Samuel will be Garoppolo's job, and he has shown the ability to do just that.
---
Grade: 82.2 | Position rank: 6
Tevin Coleman and Matt Breida have both led the way at times this season, but over recent weeks, Mostert has taken the reins and given absolutely no reason for that to change leading up to Super Bowl LIV. The performance against the Packers in the NFC Championship Game last week was the crowning moment of his rise. Mostert's 158 rushing yards after contact were the most of any running back in a postseason game since 2006, and his total of eight broken tackles was among the best marks in a game, as well.
---
Grade: 72.6 | Position rank: 2
Juszczyk is one of the few remaining fullbacks who sees significant time, and he's also one of the best to do it. Since he started seeing offensive snaps in 2014, he has 180 receptions for 1,647 yards. That's over 100 more receptions and 1,000 more receiving yards than the next-closest fullback on the list (Marcel Reece). Shanahan has been able to use those talents in two-back formations. The 49ers go to those looks 36% of the time, the highest rate in the NFL, and they average a league-high 6.3 yards per play on those plays.
---
20. Dee Ford, EDGE, 49ers
Grade: 77.8 | Position rank: N/A
Ford's first season in San Francisco could be characterized as a disappointment, but that would only be down to the time he has missed thanks to injury. When he has been on the field, Ford has been an effective pass-rusher, which is almost exclusively how the 49ers have used him. Among edge defenders with 150 or more pass-rushing snaps in the regular season, Ford's pass rush win rate of 19.8% ranked ninth in the league. Adding a healthy Ford to an already talented line of Bosa, Armstead and Buckner gives the 49ers a dangerous group for the Chiefs to contend with.
---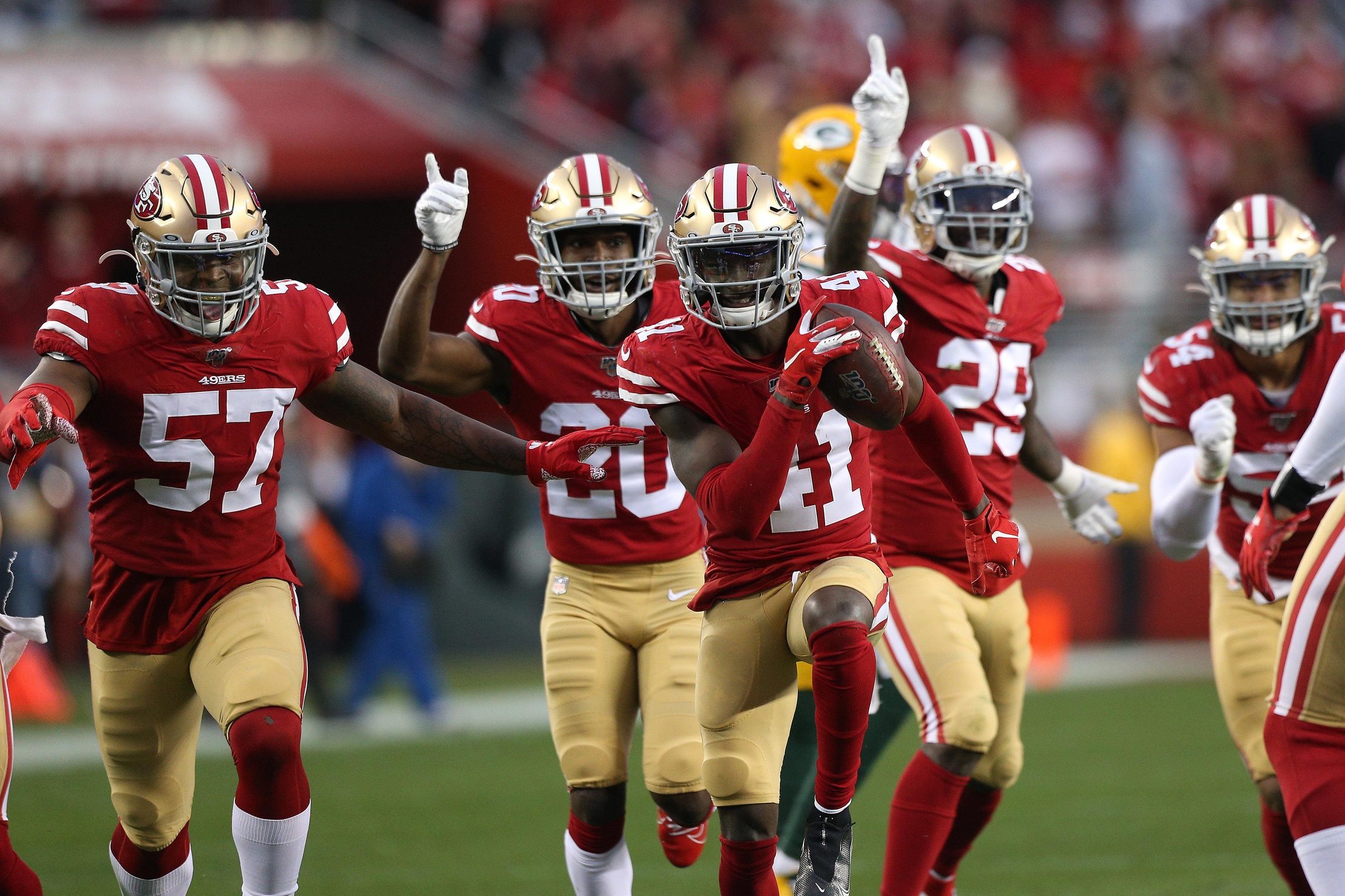 Grade: 71.1 | Position rank: 28
Moseley has alternated at the No. 2 cornerback position with Ahkello Witherspoon, but poor play from Witherspoon down the stretch thrust Moseley back into the starting role where he has performed well all season. His 68.8 coverage grade currently ranks 38th at the position, and this postseason he has allowed just six receptions on 11 targets for 58 yards, no touchdowns and an interception. He'll have to hold up like that again opposite Richard Sherman if the 49ers want to slow down Mahomes and the Chiefs' explosive offense.
---
Grade: 66.6 | Position rank: 25
Warner has had his struggles as a run defender and as a tackler, but he has been one of the better coverage linebackers in the NFL. Warner's 78.5 coverage grade ranks 10th among qualifying linebackers, and his nine forced incompletions on 86 targets (including the playoffs) are the fourth-most of any linebacker in the league. Warner's ability to stick with tight ends and backs over the middle helps make up for the other deficiencies in his game.
---
Grade: 67.9 | Position rank: 23
Despite Greenlaw grading slightly better than Warner has this season, he finishes just below him on this list given Warner's edge in coverage and Greenlaw playing over 200 fewer snaps. Greenlaw hasn't been a slouch in coverage by any means, though. The stop that held Seattle Seahawks tight end Jacob Hollister short of the goal line and secured the 49ers the No. 1 seed in the NFC is the play that sticks out, but he made many more of those plays throughout the season. Just 19 of the 48 receptions he allowed went for first downs, and he didn't allow any touchdowns on 59 targets.
---
Grade: 67.5 | Position rank: 12
The former first-round pick of the Lions has earned a 67.5 overall grade that ranks 12th among left guards, and he has been fairly evenly split in pass protection and as a run-blocker with 68.5 and 64.8 grades in those areas, respectively.
---
Grade: 69.2 | Position rank: 9
Wisniewski stepped in for the injured Andrew Wylie as the starting left guard in Week 16 and seems to be holding on to that job for Super Bowl LIV despite Wylie's return. Wisniewski's performance in his time there has warranted that move, as his 69.2 overall grade is a top-10 mark among qualifying left guards. He has been particularly effective as a pass-blocker this season, and his pressure rate allowed of 2.1% is the second-best mark among left guards with 150 or more pass-blocking snaps.
---
Grade: 71.5 | Position rank: 12
Like Wisniewski, Garland has also been a fill-in who has performed well this season. After Weston Richburg went down with injury in Week 14, Garland stepped in and graded as an above-average option at center over the last several weeks of the regular season and the playoffs. He has made his biggest mark in the run game, where his run-blocking grade of 73.1 ranks seventh among qualifying centers this season.
---
Grade: 63.8 | Position rank: 14
The third member of the 49ers' interior offensive line, Person has taken a step back from the 68.6 overall grade he had in 2018, but he is still among the top 50% of right guards in the NFL this season. Chris Jones will pose a tough matchup in the Super Bowl, so Person, along with Garland and Tomlinson, will have to step up if they want to keep Garoppolo clean from pressure.
---
Grade: 69.6 | Position rank: 15
In each of the past two seasons, McGlinchey's run blocking has been ahead of his work in pass protection. That gap was closed a little this season, with his pass-blocking grade jumping from 64.2 in 2018 to 67.9 this past season and his run-blocking grade falling from 78.9 to 73.2. Just like his teammates along the San Francisco offensive line, McGlinchey ended the season with an overall grade that was near the middle of the pack at his position.
---
Grade: 67.2 | Position rank: 45
Ward's coverage numbers this season are impressive. He has allowed just 47 of the 97 passes into his coverage to be completed for a passer rating allowed of 73.8. Those numbers don't speak to a 67.2 overall grade that ranks 45th among cornerbacks, however. As with his teammate, Bashaud Breeland, Ward has been on the lucky end of some variance, with 29 dropped or off-target passes into his coverage, more than any other cornerback in the NFL. While he has provided solid play in the secondary, his numbers are misleading.
---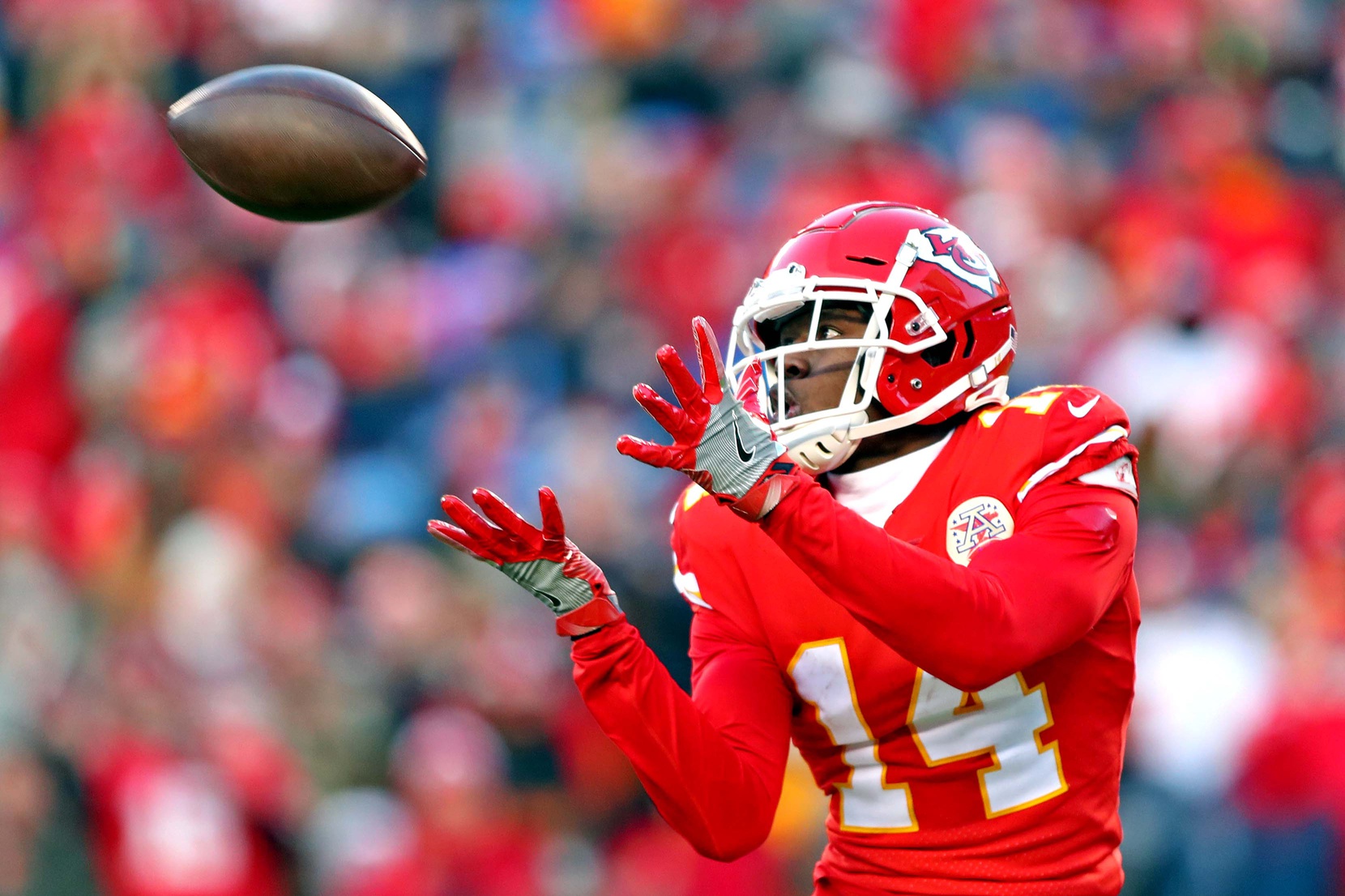 Grade: 70.3 | Position rank: 52
The Chiefs gave Watkins one of the biggest wide receiver contracts in the NFL several seasons ago to be their third option in the passing game behind Hill and Kelce, but he hasn't quite lived up to the expectations placed on him with that three-year, $48 million deal. Between explosions in Week 1 and the AFC Championship Game, Watkins caught just 45 passes for 551 yards and no touchdowns. At this point, until he proves otherwise, Watkins' name carries more weight than his production does.
---
Grade: 70.6 | Position rank: 19
Considering the alternative earlier in the season was Cam Erving and his 44.8 overall grade, the return of Fisher is a significant upgrade at the Chiefs' left tackle position. He has never lived up to the expectations that came with him as the first overall pick, but Fisher has been solid in pass protection for the Chiefs this season. Including the playoffs, Fisher's pass-blocking grade of 77.6 ranks 14th out of 37 qualifying left tackles.
---
Grade: 71.2 | Position rank: 25
Coleman looked to be the front-runner for the featured role in Shanahan's offense, but various injuries and the Niners' depth at the position kept that from happening. Coleman was decent as a runner, but his numbers don't exactly excite you. Among 44 running backs with 100 or more rushing attempts, Coleman ranked 29th in broken tackles per attempt and 30th in yards after contact per attempt.
---
Grade: 68.9 | Position rank: 59
Hardman's opportunities haven't been plentiful, and he hasn't drawn a whole lot of targets in those opportunities. That has kept his overall grade in check, but Hardman has produced big plays when Mahomes has looked his way. He has generated a passer rating of 152.7 so far in his rookie season, which ranks first among all wide receivers with 25 or more targets, showing the dynamic ability he brings to the field.
---
Grade: 60.4 | Position rank: 44
Similar to Warner, Alexander has played well in coverage this season and earned a 78.3 coverage grade for his efforts, but he has been abysmal in run defense and as a tackler, recording grades of 38.8 and 29.1 in each of those facets, respectively. His coverage skills should come in handy against the Chiefs' high-powered offense, but his woes elsewhere have knocked him down this list.
---
Grade: 68.7 | Position rank: 60
Given the 49ers' propensity for using heavy personnel with two or fewer wide receivers on the field, Bourne hasn't seen the field frequently since Sanders was acquired. He has been a relatively effective third option, though, particularly in the red zone. Bourne has been targeted eight times inside the 20-yard line this season, and he has caught seven of those targets for six touchdowns. The Chiefs will have to watch out for Bourne in those areas in Super Bowl LIV.
---
Grade: 63.2 | Position rank: 62
Fuller was one of the top slot cornerbacks in the NFL with the Redskins in 2017, earning a 90.6 overall grade and a 91.2 coverage grade. That has dropped off each season in Kansas City, though. The 90.6 overall grade fell to 72.4 in 2018 and now sits at 63.2 for this season. That, along with Mathieu's ability in the slot, has led to Fuller moving around the defensive formation, most recently to free safety for their postseason run to replace the injured Juan Thornhill. With that dip in play, Fuller could head elsewhere as an unrestricted free agent in 2020.
---
Grade: 63.6 | Position rank: 22
As the story goes with a lot of the Chiefs' offensive linemen, Reiter has been excellent in pass protection this season. His 1.4% pressure rate allowed is bested by only pass-blocking extraordinaire Rodney Hudson at center. Reiter's run-blocking grade of 53.7 is a different story, however, and that's what pulls him down the ranks despite his strong play in pass protection.
---
Grade: 64.5 | Position rank: 54
Tartt had a rough start to his career with sub-60 grades in each of his first two seasons with the 49ers, and although he has improved on that somewhat over his past three years in San Francisco, Tartt's 64.5 grade for 2019 still sits in the bottom 50% of safeties leaguewide. Splitting time between box and free safety roles, Tartt is one of the weaker links on arguably the best defense in the NFL this season.
---
Grade: 63.3 | Position rank: 68
Clark being this low will probably surprise some people given what the Chiefs gave up to acquire him and the four sacks he has produced across the Chiefs' two playoff victories. He just hasn't been the impact pass-rusher the Chiefs were expecting, though. With those playoff performances included, Clark ranks just 54th among 114 qualifying edge defenders in pass-rushing grade, and he finds himself 46th in pressure rate. Factor in that he has missed 11 of his 42 tackling opportunities, and you end up with a below-average performance from a player who was supposed to be a real impact signing.
---
Grade: 59.4 | Position rank: 23
Duvernay-Tardif will be the weakest link on the Chiefs' offensive line as they square off against the 49ers on Sunday. His overall grade of 59.4 ranks 23rd among right guards, and similar to many members of the Chiefs' offensive line, it's his run blocking that has let him down. Duvernay-Tardif has earned a run-blocking grade of just 51 thus far in 2019, one of the lowest marks of any player at the position.
---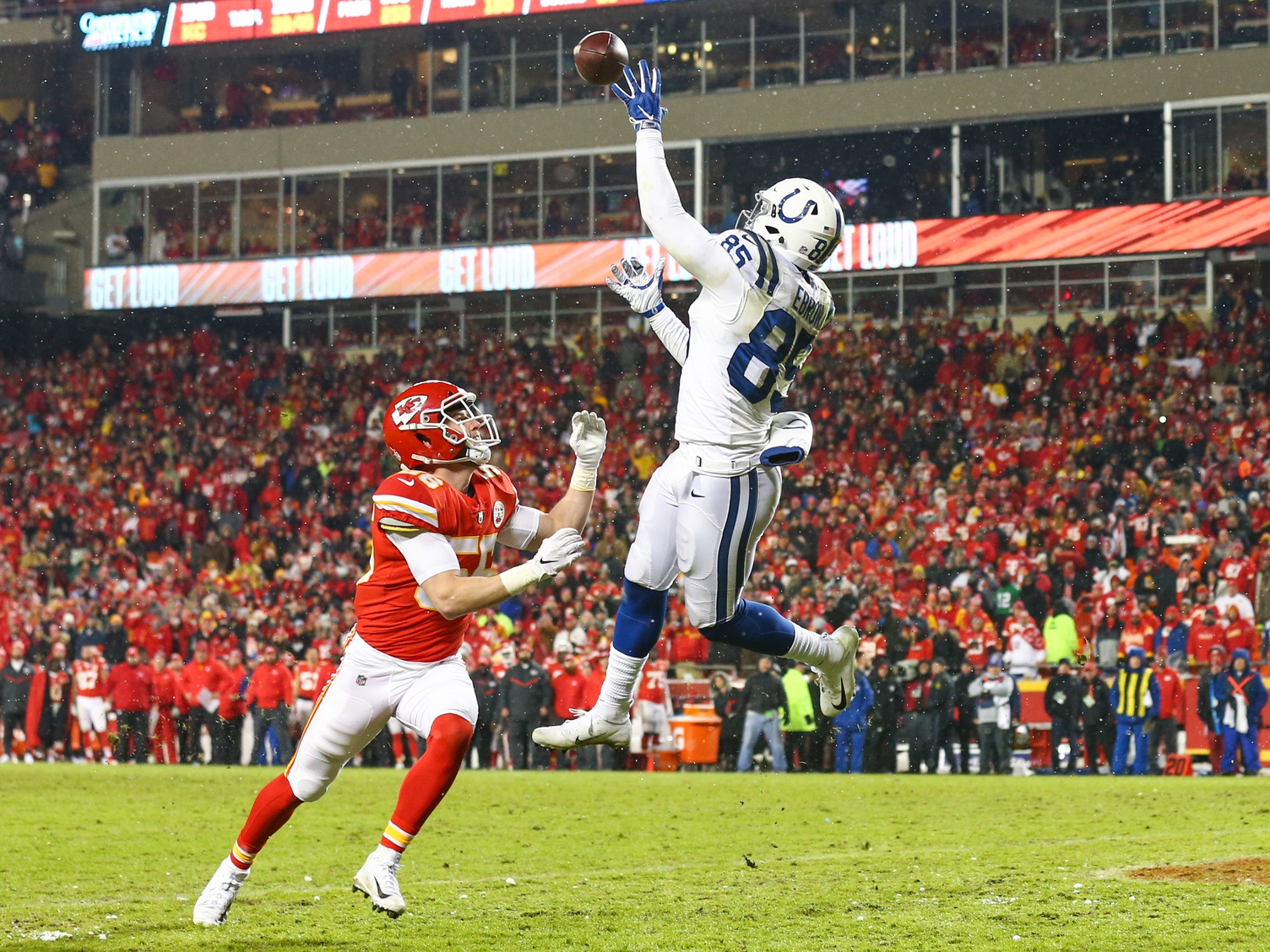 Grade: 58.1 | Position rank: 52
The linebacker position has been full of problems for the Chiefs, and Niemann has been no exception. Kansas City has used him heavily in obvious coverage situations. Altogether, 371 of his 465 defensive snaps have come on passing plays, and Niemann has allowed 38 receptions on 45 targets for 316 yards and a touchdown.
---
Grade: 63.3 | Position rank: 73
Day isn't going to offer you a whole lot as a pass-rusher, as he has just seven total pressures across 200 pass-rushing snaps this season. That means that his main purpose on the field is to fill gaps and stop the run, but he has been mediocre in that regard as well, earning a 63.5 run-defense grade so far. With average (at best) contributions rushing the passer and in run defense, Day lands on the fringe of Super Bowl LIV players.
---
Grade: 61.2 | Position rank: 80
Nnadi is first and foremost a space-eater in the run game. He managed just 19 total pressures in 329 pass-rushing snaps over the course of the year, earning a 53.5 pass-rushing grade. And unlike in 2018, when Nnadi recorded a run-defense grade of 80.0, he hasn't excelled as a run defender in 2019. His run-defense grade of 66 ranks 66th among interior defenders.
---
Grade: 60.5 | Position rank: 81
The Chiefs added Suggs to give their pass rush some extra veteran juice for the postseason run, but he hasn't been able to do that through four games with the team. Suggs has earned an overall grade of 52 on 120 defensive snaps since joining Kansas City, and he has been able to pick up just nine pressures on 88 pass-rushing snaps.
---
Grade: 65.1 | Position rank: 45
There are few better environments in the NFL for a running back than the Chiefs, given that they have one of the best playcallers in the NFL at the helm and a wealth of weapons at their disposal. That holds true even if Andy Reid ignores the running game more than any other coach. Williams hasn't been able to fully capitalize in that role this season, though. His 65.1 overall grade ranks just 45th among 58 qualifying running backs through the conference championship games.
---
Grade: 61.5 | Position rank: 66
Sorensen's role has grown over the course of the season, particularly after the injury to Juan Thornhill. However, there isn't a whole lot that excites you about Sorensen's game, and he doesn't provide the steady hand that you would like from your safety, particularly when coming up in the run game. Sorensen has earned a run-defense grade of 51.3 this season; he also has missed 12 tackles, which has resulted in a tackling grade of 50 for 2019.
---
Grade: 51.1 | Position rank: 67
Wilson spent four uneventful years with the Cowboys to begin his career, never playing more than 350 snaps until his 2019 season with the Chiefs. The problem is those snaps have hurt the Chiefs more than they have helped. On 57 targets, he has allowed 47 receptions for 520 yards and four touchdowns without any interceptions or pass breakups.
---
Grade: 56.9 | Position rank: 91
The start to Thomas' career has been a massive disappointment after the 49ers took him third overall in the 2017 draft. Thomas has never graded above 65 in a season, and this year, his 56.9 overall grade ranks just 91st among edge defenders, as he has split his time inside and outside on the line. The biggest issue with Thomas has been his inability to generate consistent pressure. His pressure rate of 5.1% is the worst mark of any player at the position with 250 or more pass-rushing snaps.
---
Grade: 46.3 | Position rank: 75
Like Wilson a few spots before him, Hitchens is a former Cowboys linebacker who has struggled in Kansas City. Since joining the Chiefs in 2018, Hitchens has been one of the least valuable linebackers in the NFL, and based on PFF WAR, he actually has been worth about minus-0.1 wins above a replacement-level player over those two seasons. That's not great, and it's the second-worst mark among all linebackers. With sub-60 grades in run defense, as a pass-rusher and in coverage this season, Hitchens doesn't have a whole lot going for him.
---
Grade: 51.9 | Position rank: 99
Breeland's underlying coverage numbers — a completion rate allowed of 45.6% and a passer rating allowed of 74.0 — paint a portrait that depicts one of the better cornerbacks in the NFL. However, his PFF grade of 51.9 and coverage grade of 47.8 paint a different one. Breeland has been lucky so far, with 21 dropped or off-target passes thrown his way and 13 penalties bringing his grade down.
---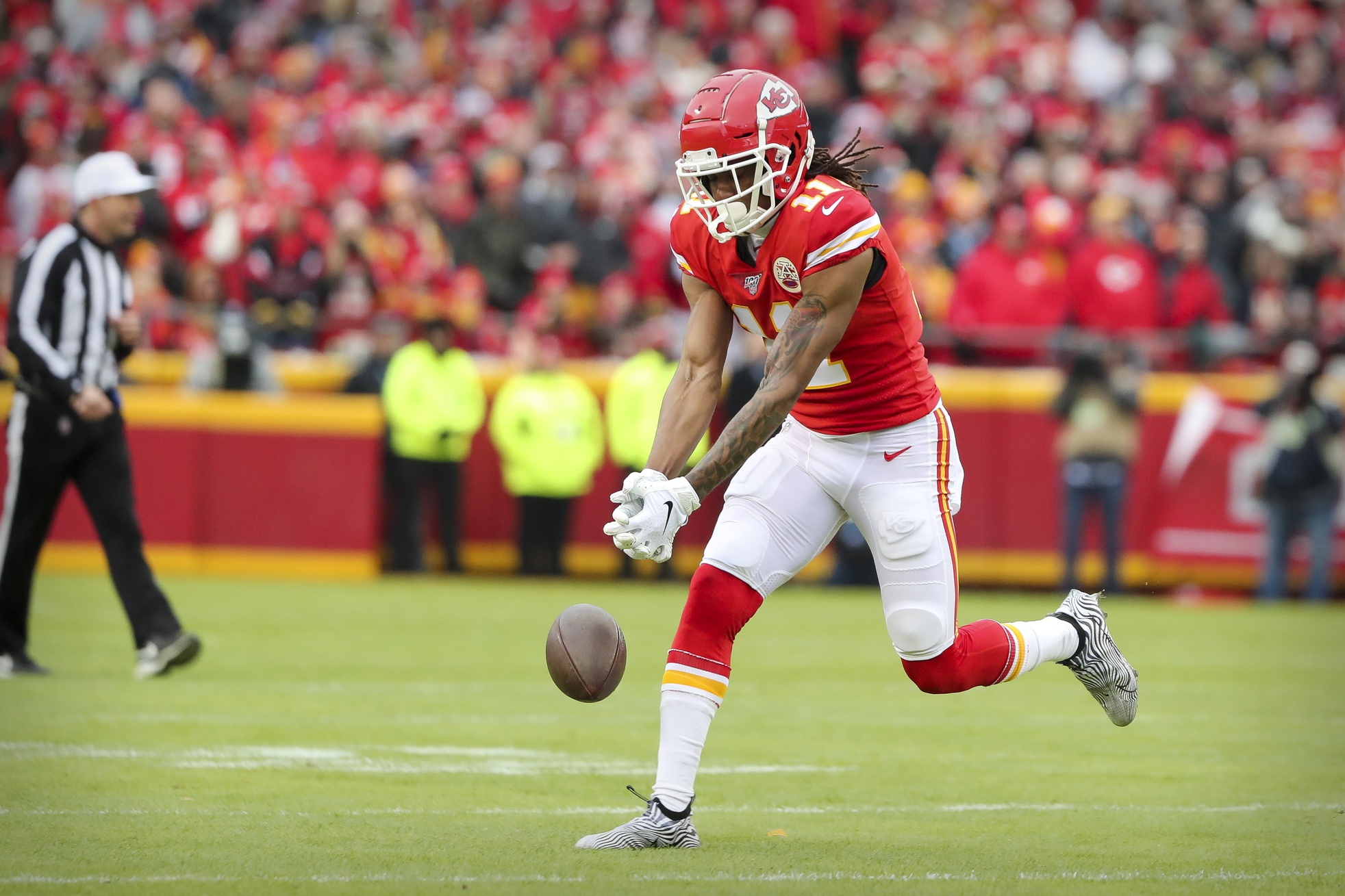 Grade: 55.5 | Position rank: 109
Outside of a solid performance against the Oakland Raiders in Week 2, Robinson hasn't been able to make an impact on the Chiefs' offense, despite running the most routes on the team (470). He was able to turn those routes into just 32 receptions for 449 yards, and he's actually one of six wide receivers in the NFL who has run 400 or more routes and averaged less than 1 receiving yard per route run. That lack of production on ample opportunity is why he finds himself toward the tail end of this list.
---
Grade: 53.5 | Position rank: 100
Kpassagnon has been the starting edge defender opposite Frank Clark this season, but he has been arguably the worst full-time starting option in the NFL. No player at the position with 500 or more defensive snaps has a worse overall grade than the 53.5 grade Kpassagnon has earned across 807 snaps, including the postseason. A pressure rate of 7.4% just doesn't cut it for a starting edge rusher.
---
Grade: 48.9 | Position rank: 65
Bell has been given a significant run with the Chiefs as a second tight end, serving as an inline tight end on nearly all his snaps. He hasn't impressed as either a run-blocker (57.7 run-blocking grade) or as a receiver (40.8 receiving grade), which has led to a 48.9 overall grade that sits among the worst qualifying tight ends in the NFL. Someone has to finish last on this list, and Bell is the most deserving option.
---
[Subscribe today using promo code PFF30 and save 30% off an EDGE or ELITE Annual subscription and get a head start on the 2020 free agency period.]