The 2018 NFL season saw two teams — the Chicago Bears and Houston Texans — make the jump from last to first in their respective divisions. In the past two years, however, just one team has gone from the worst to the best record in their division. That distinction goes to the 2020 Washington Football Team for winning the war of attrition in the NFC East at 7-9. 
Whether it be injuries, major offseason movement or simply development of pieces already in place on the roster, the potential is there for NFL teams to see a stark difference in their results from year to year. Of the eight cellar dwellers in 2020, this is how I would rank their chances of going from worst to first next season now that the 2020 campaign is officially in the books. 
Even in a competitive NFC West, the 49ers make a lot of sense to be the team that goes from worst to first next season. After all, it was just a year ago when they suffered a hard-fought loss to Patrick Mahomes and the Kansas City Chiefs in Super Bowl 54. This is a team that still has a lot of talent and one of the better coaching staffs in the NFL. 
Take a look at San Francisco's players — and high-profile players, at that — who dealt with injuries in the 2020 season and their roles in the team winning an NFC Championship the prior year. 
Not only did the 49ers lose a lot of snaps, but they also lost a lot of snaps to key players in critical positions — quarterback, receiving corps, secondary and defensive line. The list extends beyond these eight players, as well. Despite those injuries and just the 28th-ranked team PFF passing grade, the 49ers managed to finish the year with six wins. 
Quarterback remains the biggest question mark heading into the 2021 season, but San Francisco has a chance to compete in the NFC West with better injury luck and reasonably good signal-caller play — wherever that ends up coming from — in Kyle Shanahan's system.  
There are a few things working in the Falcons' favor when it comes to a potential worst-to-first swing in 2021.
The first is that they were not as bad this past season as their record indicates. Despite earning the fourth overall pick in the 2021 NFL Draft, Atlanta actually finished the year at 18th in PFF's ELO Power Ratings. The second is that a perennial powerhouse in the division — the New Orleans Saints — could be primed to take a step back following Drew Brees' retirement and an offseason with plenty of question marks when it comes to the salary cap on the horizon. 
Offensively, the Falcons have the firepower to compete with teams. Even if Atlanta drafts a quarterback in the first round, Matt Ryan is unlikely to go anywhere next season, and he showed in 2020 he can still play, posting an 83.1 PFF grade that ranked 12th at the position. A healthy Julio Jones paired with Calvin Ridley and an offensive line that has several younger players who should continue to improve is not a bad foundation around Ryan. 
Atlanta will be hopeful new head coach Arthur Smith is able to bring over some of the magic he worked in Tennessee, as well. Only the Kansas City Chiefs and Green Bay Packers have recorded more expected points added per play than Tennessee since Smith took over as the offensive coordinator in 2019. Add in Dean Pees out of retirement at defensive coordinator, and there are reasons to be excited about this new-look coaching staff. 
Of course, the reigning Super Bowl champions will be standing in Atlanta's way, but there are pieces in place for the Falcons to find success in 2021.
Heading into the 2020 season, the Eagles and Dallas Cowboys were the two clear favorites to come out of the NFC East. As we now know, the division race became a laughing stock — one ultimately won by the Washington Football Team. 
Things we couldn't have predicted entering this past year played a big role in Philadelphia's disappointing year. The first was injuries en masse. PFF's highest-graded guard during the 2019 season, Brandon Brooks, went down before the year began, as did projected starting left tackle Andre Dillard. That set the stage for a rotating cast along the offensive line that mixed and matched starting groups for nearly the entire year. 
The second surprise came in the form of Carson Wentz's fall from grace. Wentz had struggled to live up to his near-MVP campaign in 2017 in subsequent seasons, but he still profiled as a middle-of-the-pack option in each of 2018 and 2019. In 2020, however, Wentz opened the year with three straight sub-60.0 PFF grades and continually put the ball in harm's way. Despite starting just 12 games, Wentz's 24 turnover-worthy plays were the most in the NFL. All signs now point to his time in Philadelphia coming to an end. 
The injuries (hopefully) won't be as destructive for Philadelphia in 2021, and it's hard to expect worse from the quarterback position — whether it be Jalen Hurts or an offseason acquisition behind center. This isn't a roster devoid of talent altogether, and the Eagles should at least return to being competitive in a weak NFC East next season.   
Yes, the Jaguars were the worst team in the NFL this past season, but no franchise is better suited to improve (in a big way) than Jacksonville this offseason.
Updated offseason resources chart!

X-axis = Draft Capital per @Jason_OTC @PFF_Brad model

Y-axis = Effective Cap Space pic.twitter.com/xuh0Hklgrw

— Lee Sharpe, ⛓️ @ ???? (@LeeSharpeNFL) February 6, 2021
Their first overall pick should, in all likelihood, translate to Clemson quarterback Trevor Lawrence — immediately one of the most valuable assets in the league. As Lawrence's bottom line in the PFF Draft Guide reads, "We've seen more accurate quarterback prospects in seven years of doing this, but we haven't seen a more complete one."
From arm strength to athleticism to recognition to pocket movement, Lawrence has every box checked when it comes to being an elite quarterback prospect. That immediately raises a team's floor.
On top of that, the Jaguars are projected to have a league-high $77.5 million in cap space to work with, per Over the Cap. Other teams needing to shed contracts to get under the cap only makes all of that space for Jacksonville more of an advantage and gives them an opportunity to fill roster holes.
Deshaun Watson likely leaving the division and Philip Rivers retiring in Indianapolis puts quarterback question marks on two of the other three competitors in the division, as well. It's certainly a longshot, but Jacksonville may be in a better position to make a massive leap this offseason than the odds suggest. 
There are plenty of reasons to like Denver in 2021 depending on how the team's quarterback situation shakes out this offseason. I made the argument entering this past season that the Broncos had quietly built one of the better rosters in the NFL, but injuries to key contributors, such as Courtland Sutton and Von Miller, and disastrous quarterback play from Drew Lock derailed their year. 
It's hard to understate how poor Denver's quarterback play was in 2020. Lock's 63.4 passing grade ranked 28th out of 32 qualifying quarterbacks, and his 25.5% uncatchable pass rate trailed only Carson Wentz for worst in the NFL this season. It will be hard for the Broncos to compete in 2021 unless they either add a quality starting option or Lock takes a massive leap in what would equate to his "second" season as a starter after limited playing time through his first two years. 
If they do get that quality quarterback play, though, they can certainly compete. The team is on the right track to having a fun offense with Sutton, Jerry Jeudy, K.J. Hamler, Noah Fant and a solid offensive line. They have a Vic Fangio defense in their back pocket, as well — perennially one of the better-coached units in the league. 
The major problem with projecting a worst-to-first finish for Denver is its division. The Kansas City Chiefs should enter next season as Super Bowl favorites, and there will be no easy wins against the Los Angeles Chargers or Las Vegas Raiders. That will make next season tough sledding for the Broncos, even if they have the talent to rank higher on this list.    
I'll begin by showing my appreciation for what Joe Burrow accomplished as a rookie behind an abysmal offensive line. He was pressured in 2.5 seconds or less on a league-high 114 dropbacks through the first 11 weeks of the season — prior to his season-ending injury — but he was still able to produce plays like this one in the face of that pressure.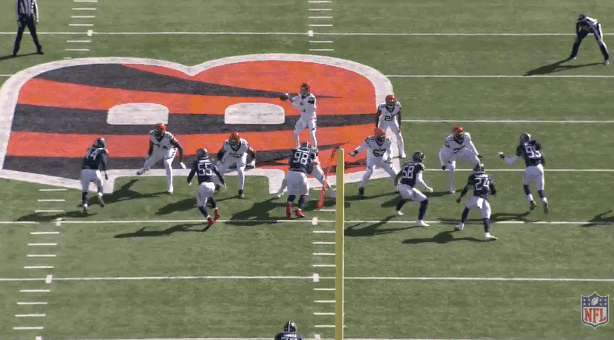 Burrow finished the season ranked 18th out of 32 qualifying quarterbacks in PFF grade, an impressive mark given the situation he was thrown into. 
Even with Burrow back healthy to start next season — a question mark in its own right — there are still holes to fill on this Bengals roster. Ideally, 2020 offseason acquisitions D.J. Reader and Trae Waynes return healthy and deliver quality performances, but Cincinnati must make decisions on pending free agents William Jackson III and Carl Lawson. 
And the Bengals aren't going anywhere if they don't improve one of the worst offensive lines in the NFL. They should look to add veteran talent up front in free agency and younger pieces to the line through the draft. Getting better along the front five with a healthy Burrow entering in his second season would at least give the team a chance to be competitive in an AFC North that doesn't have a ton of separation at the top. 
The Lions enter an offseason where their organization is undergoing wholesale changes. Detroit will head into the 2021 campaign with new faces at general manager (Brad Holmes), head coach (Dan Campbell) and quarterback (Jared Goff). On top of that, their top three receivers from last season — Kenny Golladay, Marvin Jones and Danny Amendola — are all scheduled to be free agents this offseason.
It's not as if this roster is bereft of talent. There's a strong argument to be made that coaching was the biggest issue in Detroit this past season, but there are still questions about how this roster will fare next season.
Goff has historically struggled when asked to produce off schedule. Since 2017, his passing grade drops from 93.3 in a clean pocket (ninth) to 40.9 when pressured (23rd). There's a good chance he is asked to produce more outside of structure in Detroit than he was in Sean McVay's offense in Los Angeles, and that could lead to problems for the Lions offensively. 
Additionally, new defensive coordinator Aaron Glenn will be tasked with reshaping a Detroit defense that has consistently been one of the NFL's worst in recent years. They should see improved play from 2020 first-round pick Jeffrey Okudah in a healthy second season, but the Lions still need to find a consistent pass rush and additional help in the secondary. 
All of that turnover and the questions still surrounding the talent on the team make it tough to see them jumping to the top of the NFC North in 2021.    
This has the potential to look foolish if the Jets can acquire Deshaun Watson and surround him with offensive additions in free agency. But even in that scenario, New York has an uphill climb to the top of the AFC East. 
The resources they invested into the offensive line last offseason did not produce immediate results, with the Jets' front five finishing 29th in PFF's final offensive line rankings this season. New York's receiving corps is far from established, as well. Denzel Mims is an intriguing piece to build on, but they badly need an injection of talent outside heading into 2021. 
Defensively, the Jets were a below-average unit — ranking 25th in expected points added allowed per play — and their highest-graded defender on the season (Marcus Maye) is a free agent this offseason. 
New York will upgrade at quarterback, whether it be through trade or the draft, but there are still a lot of questions about how the rest of the roster shapes out. The bright side is that they have over $60 million in cap space to try and patch some of those holes. Even then, though, it's tough to see them competing with Buffalo, Miami and New England for an AFC East title.