The Matt Patricia era ended in Detroit just as it started — playing bad man-to-man coverage. In the first game of Patricia's tenure, against the New York Jets and Sam Darnold in his NFL debut, the Lions' Cover 1 defense was woefully inefficient. Patricia, a former New England defensive coordinator, tried to bring the "Patriot Way" of playing loads of man-to-man coverage to the Detroit Lions and failed miserably.
Those early snaps of man coverage against Darnold would end up being the Lions' sixth-worst attempt at playing man that season. If man coverage is what a team wants to major in, it better be good at it. Detroit was decidedly not. But alas, we cannot judge a coach on just one season. We must give time for them to bring in the players they want and craft the team with their vision in mind.
On Thanksgiving against the Houston Texans and Deshaun Watson this past Thursday, Patricia led his team out having spent another week game-planning a way to play man coverage. And yet again, it failed. Watson threw for 245 yards and three touchdowns against Cover 1 alone.
Again, if this is what a team — the Detroit New England Patriot Lions — wants to be known for, it needs to be able to hold up. The Lions could not for three straight years.
In 2018, the Lions played 39.2% of their coverage snaps in Cover 1 — the highest rate in the league. Their expected points allowed per play in Cover 1 ranked 29th in the regular season. Presumably, Patricia spent the offseason hammering home his teaching on man-to-man defense. In 2019, the Lions played 46.5% of their coverage snaps in Cover 1 — the most in the league again. And they fell to 30th in expected points allowed per play on such looks.
While most coaches should see that as a cause for concern and maybe a time to reevaluate, Patricia spent the offseason doubling down.
The Lions again lead the league in Cover 1 snaps in 2020. And unsurprisingly, they are bad at it. Detroit ranks 27th in the league in efficiency, but its .33 expected points allowed per play in Cover 1 is the worst for the team in Patricia's three years. They have gotten worse at what they are supposed to be best at. In 2018, opposing quarterbacks produced a 79.3 passing grade against the Lions' Cover 1. That went up to 83.9 in 2019 and has ballooned to 91.2 this year.
Defending the pass is an interesting concept. The whole goal for the defense is, regardless of the coverage called, to get the quarterback off his first read. You hear this from every defensive coordinator at every level. "If we can get the quarterback off his first or second read, the pass rush will get there." There's a linear nature to it. The first step is forcing the quarterback to hold the ball. This is why we've found that pass coverage is more important than pass rush. The next step is the pass rush. This is where the Lions have struggled mightily for three seasons.
Quarterbacks playing against the Lions' Cover 1 defense have all the time in the world to progress through their reads. Over Patricia's three seasons, the average time to throw against them is 2.98 seconds, 2.99 seconds and 2.82 seconds.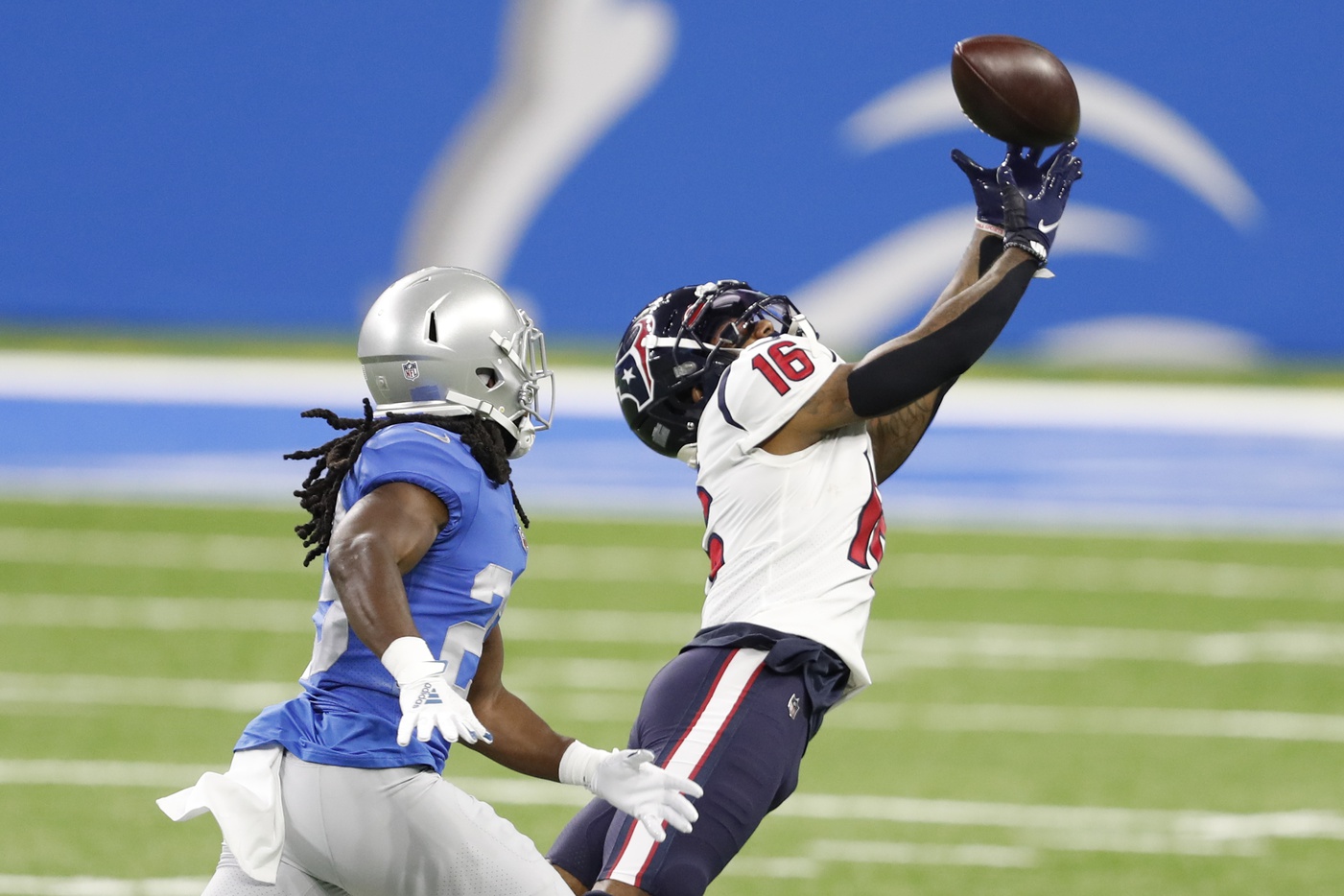 Let's look at some other coaches running the same man coverage set up. The 2018 Kansas City Chiefs and Tennessee Titans were just behind the Lions and Patriots in man coverage use that season — opposing teams' average time to throw was 2.61 seconds and 2.74 seconds, respectively. The Dolphins are at 2.77 seconds and 2.78 seconds in the two seasons under Brian Flores. Houston is at 2.51 seconds, 2.85 seconds and 2.73 seconds under former Patriot man Bill O'Brien until recently.
A defense just cannot allow a quarterback to hold on to the ball for almost three seconds and expect its man coverage players to hold up. In 2020, the average time to throw against Cover 1 across the league is 2.65 seconds.
This is also where we start to distinguish between two different types of Cover 1. With a blitz of five or more defenders, the coverage means none of the man players have help over the low middle of the field but still have safety help deep. A four-man rush allows for a low-hole or rat defender to pick up and replace any crossing routes or slants in the underneath middle of the field. While in both coverages there is a deep, centerfield free safety and everyone else is playing man coverage, the techniques are different. The Lions — and you already knew this — were bad at both types. No matter what they did, they couldn't get to the quarterback.
Let's start with Cover 1 and four or fewer defenders rushing the quarterback. There have been 72 instances since 2018 where a team played at least 50 snaps of this in a season. The Lions rank 46th, 54th and 65th in expected points allowed per play among them. The Patriots have the first-, fifth- and 67th-ranked teams, but that's neither here nor there. When looking at the pass rush for this coverage, we want to use the pass-rush "wins" stat. These plays are usually going to be straight rushes from the defensive line, so we need to see which defenders are winning their battles against the offensive line. Yet, the Lions ranked 23rd in win percentage in 2018, 27th in 2019 and 20th this year.
That's clearly bad, so let's see how they do when they blitz and play man. There have been 92 instances since 2018 where a team played at least 25 snaps of this in a season. The Lions rank 77th, 82nd and 85th in expected points allowed per play among them. The Patriots rank third, 16th and 37th, but again, that's neither here nor there.
We are going to look at pressure rate for this type of defense because with all the loops and stunting that come with a blitz, the goal is to try to get free rushers and not necessarily just beat the guy in front of you. The Lions ranked 13th in pressure rate in 2018, 18th in 2019 and 25th this season.
When a team can't do the things it spends most of its time theorizing about and practicing every day at even a league-average level, something must change. But instead of waiting for Matt Patricia to change, the Lions' organization made a change themselves by removing him and general manager Bob Quinn ahead of a massive rebuild.