It has been a quiet offseason in the Steel City.
The Pittsburgh Steelers don't possess a first-round pick in the upcoming 2020 NFL Draft, and they barely even dipped their toe in the free agent waters. But as we head into a new decade, Steelers fans can not only get excited about the return of a healthy Ben Roethlisberger, but they should ready themselves to enjoy a defense that reinvented itself in 2019 and is now a model of how pressure and coverage could make them a contender in the AFC.
[Editor's note: Check out PFF's 2020 Post-Free Agency Mock Draft and NFL Draft Big Board. PFF Elite subscribers can also download the 1,100-page 2020 NFL Draft Guide.]
The Pivotal Turning Point
At the start of the 2019 season, the Steelers fielded one of the league's worst coverage units, and repeated mental errors led to explosive pass plays and easy touchdowns for the opposition. So, after allowing the second-most explosive pass plays of 15 plus yards during their first two games (16), the Steelers traded what is now the 18th overall pick in the 2020 NFL Draft to the Miami Dolphins in exchange for safety Minkah Fitzpatrick, who produced immediate results.
Pittsburgh Steelers coverage stats: Before and after the trade for Minkah Fitzpatrick
| | | |
| --- | --- | --- |
| Stat | Before Fitzpatrick trade (Week 1-2) | After Fitzpatrick trade (Week 3-17) |
| PFF Coverage Grade | 45.1 (27th) | 91.3 (2nd) |
| EPA allowed per pass play | 0.482 (30th) | -0.273 (1st) |
| Percentage of plays that went for 15 or more yards | 20.3% (29th) | 12.2% (6th) |
| Completion percentage allowed | 78.8% (29th) | 63.2% (2nd) |
| Yards allowed per reception | 9.4 (27th) | 6.8 (3rd) |
| Passer rating allowed | 131.1 (29th) | 76.6 (2nd) |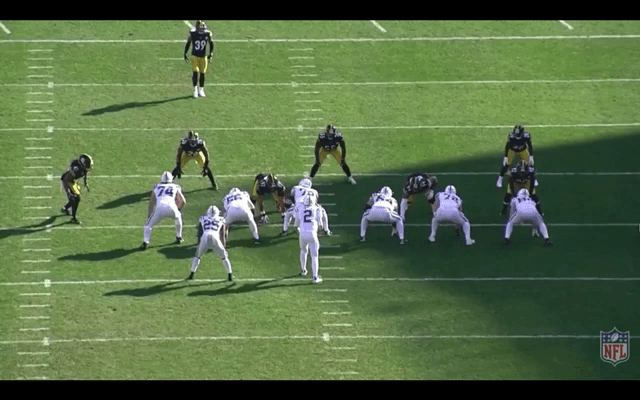 Fitzpatrick served as an immediate cure for the Steelers' leaky secondary from the second he walked on to the field in the black and gold. Not only did he provide a safety net from mental miscues and mistakes, but he also brought his instinct for making big plays and creating turnovers.
From Week 3 on, the former Alabama defensive back allowed just eight catches from 16 targets in primary coverage, and he gave up a passer rating of just 27.3 to opposing quarterbacks, the best figure among all defensive backs who saw at least 15 targets from Week 3 to Week 17. 
Fitzpatrick is a versatile coverage defender who can play in the box, cover from the slot or play in space against speedy receivers. He may be the final piece in helping general manager Kevin Colbert build a new version of the Steel Curtain.
The pass-rush is as strong as ever
Over the last three seasons in Pittsburgh, the defense has provided quarterback pressure without much of a problem. Led by Cameron Heyward (180), T.J. Watt (171) and Bud Dupree (137), the Steelers' team total of 926 pressures over the last three years is the second-best mark in the NFL. The team's 90.2 pass-rush grade, is second to only the Philadelphia Eagles over that same period.