While 50 of the NFL's best players found their names on the PFF50 last week, there were others who missed the cut but had great cases to be listed.
Almost 3,000 players are currently on NFL rosters heading into training camp, so ranking within the top 50 in the NFL is incredibly rare.
Some of the players missed out due to a lack of sample size, some because they took a step backward in 2020 and some because injuries have derailed their careers. Regardless, each of these arguable snubs is a great player who will likely continue to play well in 2021.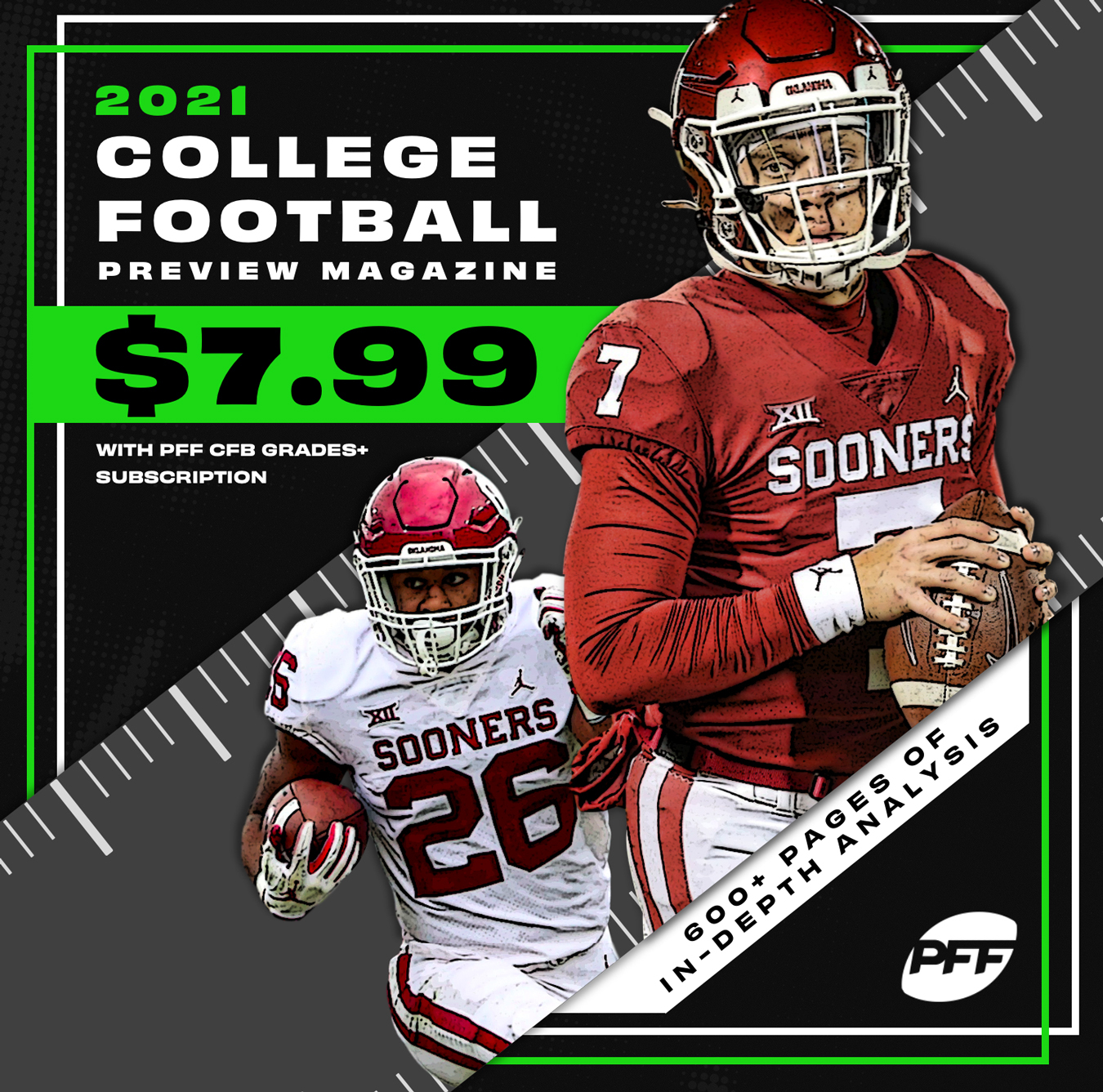 Lamar Jackson is the player who most deserves a spot on the PFF50. Recently an NFL MVP, Jackson remains one of the most dynamic players in the league, but he is also a cautionary tale about expecting someone to continue to develop onward and upward each year. Jackson was a unanimous MVP one year and the No. 15-graded quarterback in the league in terms of overall PFF grade (81.5) the next. That's still a very good mark, but it's obviously a regression.
Jackson, of course, has the difficult-to-quantify bonus of a unique importance to the Ravens' offense. The threat he brings as an athlete and playmaker allows the running backs to produce atypical success. It makes life easier for the offensive line, which doesn't have to pass block as often. And even when the unit does block in the passing game, it's facing rushers who must keep one eye on Jackson to avoid him ripping off a big run.
Jackson allows that offense to function. It is built around his skill set. But in a list projecting forward, it's debatable that he will have a better 2021 season than the six quarterbacks who made the list. It wouldn't be surprising if he did, but that was the decision made.
Justin Jefferson is a victim of sample size and an absolutely stacked wide receiver position. The only evidence we have on Jefferson at this level says he is the No. 2 wideout in the league, trailing only Green Bay's Davante Adams, a member of the top 10 in the PFF50, in overall PFF grade in his rookie season.
Given the unique nature of the 2020 season, with no preseason and a truncated offseason program, it is perfectly logical to say Jefferson will only be better as a sophomore and therefore should be on the list. But we know that's not always how players develop, particularly those who have such phenomenal debut seasons. Every receiver on the PFF50 has at least one season in the bank like Jefferson's, and Michael Thomas had three or four straight before injury in 2020 damaged his reputation.
Jefferson may well continue to exceed expectations in 2021, but we know that the Vikings' offense is limited in terms of target spread, which is why Stefon Diggs wanted out in the first place, and the opportunity for Jefferson to be even better is limited. The chance he could regress a little is perhaps equally as strong, so playing the odds says he needs to prove it for at least another year to jump over some of the other phenomenal receivers who made the list.
Since the Dolphins traded Minkah Fitzpatrick to the Steelers, he has been one of the best playmakers at the safety position in the NFL. He has back-to-back seasons with impressive grades, and his coverage numbers were even better in Year 2 than in his first season in Pittsburgh.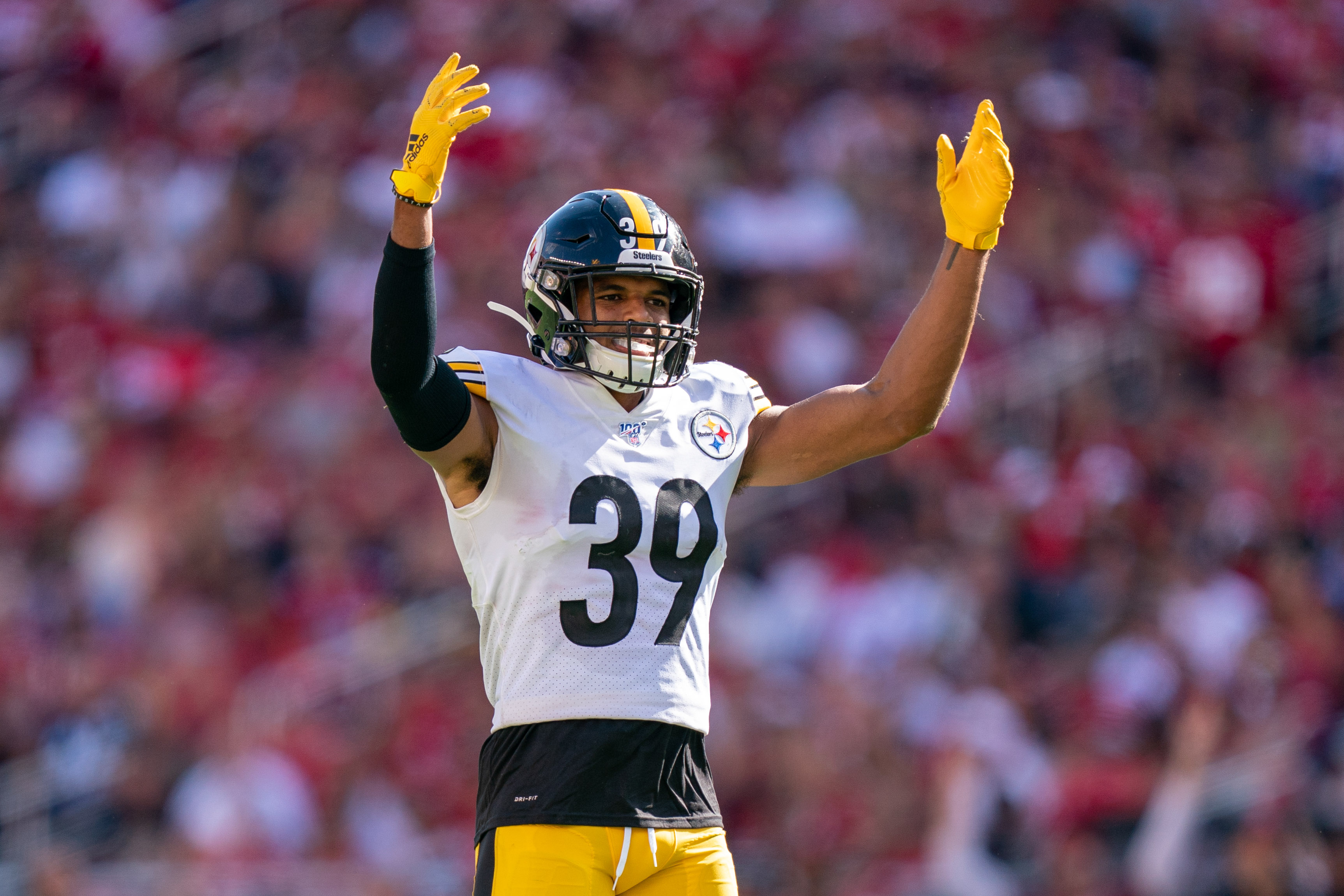 Fitzpatrick allowed just nine catches on the 20 targets he faced as the primary coverage defender last season, and he came away with seven pass breakups along with four interceptions. There isn't much separating Fitzpatrick from the players who made the PFF50, particularly at his position, other than the absence of either a phenomenal season, which Justin Simmons has on his resume, or a consistent grading profile that's just a little bit better, which is the case for John Johnson III and Marcus Williams. Fitzpatrick is definitely on the right course and could easily make the PFF50 ahead of the 2022 season.
Since the start of the 2019 season, Demario Davis is one of just two NFL linebackers with a 90.0-plus overall PFF grade. He trails only Minnesota's Eric Kendricks over that period and has grades of at least 82.0 in every facet of play — something no other player at his position can claim.
The issue is that much of his success stems from a spectacular 2019 season. He regressed in 2020 closer to a baseline of very good, but not spectacular. Over the past four seasons, Davis has overall PFF grades of 74.0, 75.0, 78.0 and 90.3, with the latter being a career-high mark that potentially altered perception or expectation. Had Davis been able to back that season up with a campaign that even split the difference between that baseline and his career year, he likely would have made the PFF50 comfortably. But without him being able to achieve that, his career year in 2019 stands as an outlier.
Frank Ragnow is now the NFL's highest-paid center and one of a few players who have an argument to be seen as the best at the position. No center made the PFF50 heading into the 2021 season because several players have been taking turns looking like the best in the league. However, Ragnow may be the one most clearly trending in that direction.
He started his rookie season at guard and earned a solid 66.5 overall PFF grade. He took a step forward in Year 2 at center and earned a 74.9 grade before finishing 2020 with an 80.3 mark. The development curve of offensive linemen often sees them take two or three seasons to show their best play, and Ragnow has steadily improved each year. Even if this is his ceiling, he will be around the best centers each season going forward. And if he has another step to take, then he could become the undisputed best player at that spot. 
The interior of the defensive line is another position group absolutely loaded with talented players across the NFL. Even setting Aaron Donald aside for the moment as an alien, the likes of which the PFF grading system has never seen before, there are a lot of impactful interior linemen wreaking havoc on offenses. DeForest Buckner was good enough in San Francisco for the Colts to trade the No. 13 pick in the 2020 NFL Draft to acquire him and hand him a monster contract extension, and he has been better in Indianapolis than he ever was as a 49er.
Buckner has 123 total pressures over the past two years as well as 71 defensive stops, and his overall PFF grade peaked this past year at 89.6. He also topped a 90.0 mark as a pass rusher for the first time in his career. If Buckner can continue that level of play next year and beyond, he will certainly find himself on the PFF50 in 12 months' time, but the lack of guarantees is what causes him to miss out in favor of players who have established their dominance over more than one year.
Xavien Howard was as good as it got in 2020. Though Green Bay's Jaire Alexander finished the season with the top PFF grade of any corner (90.5), Howard was right behind in second place (87.3). The gap between the two players was far closer when looking at just coverage grade (90.6 to 89.6). Howard led the league in interceptions with 10, and he also had 10 pass breakups to go along with impressive numbers across the board.
What separated him from the likes of Alexander was that he was beaten more often in coverage. Howard gave up four touchdowns over the season — twice as many as Alexander — and more than twice the receiving yardage. But the PFF50 is not just about 2020; it's about projecting play into the next season. Alexander's PFF grade has steadily improved with each passing year, and it has never been bad, whereas Howard's career year came somewhat out of the blue.
Of the past four seasons, three of them saw Howard earn overall PFF grades of 65.0 or lower, an average to below-average mark. He was spectacular in 2020, but he has always been a boom-or-bust player, and sometimes the variance breaks a player's way over a season. It seems unlikely Howard will perform at the same level next season.
Joe Thuney was the Chiefs' big-money free agent acquisition this offseason, brought in to solidify an offensive line that had collapsed by the Super Bowl and gave quarterback Patrick Mahomes no chance to make magic happen when they needed it most. Thuney has been one of the most consistent guards over the past few seasons, allowing just three sacks over the past three years combined. His 2020 campaign was more average than his prior few seasons, but he will likely land on the PFF50 if he can rediscover that past form.
Chase Young was the best edge defender prospect PFF has ever seen come into the league. During the time PFF has graded college football, the pass-rushing grades at that level have translated very well not just to standard NFL success, but to quick and immediate success. Joey Bosa, Nick Bosa and Myles Garrett have shown that players who truly dominated the college landscape can quickly succeed in the NFL, and Young eclipsed them all at Ohio State.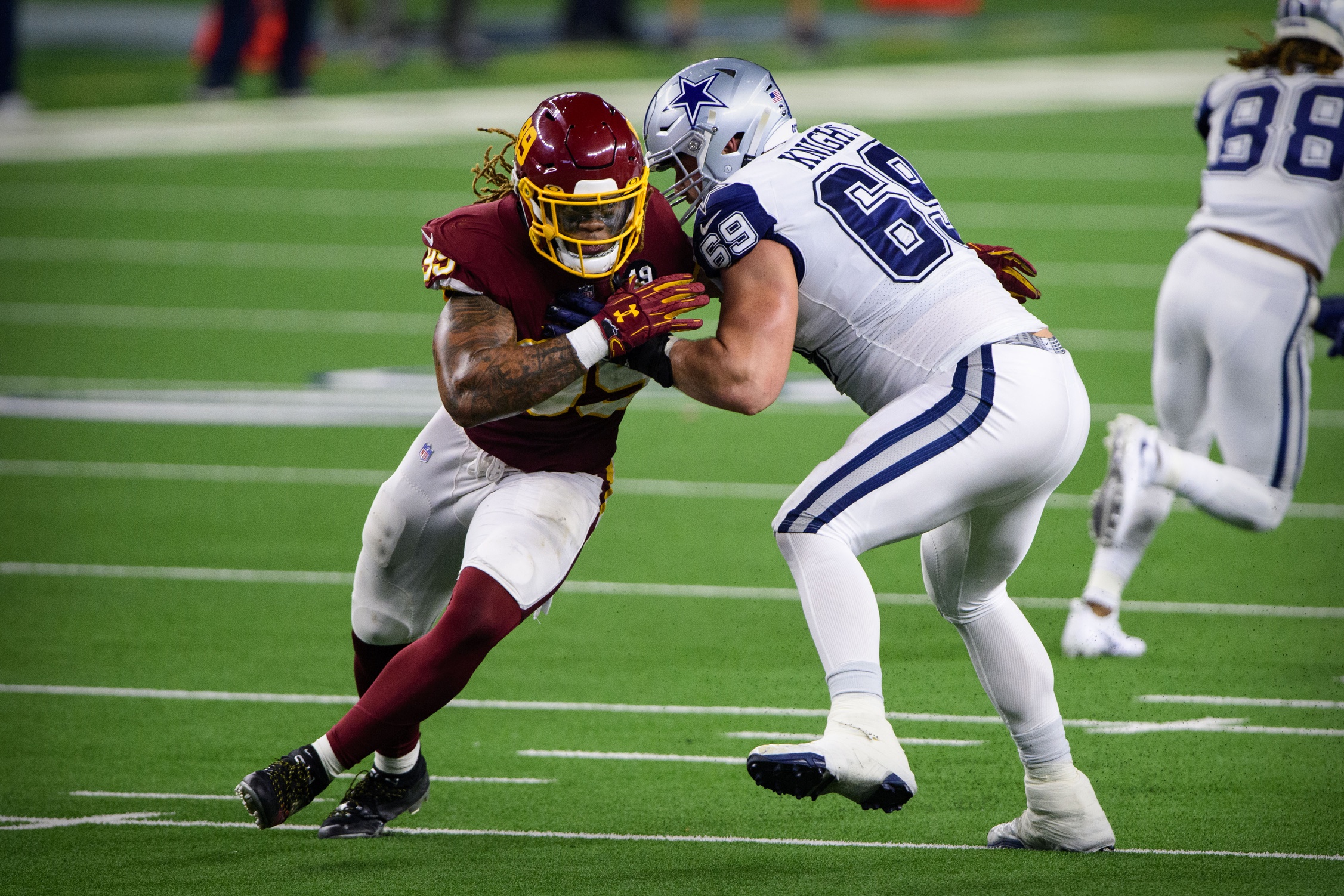 His rookie season was impressive, but an injury sidelined him briefly and caused a bump in the road, with Young taking a little while to get back to his best play. Still, his debut season finished with him posting an 87.1 overall PFF grade and 42 total pressures. If Young stays healthy next season, he could rival any edge rusher on the list.
Injuries are the only thing keeping Derwin James from ranking on the PFF50 — and likely ranking highly at that. In his rookie season, James finished with a top-six overall PFF grade (88.3) and was the No. 3-ranked safety in terms of coverage grade (89.7), but we have seen only 299 snaps from him in the two years since.
Despite that lack of playing time, James has taunted fans and analysts with eye-popping practice reps of him lining up at cornerback and facing wide receiver Keenan Allen — one of the best route runners in football. James has the potential to be one of the best players in the game, but he needs to stay healthy enough for that to come to fruition.
Aaron Jones is one of the best running backs in the NFL, but five players at that position were already on the PFF50, and it was a tough sell to add a sixth. Jones is a classic case of just losing out in a numbers game, with too few spots for too many players. He is also coming off a relatively down year in terms of overall PFF grade thanks in part to four fumbles, twice his previous career-high.
Projecting a rookie to rank among the top 50 players in the NFL borders on crazy, but that's what kind of special talent Kyle Pitts has. The rookie tight end has been termed a "unicorn" of an athlete and prospect, the likes of which the NFL hasn't seen before. He could have been the No. 1-ranked player at his position if he was a pure in-line tight end, or an X-wideout, but what makes him so special is that he can do both at a high level. If Atlanta is capable of using him to his fullest potential, he could have a huge impact on the NFL.
One of three real difference-making tight ends in today's NFL, Waller isn't quite George Kittle or Travis Kelce, but he isn't far behind. In his first two seasons as a starter, Waller topped 1,100 receiving yards both times and has become more efficient doing so, earning a PFF receiving grade above 90.0 this past year. Waller also has some of the safest hands in the game, having dropped just seven of the 204 catchable targets over those two seasons.
The big difference between Waller and the other two tight end studs is blocking. Kittle is one of the best blocking tight ends in the game, and while Kelce isn't at that level, he has developed into a good blocker, particularly given the assignments he is asked to execute. By contrast, Waller's PFF run-blocking grade last season was just 49.7, and he gave up two sacks as a pass-blocker.