Talk is beginning to heat up regarding who may take home honors of being the NFL's most valuable player at the conclusion of the 2019 season as voted by the Associated Press. Like any good debate, we are hearing a lot of different names thrown out there as potential candidates. Of course, there are only really three different players who have performed well enough thus far to be entitled to MVP candidacy – and the same goes for Offensive and Defensive Rookie of the Year as well as Comeback Player of the Year.
With that being said, we here at PFF are diving into the data to give you the frontrunners for these prestigious awards.

Most Valuable Player
As of now, the MVP award is Russell Wilson's award to lose. He is PFF's highest-graded quarterback at 91.9 and the only one with an elite passing grade at that. Year after year, Wilson shows us you don't have to be a stereotypical tall quarterback to be one of the best in the NFL and has flirted with the MVP award in the past, but his 2019 so far makes him the clear-cut favorite.
Wilson has produced an unreal amount of positive plays while doing a great job of limiting the negative ones. In PFF's big-time throw rate, Wilson ranks second in the NFL at 7.2% (league average is 3.8%), and in turnover-worthy play rate, he ranks first by over a half percent at 1.1%. The downfield passing of Wilson has been pristine, throwing just one turnover-worthy pass on throws of 10 or more yards downfield and not a single turnover-worthy pass of 20 or more yards downfield (only other quarterback to not have one is Gardner Minshew). On these deep passes of 20-plus yards, Wilson is second in PFF passing grade, first in deep yards, second in accurate pass rate and third in uncatchable pass rate.
In today's NFL, what separates a great quarterback from a good one is their ability to create when things don't go according to plan, and there isn't a better quarterback in doing that in 2019 than Wilson. We are going to dive deep into the PFF database for this one – on his dropbacks outside of the pocket and outside of the structure (not designed rollouts), there only five quarterbacks with a PFF grade above 70.0 on these plays and just two have a PFF grade above 80.0. Wilson has a PFF grade of 95.5 on these plays. Getting Wilson off his rhythm doesn't do the trick either. When he his passing out of rhythm, Wilson is the highest-graded at 87.8 (only quarterback above 80.0) and first in yards per attempt at 8.7 (half yard higher than second) – and opposed to other quarterbacks in these instances, he is risking it all on those passes with an average depth of target of 10.7 (lowest aDOT is Jimmy Garoppolo at 0.6 for what it's worth). Wilson has been on another level this season – like Patrick Mahomes in 2018 level – and for that, he is destined to be the 2019 MVP.
If anyone is going to give Wilson a run for his money for the MVP, it'll be Texans quarterback Deshaun Watson. Through nine weeks of action, Watson is PFF's fourth highest-graded quarterback at 86.2 and a threat both through the air and on the ground. His 18 big-time throws are the fourth-most and 86.0 rushing grade is the best at his position.
As mentioned earlier, Wilson was the second highest-graded quarterback on deep passes of 20-plus yards and guess who beat him out for first – that would be Deshaun Watson. What Watson is able to do passing into small windows is pretty remarkable. Not only is he PFF's fourth highest-graded quarterback throwing to a receiver with a step or less of separation, but he leads all qualifying quarterbacks in adjusted completion percentage on these throws at 69.6% and has thrown the third-lowest rate of uncatchable passes.
PFF data scientist George Chahrouri dropped an interesting nugget on Twitter a few days ago regarding Watson and Wilson as MVP candidates.
Wilson and Watson are 1 and 2 in TD throws that earned an above average (positive) PFF grade. They should also be 1 and 2 on the MVP ballot

— George Chahrouri (@PFF_George) November 4, 2019
The scheme Watson is playing in isn't highly touted as a great one, yet he is overcoming this to help pave the way to his offense ranking fourth in EPA per pass play. With a positively graded pass play rate ranking sixth at his position, Watson is the most valuable player on his team and one of the most valuable in all of the NFL.
It would be an absolute shock if the MVP award didn't go to either Russell Wilson or Deshaun Watson, but if anyone can catch them it would be Ravens quarterback Lamar Jackson. Looking at his PFF grade, he comes in 11th among quarterbacks at 81.8, which is being brought down heavily from his abysmal Week 3 against Kansas City when he had a 35.0 PFF grade. Taking out that game, Jackson's overall grade spikes to 90.6, joining Russell Wilson in the elite category.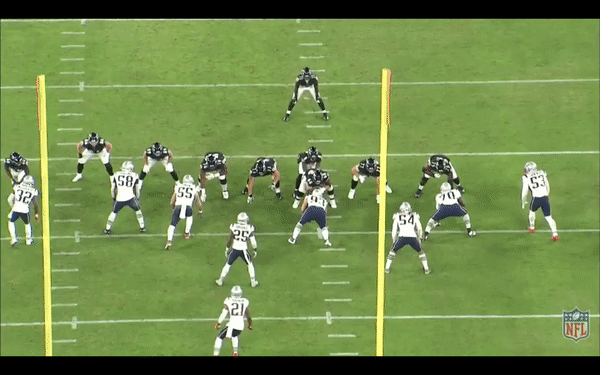 Collectively on the season, Jackson has turned in the second-lowest turnover-worthy play rate at 1.7%. As a member of an offense led by one of the top three offensive play-callers in the NFL, Jackson's dual-threat ability is being utilized to perfection and leading the Ravens to success. The team ranks seventh in EPA per pass play and first in EPA per rush by a significant margin. The Baltimore offense is vastly different than any other in the entire league, and what Lamar is doing in the offense is causing headaches to defenses. Baltimore uses a significant amount of pistol formation with a 44.6% usage rate that is nearly 40% higher than any other offense. Out of pistol, Jackson is averaging a nice 8.0 yards per pass attempt, and the offense as a whole is averaging 5.9 yards per rush attempt.
The weapons Lamar has at his disposal within the wide receiver unit are fairly bad. Really, the only wide receiver on hand for Lamar is rookie Marquise Brown, who is one of PFF's top rookies, but has battled injuries throughout the year. As a result, Lamar has had to utilize his tight ends and running backs in the passing game and is doing so quite nicely, as he ranks eighth in passing grade on non-wide receiver targets.
As a runner, Jackson has 20 broken tackles (12 more than any other quarterback) and 21 runs of 10 or more yards (10 more than any other quarterback). Nonetheless, when you have a guy that can produce high-end pass plays on occasion while limiting bad mistakes who also happens to be an elusive running threat, you have yourself a valuable player.
Comeback Player of the Year
What we have seen from Eagles right guard Brandon Brooks this season is inane. Brooks is coming off a 96.6 graded game in Week 9 against the Bears, ranking as the fourth-best single game by a right guard in any regular season and postseason game since 2006. Not only is his 93.4 PFF overall grade on the season the highest among any offensive lineman, but it's also on pace to be the fourth-highest season grade by any guard we have ever seen. In other words, the man is on fire and obliterating any defensive line he faces.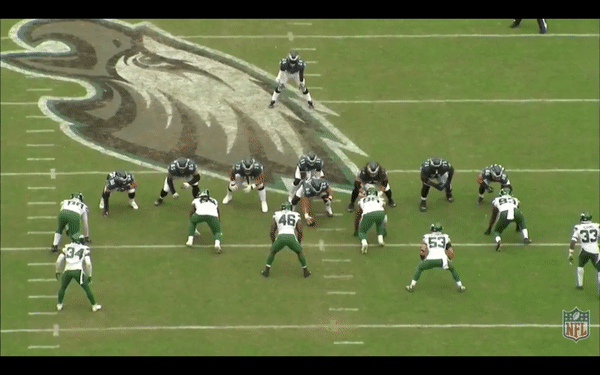 Brooks entered 2019 coming off the worst season of his career in 2018 AND a torn Achilles that he suffered in the final game of the Eagles season. Moreover, Brooks recorded a 72.2 overall grade last year, which still ranked 10th among guards but was a steep decline from his 86.2 PFF grade in 2017. No one could have predicted Brooks bouncing back and becoming the league's best offensive guard in 2019 after his declined 2018 and severe injury to top it off – and if you would have said he would be on pace to have one of the best seasons ever by a right guard, people would have questioned your intelligence. Yet, the man is defying all odds and is doing just that.
Through Week 9, Brooks is surrendering a pressure rate of just 1.2%, which is the best among all guards by nearly a full percentage point. Over the last four weeks, Brooks hasn't surrendered a single pressure and has an elite PFF pass-blocking and run-blocking grade. While he isn't necessarily getting the attention he deserves from everyone else, PFF is recognizing is phenomenal play and bounce back from his declining 2018 and Achilles injury – making him the leader in the clubhouse for Comeback Player of the Year.
The 2018 season was a dark year for the city of San Francisco and its home team 49ers. After trading for quarterback Jimmy Garoppolo midseason in 2017, the future was looking bright for the 'Niners – that was until Garoppolo went down with a torn ACL in Week 3 of 2018. Subsequently, all playoff aspirations were put on hold until 2019 with a healthy Garoppolo. Fast forward to now, and the 49ers are flying sky high as the last undefeated team in the NFL at 8-0 heading into Week 10. And, believe it or not, you have to attribute some of this success to the 49ers signal-caller.
Yes, the offensive scheme of Kyle Shanahan is one of the best in the NFL and the defense has been off the charts, but Garoppolo has been everything the 49ers could ever ask for as the 12th highest-graded quarterback at 78.1 – a spot ahead of 2018 MVP Patrick Mahomes. Garoppolo's patience and poise is what makes him such a valuable commodity to the 49ers. Looking at his pass attempts when he is moved off his first read and forced to pass to another option, Garoppolo has been among the best in the NFL – ranking third in PFF passing grade at 83.6 behind only Russell Wilson and Mahomes. His quick pass offense prevents him from taking a lot of shots downfield, however, when he does, he has been on the money ranking 11th in passing grade at 89.4 on throws of 15-plus yards and first in adjusted completion percentage at 70.3% (3.6% higher than any other quarterback). Consequently, it should not be a surprise to see Garoppolo is also PFF's highest-graded quarterback throwing to a vertical route at 93.3 – producing five big-time throws and not a single turnover-worthy play and an adjusted completion percentage nearly 10% higher than anyone else.
After breaking his leg in Week 4 of 2018 in what would be his final game as a Seattle Seahawk, safety Earl Thomas was carted off and proceeded to give the middle finger to the Seattle sideline. Many questioned whether Thomas could return from such a severe injury at his age, but he is giving the finger to all of those doubters in 2019 with a very good 84.4 coverage grade (sixth among safeties) in his eight games as a Baltimore Raven.
While in coverage, Thomas has allowed a stingy 48.3 passer rating to opposing quarterbacks and just five catches on 10 targets in coverage with three combined interceptions and pass breakups. Thomas has locked down the middle of the field for Baltimore and it seems as if he will be doing so evermore.
Offensive Rookie of the Year
Kyler Murray may have gotten off to a slow start in 2019, but over the course of the last few weeks, we have seen the Kyler we all expected to see. Since Week 5, Murray is PFF's 12th highest-graded quarterback at 76.6. By going to a talent-deficient team like the Arizona Cardinals, we expected to see Murray struggle with the lack of talent surrounding.
More specifically, Murray is playing behind a rather bad offensive line and as a result, we are seeing him get rid of the ball quickly when he sees a pass-rusher coming his way (2.47 second average time-to-throw is the fifth quickest among the current 32 starting quarterbacks). When Murray is given time and is free from pressure, we see just how good he can really be – on throws when he is clean and his time-to-throw is longer than 3.1 seconds, Murray is PFF's fourth highest-graded quarterback at 91.2. Additionally, those plays have resulted in Murray having a 14.6 yards per attempt average (second), 140.0 passer rating (fourth) and uncatchable pass rate of 9.4% (first).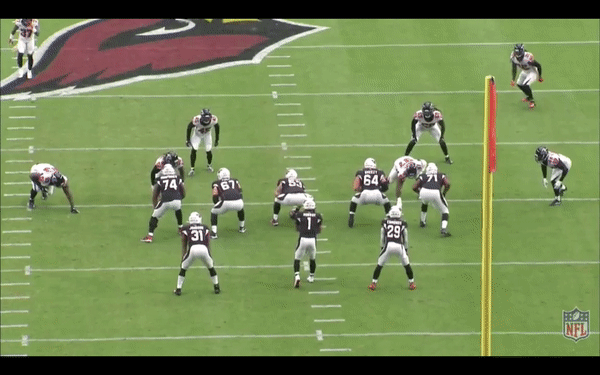 Another testament of the elite level play we have seen from Kyler when he doesn't have to worry about pressure lies within his deep passing numbers. On throws of 20 or more yards downfield, Kyler ranks fifth in PFF passing grade, seventh in accurate pass rate, second in yards per attempt and has a big-time throw to turnover-worthy play ratio of 11:1.
Murray is the most valuable rookie in the NFL through Week 9 – if the last few weeks were any indication, more people will see this in the coming weeks.
With a 90.5 rushing grade, Josh Jacobs is PFF's highest-graded running back, and it really isn't even close (second is at 85.9). It's hard justifying spending a first-round pick on a running back, but Jacobs is doing everything in his power to make himself a valuable running back. The elusiveness Jacobs is putting on display is quite impressive for a rookie – he has 40 broken tackles rushing (second-most) and has forced a broken tackle on 26% of his carries (fourth-highest rate).
Running behind the 10th-best offensive line in regard to PFF grade, Jacobs has benefitted from some solid holes. However, he does deserve credit for when he is getting contacted behind the line of scrimmage. On those carries, Jacobs is PFF's third highest-graded running back and is averaging the third-most yards per carry.
Perhaps his greatest weakness we have seen is his hands in the receiving game – which was a concern of his coming out of college. On his 15 targets in 2019, Jacobs has a 49.1 receiving grade and three drops. The promising part, though, was what we saw when he was able to catch the ball. He has seven broken tackles on his 11 receptions and is averaging 10.3 yards after the catch per reception.
Nevertheless, when the ball is in the hands of Jacobs, he is quite literally a truck and perhaps the most difficult running back to tackle. With that, he deserves consideration for OROY – though it's going to be incredibly difficult for him to take over Kyler at the top of the list.
The quarterback situation in Washington is less than ideal and we have seen very few positives in first-round pick Dwayne Haskins' short time on the field, but they managed to snag the steal of the 2019 NFL Draft in the third round with Terry McLaurin. Entering Week 10, McLaurin is PFF's 13th-ranked wide receiver overall and top rookie wide receiver by a mile.
As the second highest-graded wide receiver on deep targets of 20-plus yards, McLaurin is giving Washington something they haven't had in ages at the wide receiver position. Going back to the 2019 NFL Combine, McLaurin showed off elite athleticism and insane straight-line speed with a 4.35s 40-yard dash time, and we are seeing him put that on display at the NFL level. Against press-man coverage, McLaurin is tied for the most touchdowns (four) and has the ninth-best passer rating when targeted at 118.1. Not to mention he is the highest-graded wide receiver when targeted on vertical routes.
If it weren't for his 13.5% drop rate (74th among 84 qualifying wide receivers), McLaurin could easily be second to Kyler in the Offensive Rookie of the Year race.
Defensive Rookie of the Year
Unsurprisingly, the leader in the clubhouse for Defensive Rookie of the Year is second overall pick Nick Bosa, who is the eighth-best pass-rusher in all of football, regardless of position, in PFF's latest pass-rush rankings. Bosa is on pace to shatter multiple records for a rookie edge rusher and is making his mark as one of the best pass-rushers in the NFL.
Behind only his older brother Joey Bosa, J.J. Watt and Myles Garrett, Nick Bosa has posted an absurd 23.6% pass-rush win rate and even more crazy pressure rate of 20.5%. Missing all of the preseason due to injury, Bosa took the football field in Week 1 for the first time since early 2018 when he was in college, and it's clear it took him a few weeks to get acclimated. After his first three weeks and a bye in Week 4, Bosa put up an elite graded game of 92.3 in Week 5 in Cleveland and ever since has been the highest-graded edge defender in the NFL.
Coming into the 2019 NFL Draft, PFF was vocal about how great of an interior defensive lineman Dexter Lawrence could be if he was able to become a three-down player at the NFL level. If he was able to do that, he'd easily be worth a first-round pick. Furthermore, he's been playing significant snaps and it's obvious his 340-pound frame isn't slowing him down any, as he is PFF's 12th highest-graded interior defensive lineman at 80.8.
If you grind the tape on Lawrence, you might see that the man is an absolute unit that is a concrete wall against the run – and the PFF grades shows this with an 86.9 run-defense grade for Lawrence ranking seventh at his position. Lawrence plays his fair share of snaps at numerous alignments on the line, but he very well may be one of the five best nose tackles in all of football considering he ranks fourth in overall grade when lined up at 0/1-technique and second in run-defense grade.
This award is Bosa's to win, but the second-place finish so far hands down goes to the Giants best first-round pick, Dexter Lawrence.
Yes, we know Jeffery Simmons missed the first six weeks of 2019, but the fact he is playing so well in his first three games back from a torn ACL makes him a darkhorse Defensive Rookie of the Year candidate if he is able to sustain this tremendous play.
Through his three weeks of NFL action, the interior defensive lineman has an overall grade of 80.3, a run-defense grade of 81.8 and a pass-rush grade of 75.1 (overall and run-defense grades trail only Dexter Lawrence among rookie interior defensive linemen and pass-rush grade is by far the best). Again, this is a small sample size, but it provides great promise for the future of the rookie. Simmons has won 18.9% of his pass-rush reps. Even with knowing Simmons had a torn ACL, we here at PFF rated him as the eighth-best prospect in the 2019 draft class. Nonetheless, he is destined to light up the NFL in years to come and could very well rival Lawrence as the second-best defensive rookie in 2019 – assuming Bosa maintains his stupefying level of play and takes home Defensive Rookie of the Year honors.