In the weeks prior to the 2018 season, the football world was raving about the San Francisco 49ers. With quarterback Jimmy Garoppolo and running back Jerick McKinnon coming to the Bay Area to partner with the head coach and offensive mastermind Kyle Shanahan, many thought the historic franchise was the team to beat in the NFC, and some even threw Super Bowl predictions out there. That dream, however, came to a crashing halt just a few weeks into the season.
With less than a week until the kickoff to the 2018 season, McKinnon suffered a torn ACL on the last play of one of the team's final practices. Despite this crushing loss, hopes still remained high thanks to their one-hundred-million-dollar franchise quarterback. Though, once again, all Super Bowl aspirations disappeared into thin air when that quarterback, Jimmy Garoppolo, also went down with a torn ACL in the fourth quarter of the Week 3 matchup against the Kansas City Chiefs.
With a healthy Jimmy G in 2019, the 49ers will have themselves a franchise-caliber quarterback partnering with one of the best offensive coaches in the game in Kyle Shanahan, a coach whose past success is rooted in his ability to play to the strengths of his players. We saw a prime example of this last season within the San Francisco quarterback room.
In the three weeks of Jimmy G, Shanahan was using play action at the league's fourth-highest rate at 32.7%. When quarterback C.J. Beathard took over from Week 4 through to Week 8, that play-action rate fell to 24.2% (19th among offenses). After Beathard got hurt, undrafted free agent Nick Mullens came in from Weeks 9-17, and he recorded a 25.7% play-action rate (13th among offenses).
Shanahan knew when he lost Jimmy G, he lost some ability to rely on the use of play action in his offense. Even though it was a small sample size, Garoppolo posted a significantly better overall grade when Shanahan used play action (85.9 play-action grade, 47.8 grade from non-play action). Beathard (63.6 play-action grade) and Mullens (53.6 play-action grade) were opposite of that and significantly improved when play action wasn't used. Thus, Shanahan clearly played to Garoppolo's strengths with using a higher rate of play action with him under center.
The throws Shanahan schemed up for Garoppolo were also less "risky" than the ones for Beathard and Mullens. When Garoppolo went down, the Niners saw their quarterback's depth of target drop significantly, as Garoppolo's 9.4 average depth of target was nearly two yards higher than that of Mullens (7.5) and Beathard (7.3). In addition, Garoppolo was, unsurprisingly, the far more accurate passer on throws of 10-plus yards. On such passes, Garoppolo had a 53.3% accuracy rate and 26.7% uncatchable, inaccurate throw rate — Beathard had a 46.5% accuracy rate and 39.5% uncatchable, inaccurate throw rate and Mullens had a 41.7% accuracy rate and 34.7% uncatchable, inaccurate throw rate.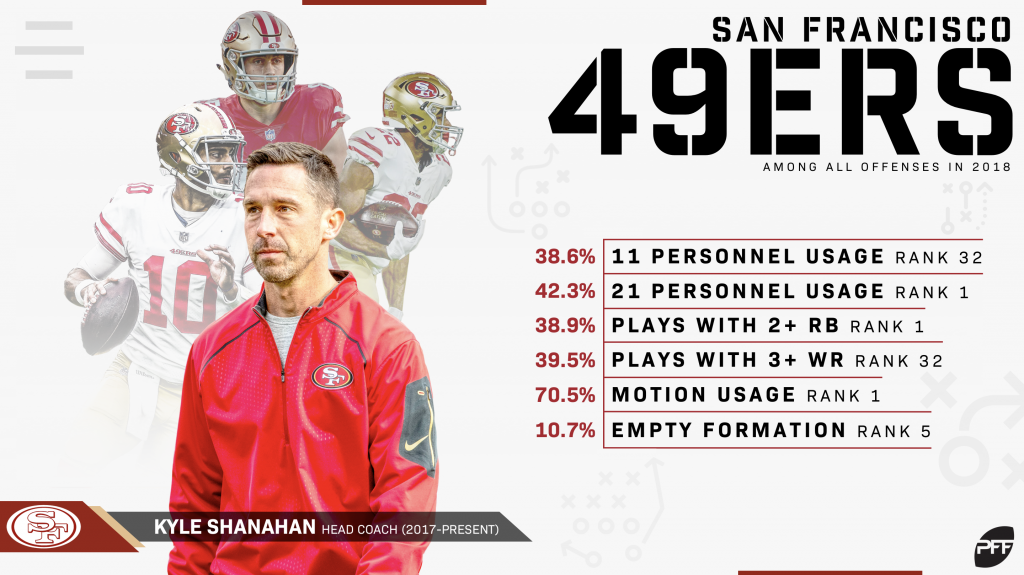 Shanahan's scheme doesn't just play to the strengths of his players, it is quite possibly one of the most unique offenses we have seen here at PFF.
The most frequently used offensive personnel grouping in the NFL is 11 personnel (one running back, one tight end). Shanahan's offense in San Francisco, however, used this personnel group 11% lower than any other offense in the NFL in 2018 (38.6%). Instead, Shanahan implemented 21 personnel (two running backs, one tight end) heavily into his offense with a 42.3% usage rate (highest by over 13%), and as a result, 38.9% of their offensive plays in 2018 had two or more running backs on the field (the NFL's highest mark by over 4%).
With that said, no other offense had a lower rate of plays with three or more wide receivers than Shanahan and San Francisco, at 39.5% of plays. In fact, they had the lowest rate of such plays by over 10% (for perspective, the Los Angeles Rams had the highest rate of plays with three or more wide receivers on the field at 89.7%). What is really intriguing about this fact though, is how the 'Niners still had the fifth-highest rate of plays with an empty formation at 10.7%, which coincides with them also having the highest motion rate in the league by over 8%, at 70.5%.
With Shanahan going against the status quo and having fewer wide receivers on the field, his running backs see more receiving snaps than any other offense. Moreover, Shanahan already had a solid running back room to tap into in the receiving game with Matt Breida, Jerick McKinnon and Kyle Juszczyk, but he went out this offseason and added to that by signing an old friend from Atlanta in Tevin Coleman, who happens to be one of the most underrated receiving backs in the game.
Coleman has spent each of his four seasons in the NFL with the Atlanta Falcons, with two of those seasons being under Shanahan as offensive coordinator (2015-2016). While in the ATL, Coleman saw 168 receiving snaps when lined up as a receiver — the 13th-most among running backs — and he was incredibly productive when doing so, averaging 2.29 yards per route run — the highest mark among running backs in that span. Additionally, Coleman racked up 316 yards after the catch (third), 14.8 yards per reception (first), and he generated a 138.4 passer rating when targeted (first) when lined up as a receiver.
As said, Coleman is being added to an already well-rounded running back receiving group. Last season, Matt Breida finished eighth among running backs in yards per route run at 1.63; McKinnon (who has yet to step on the field with the Niners) saw 193 targets with the Vikings from 2014 to 2017, and he earned an 85.2 receiving grade that ranked eighth among his peers in that four-year period.
Juszczyk, on the other hand, has had 117 snaps lined up as a receiver since joining the Niners in 2017 and has been targeted farther down the field than any other back, as his average depth of target (4.4 yards downfield) is the highest among running backs by over a yard. His 1.57 yards per route run in San Francisco is the 12th-best among running backs in that timespan, and his 110.5 passer rating when targeted is the ninth-best.
Shanahan also brings out the best of his running backs in the run game. When he left the Falcons, Shanahan took his zone-blocking philosophy with him. In 2018, San Francisco used  zone blocking on 68.5% of their run plays, which ranked first in the NFL, and led by Breida — who averaged 5.0 yards per carry on zone-run plays — the 49ers as a whole averaged 4.7 yards per carry and burned off an explosive run play on 15.1% of  carries, which ranked tied for fourth and second, respectively, among the NFL's 32 ground attacks. Their zone-run success is, in part, due to their superb run blocking. On such plays, the 49ers' run-blocking unit finished fifth among offenses in PFF run-block grade.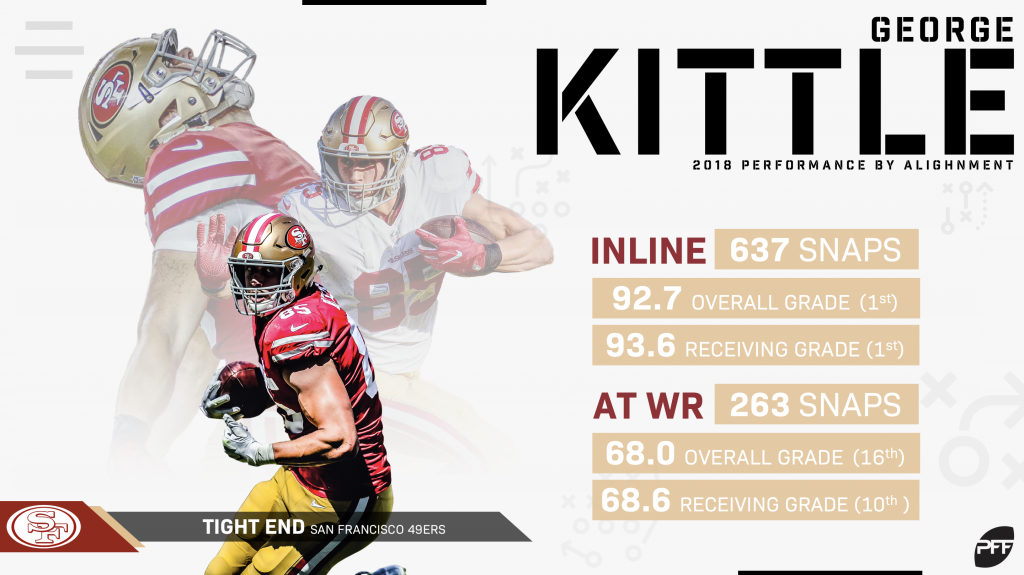 Even with the subpar quarterback play in 2018, Kyle Shanahan was able to bring out the best in his tight end George Kittle, who finished the 2018 season as PFF's highest-graded tight end with an 89.8 overall grade. There may not be a more dangerous receiver in an open field, as Kittle forced 17 missed tackles and racked up 873 yards after the catch, the latter leading all players at the position by over 300 yards.
There is no doubt that Kittle was the star of this 49ers' offense last season. The former Iowa tight end performed exceptionally well when lined up inline (637 snaps, third-most), as opposed to when he was lined up in the slot or out wide (263 snaps, 18th). When inline, Kittle posted a 92.7 overall grade (first), a 93.6 receiving grade (first) and a 119.0 passer rating when targeted. When in the slot or out wide, Kittle's numbers plummeted down to a 68.0 overall grade (16th), a 68.6 receiving grade and an 86.6 passer rating when targeted.
In addition to recognizing how much more valuable he is when lined up inline, Shanahan was able to scheme up open throws for Kittle at an astounding rate. Kittle saw 87 targets where he had a step or more of separation (third-most among tight ends); he generated a 94.5 receiving grade on those targets and averaged a staggering 10.6 yards after the catch per reception — the best mark among tight ends by over a yard.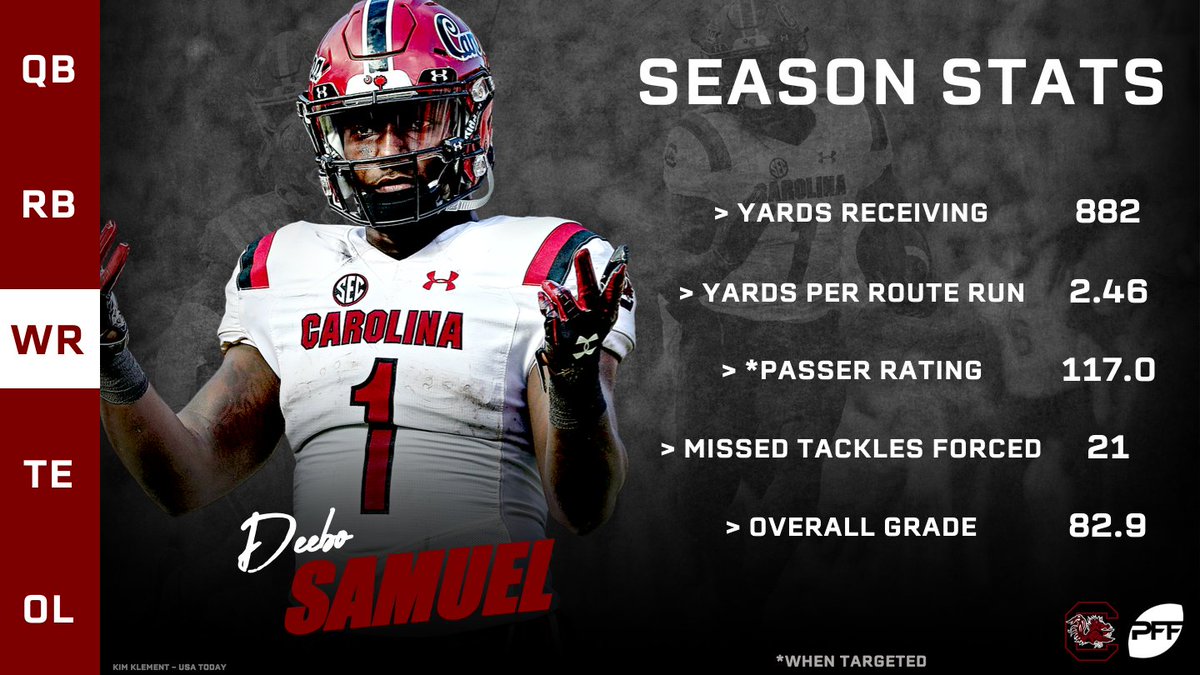 This offseason, Shanahan and general manager John Lynch made it quite clear that they were looking to improve the wide receiver position by selecting South Carolina's Deebo Samuel and Baylor's Jalen Hurd within the first three rounds of the 2019 NFL Draft. So how will Shanahan bring out the best of these two rookie wideouts?
Samuel played almost exclusively out wide last season, with 78.8% of his snaps coming from that alignment. However, his performance out wide was far worse than when he was not lined up out wide. When out wide, Samuel ranked 94th among college receivers in receiving grade at 70.7; he caught 34 of his 62 targets and averaged 1.69 yards per route run, which ranked 142nd among players at the position. On the 21.2% of his snaps when not lined up out wide, however, Samuel was one of the best wide receivers in all of college football. On such plays, Samuel had a 91.9 receiving grade (second); he averaged a colossal 12.8 yards after catch per reception (second) and an insane 5.49 yards per route run (second). Thus, a reasonable argument can be made that Samuel was possibly misused while at South Carolina and could become Shanahan's next mismatch weapon in the slot.
Shanahan has proven year after year how his greatest quality is his ability to play to the strength of his players. His offenses go against the established order in regard to his personnel usage and player alignment, but this is one of the many reasons why his offense is a pain for defenses across the league. With a healthy Jimmy G and an offense led by mastermind Kyle Shanahan, the 49ers will for sure be one of the most intriguing teams to watch in 2019.