The first game of the 2020 NFL season is now just hours away, which gives everyone one last chance to get their 2020 NFL season predictions out there.
Of course, opinions can vary from one person to the next, but after sifting through the industry's very many season-long projections, I've noticed a few teams that are, in my opinion, being overhyped, as well as a few that are being underhyped. 
THREE UNDERRATED NFL TEAMS
The Lions have a realistic shot at winning the NFC North with a healthy Matthew Stafford. The veteran signal-caller was a new man under center for Detroit in 2019, and before getting hurt, he was legitimately producing at an MVP level. The Lions signal-caller was the seventh-highest-graded passer in the NFL before going down, while the Lions offense as a whole ranked fifth in EPA per pass play. From Week 10 on, Detroit's rank dropped to 29th.
Stafford's average depth of target increased by over 4 yards from 2018 to 2019 (11.4), and it was 2.5 yards more than any other single season of his career. That aggressive playstyle clearly paid off for Detroit's offense, and it also helped the Lions passer produce 25 big-time throws through Week 9, second among quarterbacks over that span. The Lions were 3-4-1 with Stafford under center last year, but three of those four losses were within one score. 
Stafford will enter 2020 with a terrific wide receiver duo in Kenny Golladay and Marvin Jones, who were the NFL's 15th- and 18th-highest-graded receivers, respectively, with Stafford on the field in 2019. That offense is good enough to compete for the NFC North crown. If anything is bringing them down, it'll come from the defensive side of the ball. 
Most see the Cowboys as a one-and-done playoff team, but I see them as a legitimate Super Bowl contender.
When you have (A.) one of the best playcallers in the NFL, (B.) the best wide receiver unit in the NFL, and (C.) a quarterback in Dak Prescott, who was the second-most-valuable player at the position last year, you are a contender.
In Kellen Moore's first year as playcaller, he helped Dallas produce the league's second-most-efficient offense in terms of EPA per play. For perspective, the Cowboys finished 18th in the same metric in 2018. Moore also helped raise Prescott's positively graded throw rate from 20th in the NFL in 2018 to seventh in 2019.
His emphasis on Prescott taking more shots downfield was a big reason why. The routes run by the Dallas Cowboys in 2018 suggested an average depth of target of 9.0 yards, but his actual aDOT was 8.2 yards. In 2019, Prescott's suggested aDOT was 9.6 yards, and his actual aDOT was 10.0 yards. He finished the year ranked third in total deep completions (35) and was the fourth-highest-graded passer on such throws.
I think we all agree that the Kansas City Chiefs and Baltimore Ravens have the two best offenses in the NFL, but I think the Cowboys — and the Tampa Bay Buccaneers — belong in that same, elite tier.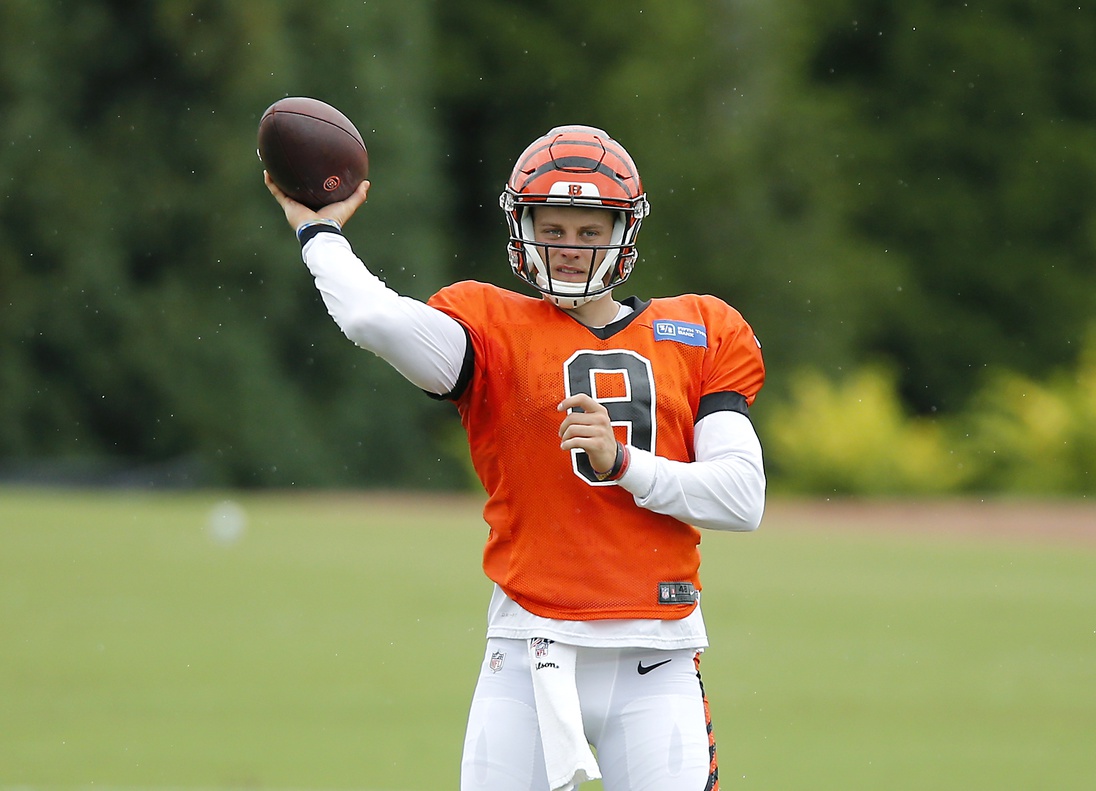 If you were to tell me right now that the Cincinnati Bengals would end up sneaking in the playoffs this year, I wouldn't be too surprised. We all know it at this point, but remember that quarterback is the most important position on the field. And the Bengals just got the best quarterback prospect of the PFF College era (2014 – present).
Joe Burrow produced an incredible 94.9 PFF grade last year at LSU, shining in every situation and displaying every trait you want in an NFL quarterback. Burrow led the FBS in both clean-pocket and pressured-passing grade, and he actually earned a higher grade on throws under pressure than 76 of the 130 starting quarterbacks did from a clean pocket.
There have been rave reviews about his accuracy coming out of training camp, and our analysis checks out with that. Over 70% of the passes that he threw beyond the sticks were charted as accurate last year, which led the nation's quarterbacks by four percentage points. And that wasn't some massive improvement from the year prior, either, because he ranked ninth among all FBS quarterbacks in the same metric in 2018.
The Bengals had the first overall pick of the 2020 NFL Draft for a reason. But again, quarterback play is the engine to a team's success, and the Bengals ranked 30th in passing grade with Andy Dalton and Ryan Finley at the helm. And do not discount the impact of having a healthy A.J. Green as well as the addition of Tee Higgins. Those two, along with Tyler Boyd, have the potential to form one of the top wide receiver trios in the league.
As a rookie, Baker Mayfield nearly took the previously 0-16 Cleveland Browns to the postseason — why can't Burrow do it with the Bengals in 2020?
THREE OVERRATED NFL TEAMS
The Steelers' consensus season outlook is among those that I disagree with the most. Some have predicted Pittsburgh to win the division, and a few have gone as far as to forecast that they will hoist the Lombardi Trophy at the end of the season. 
First and foremost, the Steelers' have a formidable defense — one that took the third spot in our rankings ahead of the season. I'm not doubting that the defense won't be good (though the number of turnovers the unit forced in 2019 is bound to regress in 2020), but I am doubting their offense — specifically, quarterback Ben Roethlisberger.
Roethlisberger's return will certainly improve the Steel City's offense from last year. Mason Rudolph and Duck Hodges performed poorly in his stead, leading the Steelers to the least efficient offense in the NFL in regard to expected points added per play. That said, assuming Roethlisberger returns to his prime form from a few years ago is a lofty expectation. 
He was the third-highest graded passer in 2017 but started to show signs of decline in 2018. That year, Roethlisberger's passing grade dipped down to 17th at the position and we saw a concerning decline in accuracy. His rate of negatively graded throws went from the fifth-best in 2017 to the fifth-worst in 2018. And he did that in addition to posting the lowest average depth of target in his career by half a yard.
On throws of 10 or more yards downfield in 2018, Roethlisberger had his worst negatively graded throw rate in the PFF era and the third-worst mark in the NFL — ranking ahead of only Mitchell Trubisky and Josh Rosen. Not to mention, he still had Antonio Brown at his disposal, who is one of the best wide receivers we have seen in the PFF era.
Then, on his limited reps in 2019 before getting hurt, Roethlisberger showed no signs of being back to his elite form and looked even worse. He produced a 49.5 passing grade on 65 dropbacks and had the second-worst negatively graded throw rate in those two weeks of action. While that's a small sample, it's not a promising sign for his future, given how he fared in 2018 — especially coming off a major elbow injury. 
Pittsburgh's defense won't be able to sustain the number of turnovers it forced last year (à la 2018/2019 Chicago Bears) but will still have one of the top units in the league. While the offense will get better, I'm not sure it'll be significantly better. I hope Big Ben and the offense proves me wrong, but don't be surprised if they missed the postseason.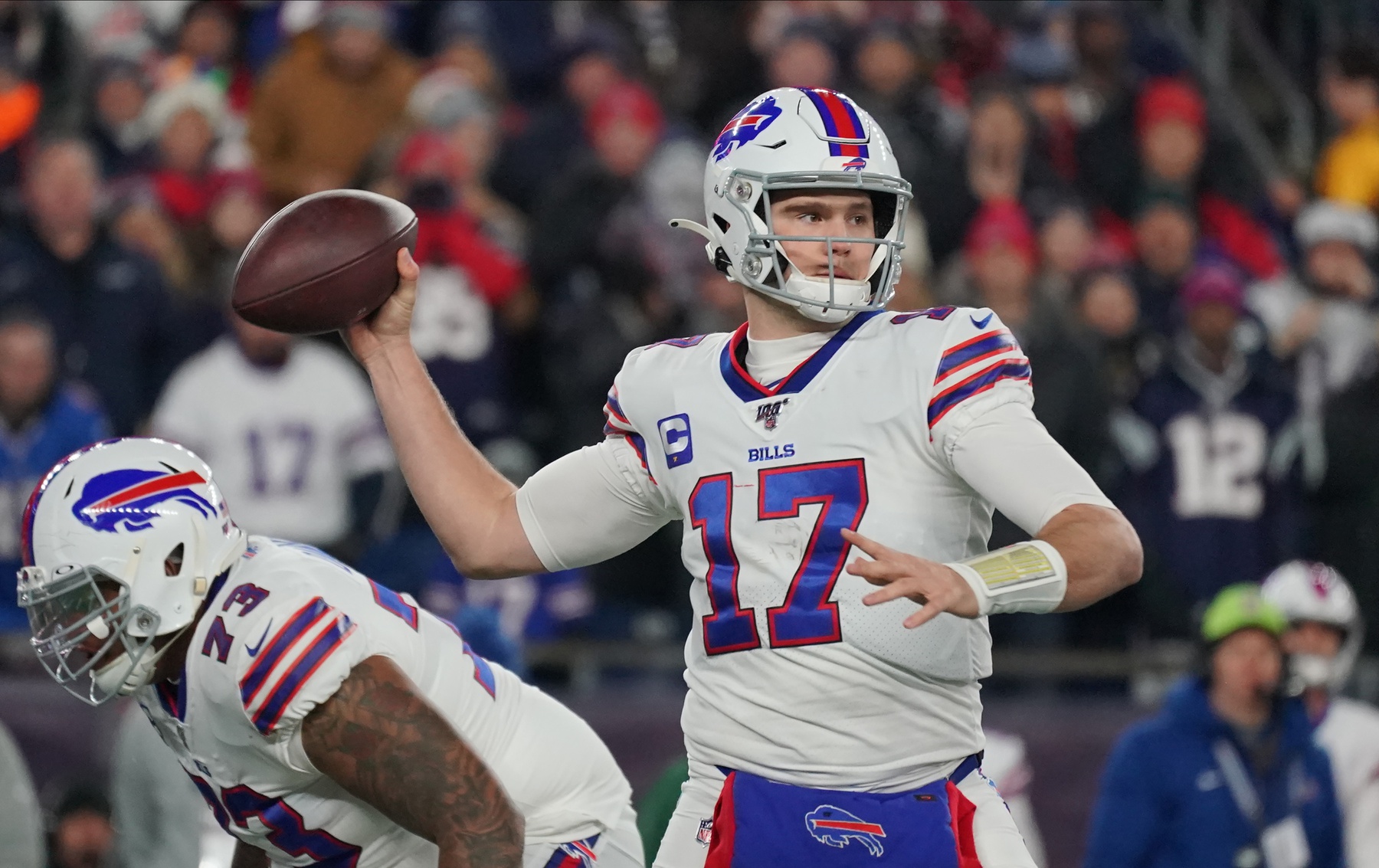 Buffalo is in a similar boat to Pittsburgh — you can count on the defense being one of the best in the NFL, but the offense is on shaky ground.
The Bills do have a great wide receiver trio in Stefon Diggs, John Brown and Cole Beasley, though. All three are coming off years in which they produced top-35 receiving grades at the position, helping Buffalo's wide receiver unit rank fifth in our preseason rankings. At the end of the day though, there's not much they can do if they don't get a catchable ball.
Quarterback Josh Allen ranked last in percentage of uncatchable passes thrown beyond the line of scrimmage in 2019, and when filtering to the plays where the receiver had separation, he still ranked last. Overall, nearly 17% of his pass attempts resulted in a quarterback-fault incompletion (e.g., overthrow, underthrow, behind the receiver, etc.), which led the NFL by over 2 percentage points.
That's not to say he doesn't do great things for Buffalo's offense, though. He can create big plays with his legs on scrambles (most 10-plus yard scramble runs since 2018, with 30) and still ranked 10th in positively graded throw rate (which is heavily influenced by the ecosystem, I might add). Still, accuracy is king, and Allen lacks it — it clearly played a part in the Bills ranking just 22nd in expected points added per pass play in 2019 and 31st the year prior.
If Buffalo wants to get back to the postseason in 2020, it will need the defense to match its 2019 performance when the unit allowed the second-lowest rate of pass plays resulting in positive expected points added.
There wasn't a luckier team in the NFL last season than the Green Bay Packers. They came away with 14 wins, which was four more than their adjusted win total. Would I be surprised if Green Bay won the NFC North in 2020? No, not at all. But I would say that about every team in the division. 
Aaron Rodgers was still a top-10 quarterback in 2019 by passing grade, but it's no secret that he isn't the same player of the past. Rodgers is still producing a high rate of big-time throws while avoiding turnover-worthy plays, but as PFF's Steve Palazzolo outlined in our quarterback rankings, Rodgers' greatness stems from his ability to routinely hit the easy throws.
And he is slipping in that regard. Last year, Rodgers produced a negatively graded throw rate on passes targeted between 1-19 yards downfield that ranked 18th among 32 qualifying quarterbacks. Among that same group, he tied for 20th in percentage of accurate passes thrown. While he is slowly declining, Rodgers is still one of the top quarterbacks in the league — he just isn't in that elite category.
Matt LaFleur and Green Bay got off to a hot start in 2019, but the offense undoubtedly took a step back as the season progressed. The unit ranked just 25th in the NFL in percentage of pass plays to produce positive expected points added from Week 9 and on. It's fair to assume that trend continues in 2020.