When it comes the navigating the rules on veteran contracts, one of the true win-win scenarios for NFL teams and players alike is the early extension.
NFL teams are allowed to negotiate an extension with their recent draft picks after their third season (two seasons for UDFAs) — before the expiration of the standard four-year rookie contract.
This is obviously good for the players, as it allows them to cash in on a big deal before they reach unrestricted free agency without risking injury in their fourth season (or fifth season on the fifth-year option or sixth season on a franchise tag, etc.). It's also great for teams, as the leverage is entirely in their favor; buying out the final year of the rookie contract enables them to keep the overall value down, and there are many instances in which these early extensions become huge bargains down the line.
The most notable example of an early extension that immediately turned into a steal is the five-year, $72 million contract Minnesota Vikings edge defender Danielle Hunter signed before the 2018 season. The extension runs through 2023, and his $14.4 million average per year (APY) is almost half of Joey Bosa's $27.5 million APY.
Of course, this is why Hunter is threatening to hold out of the 2021 season. His current deal is way below his value.
On the other hand, there are also risks associated with locking a player up to a massive deal based on a relatively small three-year sample size. Look no further than two of the biggest storylines of the 2020 season, the underwhelming play of Los Angeles Rams QB Jared Goff and Philadelphia Eagles QB Carson Wentz.
Goff (four years, $134 million) and Wentz (four years, $128 million) both signed extensions before the 2019 season; both eclipsed $100 million in total guarantees, and now both the Rams and Eagles are stuck with enormous contracts for quarterbacks who are trending in the wrong direction despite their draft pedigree.
Nevertheless, it is good business for NFL teams to explore early extensions more often than not. Ascending young stars deserve to be paid adequately for their contributions on the field, which helps both sides avoid a prolonged contract negotiation in free agency.
A handful of young players from the 2018 NFL Draft deserve early extensions, starting with the quarterbacks.
Quarterback
When working through an extension with a young star, teams pay for future expectations and not past performance. To that end, PFF's Timo Riske provided Bayesian Updating models of PFF passing grades to show the evolution of the range of possible outcomes for a player over time as we gain more information on each young quarterback.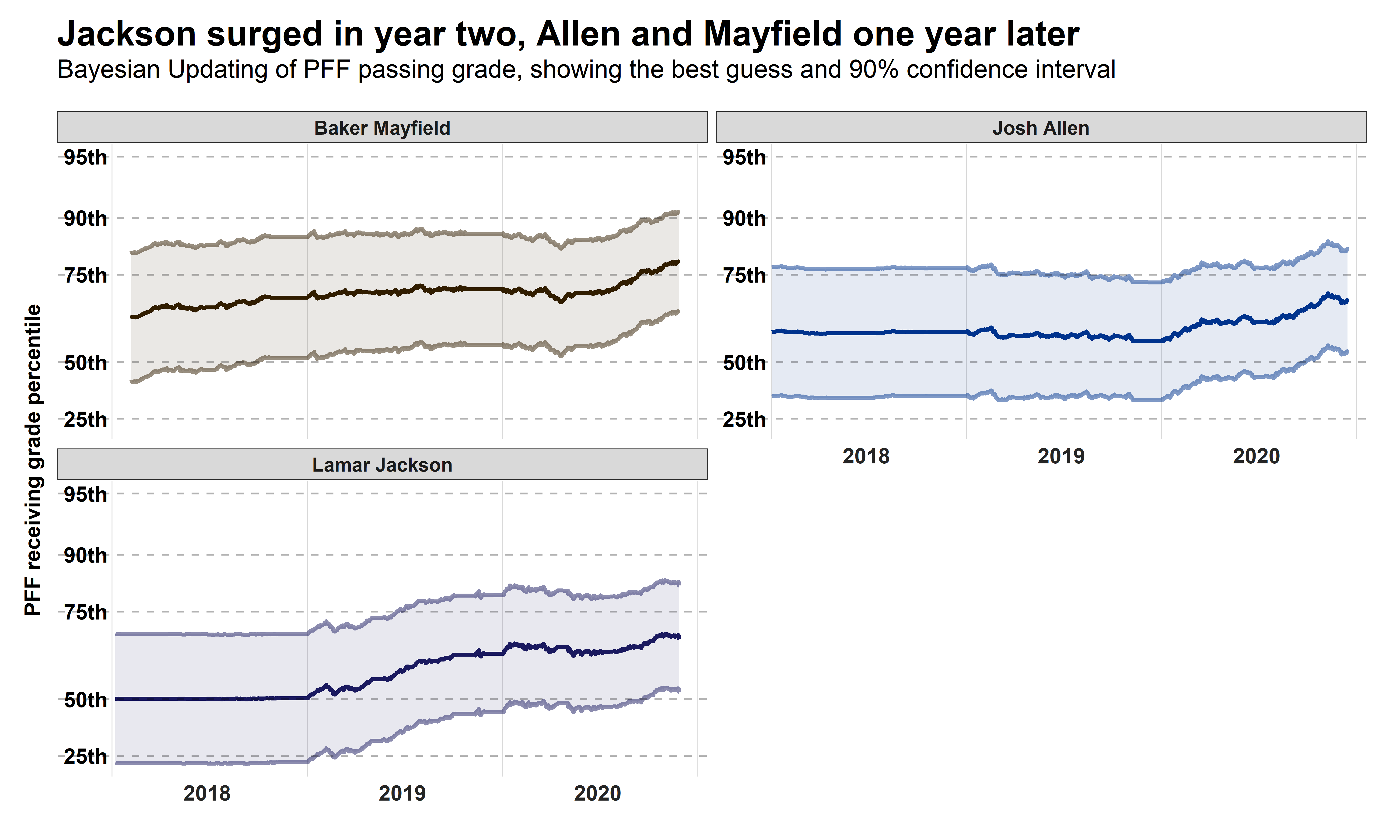 Lamar Jackson burst onto the scene in 2019 and took home the NFL's MVP Award in his first full season as the starter. He's widely known for already being arguably the greatest running quarterback of all time, but he also led the NFL in passing touchdowns in 2019. Jackson has shown steady growth as a passer, too, raising his passing grade from 59.3 in 2018 to 85.3 in 2019 before finishing 2020 at 76.9, 16th among 42 qualifying quarterbacks.
Subscribe to PFF Edge to continue reading
Already have a subscription? Sign In