The 2020 NFL season is working its way closer to Tampa and Super Bowl LV, but as the rest of the league turns its attention to the offseason, there is just enough time left to take stock of the regular season that was and hand out some PFF awards.
PFF's awards, like the NFL's, are regular-season awards only. Nothing that happens in the playoffs can change the dynamic for the following accolades,  which compare — as much as possible — the level playing field of 16 regular-season games for everybody.
Anybody putting in a postseason for the ages — or, conversely, a disaster of a playoff campaign — will see their stock adjusted accordingly when we publish the PFF 101 — the 101 best performances from the 2020 NFL season.
The NFL's MVP Award is one that gets lost in the tall grass too often, with people tying themselves in knots trying to parse and quantify the "value" element of the award.
In most sports, the most valuable player is also the best player, which is what we are trying to award at the heart of it. The discussion around the value component of this award gets sufficiently silly every year that PFF abandoned the award entirely for several years, preferring to apply the spirit of the award by simply acknowledging the best player in the league — regardless of position  — with our Dwight Stephenson Award.
PFF's research and development team recently gave us a new avenue to attack the problems associated with the MVP award. The work that team has done has allowed us to lean on our PFF WAR (wins above replacement) metric and meaningfully quantify the value of the most valuable player.
According to PFF WAR, the most valuable player in 2020 was none other than Green Bay Packers quarterback Aaron Rodgers. Coming into the season, it was difficult to imagine Rodgers having this kind of campaign, given what we had seen from him in recent years. Still, he ended the regular season with an overall PFF grade of 94.5, the best mark of his career, and he was worth more wins above replacement than any other player in the league.
Honorable mentions: Tom Brady, Tampa Bay Buccaneers & Deshaun Watson, Houston Texans
---
The Dwight Stephenson Award is PFF's solution to the world of semantics surrounding the value aspect of the NFL's MVP Award. It represents the best player in the league over any given season, regardless of position.
MVP has become a quarterback's award to win — though it has occasionally been infiltrated by running backs — but a guard has as much chance of winning the Stephenson Award as a quarterback or any other position.
You could make a good case that Rodgers was both the best and most valuable player in the league this season, but the Stephenson Award winner in 2020 is Aaron Donald.
Donald actually finished the regular season with the same overall PFF grade as Rodgers (94.5) and once again showed just how peerless he is on the defensive line. He led the league in total pressures with 98, 21 more than any other pass-rusher.
Donald is the only interior defender in the PFF era (since 2006) who has led the league in total pressures over a single season, and he has now done so in three of the last four seasons, with only Za'Darius Smith keeping him from that position a season ago.
Donald also recorded the league's best pass-rush win rate (25.2%), and only Kansas City's Chris Jones had a better win rate among interior defenders overall than Donald had strictly when working against double teams (18.8%).
Simply put, he is the best player in the NFL regardless of position. And while quarterbacks might offer more value and move the needle more in terms of wins and losses, nobody is head and shoulders above their peers in the way Donald has been for several years.
Honorable mentions: Aaron Rodgers, Green Bay Packers & Travis Kelce, Kansas City Chiefs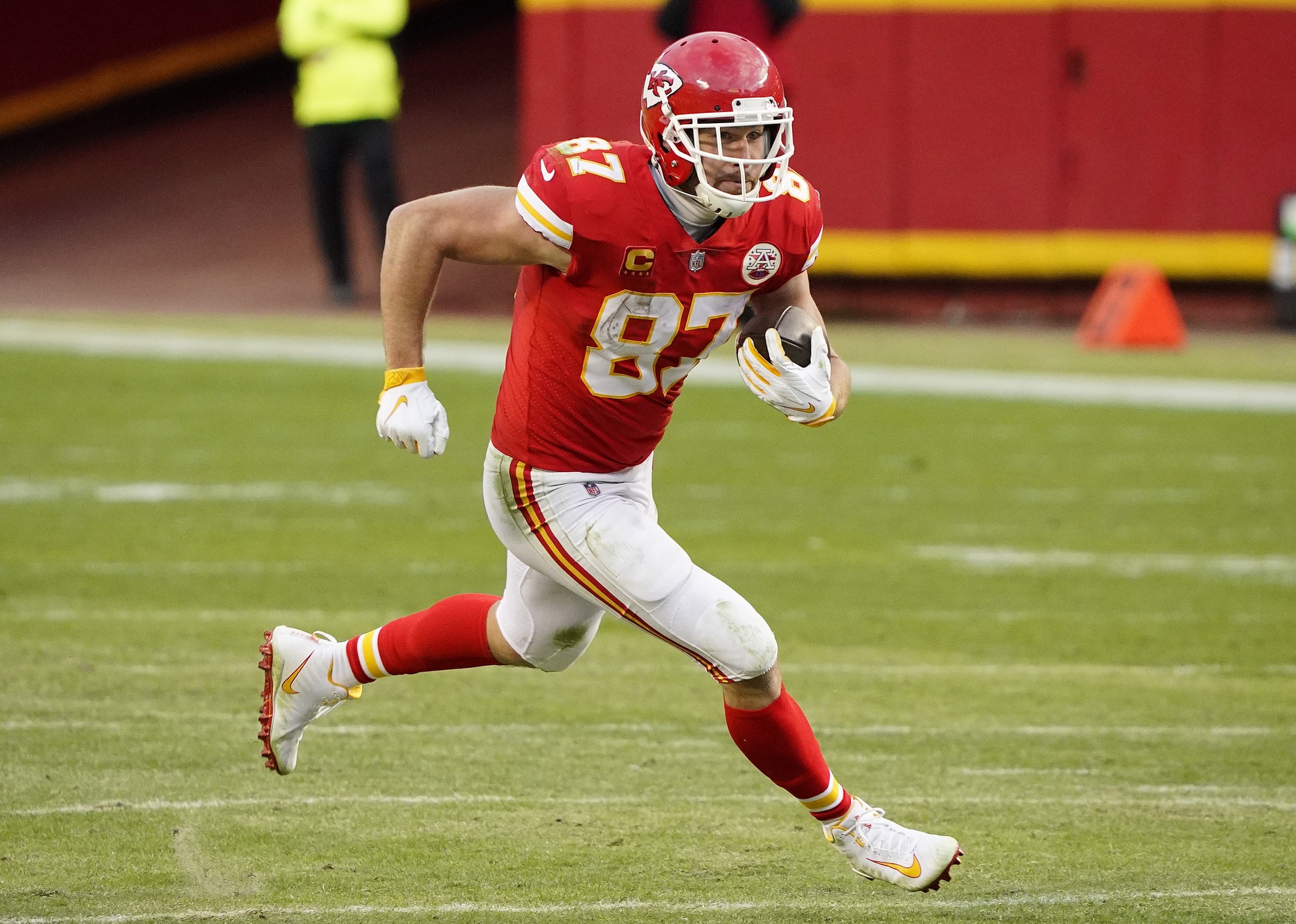 This is another award that could go in a couple of different directions, as the NFL's Offensive Player of the Year feels like an award that serves as a way of letting some other offensive positions get recognized beyond the quarterbacks who get MVP accolades.
Two of the best players in football this season were Davante Adams and Travis Kelce, and you could construct a good argument for either player.
It took until Week 17 — when Buffalo played its starters for most of the game while Kansas City rested theirs — for Stefon Diggs to overtake Travis Kelce as the league leader in receiving yards. Kelce broke the record for a tight end and was almost the first tight end in the modern era to lead the league in receiving, a feat that seemed implausible even as recently as the Rob Gronkowski/Jimmy Graham heyday. Kelce ended the season with a PFF grade of 93.5, broke 14 tackles after the catch and generated a passer rating of 124.9 when targeted in 2020.
Honorable mentions: Davante Adams, Green Bay Packers & Derrick Henry, Tennessee Titans
---
This one's pretty self-explanatory. Donald is the best player in the NFL; ergo he is also Defensive Player of the Year. You can certainly build an argument for other players, but Donald not receiving this award on an annual basis only occurs only through voter fatigue — being bored or jaded with one guy winning it over and over again.
Donald didn't help matters a couple of seasons ago when he reset the bar to an absolutely absurd place when he almost broke the single-season sack record as an interior defensive lineman.
That is so completely ridiculous that we glossed over how incredible it was. And because he didn't quite make it, the lasting effect of that season was to just warp expectations for Donald and hold him to a higher standard than anybody else, judging him more harshly if he doesn't have one of the greatest seasons in NFL history and not simply evaluating if his season was better than any other defensive player's.
Donald led the league in every conceivable pass-rushing category as an interior lineman, a position where pressure is supposed to be harder to come by. He was once again the Defensive Player of the Year.
Honorable mentions: T.J. Watt, Pittsburgh Steelers & Jessie Bates III, Cincinnati Bengals
---
When you break a franchise record that was once held by Hall of Fame wide receiver Randy Moss, you're doing something pretty well. When you do it as a rookie and then break the overall NFL record in the same year, you're deserving of Rookie of the Year honors.
I know that Justin Herbert did some special things this season, and at times Chase Young looked phenomenal, but Jefferson was on another level compared to other rookies and his season held up compared to the best receivers in the league regardless of experience.
Jefferson finished the season second to only Davante Adams in yards per route run (2.66) despite barely featuring in the first two games until the Vikings realized what they were sitting on. From that point on, Jefferson was just lighting defenses up despite being trapped in an offense that caps how effective their passing game can be with their conservative playcalling and insistence on running the football in neutral-game situations.
Jefferson also earned the second-best PFF receiving grade (91.0) behind Adams and recorded the third-most explosive receptions of 15 or more yards (35) among the NFL's wide receivers.
Honorable mentions: Justin Herbert, Los Angeles Chargers & Chase Young, Washington Football Team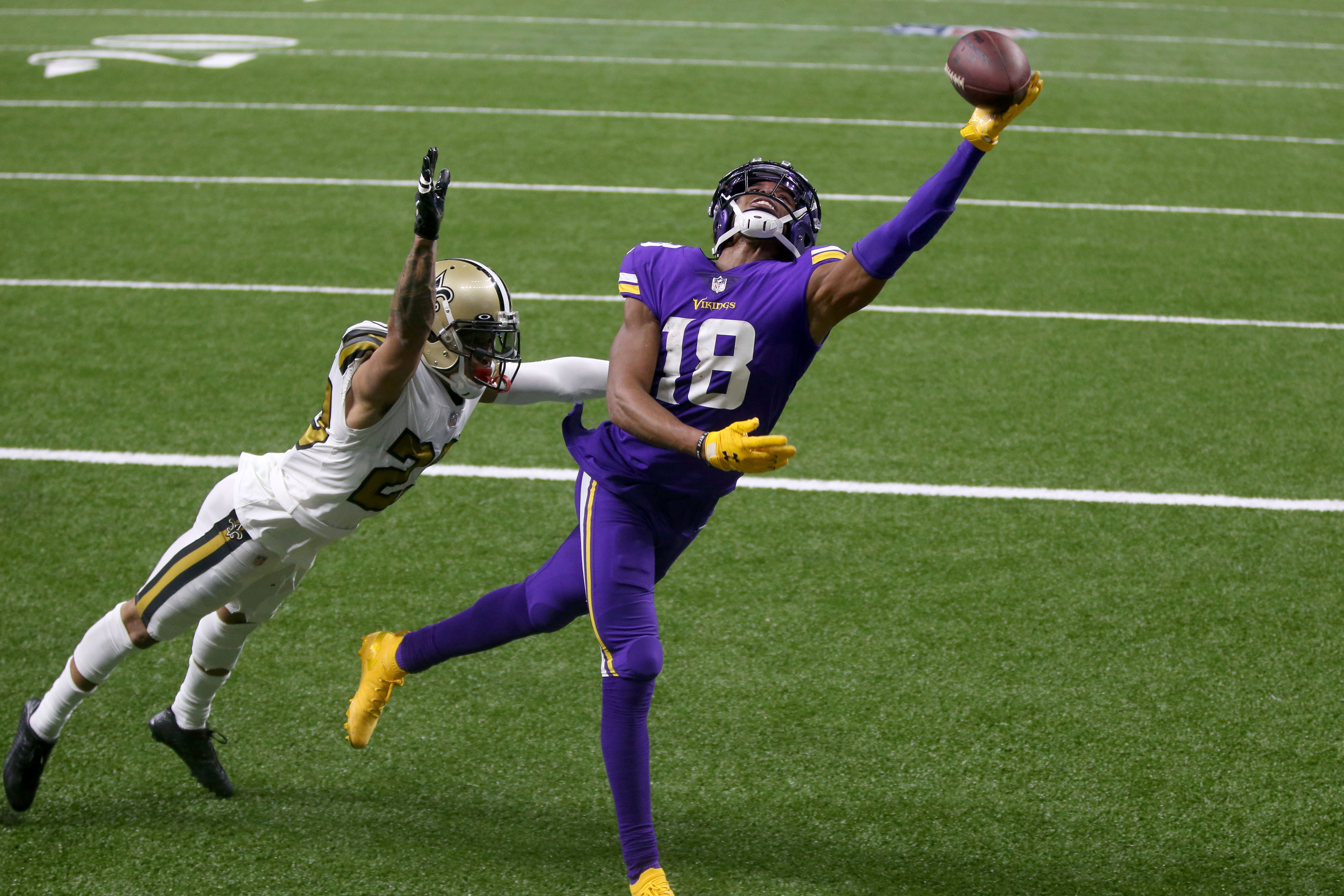 You can certainly construct an argument for Justin Herbert, and it's not one I would fight too vehemently. Still, Jefferson was better relative to the other wide receivers in the league than Herbert was relative to other quarterbacks.
What the Oregon product did was special for a rookie passer — and it's certainly harder to be great at that position than it is at receiver — but what Jefferson did was special for any receiver, and that's why he gets the nod over Herbert.
Honorable mentions: Justin Herbert, Los Angeles Chargers & Tristan Wirfs, Tampa Bay Buccaneers
---
It's probably not surprising that in a season where offenses set all kinds of NFL records, it wasn't exactly a vintage year for rookie defensive performances.
This became one of the easiest award decisions of them all, as Young finished the regular season with an overall PFF grade that was 10 grading points higher than that of any other rookie defender. Young (87.2) was the only rookie to earn a PFF grade north of 80.0 over the season, and what's truly impressive about his debut season is that it could have been even better had he not suffered an injury that caused him to miss some time and see a dip in form after his return.
Young finished the season on fire, with multiple pressures in seven straight games including the postseason. He did some of his best work against the toughest opposition he faced and notched 42 total pressures and 32 defensive stops overall.
Chase Young was the best edge-rusher prospect we have seen since PFF began grading college football in 2014; his rookie year backed up that evaluation and suggested that the league is about to have another superstar at the position on its hands sooner rather than later.
Honorable mentions: Kamren Curl, Washington Football Team & Cameron Dantzler, Minnesota Vikings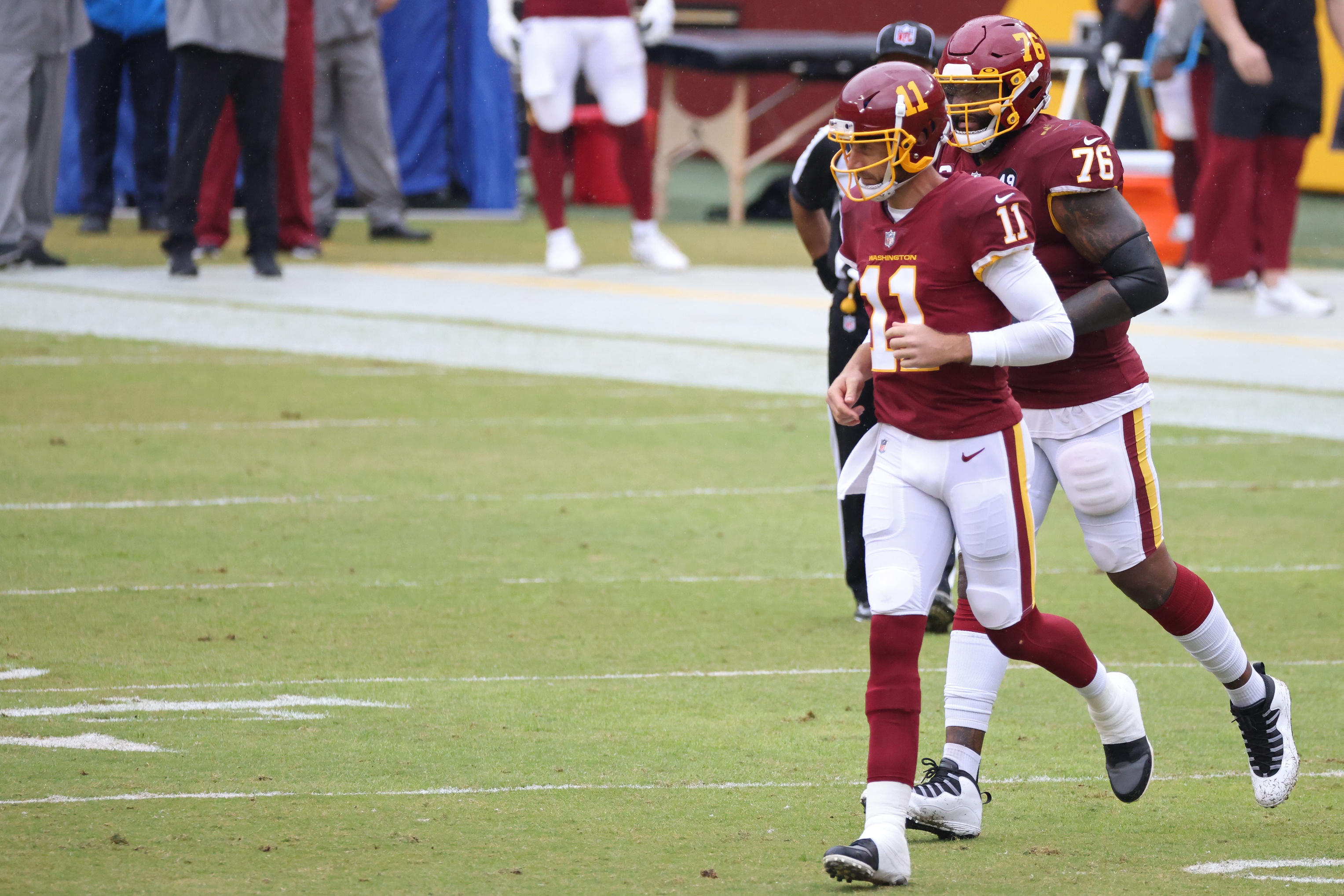 Smith's comeback to just being active on a gameday roster was worthy of winning this award, but for him to take back the starting job from a struggling Dwayne Haskins and provide a clear upgrade at the position is one of the greatest comeback stories in NFL history.
Smith didn't just suffer a gruesome injury; the resulting infections forced him and his family to make decisions about whether to amputate his leg in order to save his life. In chasing the infection, Smith lost much of the musculature of his lower leg, and the prospects of him playing in the NFL again after 17 surgeries seemed absurd, let alone unrealistic. But Smith came back and earned an overall PFF grade of 66.0 for the year, completing 66.7% of his passes with an adjusted completion rate of 78.5%. He even recorded an 81.4 PFF grade from a clean pocket.
Alex Smith's comeback story is absolutely phenomenal, and you need to understand the severity of his injury and subsequent infection to appreciate how it differs from just another "routine" comeback year.
Honorable mentions: Ben Roethlisberger, Pittsburgh Steelers & Jason Verrett, San Francisco 49ers
This was one of the most hotly contested awards, as at least two receivers had spectacular years. In the end, what Travis Kelce has achieved was just too impressive. He reclaimed the all-time single-season receiving yards record for a tight end from George Kittle and did so despite being rested for Kansas City's Week 17 game.
Missing that game may also be the only thing that prevented Kelce from becoming the first tight end in league history to lead the league in receiving yards, as he ultimately came up 119 yards shy of the mark Stefon Diggs managed in his first season in Buffalo. Kelce ended the year with 2.5 yards per route run, the best mark among tight ends with at least 50 receptions, as well as eight straight games with a PFF grade of at least 80.0. His overall PFF grade of 93.6 was the best mark any receiver managed this season.
Honorable mentions: Davante Adams, Green Bay Packers & Stefon Diggs, Buffalo Bills
---
It's not often that a team can just replace one of its best-ever players and not skip a beat. It's even less often that a team can do it and actually upgrade at the position. That's what the San Francisco 49ers managed when they replaced the retiring Joe Staley with Trent Williams, who then went on to earn the best PFF grade among all tackles for the third time in his career. Williams allowed 19 total pressures across 14 games, but it was his run blocking that was other-worldly throughout the season.
His 91.8 PFF run-blocking grade was the best among all tackles, and his tape is littered with truly dominant blocks against hapless defenders who made the mistake of trying to get past Williams to the ball carrier. His highlight reel this season belongs in the Hall of Fame, and that's why he wins our Bruce Matthews Award as the best offensive lineman in football in 2020.
Honorable mentions: Corey Linsley, Green Bay Packers & David Bakhtiari, Green Bay Packers
---
It's getting harder and harder to explain just how absurd Aaron Donald is as a pass-rusher, but we have to keep trying because he remains the best in the league.
Donald led the league in total pressures with 98, which is the third time in four years he has led the league in that statistic, and those 98 pressures were five more than Za'Darius Smith managed last season. Donald is the only interior defender we have seen lead the league in total pressures because interior pass-rushers generate pressure at a substantially lower rate than edge rushers who are often one-on-one in space and half the time have the advantage of working to the quarterback's blindside.
Donald took a lot more pass-rushing snaps than some other players, but he also had the best pass-rush win rate of any player in the league. And he generated all of that pressure despite being double-teamed at a huge rate.
Outside of Chris Jones, Donald's pass-rush win rate against double teams was better than every other interior defender's total win rate. His PFF pass-rush grade was 93.6, the best in the NFL. Simply put, he is a pass-rushing monster, and even great seasons from players like T.J. Watt can't compare.
Honorable mentions: T.J. Watt, Pittsburgh Steelers & Chris Jones, Kansas City Chiefs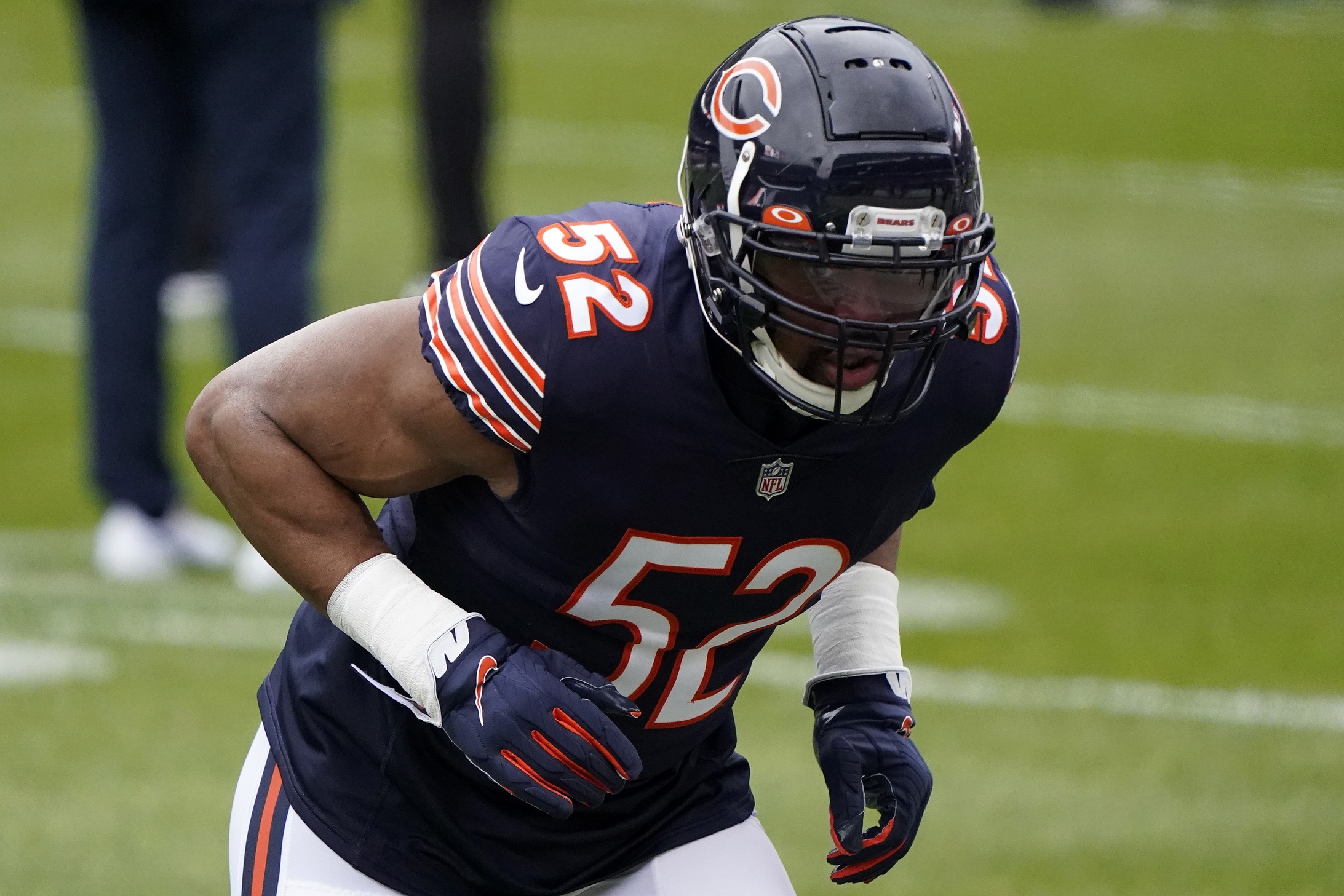 Khalil Mack had one of his best seasons, but he never quite got the statistical reward his performance deserved. He ended the season with an overall PFF grade of 92.3, the best among all edge defenders, and he was one of only three defenders to earn grades of 90.0 or better as a pass-rusher and run defender.
It's not that Mack's numbers were bad — he recorded 57 total pressures and 31 defensive stops, not to mention three forced fumbles — it's more that his true impact can only be seen from throwing on the tape and watching what he did to blockers. Those are the plays that show up in PFF grading even if they only result in other Chicago players making plays, and they are the plays that just generally disrupt life for the opposing offense. Mack's average depth of tackle in the run game was just 1.5 yards downfield, and he racked up 11 tackles for loss or no gain, but he had near-countless plays where he just wrecked the guy trying to block him and that's why he was the best run defender in football in 2020.
Honorable mentions: Bobby Wagner, Seattle Seahawks & Aaron Donald, Los Angeles Rams
---
There are cases to be made for a handful of players, but in the end, what Howard did this season for Miami was too good to ignore.
Obviously, the 10 interceptions draw the attention, and some of those plays were truly spectacular (such as the one-handed snag in the end zone that could go down as one of the plays of the season), but it was the consistent play outside of those highlights that was most impressive.
Howard had another 10 pass breakups to go along with the interceptions; he allowed a passer rating of just 53.0 when targeted but also had five games in which he allowed fewer than 20 receiving yards, including three in which he didn't allow a catch at all. There was even one game against the Raiders where the only catch he surrendered actually lost yardage.
Howard was always a talented playmaker, but he was one with inconsistent play. This year the inconsistency went away and we were left with superstar performances.
Honorable mentions: Jaire Alexander, Green Bay Packers & Jessie Bates III, Cincinnati Bengals
---
There was little in Josh Allen's tape before this season to suggest what was in store for him in 2020. It's not that Allen hadn't shown signs of development or improvement, but they had been small, and the breadth of his issues was still so large that a jump of this magnitude seemed farfetched. But that's what happened.
Allen has played at an All-Pro level for most of the season, still making big plays but also becoming one of the most accurate passers in the league, something that seemed ridiculous to suggest before this year. Allen's adjusted completion rate was 79.1%, more than 15 percentage points higher than his rookie year and a top-five mark among all quarterbacks this season, sitting just behind Drew Brees — the most accurate passer in NFL history.
Allen went from being a marginal quarterback with outstanding physical tools to one of the best players in the entire league. And that is a true breakout performance.
Honorable mentions: Corey Davis, Tennessee Titans & Jaire Alexander, Green Bay Packers
---
Ever since the retirement of Joe Thomas, the gold standard in pass protection among NFL left tackles has been Green Bay's David Bakhtiari, which remained the case this year.
Bakhtiari's loss has been a major blow for the Packers as they look to make another Super Bowl run, but his quality was there for all to see during the regular season. Bakhtiari allowed just nine total pressures in 12 games — fewer than one per game — and only allowed Rodgers to hit the ground on one occasion.
The veteran tackle had a pass-blocking efficiency of 98.8 and a PFF pass-blocking grade of 91.6, the highest figure among tackles in the league.
Honorable mentions: Andrew Whitworth, Los Angeles Rams & Garett Bolles, Denver Broncos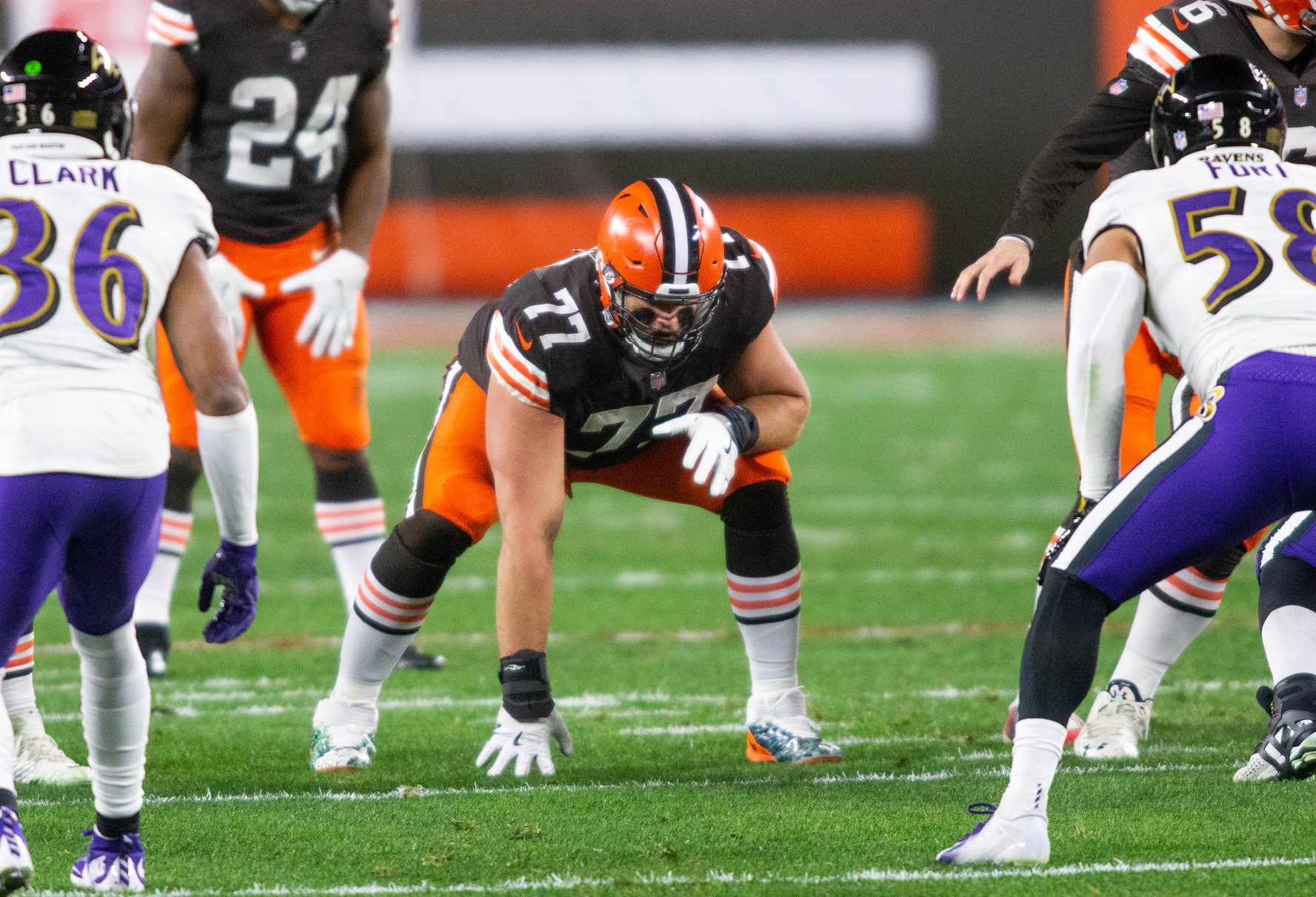 One of the most surprising performances of the season came from Browns guard Wyatt Teller. There was little in his career before this season to suggest that he was about to become one of the game's most dominant blockers, but he was evidently yet another player to benefit from the arrival of Kevin Stefanski and the scheme that came along with him.
Teller was an absolute force in the run game all season long, dominating individually and forming the most potent double team in the game with right tackle Jack Conklin alongside him. Teller ended the season with a PFF run-blocking grade of 93.6, the highest figure among all offensive linemen regardless of position, and he was part of the game's best offensive line.
---
The Browns overhauled their offensive line this past offseason, trying to significantly address a group that had been a real problem for the offense and Baker Mayfield at times. Somehow, they hit on every move, and they even found improvements on moves they didn't make.
Right tackle Jack Conklin was the big free-agent acquisition, and he finished the season with an overall PFF grade of 84.0, the best mark of his career. Left tackle Jedrick Wills Jr. was their first-round draft pick, and while his overall PFF grade was just 62.7, his pass blocking was dramatically better, allowing Mayfield to feel comfortable in the pocket and function without looking over his shoulder every dropback. J.C. Tretter and Joel Bitonio were both already good players on the interior, but Teller at right guard took a huge step forward and became the best run-blocker in the game out of nowhere.
Together, the group dominated on the ground and was a big part of the rushing success that Nick Chubb and Kareem Hunt were able to have. But more importantly, they held up dramatically better as pass-blockers, allowing their quarterback to halt his skid and get his career back on track after an ugly second year.
This year, no offense allowed fewer than the 88 total pressures the Browns' offensive line surrendered, and their pass-blocking efficiency (90.7) was second only to the Packers. A year ago, they allowed 153 total pressures and had a pass-blocking efficiency of just 85.4, 15 places worse off league-wide.
Honorable mentions: New England Patriots, Green Bay Packers, Los Angeles Rams
---
The NFL is slowly working toward the seemingly inevitable removal of the kickoff. Yet, as the ever-frequent rule changes reduce how often returns even happen, Cordarrelle Patterson tied the league's all-time return touchdown record in 2020 with his eighth, putting him level with Joshua Cribbs and Leon Washington, only on vastly fewer returns.
Patterson was the highest-graded kick returner in the league and averaged 29.9 yards on 34 returns despite teams actively trying to kick away from him and often taking the ball out from questionable positions just to have a chance at a return. He has a good case to be the best kick (not punt) return man in NFL history and needs just one more score to take the record for himself.
Honorable mentions: George Odum, Indianapolis Colts; Cody Barton, Seattle Seahawks and Jason Sanders, Miami Dolphins