The New York Jets planned to take a running back-by-committee approach to the 2021 NFL season. Then, rookie Michael Carter forced the issue and disrupted that idea.
Carter, ahead of schedule, has shown the ability to play every down and has developed into one of the NFL's most complete young running backs over the last two weeks when, against the New England Patriots and Cincinnati Bengals, he finally busted out of a crowded Jets backfield in games that couldn't have gone more differently for New York.
Click here for more PFF tools:
Rankings & Projections | WR/CB Matchup Chart | NFL & NCAA Betting Dashboards | NFL Player Props tool | NFL & NCAA Power Rankings
---
Carter has carried the ball 26 times for 114 yards and a touchdown and hauled in 17-of-23 targets for another 162 yards while playing 71% of the Jets' offensive snaps in the last two weeks. One game was a 54-13 loss to New England and the other a shocking 34-31 win over Cincinnati with Mike White quarterbacking New York.
In that span, Carter is second only to Tennessee Titans wide receiver A.J. Brown with 276 yards from scrimmage. Carter and New Orleans Saints running back Alvin Kamara are the only players with over 100 yards rushing and receiving over the last two weeks, as well. He is in rare company as his role in New York's offense grows into something fantasy football managers dream about.
Michael Carter: PFF stats and rank from WEEK 7–WEEK 8 (among backs with 20 or more carries)
| | | |
| --- | --- | --- |
| Metric | | Rank |
| PFF rushing grade | 77.8 | 6th |
| Rushing yards | 114 | 8th |
| Yards per carry | 4.4 | 8th |
| Yards after contact per carry | 3.0 | 9th |
| Missed tackles forced per attempt | 0.31 | 1st |
The Jets back takes pride in being an every-down back but also expected this role as he entered the NFL as a fourth-round pick.
"If you can help the team in more ways than one, then you'll be on the field," Carter told PFF this week. "If you can help the team in all three phases, then you get to stay on the field."
Carter, who shared snaps with Denver Broncos rookie Javonte Williams at the University of North Carolina, isn't used to taking on this many snaps and touches, however.
"I was just talking to coach [offensive coordinator Mike] LaFleur about that today," Carter said. "I was like, 'That might have been my biggest workload that I've had since my senior year of high school.' My senior year of high school, I'd probably get like 30 touches a game, 35. That's all good. It's cool to be able to do it again."
Carter, a willing pass-blocker, believes consistency has afforded him more and more opportunities as his rookie season has progressed. He now has 73 carries for 279 yards and three rushing touchdowns, along with 26 catches for 226 yards in seven games this season. He has played 52% of offensive snaps and earned the trust of his coaching staff.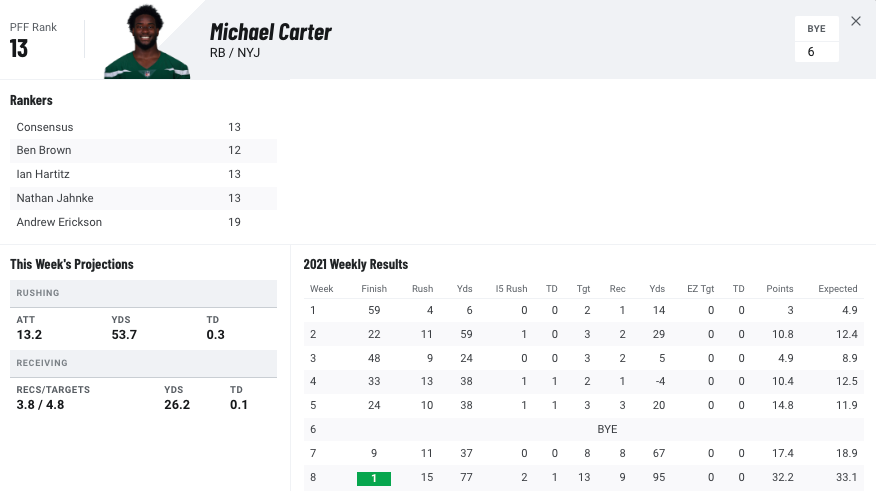 The Jets tested Carter early. In the first padded practice of his NFL career, the team asked him to stand in the backfield and block 6-foot-1, 245-pound linebacker Jarrad Davis on an A-gap blitz.
"He's probably the most powerful person I've ever played with," Carter said. "And he's extremely explosive — like his power through his hips — but he's strong. He's really strong. So, A-gap, boom, and it sounded like a gunshot, but he didn't get the sack, I held my own, and that gave me a lot of confidence. After that, it's about the respect from my teammates. They've seen that I'm standing in there, I'm willing to take a fight right back to whoever's in front of me. That was a big moment for me during training camp."
The 5-foot-8, 199-pound running back ranks fourth among 54 qualified running backs in missed tackles forced per rushing attempt (0.25) through the season's first eight weeks. In total, 74% of his rushing yards have come after contact, the league's 12th-best rate.
Though he surprisingly fell to the 108th selection in the 2021 NFL Draft, he's lived up to his pre-draft hype so far. PFF had the North Carolina product ranked as the fourth-best running back prospect in this year's draft.
2021 draft-eligible running backs: Highest PFF rushing grade on zone runs in 2020
| | | | |
| --- | --- | --- | --- |
| Rank | Name | Team | PFF Grade |
| 1 | Khalil Herbert | VA TECH | 92.0 |
| 2 | Najee Harris | ALABAMA | 90.5 |
| 3 | Javonte Williams | N CAROLINA | 90.2 |
| 4 | Trey Sermon | OHIO STATE | 88.9 |
| 5 | Trey Ragas | LA LAFAYETTE | 87.1 |
| 6 | Michael Carter | N CAROLINA | 86.2 |
| 7 | Elijah Mitchell | LA LAFAYETTE | 85.8 |
Carter also put in the work to learn the history of the offense LaFleur is running in New York before his rookie season. The Jets offensive coordinator followed Kyle Shanahan from the Cleveland Browns to the Atlanta Falcons and San Francisco 49ers before getting hired in New York this offseason.
LaFleur is running a version of the Shanahan offense that dates back to Mike Shanahan's time with the Denver Broncos and Washington Football Team. Jets running backs coach Taylor Embree gave Carter film to watch on the system over the offseason.
"I learned that there's a lot of different type of backs that have had success in this scheme," Carter said. "And I learned a lot about how the pass sets up the run and the run sets up the pass. It's so interesting because I've never played in an offense like this where it's truly not a spread offense. It's just like being back in 1999, baby. Like all the offenses I've played in are spread offenses. They've been multiple, but mostly it's been in shotgun.
"I've literally watched like Alfred Morris — he was from Pensacola (Florida) — then Roy Helu Jr. to the 49er guys, all of them. I mean, there's too many to count that had success with the 49ers. And then Clinton Portis, can't forget him. And then the Falcons, of course, with Free [Devonta Freeman] and T-Co [Tevin Coleman]. They had both of them before, and obviously I've played with T-Co but just having success and seeing all those different types of backs work in this system. It's helped me figure out how I can be better in this system because the closest one to me would probably be, like, Freeman because of his feet. But even I play a little different than Freeman. Like, we're just different type of players. No players are the exact same so just being able to pick apart and take from all their games within the system."
Mike Shanahan's Broncos became famous for churning out 1,000-yard rushers from Terrell Davis to Olandis Gary, Mike Anderson, Portis, Reuben Droughns and Tatum Bell in the 90s and 2000s. The success of the Shanahan zone-rushing scheme has spread throughout the NFL, with Shanahan disciples Matt LaFleur and Sean McVay head coaching the Green Bay Packers and Los Angeles Rams, respectively.
Carter could be that next great complete running back in a Shanahan-style scheme.
For the rest of the 2021 season, Carter just wants to start winning more games, but he has bigger goals for his career.
"I want that gold jacket because you know you can't buy those," Carter said. "I know I'm a long way from it, but I'm going to keep grinding until I get one, however long it takes. I'm going to get me a gold jacket."
That's lofty, but he's already taken steps toward earning it in the five short months since being drafted. He's studied players on the Jets roster who have hung around the league, including C.J. Mosley, Marcus Maye, Folorunso Fatukasi and Thomas Morstead. He spoke with Green Bay Packers quarterback Aaron Rodgers and running back Aaron Jones during joint practices. And he paid close attention to an NFLPA call with former Dallas Cowboys Hall of Fame running back Emmitt Smith.
"For him, it was just about getting in a routine," Carter said. "Don't be around chasing all these girls, just get you a girlfriend, stay put and focus on ball. 
"Get in a routine and lean on that routine. Trust in your routine — critique it, but trust it. Whenever you feel good about that, apply pressure to your body in the offseason. But don't break yourself down too much to where you're going to be hurt going into the year. Push your body to that limit, but also be ready to play."
Smith played 15 years in the NFL and only missed 14 regular-season games. He also earned that gold jacket. So, Carter is taking advice from the right people.