This preseason felt different for New Orleans Saints defensive end Marcus Davenport.
Maybe it was all of the books he read this offseason. Perhaps it was because he was no longer allowing negativity to permeate his thought process or dictate his motivation. It could be summed up as simply as a direct correlation to Davenport's improved health — both mental and physical — but the 2018 first-round pick felt like he was back at UTSA, beating up on overmatched Conference USA offensive tackles this summer.
"Shoot, this has been feeling like college," Davenport said Tuesday afternoon in an interview with PFF. "And I think I can only say that because it was around the only time that I felt like 'Wait, this is my game.' And I think that's kind of been the mindset like, 'They have to stop me,' and so I'm just trying to go with it."

Click here for more PFF tools:
Fantasy Draft Kit | PFF Betting Dashboard | PFF Fantasy Rankings
PFF Fantasy Projections | NFL Premium Stats | Win Totals Tracker
---
Davenport could be in for a dominant season if he can carry over his preseason performance into the regular season. And there are people around the team who believe he can.
Davenport was PFF's highest-graded edge defender this preseason, leading qualified players in pass-rush win percentage and percentage of positively graded plays against the run.
The 2018 first-round pick has been a solid contributor over the first three years of his NFL career, but he knows he needs to start putting up numbers to ascend into the upper echelon of pass-rushers and live up to the lofty expectations that came when the Saints traded a future first-round pick to move up to take him 14th overall in the 2018 NFL Draft.
"I want to be able to finish, especially on the quarterback," Davenport said.
He's not going to BS or worry about sounding political. Clichés aren't in the pass-rusher's arsenal. The New Orleans defender is contemplative and honest; if he's going to take the time to sit down for a 15-minute conversation and think about a question, then he's not going to tell you that personal goals don't matter and that it's only ever about team success.
"It might sound bad, but I want the stats and all that," Davenport said. "I know that there's a process to get them, but even then, that's the result. Really, disruption is the result that I'm going for every time, but nah, I want it all."
Davenport has been disruptive throughout his career, even among his first-round peers. He's top-five among first-round edge defenders picked since 2018 in both pass-rush win percentage (16.2%) and total pressures (111), but among those 13 first-rounders, he's fifth in sacks with just 13 in three seasons. Sacks are considered an unstable metric compared to stats like pass-rush win rate, so perhaps it's ultimately more about Davenport getting luckier as his career progresses.
Marcus Davenport: PFF pass-rush stats and rank among first-round edge defenders from the 2018-20 draft classes (min. 75 pass-rush snaps)
| | | |
| --- | --- | --- |
| PFF Stat | | Rank |
| PFF pass-rush grade | 72.4 | 6th of 13 |
| Total pressures | 111 | 2nd of 13 |
| Sacks | 13 | 5th of 13 |
| Hits | 23 | 1st of 13 |
| Hurries | 75 | 2nd of 13 |
| pass-rush win rate | 16.2% | 4th of 13 |
| Pressure rate | 13.8% | 3rd of 13 |
Saints veteran edge defender Cameron Jordan serves as a valuable motivator as Davenport works to convert more of those disruptions into quantitative production. After practice, Jordan and Davenport will face off one-on-one, one in their natural role as a pass-rusher and the other serving as an offensive lineman. They start the drill with a simple message: "All-Pro."
"It kind of came, I would say, my rookie year. He had to give me a look, like a tackle look," Davenport said. "And he was like 'I'm All-Pro, I'm an All-Pro tackle.' So every time he tries to block you, he really tries to block you."
This summer, Jordan came with another message.
"We were in the walkthrough just giving each other looks, and he would always say, 'finish,'" Davenport said. "And I'm like, 'but I beat you. Like I did what I had to do,' and he's like 'Nah man, you gotta finish the rush because, at that point, we want to get the sacks, the strips and just secure it all.' So, it's just taking it to that next level, understanding that even the tackle or the sack and the strip — sometimes, that's not even the end of the play. But it's finish through full-tilt, not letting up at all."
A play from last season's playoff loss to the Tampa Bay Buccaneers still sticks in Davenport's craw. There were 37 seconds left in the first half, and New Orleans was leading 13-10. The Buccaneers were amid a 14-play drive that would culminate in a game-tying field goal. A low snap clanged off Brady's usually reliable hands, buying the Saints pass rush an extra second to get after the seven-time Super Bowl champion. Davenport pushed Bucs left tackle Donovan Smith back toward the quarterback using his power move, but he hesitated for a split second before successfully pulling outside, and that allowed Brady to fire off a completion to wide receiver Antonio Brown on the right sideline.
"It's just plays like that," Davenport said. "I just want to be able to better affect the game, and not just win but do my thing."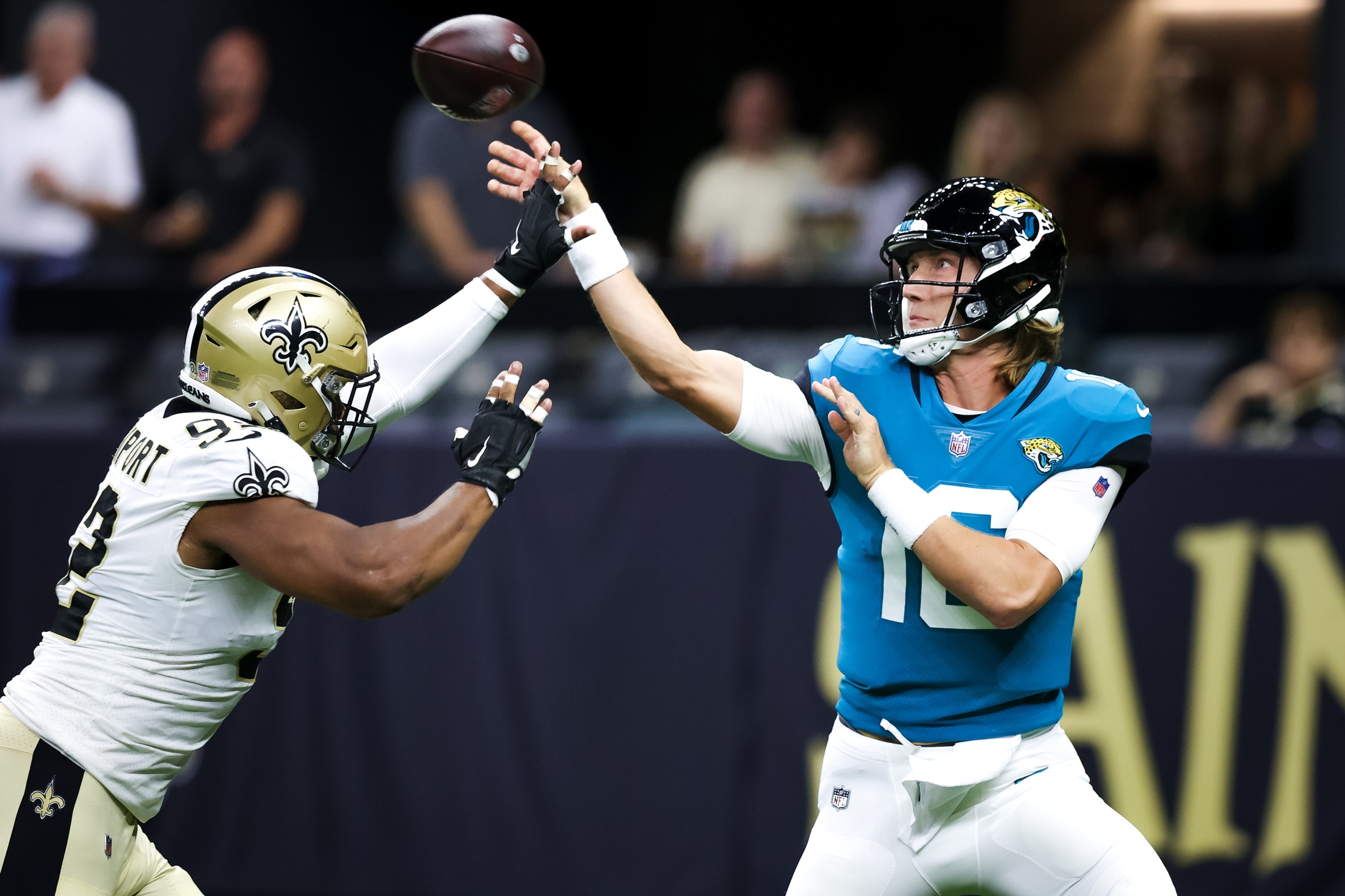 Davenport believes he was thinking too much, and that was leading to hesitation. He also felt the pressure of being a first-round pick. And to change his mindset and improve his overall trust in himself, he read. He picked up Alan Watts' The Book and The Way of Zen, The Art of War by Sun Tzu and The ​​Mindful Athlete by George Mumford. He stopped using negativity, whether it was self-inflicted or outside noise, as a motivational tool.
"I know there's a lot of outside talks, and at one point, I was out there kind of looking forward and trying to go against it because I was like, 'I can do this, I can do that, I can be this, I can be that," Davenport said. "But shoot, it took really realizing that a lot of people don't know what they're talking about and even then, I don't really have to care. It's not my job. …
"I had to realize that none of that really does my job for me. Even all the negatives, even in my own head all the negatives, even the positives really, a lot of that doesn't matter. I still have a job to do, and I've been blessed to be put in this opportunity and this place that allows me to do that, allows me to work out, just helps me develop. And so, shoot, I got a family, and I know at the end of the day, I would never want to miss anything, especially for them. So, that's just been helping me."
Davenport didn't just work on the mental aspect of the game. He also was able to get in outside training with Pete Jenkins, a retired defensive line coach of over 50 years who still mentors NFL prospects and veteran players, and B.T. Jordan, another line play specialist. And he felt fortunate to continue to build this offseason without any limitations from lingering injuries.
Davenport is excited for the start of the regular season as he comes at the game with an improved mindset, but he believes that word, "excited," is an understatement for what he's feeling.
"More just ready," Davenport said. "Yeah, more just ready and then just trying to continue on the process of getting ready, trying to put in everything I can so when the game comes, I can just let loose."
Davenport also had his 2022 fifth-year option picked up this offseason, but he downplayed any effect that had on him.
If Davenport, an avid reader, can finish, improve his raw numbers and vault into that elite tier of pass-rushers this season, then perhaps he should write his own book on his offseason methodology.