FOXBORO, Mass. — There's a viral clip of New England Patriots quarterback Mac Jones screaming on the sideline during Thursday night's loss to the Buffalo Bills.
"Throw the fucking ball," Jones screamed. "The fucking short game sucks."
"Throw the fucking ball, the running game sucks"

– Mac Jones to Matt Patricia pic.twitter.com/a501U7yFkc

— Savage (@SavageSports_) December 2, 2022
Jones wanted to open up the passing game and throw downfield, and he wasn't alone. Wide receiver Kendrick Bourne also said after the game that he knows the offense needs to "attack and put pressure on the defense." They never got their wish.
Down 17 points to the Bills on Thursday night with 7:38 left on the clock, the Patriots slogged their way through an 18-play, 60-yard drive. Jones dropped back to pass on every snap, and he threw short on 13 of those plays, scrambled once, was sacked once and tossed three deep incompletions. The drive felt interminable and lacking urgency. It was also New England's second-best offensive series of the game. 
Other teams around the NFL can drive down the field quickly and erase leads in a few high-powered plays. New England couldn't make it to the red zone in five minutes and 45 seconds.
They kicked a field goal, couldn't corral an onside kick and didn't bother to use their timeouts down by two scores with 1:52 left on the clock to try and make the Bills give the ball back. They conceded defeat against a better team.
Jones attempted 36 passes on Thursday night. The three heaves on the final drive were his lone deep attempts, and six more were in the intermediate part of the field. The other 24 were from behind the line of scrimmage to nine yards downfield.
Jones was asked about the outburst after the game, and he was saying all the right things.
"Obviously, just kind of let my emotions get to me, but we're kind of playing from behind," Jones said. "What I said was about throwing it deeper and the short game. I've got to execute that part better. But it's the short game we kept going to, which is working. But I felt like we needed chunk plays. I shouted that out to kind of get everyone going. That's emotional. That's football. I'm passionate about this game. Obviously, you don't want to let your emotions get the best of you. But yeah, I think that's pretty much it. It wasn't directed at anybody. Just emotion coming out and we kind of needed a spark.
"When you're playing from behind against a pretty good team and a good offense, you need to go out there and make better plays. That starts with me. Definitely wasn't good enough by me tonight. All you can do is watch the tape and see where we can get better. Playing catch-up is hard. We didn't want to do that all game. I didn't do a good enough job of getting ahead early, making it work."
The Patriots also punted the ball down 17 points with 12:10 left in the game and showed a lack of urgency to attempt more than a field goal after getting the ball on a turnover before the half. 
The Bills were good on Thursday night, but they weren't infallible, and they've proven to be human since Week 9 with a 3-2 record, including a loss to the New York Jets. Buffalo turned the ball over, had a long touchdown called back due to a penalty and dropped an interception (the "surviving the ground" rule helped New England this week on a target to tight end Hunter Henry). Bills wide receiver Stefon Diggs was impossible to cover, and quarterback Josh Allen pulled some magic out of his hat with a touchdown throw while hovering out of bounds, but New England had opportunities and failed to capitalize in nearly every circumstance.
"I think it was just me at that point in the game like, 'All right, we're playing catch-up here, let's go for it, let's be aggressive, let's take those shots, just go down fighting,'" Jones continued. "Matty P. (senior coaching assistant/offensive line coach/play-caller/relayer Matt Patricia) was on the same page. We kind of did it there at the end and moved it a little bit more. At the end of the day, we have to execute the plays and do a better job. Sometimes you're just so competitive, right? You want to go out there, 'Hey, let's get a 50-yard gain.' Sometimes it doesn't happen, but we might as well go down trying, and try to make it work."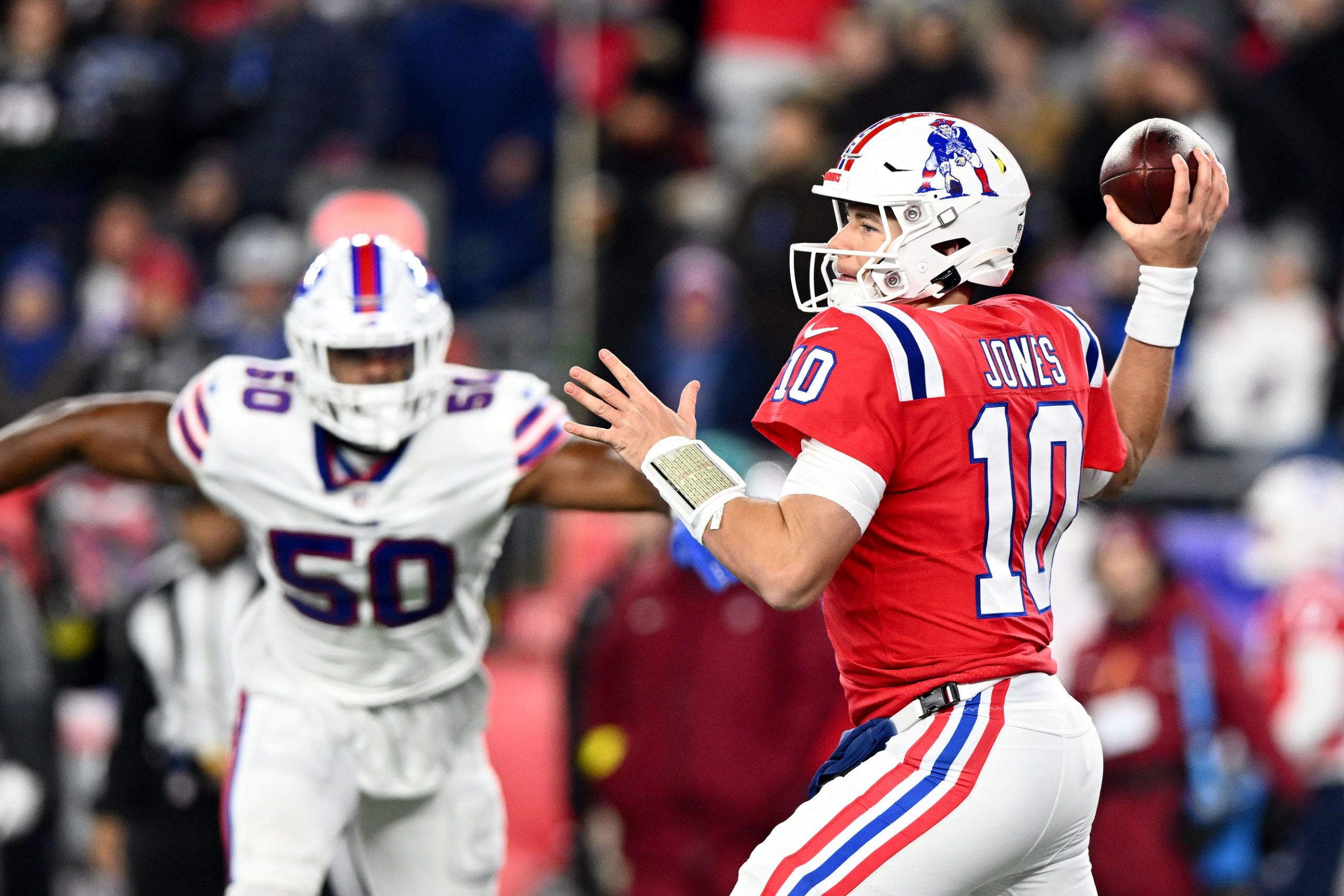 Jones was 22-of-38 for 195 yards with a touchdown, one big-time throw and one turnover-worthy play on the night. New England's only touchdown came on their only new wrinkle all night: a screen to cornerback Marcus Jones for a 48-yard catch-and-run.
What no one in the Patriots' locker room can quite explain in succinct fashion is why New England's offense is playing so poorly and why they're so much less efficient and productive than they were a season ago with largely the same collection of players.
The Patriots rank 27th in expected points added (EPA) per play this season. They're 31st since Week 7, and the only team beneath them is the Indianapolis Colts, who have benched two quarterbacks and fired an offensive coordinator and head coach this season.
New England's offense ranked ninth last season, and the only major thing that changed was a mass exodus of offensive coaches. Offensive coordinator Josh McDaniel, wide receivers coach Mick Lombardi, offensive line coach Carmen Bricillo and assistant quarterbacks coach Bo Hardegree all left for the Las Vegas Raiders, and running backs coach Ivan Fears retired. Head coach Bill Belichick brought on Patricia, the ex-Patriots defensive coordinator/Detroit Lions head coach, and Joe Judge, the former Patriots special teams coordinator/New York Giants head coach, to replace most of those responsibilities on offense. And the unit is now significantly worse.
The Raiders have had their own struggles, but their offense slots in at seventh in EPA per play this season.
There was understandable skepticism inside Gillette Stadium and around the league about the plan to lean so heavily on Patricia and Judge on offense. But the motto "In Bill we trust" has been proven right more often than not for 20-plus years in New England.
The plan has gone exactly as many feared. And the signs were there during training camp when the offense was getting steamrolled by its defense every day in practice. Offensive leaders were frustrated at the time by the lack of progress in a new scheme. The Patriots put away many of the outside-zone runs that weren't working during the summer, but the offense is simplistic, predictable and malfunctional. Against a team like the Bills that knows the Patriots well and with a week to prepare, New England didn't stand a chance.
Wide receiver Kendrick Bourne has a lot of theories on why the offense isn't working, and it feels important to spell them all out and not just throw out the catchy quotes that will make headlines. Acting like any players on the Patriots placed the majority of the blame on coaches would be disingenuous. 
Bourne was asked if the lack of experience coaching offense from Patricia and Judge is to blame.
"It has to do with a new system," Bourne said. "It's new learning. And we're just going each week. It's a week-by-week league, so it's hard to say. (Patricia and Judge) are experienced guys in the league, so they know. It's just about playing harder. It's more about us as players. We can blame the coaches all we want, but it's all just scheme. Whoever's going to make the plays is going to make the plays. We got out-competed today. A lot of the games, we've been out-competed. Even last year when we played the Bills, we were out-competed.
"So, yeah, coaches can be better, but players can be a lot better, too. It's discouraging. We have to just take our mindset to playing harder and sticking with it."
Bourne mostly stuck to that same mantra.
"I think it's more players and balance," he repeated. "The coaches can only do so much. So, we've got to make the plays and get open. We've got to give Mac time. It's a whole balance. It's not coaches. It's everyone. It's just frustrating, bro."
The Patriots were missing their three top right tackles, Isaiah Wynn, Marcus Cannon and Yodny Cajuste on Thursday night, leaving Conor McDermott to start nine days after rejoining the team from the Jets' practice squad.
"I feel like we're not getting the ball downfield," Bourne said. "We just need to protect better so we can get the ball downfield."
Jones was pressured 21 times, sacked once and hit three times on the night. He probably should have been sacked more but did a nice job evading pressure and getting the ball out of his hand.
Bourne did seem to question some coaching when asked about New England's issues on third down, where they went just 3-of-12 one week after going 3-of-10 in a Week 12 loss to the Minnesota Vikings.
"We just need to scheme up better," Bourne said. "We need to know what they're doing. We need to know what they want to do on third down. We're kind of sporadic. They call this, and we call that, and it falls right into what they want. We need to have it where they're falling into what we want, things like that. That's not my job. It's my job to just run the call, but as we all can see, they had, what, 30 first downs and we had eight. It's something they were doing against us was working, and something we were doing against them was not working."
Jones said a lack of accountability was holding the offense back.
"It starts with me," he said. "I think I want to be coached harder. I want to be a better player. The coaches have given us everything they've got. They've done everything to put us in position to win. But I want to hold everybody accountable, including myself. I think it's tough, right? You get called out a little bit, you have to admit that you didn't do your job. That's part of the game. A lot of that blame falls on me. I didn't do my best tonight. I think a lot of other guys played with a lot of good effort. We played with effort. I played with effort. I'm going to give it everything I've got every week, no matter what. I'll go until the wheels fall off. But got to be better executing plays. They're putting us in a good position. We just got to go out there and do it together."
Henry said the Patriots are "beating themselves."
"Not sustaining drives," he said. "Not getting first downs and getting things going. Not possessing the ball, beating ourselves, not blocking the right guy, not communicating well or whatever it is. Penalties, turnovers, early on in the season, It's not been good."
Center David Andrews said it "starts with us."
Wide receiver DeVante Parker said the biggest issues are penalties and execution.
And Belichick wouldn't provide much insight.
"Well, I'll just say tonight, like I said, we just didn't do enough," he said. "Had some opportunities and weren't able to take advantage of them."
He wasn't ready to discuss what changed on offense between last year and this season.
"Just got through with the game here," Belichick said.
All in all, it's a lot of player-speak. Patriots players are under contract and know that blaming coaching could get them sent to the doghouse, so even if they truly believed Patricia and Judge were the problem, they probably wouldn't say it. And it probably is overly simplistic to say the issue lies solely on Patricia and Judge. Patricia was having a conversation with special teams captain Matthew Slater when the locker room opened to the media. He then went up to a couple of offensive linemen, including Trent Brown, as well. When approached to speak, Patricia politely declined, saying he wasn't permitted to talk to the media after the game.
But outside of Gillette Stadium, people around the league are putting two and two together and pinning the blame on Patricia as the team's play-caller. And those who doubted the offensive approach this offseason are being proven correct.
Jones and the Patriots' offensive players didn't get considerably worse overnight between the 2021 and 2022 seasons. And even many of the points players brought up about why the unit has regressed can be blamed on coaching. Jones said he needs to be coached harder. Bourne questioned the scheme and compete-level. Henry and Parker spoke about penalties. Execution is up to players, but discipline and effort can be controlled by coaching. And by going 12 games without making a significant change to the offense beyond reshuffling some offensive line spots sends the same message that punting with 12 minutes to go, not calling timeouts at the end of the game or showing a lack of urgency in the fourth quarter does: surrender.
Belichick and Patricia are tight, and it really is hard to imagine New England making a wholesale change on offense at the three-quarter mark of the season. But the Patriots are now 6-6, in fourth place in the AFC East and ninth in the conference. They have the NFL's third-most difficult schedule remaining and essentially need to win out to have a good shot at the postseason.
A young quarterback like Jones should have been improving in Year 2. Instead, he and the rest of the offense are regressing, and there's little reason to be optimistic about the unit for the rest of the season or even with an eye toward the future.