ESPN's Adam Schefter reported early Sunday morning that the Minnesota Vikings have agreed to trade a second- and a conditional fifth-round pick to the Jacksonville Jaguars for 25-year-old edge defender Yannick Ngakoue. Per Tom Pelissero, the conditional fifth-round pick can become a fourth if Ngakoue is an original-ballot Pro Bowl pick, or a 3rd if he's an original-ballot Pro Bowl pick and the Vikings win the Super Bowl. The move likely completes an offseason of moves which saw longtime stalwarts Everson Griffen and Linval Joseph leave and Danielle Hunter miss 11 days of practice due to injury. 
ESPN's Courtney Cronin reports that the Jaguars are expected to retain around $5 million to $6 million of Ngakoue's $17.8 million 2020 franchise tag. There has been some confusion over this, as we often hear teams can't negotiate with franchise tag players after the July deadline. Teams cannot extend these players until 2021, but they can make alterations to the tag itself. When Jadeveon Clowney was traded to the Seattle Seahawks last offseason under very similar circumstances, the Houston Texans retained roughly $7 million of his 2019 franchise tag, as well.
Ngakoue has been a productive player since entering the NFL as a third-round pick out of Maryland in 2016, amassing 244 career pressures and being involved in 40 career sacks (including playoffs). After Hunter, the Viking with the most career pressures off the edge are Anthony Zettel (58) and Ifeadi Odenigbo (26), and in addition to poor prospects on the interior of their defensive line, Minnesota is currently tasked with replacing three starting cornerbacks from a season ago.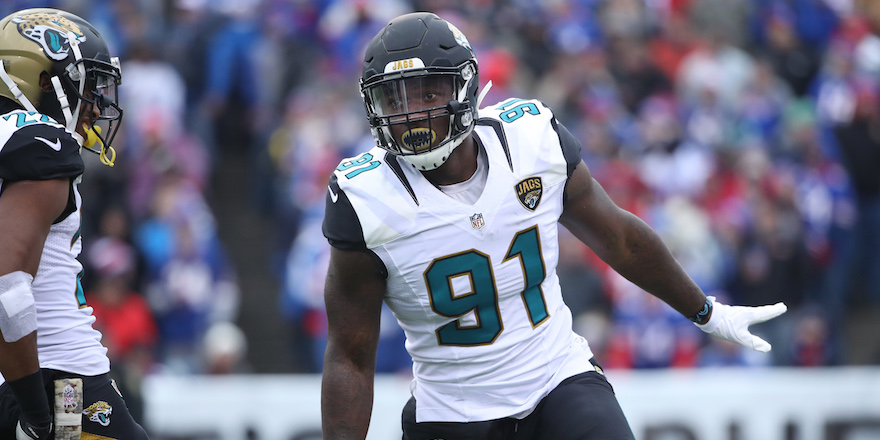 However, there's a pretty good argument that Ngakoue's pressure rate is about what you'd expect from someone in his situation. Earlier this offseason, we talked about "true pass-rushing snaps" and how to adjust for the difficulty in circumstances. Ngakoue, playing much of his career with brilliant cornerback play in Jalen Ramsey and A.J. Bouye, actually got home less than one would expect with his circumstances, which is a big reason why his PFF pass-rushing grade has only eclipsed 80.0 once.  
Additionally, the Vikings still only have around $12.5 million in 2020 cap space. Teams like to have at least $5 million in space during the season as an emergency fund in case of injury or otherwise, so Minnesota will likely make another move to clear room. 
One possible cap-clearing move could be an extension for Harrison Smith, who was the fourth-most valuable safety in the NFL in 2019. Smith has no guarantees remaining on his deal that runs through 2021, which he'd probably like to change. While Smith is already 31 years old, he has shown no signs of slowing down. An extension that adds two or three more years and reduces Smith's cap hit in 2020 by ~$5 million would make a lot of sense for both parties. 
Thinking beyond 2020, this move creates an interesting 2021 offseason for the Vikings. Minnesota now has two players that will play under the franchise tag in 2020, newly acquired Ngakoue and star safety Anthony Harris. Both of them will be looking for big long-term deals right after the Super Bowl.  Recency bias aside, Harris is the more valuable of the two players, ringing in as the second-most valuable safety in the league in 2019 (Ngakoue was 46th among edge players).
As for running back Dalvin Cook, who had been working to ink an extension this offseason before talks reportedly fell through, it's hard to imagine this move won't impact him. At this point, we don't think the Vikings return to the negotiating table until after the 2021 season, and it stands to reason that they tried to stress this to Cook's representative before they ultimately decided to move on and focus their attention elsewhere. He may have overplayed his hand when Cook's value was at its absolute peak. Hopefully, he can be healthy and productive again in 2020. 
One final note on Minnesota's roster construction, which will be a sight to behold in the coming seasons. Minnesota acquired a 2021 fourth from the Chicago Bears during the draft as well as a 2021 fifth in the Stefon Diggs trade from the Buffalo Bills. The 2022 conditional fifth-round pick that could become a fourth- or third-round pick is so much more expendable for a team like Minnesota that understands the value in adding draft capital. It's also easier to fit two franchise tags on your salary cap when you have a 15-man draft class. Teams that throw their picks away and end up with five-man draft classes and no future picks aren't able to make these moves as easily.